Good evening,
A late report today, my apologies.
Probably like most people, I'm still struggling to take in all the changes that are possible or likely in the new Trump era which is beginning soon. The Dow Jones Index has just hit a new all-time high. So why were we all so worried about a Trump victory? It's not looking more like a fear of the unknown, and a large degree of group-think. Why would a business-friendly new President, with a stated intention of drastically reducing corporate taxes amp; red tape, be a bad thing for shares?
Bond yields seem to have been an even bigger mover than equities, rising strongly. I spoke to one UK company CEO last week, who told me that their pension deficit had shrunk by a quarter in just one month (October). So if we are now coming to the end of this bizarre era of ultra-low interest rates, then companies with big pension deficits could see a decent revival in their share prices perhaps?
---
Johnston Press
(LON:JPR)
Share price: 15.5p (up 18.1% today)
No. shares: 105.9m
Market cap: £16.4m
(at the time of writing, I hold a long position in this share)
Response to press speculation – this follows a Sunday Times article which got wind of an imminent disposal of JPR titles in East Anglia;
The Board of Johnston Press plc (the "Company" or "Group") notes the recent media speculation and confirms it is in late stage discussions with Iliffe Media surrounding the potential disposal of certain titles.

The Company has previously announced that as part of its portfolio review, a number of brands had been identified that were not part of its long-term future and a process has been initiated to explore the potential sale of these assets to identified parties.

This disposal process is ongoing and a further announcement will be made when appropriate. Shareholders are advised that there can be no certainty that the disposal process will lead to any definitive agreements concerning any possible disposals or as to the timing or terms of any such agreements.
The last paragraph is just a generic one, Of more interest, is that the first paragraph both names the buyer (which is apparently backed by one of Britain's richest families) , and indicates that it is in late stage discussions – so hopefully this deal will go through.
There's an article in the Telegraph which suggests that disposal proceeds are estimated by analysts to be around £45m. Although it sounds as if that might mean total disposals, not just the ones announced today, it's not clear exactly.
What's interesting about this situation, is that, as the Telegraph points out, JPR's bonds are trading at a deep discount to face value, at 55p in the £1. Therefore, if it can buy back these bonds at a deep discount, then it scrubs off a lot of the company's problematic debt pile. That in turn greatly reduces its cash outflows for interest payments, and could then get into a virtuous cycle of further paying down more debt from improved cashflow?
My opinion – we can all see that newspapers are in decline, but the best ones are still highly profitable. Consider this – JPR made a positive EBITDA of £25.5m in just 6 months, H1 of this financial year. That's considerably more than its entire market cap.
Net debt is the big problem though. It was £209.4m when last reported at 2 Jul 2016. However, once a mark-to-market discount is taken into account (i.e. bonds trading at well below face value), then the adjusted figure is £137.7m.
There's also a pension deficit, although the amount shown on the balance sheet is relatively modest. That may not necessarily be the case with the next triennial valuation.
Overall, this is a complicated special situation. However, my feeling is that there seems a glimmer of light. More disposals could generate enough cash to buy back a lot of the bonds (which are expensive at 8.625% coupon). De-gearing the balance sheet in that way could then potentially lead to the shares being nicely re-rated, possibly.
The i newspaper seems to be doing well, since its acquisition by JPR, but that is masking poor trends in other newspapers it owns.
I reckon at this tiny valuation (market cap only £16.4m), there could be good upside, if a deal to buy back bonds at a deep discount can be done – as that would effectively be a big write-off of liabilities.
However, this share will be a bargepole job for most people, as it's too high risk. So very much a special situation for people prepared to take on more risk amp; uncertainty.
---
People's Operator
(LON:TPOP)
Share price: 11.5p (down 30.3% today)
No. shares: 77.8m
Market cap: £8.9m
Share price movement – it sounds as if this one is not far away from AIM's knacker's yard – having been a dismal performer in its nearly 2 year life as a listed company.
Today it says that it needs to raise more cash;
The Company notes the significant decline in its share price this morning.

As set out in the Company's interim results released on 12 October 2016, the Board is considering further funding options and its major shareholders had stated their intention to provide further funds for growth.

It was stated that these funds would be invested as to £1m equity at a price of 16.7p per share if other shareholders were also prepared to invest £1m at the same price or in the alternative the funds would be made available as a loan on terms to be agreed with the Board.

The Board does not believe that £1m is available from other shareholders at 16.7p per share but has been exploring an equity raise at a significant discount to the current share price as a preference to debt financing.
Looking back at the last set of interims, they're a complete joke – just £1.7m revenue in H1, incurring a £4.0m operating loss. There are no exceptionals in that either. Also, it had burned through £4.9m in the last 6 months, with only £3.1m cash remaining at 30 Jun 2016.
So basically, the company now needs to find some mugs to throw more money at it, to survive for a few more months perhaps?
My opinion – I looked at the original IPO documents for this company just before it floated, and thought it was a complete joke back then – a crazily high market cap, for a start-up basically.
I warned readers here on 12 May 2015 that the valuation (at 129p per share) was "completely ridiculous" and that people buying the shares were "bordering on insane", which is about as extreme a warning I can give without being sued! Amazingly the company has burned through all the £18.4m cash pile it had back then, and now needs more cash.
Overall, it was a nice idea (combining a charitable aim with mobile phone subscriptions), but it just hasn't worked. So I think the shares are now basically worthless. It might get one last, small fundraising away, who knows, but in my view this company is extremely unlikely to survive much longer.
It was pretty obvious from day 1 that its business model wasn't likely to work, but there we go. When are investors going to learn, that if something is unproven, then it should be dirt cheap. Only when the business model has actually been commercially proven, should the company attract a premium valuation. Hope/hype are not good enough reasons to pay £100m+ for something that was little more than an idea at the time it was floated.
---
Dewhurst
(LON:DWHT) amp;
Dewhurst
(LON:DWHA)
Share prices:
675p (up 3.8% today) for DWHT shares, and
405p (up 6.6% today) for DWHA (non-voting) shares
No. shares:
3.31m DWHT shares, and
5.17m DWHA (non-voting) shares
Market cap:
(675p * 3.31m) + (405p * 5.17m) = 43.3m
It's been years since I've looked at this company, and have never reviewed it for these SCVRs before. That's partly because of its confusing share structure. As you can see above, there are 2 classes of shares. This is explained in the 2015 Annual Report (note 20) as follows;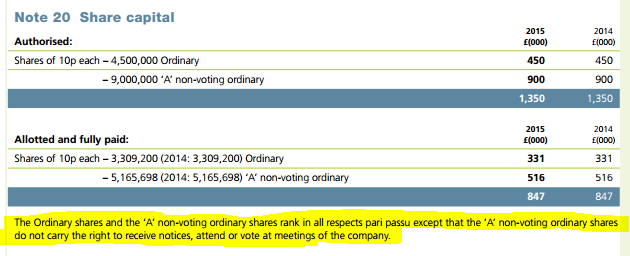 Different classes of shares is a concept that is frowned upon these days, certainly for listed companies anyway. You often see it used by private equity, as part of their tax-dodging , and other smart alec shenanigans.
Historically though, it was often used as a way for families to retain control of companies, whilst raising share capital from outsiders – so families would retain the voting shares, but issue new shares to outsiders in the form of non-voting shares. Maybe that's what happened at Dewhirst, at a guess?
Checking through the 2015 Annual Report, I've totted up gt;3% shareholders with the surname Dewhurst, including Directors, and it comes to c.1.74m ordinary (i.e. the voting shares). That's over 52% of the total, so my hunch is proven correct – this is a family-controlled company which happens to have a stock market listing.
Given that the family controls the company, I don't see the point in outsiders buying the ordinary shares. The cheaper A shares look a much better bet to me, and they qualify for the same dividends as the ordinary shares.
So having worked out the capital structure, let's move on to today's update;
Trading update – covering the full year to 30 Sep 2016.
This sounds positive to me;
The recovery reported by the Company on 30 August 2016 continued through the fourth quarter of FY16 and whilst seasonal effects mean the Company's second half is traditionally stronger than the first half, the effect in FY16 has been greater than usual.

A significant proportion of Dewhurst's sales and earnings are generated in foreign currencies and the depreciation of pound sterling during FY16 has continued to benefit Dewhurst's reported sales and profits.

Accordingly, the Board currently expect Group revenues for FY16 to exceed £47.0 million with a positive impact on profits compared with current market expectations.
Stockopedia is showing forecast revenues of £45.5m for FY2016, so it looks like a beat of over £1.5m, or over 3.3%. Useful, but not spectacular.
Forecast EPS is shown as 42.2p, so it looks as if there might be a beat against that too, maybe to 45p at a guess?
Valuation – the ordinary shares at 675p look to be on a PER of 15, and the non-voting A shares at a share price of 405p look to be on a PER of 9.
Dividends – there's a forecast divi of 12.9 this year, which translates to a divi yield as follows;
Ordinary shares (voting): 1.9% yield,
A shares (non-voting): 3.2% yield.
Balance sheet – looks very good overall. There was a £14.0m cash pile on the last reported balance sheet (as at 31 Mar 2016). That's clearly very significant relative to the market cap (which I've worked out using the weighted average share prices) at £43.3m.
On the downside, there's a nasty pension deficit, showing at £13.0m, so I suppose you could see the cash pile amp; pension deficit as offsetting each other.
This type of family company often has freeholds on the balance sheet, providing additional shareholder value. Within fixed assets I can see £6.9m called "property", which I presume must be freehold (See note 12 in the FY2015 annual report).
My opinion – overall, I think there's quite a lot to like here. The company seems to operate in a profitable niche, with good margins. It has an excellent geographic spread of activities, which has resulted in it being a net beneficiary from sterling devaluation.
There's been a good progression of dividends paid in recent years, although the yield is not madly exciting. I like the balance sheet – very strong indeed, although the pension deficit is costly – the company has to pay £1.4m annually into the scheme to reduce the deficit. Although who knows, with bond yields now rising, maybe the deficit could reduce in future?
I'd like to see the company do something useful with its cash pile – a decent acquisition perhaps, or a special dividend or share buyback?
The elephant in the room too, is the lack of liquidity in the shares. If you want to buy a decent-sized stake in this company, it could take months to accumulate. Then if you decide you want or need to sell, you might find that there are no buyers (especially if something goes wrong).
The A shares look good value to me, but you have be prepared to accept that you have no voting rights. In this case, I would probably accept that – since Directors pay themselves very reasonable salaries (albeit boosted with nice bonuses), and I can't see any evidence that minority shareholders are being disadvantaged in any way.
Overall then, I quite like it, but it's probably too illiquid for me to want to get involved. I've added it to my watchlist, and would be inclined to buy on any unusual spikes down. It looks a good quality company in my view.
Also, the weird ownership structure might put off some people, which could be helpful in term of giving it a lower valuation than might otherwise be the case. Although it could also mean some people buy in error, thinking that the valuation is a lot lower than it is (i.e. if they don't noticed the A shares).
---
Others I briefly looked at:
Carr's (LON:CARR) – results for year-ended 3 Sep 2016 look reasonable to me. The key point to note is that the group has disposed of its food division. So the highlights are for continuing operations only. Also note that the disposal has helped the cash position, with a net cash position of £8.1m at year-end being much better than the £24.4m net debt reported a year earlier.
However, I've just spotted that the 17.54p special divi was paid post year-end, so that was a £16m cash outflow which would have taken the group back into a net debt position of about £8m, which looks modest.
The outlook comments sound cautious, but conclude by saying;
The current financial year has started positively and trading is in line with the Board's expectations.
My opinion – the numbers all look a bit average. It's difficult to find anything to get excited about with this company. The shares have done well historically, but seem to have been in a gentle downturn since 2014. I think the markets are more interested in growth companies, which leaves things like this on the sidelines a bit.
Castleton Technology (LON:CTP) – the interim figures announced today look encouraging, until you look at the balance sheet, which looks very weak to me. NAV of £15.4m drops to negative -£18.4m after the £33.8m intangibles are written off.
Working capital seems very weak, with a current ratio of 0.55.
Note the deferred income, and borrowings are both quite high. So it looks like a business that is funded from favourable working capital (i.e. getting cash in from customers before it has to pay cash out), plus debt – that all looks a bit too precarious for my taste. So it's not for me.
---
A late finish, but at least this will give you something to get stuck into in the morning, whilst I'm writing Tuesday's report. Hopefully getting back to normal on timings now.
Regards, Paul.
(usual disclaimers apply)
Source:
http://www.stockopedia.com/content/small-cap-value-report-14-nov-2016-jpr-tpop-dwht-dwha-carr-ctp-157924/
We encourage you to Share our Reports, Analyses, Breaking News and Videos. Simply Click your Favorite Social Media Button and Share.