Good morning!
Sorry yesterday's report was late – here is the link. I looked at some unusual shares, including a speculative special situation at Johnston Press. Also a complete basket case in The Peoples Operator - almost certainly destined for the knacker's yard in my view. Plus I unravelled the complicated share structure at Dewhurst. Also a fleeting glance at results from Carr's and Castleton Technology, neither of which interest me at all.
Profit Warnings Webinar!
This is going to be great – I've already seen some of the data, but won't spoil it.
A team of analysts at Stockopedia HQ have spent months ploughing through last year's profit warnings, and drawing out statistical conclusions – e.g. should we buy after profit warnings? If so when? How do shares perform after profit warnings, and lots more.
The webinar is tomorrow starting at 12:30 - here is the sign-up link. It will be about 30 mins, with some Qamp;A after, I believe. There should also be a free eBook as well.
I strongly recommend readers join the webinar if you can, as this is such an interesting topic. I've lost so much money over the years by catching falling knives, that any guidance I can glean from this webinar will be very helpful.
Although of course our biggest winner here in the last 2 years was a stock I bought at 23p, straight after a big profit warning – Boohoo.Com (LON:BOO) – which has since 5-bagged!
So what to do, when, after a profit warning is a fascinating amp; controversial topic. Let's see what the big data at Stockopedia tells us.
---
Lavendon
(LON:LVD)
Share price: 134.8p (up 2.9% today)
No. shares: 170.0m
Market cap: £229.2m
(at the time of writing, I hold a long position in this share)
Q3 trading update – up to 30 Sep 2016.
This generally reads quite well, and there's a fair bit of detail, mainly about revenues. A key point is that the group is benefiting from weaker sterling, as overseas earnings are translating into larger sterling amounts.
Overall performance sounds good, but this announcement is badly worded. Unnecessary confusion has been caused by the use of this phrase;
Board confident of delivering results for the full year marginally ahead of its original expectations
What original expectations? It doesn't say. This phrase is used again in the Directorspeak at the end of the announcement;
…The Board is encouraged by the trading performance to date, and as a consequence of the favorable translational impact on our overseas earnings from the continuing weakness of Sterling, we expect the Group's results to be marginally ahead of our original expectations for 2016."
What a daft phrase to use. Why would anyone be interested in what their original expectations for 2016 were? That could mean anything – do we need to refer back to late 2015, to find out what they were expecting then for 2016? Or earlier than that? Or more recently? Who knows, it's a totally confusing statement.
What they're saying is therefore that trading is going to be slightly ahead of an unknown figure that we're going to be vague about, so that nobody is sure what we mean! What use is that?!
What the company and its PR people should actually be telling us, is very simple, as it's what everyone else says in trading updates - i.e. how is the group performing against current market expectations? This is what matters, and I'm irritated that today's update has tried to be clever and somehow circumvent telling us clearly what the trading situation actually is.
As you can see from the handy Stockopedia graph on broker consensus EPS, the trend has been for a gradual improvement in forecasts in the last year;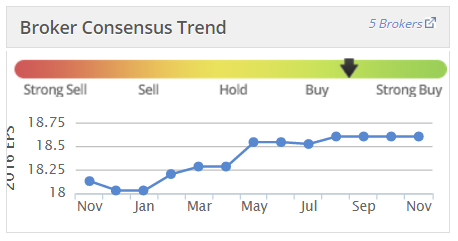 Valuation – given the confusion (and it's not just me, other investors have said the same thing this morning), I think it's best to just assume that 2016 profit is likely to come out somewhere close to consensus EPS of 18.6p.
With the share price currently at 134.8p, that makes the PER of 7.2 look very attractive.
Net debt – the fleet has been enlarged a fair bit this year, increasing debt, and also there's a negative translation effect on overseas debt. The net debt is £158m at 30 Sep 2016, of which £16m has been caused by the adverse currency impact.
That may sound a lot, but it's actually quite reasonable in the context of property, plant amp; equipment (mainly the hire fleet) with a net book value of £330m when last reported (H1 2016).
The company also points out today that net debt is still within their target of 1.75x EBITDA – a perfectly reasonable level in my view.
Interest rate risk – I've done some digging to find out what exposure Lavendon has to potentially rising interest rates. This is what is said in the 2015 Annual Report on this matter;
The Group's debt facilities total c.£165 million and comprise revolving bank facilities of £50 million and €60 million maturing in June 2019, together with US Private Placements with a combined value of €95 million (being loan notes of €60 million, €17.5 million and €17.5 million maturing in July 2019, August 2021 and August 2024 respectively).

The available headroom within this financing package at 31 December 2015 was c.£35 million.

The bank facility has an interest rate margin, linked to the level of leverage of the Group, of between 150 basis points and 230 basis points above LIBOR or EURIBOR depending on the currency drawn.

The US Private Placements have fixed coupons of 4.89% for the €60 million note maturing in July 2019; 2.54% for the €17.5 million note maturing in August 2021; and 2.92% for the €17.5 million note maturing in August 2024.

These facilities provide the Group with a robust medium to long term diversified financing package that will support the growth plans of the Group in the coming years.

The Group has exposure to movements in interest rates on its borrowings. This exposure is managed by maintaining a mix of fixed and floating interest rate borrowings. This allows the Group to mitigate the impact of interest rate fluctuations, by allowing some benefit from rate reductions, while offering some protection against rate rises.

At the year end, the fixed rate element of borrowings was 55%, a marked decline over the previous year's fixed rate element of 70% reflecting the utilisation of the Group's banking facilities at variable interest rates to finance the Group's increased investment during the year.

Based on the year end mix and quantum of borrowings, a movement in Euro interest base rates of 0.25% would increase or decrease the Group's annual interest cost by approximately £20,000 while a similar 0.25% movement in £ Sterling base rates would also increase or decrease annual costs by £123,000.

(taken from pages 32-33 of 2015 Annual Report)
That all sounds sensible to me, so I'm not worried about the debt situation, it looks OK, and a lot better than some other hire companies (e.g. HSS).
Dividend yield – is currently forecast at around 4.6% – pretty decent.
My opinion – I really like it, because the valuation is so compelling. The group is dominant in a profitable niche, and seems to be performing well.
So why is the PER so low? The answer seems to be that some analysts are worried about a potential downturn in Lavendon's highly profitable operations in the Middle East. Also, payment terms are slow in that region, and there are concerns over pricing being eroded possibly? Plus the nightmare scenario of some major geopolitical trouble kicking off again in that region.
That said, these concerns seem to be weighing too heavily on the valuation, which looks strikingly cheap to me. The company keeps putting out decent trading updates, and the market keeps ignoring them amp; fixating on potential risks.
My feeling is that the mood seems to be changing, with Governments beginning to recognise that ultra-low interest rates alone are not enough to stimulate growth. Big infrastructure programmes are now being mooted to provide a conventional Keynesian type boost to economies. That seems to be the way Trump is indicating that he favours. Maybe Europe might eventually follow suit?
I'm only mentioning this, as I can foresee this changing mood perhaps being positive for Lavendon. If the market starts to see the glass half full, then it's not a big stretch of the imagination to see LVD shares re-rating, up to a share price maybe in the 200-250p range. That would still only be a PER in low double digits, which is hardly a stretch.
Time will tell, but for me, risk:reward looks quite good at c.135p per share.
EDIT: the company held a results webcast this morning apparently. There should be a recording up on its website later today, here is the link.
---
SRT Marine Systems
(LON:SRT)
Share price: 38.3p (down 1.7% today)
No. shares: 127.6m
Market cap: £48.9m
Interim results, 6 months ended 30 Sep 2016 – this company describes itself as "a developer and supplier of maritime identification and tracking technologies".
H1 results today are in line with an update given on 6 Oct 2016, which I reported on here. So the figures themselves should not contain any surprises – we had already been told that H1 results were not much cop.
Revenue of £2.7m in H1
Loss before tax of £1.2m
Cash of £1.8m
These are all exactly as indicated in the last trading update on 6 Oct.
Note that the cash figure quoted is gross. There is £1m in debt to subtract from that, to arrive at the net cash figure of £0.8m – looking a bit tight, in my view, if the company has another poor half year in H2.
The narrative seems subjectively less upbeat than usual. It also refers to delays in demand from projects which have gained official approval, unless enforcement action is taken;
The USCG AIS regulation, which requires a significant number of large commercial vessels in the USA to fit an AIS transceiver, came into effect in March 2015. However due to a lack of strict enforcement action by the relevant authorities, demand from this market has been minimal to date and is now considered likely to take a number of years to come through as enforcement is undertaken.
Outlook – the company feels more optimistic about H1, as it has said before;
I am pleased to report that during the Period we saw significant progress in a number of large VMS and MDM projects that we expect will result in the completion of significant deliverables during the second half as well as other projects moving towards contract phase from our validated sales opportunity pipeline.

The nature of these projects is that they are very lumpy with extended periods between deliverables and often change unexpectedly in terms of timing and scale.

However, we expect that SRT will soon have multiple projects underway which we hope will provide a natural hedge in regards to revenue timings across our reporting periods.

Most of our projects are considered to be of national strategic importance and thus SRT is subject to strict confidentiality which places significant restrictions on the details we can provide shareholders on the status of these projects.
My opinion – I don't think there is enough red meat in this RNS to justify a market cap of nearly £50m. I've no doubt that the company has good technology, and a potentially big pipeline. The trouble is, that the repeated, multi-year inability to demonstrate sustainable progress with sales makes me very nervous.
I certainly wouldn't be happy to hold at anything approaching the current valuation. The revenues (and hence profit/losses) just seem completely unpredictable here. That makes it very difficult to value the shares.
Even if big orders do translate into sales, it could just be a blip, with another disappointment around the corner once a lumpy order is delivered.
---
Avation
(LON:AVAP)
Share price: 187.4p (up 2.4% today)
No. shares: 58.9m
Market cap: £110.4m
AGM statement (trading update) – this is quite a detailed update, and summary. There's not really much point in me regurgitating it all here, as you can just read the announcement yourself, which is all self-explanatory.
I've read it twice, and can't see any reference to trading as such. The most interesting bit concerns an update on the approach the company received from a third party wishing to buy its portfolio of 22 ATR turboprop aircraft. That has previously been announced here on 26 Oct 2016.
Today, the company says it's throwing the potential transaction open to other interested parties, obviously in an attempt to maximise the potential sale proceeds. Any profit on disposal over book value would (at least in part) be returned to shareholders, which sounds interesting.
This comment is intriguing;
"The Board observes that Avation PLC ordinary shares are presently trading at a discount to the net tangible assets. It is therefore appropriate and in the interests of shareholders to consider asset sales that generate a premium to book value as a way of delivering enhanced shareholder returns.
That makes complete sense to me.
My opinion - it seems that AVAP is now actively trading its aircraft, where it can generate decent profits against book value. Then redeploying the proceeds into buying new aircraft. Anything that creates profit for shareholders is very sensible, in my view.
This more active approach could well be a catalyst to eliminate the discount to NAV, which is positive for shareholder value. Looks interesting.
---
Redcentric (LON:RCN) - this is the company where the share price collapsed on 7 Nov following an RNS disclosing accounting misstatements. There's another update today. It doesn't really say a lot, other than that (expensive-sounding) accountants amp; lawyers (Deloitte amp; Nabarro, respectively) have been brought in to carry out "independent forensic examinations".
An interim CFO has also been recruited, following the old one being sent packing.
My opinion – no change to my article last week, which is here. As I mentioned at the time, the sell-off looked overdone. However, I'm wary of getting involved here, as in this type of situation the bad news often comes out piecemeal, over a period of time.
Work-in-progress – I've got to pop out now, but will hopefully try to update this report this evening for the following announcements;
RNO – H1 results
CAR – up 15.2% on an RNS
Source:
http://www.stockopedia.com/content/small-cap-value-report-15-nov-2016-lvd-srt-avap-rcn-rno-car-157975/
We encourage you to Share our Reports, Analyses, Breaking News and Videos. Simply Click your Favorite Social Media Button and Share.