Good morning!
Profit warning webinar
Last call for Ed's free webinar, starting at 12:30 today. The sign up link is here.
I forgot to say yesterday, that the data used in this webinar is specifically small caps-based. So this project was originally something I started – by looking through my reports for last year, and using that as a source of profit warnings – since I usually cover the day's profit warnings in these reports.
Then the details on each company's profit warning went onto a spreadsheet, and I started looking at things like: when the share price bottomed out, what % gain (if any) could be had by buying after a profit warning, which companies/sectors were more likely to have profit warnings, etc.
Unfortunately it soon dawned on me that this was a herculean task which would take months of hard work, so reluctantly I had to drop it, after barely having started. Imagine my delight when Ed picked up on it, and put a team of analysts together to properly execute this project. It's taken months, but it's now finished. The results should be fascinating!
EDIT: I hope everyone enjoyed the webinar. I found it absolutely fascinating, and a big wake-up call for me to stop catching falling knives!
Here is the recorded video of the webinar, in case you missed it.
eBook on profit warnings
Here is the link to download Stockopedia's eBook which Ed referred to in the webinar. Essential reading I would say.
---
Somewhat belatedly, I'll now get stuck into looking at some individual company results amp; trading updates.
Speedy Hire (LON:SDY)
Share price: 42.25p (up 15.0% today)
No. shares: 523.5m
Market cap: £221.2m
Interim results, 6 months to 30 Sep 2016 – these figures have been well-received by the market, with a 15% share price rise today. Speedy Hire is an equipment hire company, focused mainly on the UK amp; Ireland.
There was a positive trading update recently, which I covered here in my report of 3 Oct 2016. So we already knew that the turnaround strategy was beginning to work. The highlights table below, taken from today's interim results, makes very positive reading, with all key metrics moving strongly in the right direction;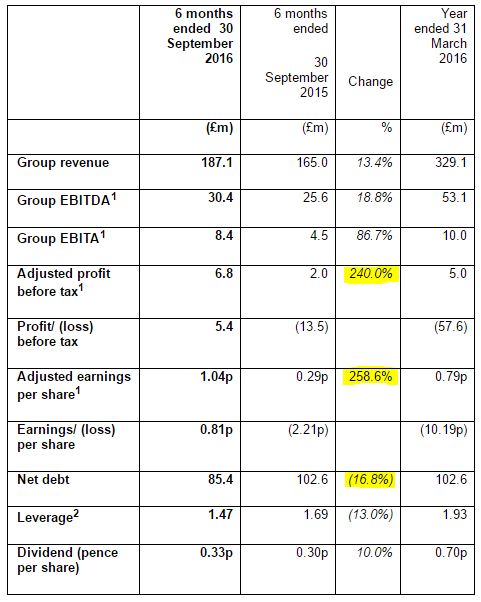 Valuation – good figures today have driven forecast upgrades by at least one broker, moving from 1.6p to 1.9p EPS forecast for this year (ending 31 Mar 2017). I'm wondering if that be a little too conservative, given that the company has just reported 1.04p adjusted EPS for H1. The full year outcome looks like it could be perhaps 2.1p or more, I reckon?
If we go with 2.0p EPS for this year, then at 42.25p the PER is 21.1 – very pricey at first sight, for this type of business, where a more usual valuation would be roughly 7-13 times. However, the market is predicting amp; hence pricing-in continued earnings improvements.
Peel Hunt are forecasting that in 2 years' time adjusted EPS will have risen to 4.7p. If they're right, then the PER would come down to 9.0. Is it right to pay up-front for hoped-for profit growth over the next 2 years? I'm not convinced.
Balance sheet – this is an aspect that I like about SDY – it has a sensibly structured balance sheet, which is quite strong. Obviously it has some debt, but it's at a perfectly reasonable level, in my opinion.
NAV is £182.3m. Intangibles are negligible, at £0.7m, so NTAV is £181.6m. That's equivalent to 34.7p per share, which provides good support for the share price.
I very much like the fact that the bank facility is covenant-free. That gives tons more flexibility, especially when trading deteriorates, as it has done over the last few years. Bank covenants are an absolute curse in my view – turning problems into potential disasters at some companies. So it's great that SDY has managed to secure bank facilities which don't have covenants. Although they use the words,
The facility is currently covenant-free.
I wonder if that implies that the bank might wish to see covenants imposed at the next renewal? There's loads of headroom within the available facility too, which is obviously positive.
Dividends – a pleasing aspect of turnaround situations is that shareholders are usually rewarded with big increases in the divis, as a company recovers. The interim divi is up 10%, with forecast full year yield just over 2%. Not madly exciting, but there's scope for that to rise considerably over the next couple of years, in my view.
Outlook – this sounds positive;
These encouraging interim results confirm that our recovery is well established.

We are now focussed on the strategic development of the business over the medium-term and are implementing a range of customer service initiatives to ensure that Speedy is competitively positioned to grow profitable market share.

Reflecting the progress the Group has made, we now expect results for the full year to be ahead of the Board's previous expectations.
Excellent stuff! Hence the increased broker forecasts today, and the 15% share price rise.
My opinion – I like it. The strong balance sheet has protected shareholders from the problems which arose last year, and seem to being gradually ironed out. The beauty of a strong balance sheet is that a company doesn't need to issue fresh equity to prop up its finances when it hits a patch of poor trading. At SDY the number of shares in issue has barely risen much in the last 6 years.
Whereas if you look at a highly geared company which ran into trouble, Sepura (LON:SEPU) management were forced to issue new equity at increasingly dire share prices, resulting in massive dilution amp; shareholder value destruction. That was entirely caused by reckless management who over-geared the balance sheet. No such issues with SDY, I'm pleased to see.
My main reservation with SDY is the valuation. To my mind the share price already factors in considerable further rises in profitability. Therefore, it doesn't see particularly attractive to me in valuation terms.
My other problem with SDY is the question of what actually went wrong in 2015? It was never really properly explained. There just seemed to be a general meltdown into poor performance. Whilst this is now being corrected, how can we be sure that the same thing won't happen again?
I think Lavendon (LON:LVD) (in which I hold a long position) seems a much better value proposition in this sector, with a similar balance sheet, but a much better dividend yield, and drastically lower valuation on a PER basis.
---
Stockopedia Guru Screens
Note that both SDY and LVD appear in the Bold Earnings Revisions Screen which I was looking at last night. It has 23 qualifying companies, a lot of which I like. Clicking on the "Screens passed" box on a company's StockReport is a great way to find other share ideas which display similar characteristics to an existing shareholding that you like.
Some of the Stockopedia guru screens have had stunning performance results. I've always liked the Tiny Titans guru screen, based on the work of James O'Shaughnessy, whose simple but effective approach has produced remarkable long-term market out-performance.
I downloaded his book onto my kindle last night actually. After all, why struggle to create your own market strategy, when you can just copy someone else's approach which has produced proven long-term out-performance?
---
Koovs
(LON:KOOV)
Share price: 55p (down 12.7% today)
No. shares: 149.7m + 25.7m new shares = 175.4m
Market cap: £82.3m before, £96.5m after fundraising
Fundraising – this Indian online fashion retailer is burning cash at a prodigious rate, and hence needs to keep doing fundraisings in order to stay afloat:
This capital raise is part of the final tranche of the Company's three-year investment programme to raise approximately £35 million, announced in September 2015. It brings the total raised under this programme to £31 million to date.
This is how today's fundraising is structured;
£3.9m – Times of India Group – impressive amp; helpful for marketing purposes.
£7.0m – new amp; existing shareholders
£2.0m – through Peel Hunt "Broker Option" (whatever that is)
Putting these together, it's 25.7m new shares being issued, at 50p each.
That's a whopping 20.6% discount to yesterday's closing price of 63p. Existing shareholders should be annoyed about this – they're being diluted at a big discount. Effectively this means that existing shareholders are having a slice of their shareholding taken away from them, and presented on a plate to someone else, as an inducement for them to inject fresh cash.
Will this be the last fundraising? Not on your nellie! The company has ongoing, and heavy cash burn, so shareholders should expect further dilution. The trouble is, nobody has any idea at what price future funding rounds will be done at. If market sentiment deteriorates, then the dilution could become extreme. It's just a complete lottery.
Why are people prepared to continue funding Koovs then? It's presumably as they are impressed with very strong % growth, such as reported here for the first 4 months trading of 2016/17.
Heavy losses are continuing though, and I think it's a mistake to just look at growth numbers. Any idiot can generate growth if they spend enough on marketing.
My opinion – I've made good money on internet retailers in recent years, and for me there is a golden rule – expansion has got to be self-funding – i.e. the company needs to have cash in the bank, and be profitable or at least at or very near to breakeven.
Also, quality of management is absolutely critical, with relevant sector experience. It takes a certain type of entrepreneur to have the ambition amp; ability to control a rapid growth company. I see just the right type of entrepreneurial management at Boohoo.Com (LON:BOO) and G4M (both of which I hold personally). I've not met management at Koovs, so can't really comment, but their strategy seems dubious at best.
The business model at Koovs has been to create a big central overhead, spend a lot on marketing, and then hope that growth is rapid enough to turn it into a viable business after several years of heavy losses. This is all wrong. It's a very high risk approach, and it's certainly not how either Asos or BooHoo achieved their success.
If you look back to the early years of Asos, it moved into profit in 2003, on turnover of just £7m, and a £350k profit. They year before, when turnover was only £4.1m, it was near to breakeven at a loss of about £0.1m.
So whilst Koovs sells itself as being the next Asos, but in India, the figures suggest that it's taking a completely different, and wildly reckless approach to expansion, compared with how Asos actually did it. Koovs came very close to going bust in early 2015, with the shares dropping as low as 12p. Happily, it survived, but only by the skin of its teeth.
Overall, I think the valuation of Koovs, at about £100m is totally nuts. The company is years away from being financially viable. Still, I suppose punters are looking at it, and thinking that their upside from here could be 50-times, if the business does succeed and reaches the sort of £5bn valuation that Asos peaked at.
One of the reasons that Asos shares did so well, apart from the phenomenal growth in the business, was that there was hardly any dilution. Looking back to 2002, Asos had about 62m shares in issue, when they were just a few pence. I remember well, personally buying 0.5m Asos shares at only about 5p each. Pity I sold them at 9p, thinking I'd done well making an 80% gain lol! Without realising it, I was throwing away a 1000-bagger which would have made me about £25m profit if I'd held them all the way through to today. Oh well, such is life!
With Koovs, there is ongoing, and repeated dilution, because management are burning cash at such an alarming rate. Now it might all work out, I don't know whether it will or not.
This share can only really be seen as a complete punt. Punters need to realise that they could lose some or all of their money. However, if it does work, and becomes the next Asos, then there could be exciting upside.
Personally, I'm not interested in this type of situation. A good online retailer should self-fund its expansion, and be profitable from quite an early stage. Koovs is a million miles away from that, and in my view its approach is way too risky to consider it a sensible investment. So one for people who just like to have wild punts, in the hope that the odd one will be a multibagger.
Obviously if the facts subsequently change, and losses rapidly reduce, then it would warrant a fresh look.
---
Ab Dynamics
(LON:ABDP)
Share price: 468p (unchanged today)
No. shares: 17.8m
Market cap: £83.3m
Results, year ended 31 Aug 2016 – this automotive engineering company put out a positive-sounding update on 12 Jul 2016, which I reported on here.
These figures look very good, considering this is organic growth;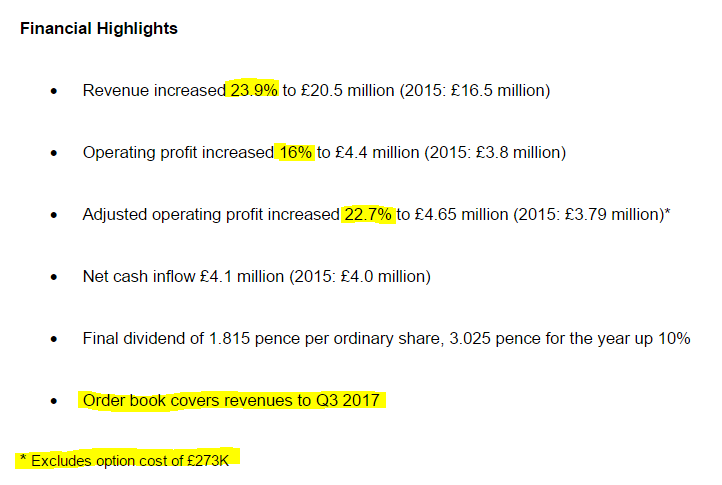 Other things to like;
A UK company, which exports the overwhelming bulk of its production, hence will be a beneficiary from sterling weakness.
New, larger factory opening in 2017, which should help improve revenues.
Solid order book.
Strong balance sheet.
Valuation – it might look expensive on the 2015/16 results, but a jump in EPS to 28.0p is forecast for the new year (ending 31 Aug 2017), which would lower the PER to a more reasonable 16.7.
Dividends – pretty negligible at under 1% yield, but that's fine as the company is achieving great results from investing capital in the business. Note the very high Stockopedia quality scores, it has a Quality Rank of 99.
My opinion – I really like this company. It's not one I currently hold, which was a mistake – I foolishly banked my profits a while back on this one, only to see it continue rising strongly.
Results today look excellent, and the outlook sounds good too. All very positive I think. It seems to operate in a profitable niche, and is delivering decent growth in revenues amp; profits each year. Looks really good.
Meet management – there's a presentation by Tim Rogers, CEO, to private investors next Tuesday 22nd November, at 3pm, London, EC2.
People who want to attend, can book yourself in using this link.
Old video (10 mins) of management is here – worth a watch for background purposes, but it is a year old.
This afternoon I'll be reporting here on;
HML Holdings (LON:HMLH)
Those sections should be up later. Am just popping out for some lunch first.
Source:
http://www.stockopedia.com/content/small-cap-value-report-16-nov-2016-sdy-koov-abdp-158122/
We encourage you to Share our Reports, Analyses, Breaking News and Videos. Simply Click your Favorite Social Media Button and Share.