Good morning!
Profit-taking
I'm noticing that a lot of expensive small caps seem to be suffering from profit-taking at the moment. My feeling (expressed often here about individual companies) is that momentum seems to have taken a lot of fairly ordinary businesses up to valuations that really cannot be justified. This is especially true of small caps which have been tipped somewhere, and hence have attracted a lot of flakey, short term shareholders.
I don't mind paying a high PER (anything over 20 feels high to me) for a business that is growing strongly in a good niche. However, I'll bank the profits and move on, if a fairly ordinary business reaches a valuation getting close to 20. There are plenty of them around – so do be careful – I think we're going into a more wobbly patch for the markets. Hardly surprising when you consider nervousness over the US election.
Perhaps UK markets are beginning to factor in higher inflation next year, and the possibility of interest rate rises? I don't know. It all needs careful consideration anyway – we don't invest in a bubble. Although we always like to fit reasons around stock market movements. With small caps it's often much more simple – they're illiquid, and a few people banking their gains since June just knocks the prices down. This can provide good buying opportunities in the right shares. I'd much rather buy the dips, than chase prices up during a bull run.
Hedging
Given how close the US Presidential election seems to be, and the possibility of an upset, I've taken the rare step of hedging my long positions. I've gone long (via IG) of Put Options on the Samp;P 500 Index, with a strike price of 2050. The current price is 2104, so these options are currently 2.6% out of the money.
The expiry date is 17 Nov 2016, so it's just short term protection against a potential plunge in the US markets over the election period.
I expect we'll see considerable market, and exchange rate volatility over the coming fortnight, so I hope everyone has their hatches battened down.
The nice thing with hedging is that I expect (and hope) that my hedges will expire worthless. However, having the hedge means that I can sleep soundly, and not get shaken out of my best positions by worrying about the downside risk.
I'm padding this out a bit, because there's very little small cap news today.
---
Bilby
(LON:BILB)
Share price: 67.2p
No. shares: 40.1m
Market cap: £26.9m
Trading update – this is an acquisitive group of building services companies, serving local authorities and social housing. The main sectors seem to be gas maintenance, electrical services, and building services.
I've deliberately avoided this share, after having a couple of meetings with larger competitor Lakehouse (LON:LAKE). Lakehouse has made a complete hash of things, and is suffering from local authority budgets being squeezed – so contract delays, deferral of maintenance amp; repair, etc.
Somebody (a broker or PR person) got in touch with me a couple of months ago, to explain why Bilby was very different to Lakehouse. I listened politely, but was not convinced. To my mind, the same cost pressures that hurt Lakehouse were likely to hurt Bilby too, at some point.
Timing of Profit warning – Bilby inconvenienced shareholders considerably, by putting out a profit warning at 10:07 yesterday morning. There's nothing more likely to upset your shareholders, than issuing a profit warning whilst the market is open.
Why does this happen? Well, I made some enquiries some time ago (for a different company), and it seems to come down to the FCA rules on disclosure amp; transparency. Basically companies usually have to inform the market immediately if something significant happens (e.g. a profit warning). They're not allowed to delay it until the next morning.
Although surely companies could schedule a board meeting to consider current trading towards the end of the day, then contact their broker or NOMAD to discuss the need for a profit warning after hours? Then the profit warning should come out at 7 am, as most of them normally do. Companies amp; brokers really need to get their act together on this, as it's totally unacceptable having profit warnings issued during market hours – because that gives an advantage to professionals, who see amp; read the profit warning the most quickly, and have the fastest brokers. This can enable them to exit at a much more favourable price, before other people have even seen the RNS. How can that possibly be fair? Well, it's clearly not.
I think shares should be suspended for an hour, if a profit warning is going to be issued during the day, to give everyone a fair chance to read amp; interpret the statement. This would then level the playing field in the same way that a 7 am announcement gives everyone an hour to read amp; interpret normal profit warnings.
Loss of major customer – this is the main reason for Bilby's profit warning;
…However, a long standing and major public sector customer of the Group has, during the period, changed the processes by which they manage their outsourced building services work. This has resulted in both delays to expected work and certain work being taken in house by the customer.

The Group is confident that this development is no reflection of any change to Bilby's highly regarded reputation for operational excellence nor any wider market trend.

Nevertheless, as a result of the above, and certain other additional costs incurred by the Company in the first half of the financial year, the Board has revised down its financial expectations for the financial year ending 31 March 2017 with revenue expected to be impacted by approximately 10 per cent. and EBITDA by approximately 25 per cent.
Note that it's not just the loss of a major customer. "Certain other additional costs" are also mentioned. I'm not as confident as Bilby is, that this is not part of a wider market trend. Cost-cutting by local authorities, of various types, is very much a wider market trend.
Top marks for quantifying the extent of the profit shortfall. Why can't all companies do this? It's simple, and removes guesswork. Shareholders need accurate information, and this really does need to become the norm, to give a rough idea of what % shortfall against market expectations (and do a footnote to state what those expectations are too, please) will be.
Outlook comments are still upbeat;
The Board continues to strongly believe that the opportunities for the Bilby Group in social housing remain very strong especially in its targeted geographical locations, namely London and South East England.

This confidence is underpinned by newly awarded contracts throughout the Group that continue to extend Bilby's range of services and client base, firmly establishing its building services division alongside the market-leading gas, plumbing and drainage services on which the business was founded.
My opinion – a 25% fall in profits isn't the end of the world. Although losing one customer, and it knocking a quarter of your profits out, is a reminder of how dependent small caps often are on individual customers.
The share price has been drifting for a while, and is now well under half its peak earlier this year. So at some point there could be value here.
Trouble is, this is just a horrible sector right now. There's no sign of budget pressures easing on local authorities. So I just see more pain in this sector, for the foreseeable future. Why buy the shares then, when more profit warnings are probably only a matter of time?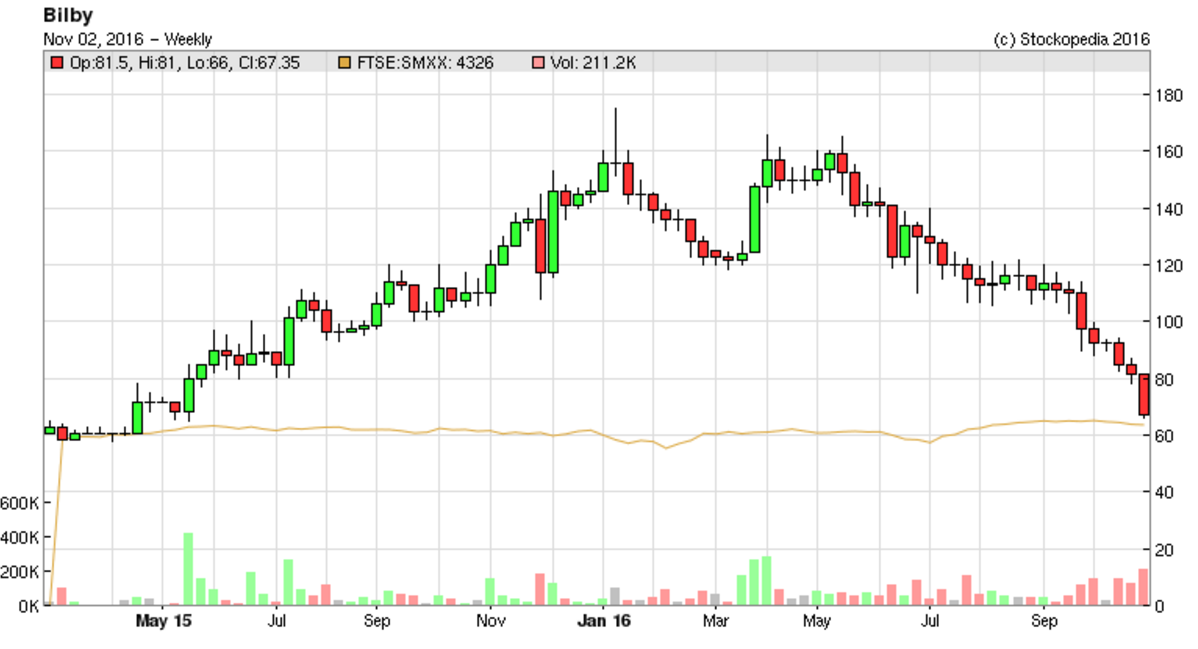 ---
Begbies Traynor (LON:BEG) – at the time of writing I hold a long position in this share. Good to see bank facilities renewed through to 2021, and unsecured – demonstrating that the bank have confidence in the company. It's quite rare to see unsecured bank facilities these days.
In the current year there will be one-off costs incurred in connection with the refinancing with the full benefit of the reduced finance costs being realised in future years.

The Group will retain considerable headroom under the new facilities, with net debt having stood at £10.4 million at 30 April 2016.
Sounds like up-front arrangement fees, but cheaper interest charges in future.
---
4imprint (LON:FOUR) - an in line with market expectations update is out today.
This has been a terrific organic growth share. Looks priced about right to me, providing the growth continues.
---
There's nothing else of interest today.
I'm jumping on a train up to London shortly, to meet a company CEO. Will let you know if it's anything of interest.
Regards, Paul.
(usual disclaimers apply)
Source:
http://www.stockopedia.com/content/small-cap-value-report-2-nov-2016-bilb-beg-four-156730/
We encourage you to Share our Reports, Analyses, Breaking News and Videos. Simply Click your Favorite Social Media Button and Share.