Good afternoon!
Mello Beckenham
We're hoping to have a full house at Sea Salt restaurant in Beckenham tonight. Organiser David Stredder has asked me to do a presentation on the key features about Avesco (LON:AVS) which pointed towards both the share being undervalued, and the possibility of a takeover. The idea being to identify points which we may be able to spot at other companies, and hopefully thereby spot future big winners.
So I was burning the midnight oil last night, learning how to use Powerpoint – something which has been on my to do list for about 20 years. It only took 17 minutes, watching this video, to learn the basics. Four hours later, and my slides were created. Exciting!
If you'd like to come along, there are a few places left. Booking details here.
---
Alternative Networks
(LON:AN.)
Share price: 332.5p (up 16.6% today)
No. shares: 48.6m
Market cap: £161.6m
Recommended cash offer – the takeover bids are coming thick amp; fast at the moment. However, I doubt many Alternative shareholders are celebrating today. This agreed deal is at a pathetic 17% premium to the last closing price.
The explanation for this deal given in today's announcement seems unconvincing to me. The price of 335p looks far from generous, when you look at the 2-year chart: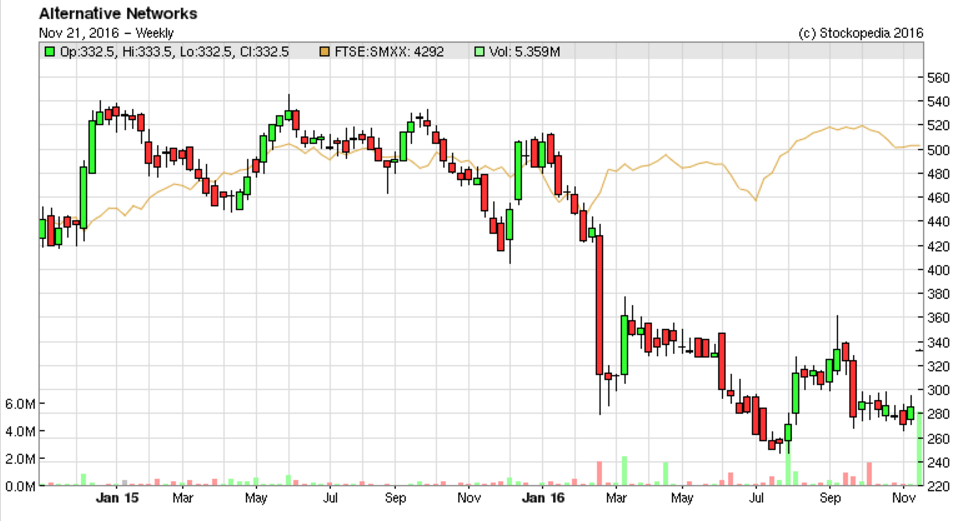 There again, it may be the case that previous levels of profit and cashflow could be unsustainable – which was the main worry that kept me away from this share.
As I reported here on 27 Sep 2016, forecast profits were falling. It was a mild profit warning. So perhaps the bid isn't such a bad deal after all?
This looks a done deal, as 57% irrevocable undertakings have been given. Remember that Institutions often welcome takeover bids, as it gives them an exit route from a position they may be stuck in amp; otherwise unable to exit. So their agenda may be different from private investors, who are able to move more easily in amp; out of small caps.
---
Searching the archive
A reader has just messaged me asking this;
Hi paul, thanks for your great posts. what's the mechanism if I want to search your posts for a specific company you many have written recently about that I might be researching. ie is there a search engine capability that I can search your posts for specific companies.
Other readers may want to know this too, so I'll answer here.
You just put in the company name or ticker into the search box at the top of the page. That brings up the relevant StockReport for that company.
Then click on the "Discuss" tab in the StockReport.
That will then show a list of all my reports which mention that company, plus posts from other Stockopedia members who have also tagged that company in any posts.
One of the main purposes of my reports is to build an archive on hundreds of small companies. So we can quickly check previous reports to refresh our memories about any company within my universe.
---
Bonmarche Holdings
(LON:BON)
Share price: 90.5p (up 3.4% today)
No. shares: 50.0m
Market cap: £45.3m
Interim results, 26 weeks to 24 Sept 2016 – shares for this ladieswear retailer have performed very badly in the last year, losing more than two thirds of their value after a series of profit warnings. This ties in nicely with what Ed was saying in his terrific profit warning webinar – that on average, companies which warn on profits tend to see their share prices under-perform for the next 18 months.
Here are the financial highlights, which generally I find rather worrying;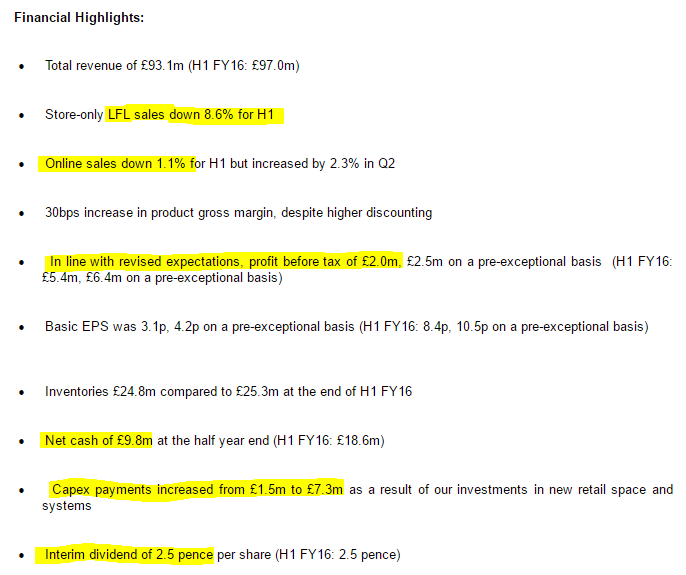 In a nutshell, sales amp; profits have crashed. In my experience in this sector, when LFL sales are down as much as 8.6% then things are going badly wrong. The company stupidly blamed this on the weather in previous updates, which is nonsense. When sales are down that much, it means competitors are eating your lunch – your product offering isn't good enough – either on quality, design, or pricing. Or probably all three.
Even online sales fell in H1 – this should be a strong growth area.
Gross margin held up, despite heavier discounting. I wonder how this has been achieved?
Cash is falling fast – capex looks heavy.
Divdends – have been held at 2.5p. That's probably OK, given there is still a (reduced) cash buffer on the balance sheet.
In line with the latest expectations, but look how much expectations have reduced in the last year: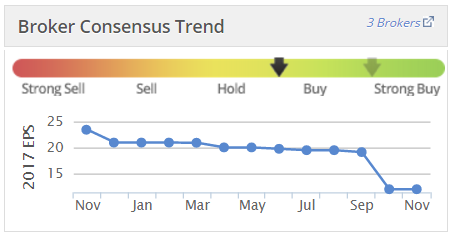 Note also that 20-year old software is being replaced. I'd be very wary about that, having experienced first hand how badly wrong new software projects can go. The trouble with retail systems, is that you can't stop the business – systems have to work perfectly in real-time, or you quickly lose control of the business.
Director comments – they're still blaming external factors, but have started to admit that things have gone wrong internally too:
Market conditions continue to be very difficult. Data from the ONS suggests that apparel sales have been weak despite overall retail spending levels being reasonably robust. Its figures for September indicated that retail spending in the UK grew by 2.9%, while sales of textiles, clothing and footwear declined by 5.0%. According to Kantar's data for the 26 weeks ended 24 September 2016, Bonmarché's share of the 50 plus womenswear market declined slightly, from 3.3% to 3.2%. Although this loss in market share is small, Bonmarché's objective is to gain share of this market, and therefore these figures are disappointing.

Sales were affected by certain basic retail disciplines not being sufficiently co-ordinated or robust, and the fact that there were parts of the plan which were not executed to the desired standard; these have been dealt with or are being addressed as part of future planning…
This sector is so ultra-competitive, that weak-performing companies are brutally weeded out by market forces.
Forex – this is a key point at the moment, and BON scores a positive here, being well-hedged, so this will defer the impact of weaker sterling;
Our anticipated dollar requirements for the remainder of this year are fully covered by forward contracts, as is approximately 80% of the expected requirement for FY18.
Cost inflation – a huge increase in costs as a % of turnover. This is very worrying:
Costs were well controlled, however underlying operating expenses increased by 4.3% year-on-year and as a percentage of turnover, from 50.8% to 55.1%.
Profit margin – has collapsed as a result of poor sales amp; higher costs:
The PBT margin declined on an underlying basis from 6.6% to 2.6% (on a statutory basis: from 5.6% to 2.1%), as a result of the sales decline and operating cost changes highlighted above.
Outlook – the key bit says;
As we approach the key Christmas trading season, we continue to face considerable uncertainty as to market conditions and we believe that the clothing market generally will continue to be challenging.

Recent trading has shown an improvement since September, reflecting better ranges and more seasonally appropriate weather, which has supported demand for coats and knitwear in particular.

The Board's view is therefore that, in line with the guidance issued in September, the Group's full year PBT is likely to fall within a range between £5.0m and £7.0m.
At least things are not getting any worse then. For now anyway.
My opinion – this is a struggling business, in a highly competitive sector.
That said, things seem to have stabilise, and it's still profitable, and cash generative. Although the heavy capex, and declining cash pile, are a worry.
The trouble is that the shares have looked cheap all the way down from 300p to 90p. Earnings forecasts have then reduced, and you realise it wasn't cheap after all. I don't think people should rely too much on the divis either – they'll eventually be cancelled if performance declines further.
Costs are rising, so standing still isn't good enough, let alone steep declines in LFL sales.
On balance, I don't think it makes sense to chase low PER shares like this. It's cheap for a reason – because the business is struggling. It strikes me that there are probably lots of things wrong internally, which takes time to sort out. Best avoided, in my view. I'd rather pay more for growing companies that beat forecasts, rather than seeking out cheap stocks which then miss forecasts.
---
DX (Group)
(LON:DX.)
Revised AGM time - I understand that a number of shareholders complained to this company amp; its advisers that the 8:30am AGM start time was impractical for travel arrangements.
So it's great to see that the company has listened, and adjourned the meeting to a slightly better time, to give people time to travel there outside of rush hour.
DX, the leading independent parcels, mail and logistics network operator, announces that its Annual General Meeting, which is to be held on 6 December 2016 at DX House, Ridgeway, Iver, Bucks, SL0 9JQ, will now start at the revised time of 10.30am.
It's great when companies are receptive to shareholders with valid complaints such as this.
As a general note to all companies – please set your AGM start times at a reasonable time, which will allow shareholders time to travel. I think late morning, or lunchtime is best, as that also allows shareholders (who are often pensioners) to travel on much cheaper off-peak rail services.
Also, if companies put on a proper presentation (similar to the ones given to Instis) then shareholders greatly appreciate that, and word goes round that it's worth attending the AGM, and numbers go up. Some nice coffee, and decent sandwiches are always welcome too.
---
All done for today. I have to put some finished touches to my slides for tonight's presentation on Avesco (LON:AVS) at Mello Beckenham – am looking forward to seeing some of you there.
With the market now bidding almost 638p for Avesco shares, I've decided to bank some of my profits. Giving up the last 2% to remove any risk (however remote) of the deal falling through, seems a reasonable step to take.
Regards, Paul.
(usual disclaimers apply)
Source:
http://www.stockopedia.com/content/small-cap-value-report-21-nov-2016-avs-an-bon-dx-158977/
We encourage you to Share our Reports, Analyses, Breaking News and Videos. Simply Click your Favorite Social Media Button and Share.