Good morning!
I'm planning a bit of a catch up this afternoon, so intend looking at the following shares;
Victoria (LON:VCP) – results which I missed a couple of days ago
Majestic Wine (LON:WINE) – again, results from a few days ago
Fuller Smith amp; Turner (LON:FSTA) – have been meaning to look at this for ages
Then a few brief comments on other stocks.
---
Victoria
(LON:VCP)
Share price: 327p (up 9.0% today)
No. shares: 91.0m
Market cap: £297.6m
(at the time of writing, I hold a long position in this share)
Interim results 26 weeks ended 1 Oct 2016 – these results were published 3 days ago, so I'm not sure what has caused the 9% share price rise today. It's possibly a delayed reaction to analyst amp; Institution meetings with management? Also, this share is surprisingly illiquid given its market cap – as shares are tightly held.
I met the charismatic Exec Chairman, Geoff Wilding, about 3 weeks ago, and reported on it here. It's a fairly straightforward buy amp; build – Mr Wilding is an experienced investment banker, who has done buy amp; builds before. So far he seems to have done an extraordinarily good job at Victoria – it almost looks too good to be true, but I can't see anything wrong with the figures.
The headline figures from the Pamp;L for the half year look terrific;
Total revenues up 45.3% to £153.4m – this is mainly driven by acquisitions
Organic revenue growth of 8.0% (4.9% at constant currency)
Underlying operating profit of £14.4m is up 82.3% – the adjustments don't look particularly aggressive to me, so I'm prepared to take this at face value.
Balance sheet – I'm less happy with this part of the accounts.
Working capital is absolutely fine – with a healthy current ratio of 1.76.
However, in my view the long-term creditors look too high, at a total of £120.6m – this figure includes a £9.7m pension deficit.
Overall, NAV is £73.4m, but this includes a lot (£91.1m) of intangibles. NTAV is negative -£17.7m. Normally I don't invest in companies with negative NTAV, however in this case I've made an exception because the business is performing so well, and strongly cash generative.
I raised this issue of the balance sheet directly with the Chairman at our meeting. His view is that debt is not at problem levels, and the Net Debt:EBITDA figure (reported today at 1.93 times) is not excessive, and that the business could even take on more debt. Cashflows are such that he believes net debt could be quickly repaid if required, just by stopping doing any more acquisitions (but that's not going to happen).
It's up to shareholders whether you are comfortable with this or not. Personally I'm not entirely comfortable with what to me seems a slightly stretched balance sheet, but I can live with it, given the fantastic growth on the Pamp;L. Personally I'd like to see a modest equity fundraising to bolster the balance sheet, and provide more downside protection.
Comments today in the narrative do reassure on the seasonality of debt;
We have consistently demonstrated over the last four years that, while there is a significant seasonal profile in Victoria's net debt (our working capital levels peak in September each year due to the increase in demand during the pre-Christmas rush, plus the timing of our deferred consideration payments are substantially weighted to H1), overall cash generation is aligned to annual earnings.

Management across the entire Victoria Group is very focussed on cash generation, which gives the Board the confidence to appropriately deploy debt to fund acquisitions.
Outlook – the Chairman is upbeat. This is his summary today;
"During the last six months we remained focused on executing our plan, with the acquisition of Ezi Floor extending the Group's underlay offering and earnings.

The Board continues its effective cash management whilst at the same time being quick to identify and implement potential commercial and margin enhancing synergies across the Group as we gain market share both in the UK and Australia.

With no shortage of acquisition opportunities in the UK and Europe, the Board is confident it can continue to grow Victoria and create more wealth for shareholders."
So I think we can expect more of the same – sensible acquisitions, done at the right price, then costs amp; working capital reduced.
The narrative is well worth reading in full, as it provides lots of interesting information about the group. Here are some more excerpts from the outlook section. In particular note that Victoria is benefiting from weaker sterling;
Both markets in which Victoria trades – the UK and Australia – continue to perform well.

The Australian flooring market is experiencing very good demand from consumers. Although Australia housing stock is about one-third that of the UK, the houses themselves are about three times the size of the average UK house and therefore the addressable market is quite similar in size.

I have been delighted by the performance of both our historical business in Australia and Quest, the acquisition we made in August 2015.

The UK, which is about 75% of our business, also continues to trade well. Brexit has had no discernible impact on demand for product and, with some 60% of carpet sold in the UK imported – primarily from Europe – weaker Sterling has benefited us by making our main competitors product materially more expensive whilst less than 20% of our cost base is in Euros or US dollars.
This seems to augur well for the future, so I expect we'll see more decent organic growth.
I can't see any specific reference to performance versus full year market expectations, but this comes close;
Therefore, once again, I am pleased to say the Board faces the balance of the financial year with a positive outlook.
Note that broker expectations tend to be repeatedly increased here;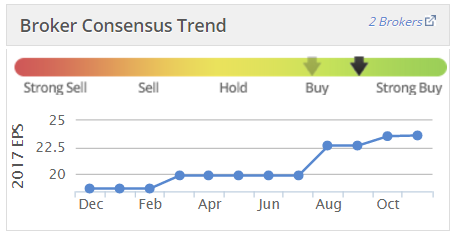 Valuation – the usual Stockopedia graphics are below. Note the strong PEG score, and a pretty modest PER given the growth being achieved. Quality scores look quite good too. Although note the "n/a" for Price to Tangible Book Value – which is always worth checking, as a n/a indicates negative NTAV, which I'm not keen on.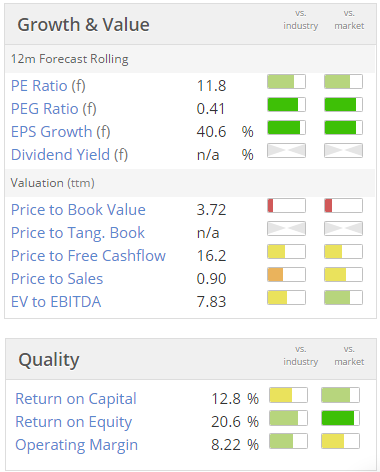 My opinion – I like it, hence why I hold a long position in it. Personally, where I'm not 100% comfortable with the balance sheet, then I tend to keep the position size at a low-medium level, which is the case for me here. That builds in more downside protection, as if something does go wrong, then it won't be a disaster.
Overall though, this seems to have been a spectacularly successful buy amp; build. 6 good acquisitions have absolutely transformed the group, and look at what the share price has done! I don't suppose anyone is complaining.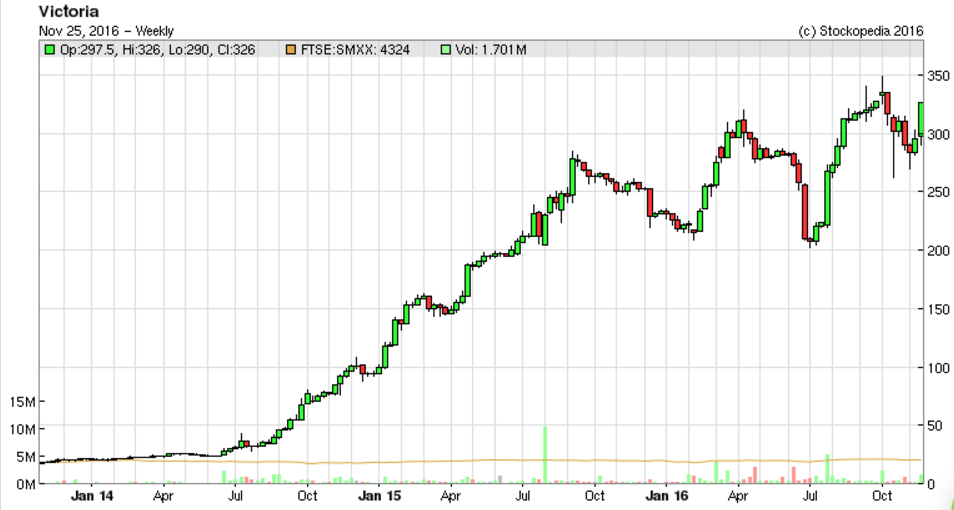 ---
Takeover frenzy
We're seeing a remarkable bout of takeovers for UK listed small caps at the moment, mostly from overseas buyers. Here's the latest one:
Constellation Healthcare Technologies Inc (LON:CHT)
Recommended takeover bid - I've only reported on this company once, here on 2 Sep 2016. It's an American company, listed on AIM, which seems to be an outsourcing company for healthcare invoicing.
I noted the shareholding structure (a dominant CEO controlling about 46% of the company) as being possibly one reason why the share price was languishing at the time about 149p, on an apparently cheap rating.
Anyway, this share has risen about 18% today to 220p, on news that the CEO wants to buy the whole company.
Terms – shareholders will get $2.93 in cash (about 236p) plus $0.43 in promissory notes – which frankly look like they're almost worthless – being unsecured, rolling up 5% PIK interest coupons, and being supposedly paid out in 7 years' time! So I would disregard the promissory notes, and treat the actual takeover price as being the 236p cash element.
This company floated in Dec 2014 at 135p, so to be bought out at 236p 2 years later, is a nice return for shareholders.
My opinion – this looked an odd company, and I didn't like the shareholding structure at all. So being bought out at a modest premium looks fair to me – as I doubt this share would have gained much traction on the UK stock market.
How many more companies (especially ones with dollar earnings) will be bought out in the future? This looks a very hot area for investors to potentially gain windfalls. Look at the remarkable premium achieved to sell Avesco (LON:AVS) – whose main profits come from its USA subsidiary. Exciting times!
Brammer (LON:BRAM)
Recommended offer – another one to receive a takeover approach, at 165p in cash, which was announced 2 days ago.
With the shares at 97.5p the day before, this is a lovely premium of just over 69%.
---
Fastjet
(LON:FJET)
It's got the begging bowl out yet again! Unbelievable.
The Chairman is also resigning, considering it inappropriate for him to lead another fundraising so soon after the last one.
The CEO reckons the company can breakeven by Q4 2017, but needs more cash to get there. How many times have we heard that before? I wonder whether they can find fund managers prepared to throw away more of their clients' money, as has happened a number of times in the past?
---
Majestic Wine
(LON:WINE)
Share price: 287.25p
No. shares: 70.8m
Market cap: £203.4m
Interim results, 6 months to 26 Sep 2016 – these figures came out on 17 Nov, so just over a week ago. This is such a difficult company to analyse at the moment, because the revised strategy under relatively new CEO Rowan Gormley has been to step up costs, in order to drive future growth. This has resulted in a short term plunge in profitability.
The CEO commentary starts off boldly with the words;
Our plan is working.

We said that we would deliver sustainable growth, not by opening more stores, but by investing in better customer service and better customer retention.

Both of these are working – sales are up over 10% and the projects driving that sales growth, like nationwide next day delivery, are on time and on budget.

Now that we have built a solid platform for future growth, future cost growth will be much lower.
That all sounds great, but the H1 figures tell a very different story.
Revenue up 13.2% to £205.6m
Adjusted EBIT (i.e. adj. operating profit) down 92.4% to just £0.7m
So an almost complete collapse in profitability in H1. This was planned though, and is part of the strategy to improve performance longer term, through "investing" in staff training, IT, etc. The trouble is, those are costs that go through the Pamp;L, not capex.
This is the conundrum that all retailers face. Do you strip out costs to the bare bones, to eke out the best possible short term profit? Or do you spend more on training amp; staffing your shops, in order to give a better customer experience, and (hopefully) deliver a better long-term outcome? The trouble is, with so much competition from supermarkets and online, it's very difficult to predict which approach will be successful.
It is impressive that the retail outlets produced a strong +5.7% LFL sales growth. So if they can build on that further, with no more cost increases, then the strategy could work.
Dividends – a 1.5p interim dividend is announced, with a big fanfare about how this signifies management confidence, etc. The new policy on divis is to pay out 35% of full year adjusted earnings.
I'm not placing too much reliance on this. The new CEO seems a flamboyant marketing man, probably from his previous work at Virgin. So I'd rather see the profits first, then the divis on a sustainable basis, rather than jumping the gun with this 1.5p payout.
What we got wrong – I quite like this openness in the narrative. However, the mistakes made are somewhat alarming. Are management brilliant or reckless? I can't decide.

Naked Wines – I think the jury is out on this. Is it a good business or not? It's difficult to tell.
Outlook – there's lots of detail in the chatty narrative. There seems to be an in line with expectations comment for the full year;
Challenges remain, but we are comfortable with current consensus expectations(2)

(2) As of 16 November we believe the range of revenue expectations for FY17 is between £430.6m and £443.4m and PBT expectations for FY17 is between £11.9m and £12.4m
it's so good when companies include a footnote like this, to specify what market expectations actually are – it's incredibly helpful. All companies should do this.
Valuation – it's so difficult to value this company, as nobody really knows whether the new strategy is likely to work or not. So the forecasts for this year reflect the up-front additional costs, and the slip-ups which have occurred this year. It may therefore be unfair to value the company on a multiple of this year's profits, on which it looks quite expensive, as you can see below.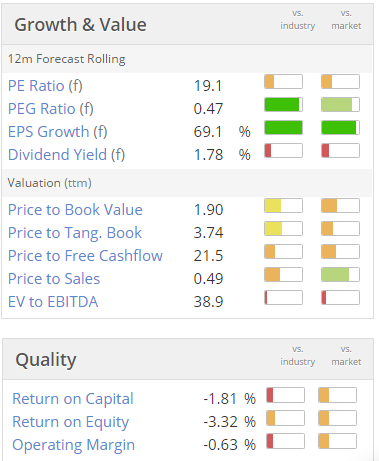 Balance sheet – overall it looks OK-ish to me. Note the cash benefit from receiving wine angel's money up-front, shown as deferred income creditors.
There's a bit of bank debt, but it doesn't look alarming.
My opinion – the only honest conclusion I can come to, is that I simply don't know whether this company is any good or not. If you like, and support the new management amp; strategy, then it might be worth a punt.
I think there's a heightened risk of an H2 profit warning, given that a big jump in performance has to happen in H2, but that should happen from seasonal factors I guess.
Overall, I wish the company well, but the direction it has taken is too speculative, and fraught with risk, for my taste.
Work-in-progress – article being updated gradually throughout this afternoon
Source:
http://www.stockopedia.com/content/small-cap-value-report-25-nov-2016-vcp-cht-bram-fjet-mjw-159797/
We encourage you to Share our Reports, Analyses, Breaking News and Videos. Simply Click your Favorite Social Media Button and Share.