Good morning!
Here is yesterday's report, which I wrote overnight, so most people won't have seen it yet. I recapped on the interesting takeover battle for Lavendon (LON:LVD) , plus tried to understand the situation at Trakm8 Holdings (LON:TRAK) after poor interim results. Also a quick look at Stride Gaming (LON:STR) .
On to today.
---
Crawshaw
(LON:CRAW)
Share price: 24.1p (up 7.2% today)
No. shares: 79.2m
Market cap: £19.1m
(At the time of writing, I hold a long position in this share)
Trading update – my heart sank when I saw this, as I assumed it would be another profit warning – given how the share price has been almost in freefall of late.
Overall though, it's actually not that bad, when you consider that the share price has now dropped by 74% in the last year. This spectacular fall from grace is because perception changed from it being a sexy retail roll-out, to being a small chain of barely-profitable butchers.
The first paragraph of today's update reassures;
Crawshaw Group plc ("Crawshaw" or the "Group") (AIM: CRAW), the fresh meat and food-to-go retailer, notes the recent movement in its share price and confirm the Group continues to trade in line with management expectation.
Sales trend – this has improved, as you can see below, but is still negative;
Previously reported on 29 Sept 2016, LFL sales;
Q1 (Feb, Mar, Apr): down 0.8%
Q2 (May, June, July): down 7.8%
Q3 (Aug, Sept, Oct) – first 7 weeks only: down 15.8%
Reported today (29 Nov 2016), LFL sales;
4 weeks ended 27 Nov 2016: down 8.1%.
Clearly, a decline of 8.1% in LFL sales for the most recent 4 weeks is still a poor performance. However, the trend is improving from the disastrous performance earlier in Q3.
The company's self-help measures appear to be slowing down the decline in sales. It emphasises today that full year results still rely on the key festive season;
The Board are confident in the actions taken so far and are encouraged by the early improvements in sales, but note the importance of this progress being maintained through the key winter and festive period to deliver full year profit expectations.
Forecasts – I've not seen any updated broker figures yet this morning. So based on the existing numbers, it's expected to produce a small loss of £0.1m this year. It sounds like there might be a little downside risk on that, if Xmas isn't as good as CRAW hope.
My opinion – it's obviously going to take time to restore market confidence here, if it can be restored. The original roll-out plan seems to be highly questionable now. The issues seem to be;
Supermarkets fighting back with better value offers on meat
CRAW self-inflicted damage – they tried to get too clever on margins, and the customers walked away. So it's having to go back to the basics, of being a discounter.
New High Street stores not producing enough profit. However, out of town sites doing well, e.g. West Bromwich
Giving branch managers more input into choosing products amp; price points that their customers want – this suggests to me that Head Office doesn't have a decent merchandising department - it's their job to spot what sells in which locations, and adapt products/pricing accordingly. There could also be an issue with inadequate EPoS-derived information?
My opinion - it seems to me that CRAW management tried to run before they could walk. So they embarked on a rapid expansion of stores, without first getting the business model robust enough.
Maybe they just hit a temporary sweet spot, catching the supermarkets napping, that has since disappeared? I think the jury is out on this company at the moment, and the share price crash has reflected that.
The share price is all over the place this morning. There still seems to be an aggressive seller in the market. So I've got no idea what the share price will do in the short term.
Longer term, I think at £19m (24p per share), the market cap is now factoring in very little progress from here. The balance sheet is OK for now, and with a significant depreciation charge, the company should generate cash even at breakeven on the Pamp;L.
I think there's a chance that things could improve, once the disappointed sellers in the market have been flushed out. It's anybody's guess how long that will take – it can take a very long time with small caps, due to the illiquidity.
The price isn't yet cheap enough for me to want to back up the truck, but it's not far off. So personally I intend holding for now, and seeing how things develop. If the price continues falling, then sub-20p would start to look interesting as time to top-up. 15p or below would, for me, be time to fill my boots.
Management are very ambitious, but they're really messed things up this year. So it could take time for them to repair the damage, and regain credibility.
---
IG Design
(LON:IGR)
Share price: 288p (up 4.2% today)
No. shares: 62.6m
Market cap: £180.3m
Interim results, 6 months to 30 Sep 2016 – these figures look excellent! Also, I must say top marks to the company amp; its advisers for being completely transparent in how they're presenting the highlights. Each item is broken down into how much growth is organic, and how much has come from the acquisition of Lang, and the gains from forex.
Note how forex has had a massive impact on these numbers, in a favourable way. This got me thinking that there could be upside on other shares I own, with US dollar earnings. Maybe we've been under-estimating potential favourable forex gains? Or the opposite too – maybe we're under-estimating the damage at companies which sell in the UK, but buy in dollars? All food for thought anyway.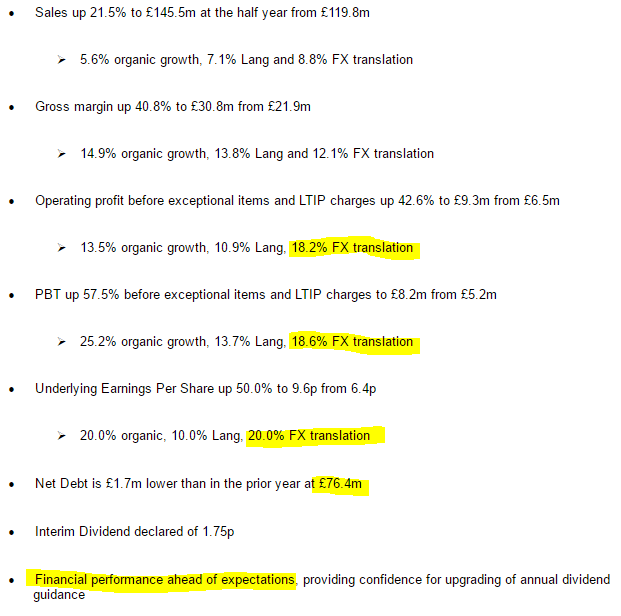 Net debt tends to be high at the interim stage, because of seasonal working capital requirements – so debtors are inventories are very high at the half year, but reduce back down again by the year end on 31 March.
Outlook comments look excellent;
With a strong order book in place for the balance of FY 2016/17 we are on course to deliver financial results materially ahead of market expectations for the full year.

Current momentum in sales and gross margin is expected to be maintained into the second half of the year.

While the timing of overheads and the acquisition of the Lang Group of Companies part way through the year (therefore excluding early periods which are seasonally loss making) has slightly flattered the first half year's results at the levels of operating profit and below, profits and our key metric of earnings per share are also expected to be stronger.
That sounds really good. I'll wait to see what the revised broker forecasts look like, but the company certainly seems to be on a roll.
My opinion – when last reporting on this company, I was concerned that the share price looked to have run away with things. However, we now find out that the company is trading materially ahead of expectations. So maybe insiders were filling their boots, knowing that things were going well?
It's so difficult when you see a share price move above a sensible valuation. What are we meant to do? Sell because it's got too expensive? Or hold on, hoping that the buying is being driven by people who know that the company is performing ahead of expectation? It's very difficult, and there's no simple answer.
Good companies do tend to grow into their valuation though. Also the market is very excitable about growth companies right now.
Everyone I know who has met management here, has said how good they are.
---
I have to stop here for now, as have a meeting in the City.
I'm partially nocturnal at the moment, so wouldn't rule out the possibility of a further update this evening, as there are loads of updates for me to look at today.
---
Evening update - several readers have asked me to look at Patisserie Holdings (LON:CAKE) and £D4T4 so I'll get cracking with that now.
Patisserie Holdings (LON:CAKE)
Share price: 270p (up 4.7% today)
No. shares: 100.0m
Market cap: £270.0m
Results, year ended 30 Sep 2016 – I read these results earlier today, on my iPad whilst having a soak in the bath. I couldn't see anything wrong with the figures. On the contrary, this stock ticks nearly all of the boxes that I like;
Self-funding roll-out of new stores, going well – about 20 new stores each year
Excellent profit margins
No issues from Living Wage, or currency – all seems to have been dealt with smoothly
Bulletproof balance sheet, including £13.3m net cash
Quality management, including the Luke Johnson halo effect – he's Executive Chairman – like most investors I'm sure, I have tremendous respect for him
Outlook comments sound good – "encouraging" performance in first 8 weeks of new financial year
Average store payback period of 23 months – this is highly impressive
What's not to like?
Dividends – unnecessarily stingy in my view. The yield is only about 1.2%. To my mind, looking at the balance sheet amp; cashflow statement, I think the business already has scope to pay much more generous divis. Still, at least that's something to look forward to in future years.
My opinion – my only reservation with this share in the past, has been that its rating got rather racy. Paying a PER of 25-30 really was getting too much.
Since then though the rating seems to have moderated somewhat. Right now I would say the price looks about right. It's just announced diluted EPS of 13.6p, so at 270p the PER is 19.9 – that's not traditionally what we would think of as cheap, but for a self-funding retail roll-out, with high margins amp; a lovely balance sheet, it's not unreasonable in my view.
EPS rose by 20%, so a PER of 20 looks about right – that's a PEG of 1.0.
The market tends to look ahead at the current year earnings, and it looks as if CAKE should do about 16.0p this year, so the PER drops to 16.9, which looks about right to me.
The chart seems to be showing a gradual loss of interest in this share, it's been drifting down, which is quite surprising for a high quality business like this. Maybe some investors are chasing faster growth at online companies? The problem with a physical stores roll-out like CAKE, is that the growth can only go so fast. That limits the PER to around 20, in my view.
Overall, I think this is a fantastic business, and I'm starting to get tempted to buy some – the valuation is now coming into range for me. I'll ponder it for a little longer, but don't be surprised if I add this to my portfolio in the coming weeks/months, if the valuation drops further.
It's very surprising that the StockRank is only 32 at the moment. CAKE has a very high quality ranking on Stockopedia (93), but is let down by very low value amp; momentum scores.
Maybe the market is worried that with consumer spending likely to tighten in 2017, perhaps CAKE might experience a slowdown in its customer spending? Personally I doubt it. I agree with the company's view that it is seen as an affordable treat in more difficult economic times. Also £2.95 for a slice of cake is hardly extortionate is it?!
---
MySale
(LON:MYSL)
Share price: 96.5p (up 3.2% today)
No. shares: 151.3m
Market cap: £146.0m
(at the time of writing, I hold a long position in this company)
Trading update (AGM statement) – it sounds as if things are going quite well at this online "flash sales" clearance group;
"The current financial year has started well with revenue growth rates similar to the second half of last year and with substantially enhanced gross profits.

"We have continued to direct more of our marketing spend in the core ANZ market towards re-engagement with lapsed or inactive customers and this has been successful in reducing Cost Per Activation (CPA). We will continue to invest in our data and analytics capability over the remainder of the financial year and so would expect to drive further improvements in marketing efficiency.

"With reference to market forecasts, at this relatively early stage we would anticipate a full-year out turn slightly above the top end of the current range of analysts' projections of $8.2 million to $8.5 million underlying EBITDA.
Top marks to the company amp; its advisers for giving some figures in the announcement, for market expectations. I'm sure if we keep nagging for long enough, then this will gradually become the norm.
I especially like the "substantially enhanced gross profits" comment. The opportunity for investors at MYSL is that its original business model had very low gross margins – it was just clearing consignment stock, on behalf of brand owners. The model has since been greatly improved, to include bought-in stock on much higher margins. This is why profits are now considerably improved.
I saw a very bullish broker note recently, which pointed out that MYSL has already built an international business, and the opportunity now is for it to ram through higher volumes, at higher margins.
Broker upgrades – I see one broker has today increased its EPS forecast for this year (ending 30 Jun 2017) by quite a considerable amount in percentage terms - up 15.8% to 0.8c. Mind you, the PER looks completely nuts on this year's forecasts – the Aussie$ 0.8c EPS forecast translates into 0.48p, which gives a current year PER of 201 times! LOL.
Still, this makes a bit more sense when you consider that the broker reckons earnings will almost quadruple in the next 2 years, and also points out that with the company now beating forecasts, there's likely to be more upside on those forecasts.
My opinion - I think this is a case of a company which is starting to grow into its valuation, and where in a couple of years' time we might realise that the valuation wasn't actually as crazy as it looked back then. That's the reason I'm holding this share anyway.
Companies that are successfully cracking the online fashion market, internationally, like Asos, BooHoo, and MySale, are exciting investors in a way that traditional businesses just aren't. That may not last forever, but for now, online fashion is a very exciting space for investors. If the game is profitable, then personally I'm happy to continue playing, but keeping an eye on the exit too.
Source:
http://www.stockopedia.com/content/small-cap-value-report-29-nov-2016-craw-igr-mysl-cake-160184/
We encourage you to Share our Reports, Analyses, Breaking News and Videos. Simply Click your Favorite Social Media Button and Share.