Good morning!
I really enjoyed the discussion in the comments section of yesterday's report, so thank you to everyone who contributed. I suppose there was a certain irony in me bemoaning the post-fact nature of a lot of popular discussion. Only to illustrate my point with something (Brexit polls) where my own recollection wasn't entirely accurate!
Still, that did illustrate the proper process – someone points out that you may not be entirely accurate in what you're saying. You check the evidence they provide. If they're right, then you revise your opinion in light of the fresh information provided. That's how things should work, but sadly often does not – especially on social media – because ego and stubbornness get in the way.
I am becoming increasingly convinced that the world was a much better place before social media was invented. Hopefully there will be a backlash against Facebook in due course. Mind you, it is very good at catching criminals amp; fraudsters apparently. I've just been watching a TV programme about how insurance fraudsters, and other bad people often give themselves away through their social media postings.
---
Fevertree Drinks
(LON:FEVR)
Share price: 1100p
No. shares: 115.2m
Market cap: £1,267.2m
Trading update – not a small cap any more, but it's topical amp; interesting, so I have some comments. This maker of premium fizzy drinks is worth a mention, as it nicely illustrates the point of how "expensive" shares can keep going up to seemingly stratospheric levels.
The key here is repeated improvements to expected performance. The latest update, out yesterday said;
The Board is pleased to announce that Fever-Tree has continued to perform strongly in the second half of the year.

The performance in the UK, the Group's largest market, has been particularly strong as new distribution gains have combined with a continued rate of sales growth.

Given the strong sales in the period to date, the Board anticipates that the results for the full year ending 31 December 2016 will be materially ahead of current market expectations.
That's pretty remarkable stuff – at this late point in the year, I wouldn't normally expect any "materially ahead" statements – as most companies will probably know how this year is likely to play out. That's for companies with a 31 Dec year end, of course. So Fevertree must really be trading their socks off.
If you look at the Stockopedia graphic for broker consensus forecast, it's striking how the company has been upgraded multiple times earlier this year;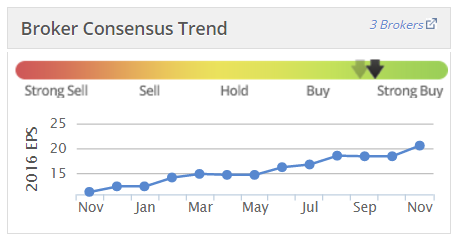 I'm pretty sure the growth here is all organic growth too, but please correct me on that point if it's not.
What's interesting, is that if you look back to a year ago, the share price was 530p, and broker consensus forecast was EPS of 11.3p. So most people (including myself) looked at it, and thought that the forward PER of 46.9 was very expensive, and declined to buy the shares.
However, roll forward a year, and it now transpires that 2016 EPS will be something like 23-25p – more than double the original forecasts. Therefore a year ago, the PER was actually 22 - fairly reasonable (based on my estimate of 24p EPS for this year – the midpoint of the range in the previous sentence).
This illustrates the point how exceptional growth companies can appear expensive, but because they're going to strongly out-perform forecasts, they were not actually expensive at all. The trouble is that truly exceptional growth companies are so few amp; far between in the London market. So if you latch onto the wrong one, it can be an expensive mistake, if the growth doesn't pan out as hoped for.
This area is a key focus of mine these days – I try to find growth companies where the broker forecasts look way, way too cautious. A good example of this recently was Gear4Music (G4M), where I backed up the truck and bought as many as I could at about 180p. This was due to me doing some number crunching, to revise the broker forecasts, and realising that they were considerably under-estimating likely revenue amp; profit for this year amp; next year. When the market realised this too, over the following few weeks, the share price doubled. I don't think we're up with events by a long shot yet, either. However, the next catalyst is not likely to be until the January trading update.
We're in a market that is highly receptive to growth stocks, so they're generally expensive at the moment. I didn't spot the potential at FeverTree unfortunately – it seemed ridiculous that people would over-pay for tonic water, which to me, doesn't taste any different to the normal stuff. Although opinions differ on that. Above all, it's a triumph of marketing, branding, and spotting a brilliant opportunity to create a new niche of premium mixers. Complacent established competition too, helped. So hats off to FeverTree's founders for pulling off such a remarkable coup.
Lessons learned re growth companies
So I suppose the things I've learned from FeverTree (and other growth stocks are);
1) Don't take broker forecasts as gospel. They're often far too pessimistic at exceptionally good growth companies. So that apparently expensive PER may not necessarily turn out to be expensive after all.
2) It usually won't be obvious that a company is likely to thrash broker forecasts – you have to really understand the business model, and I think probably meet management too, to understand the potential. So deeper research is needed for growth companies, to spot something exceptional that the market may have missed. It also requires real conviction to continue holding an "expensive" share.
3) Filtering databases to find stocks probably won't find exceptional growth stocks like this. They'll just look far too expensive on a forward PER basis, and therefore will probably be rejected. Yet actually the forecasts could turn out to be wrong, and that's where the opportunity lies.
4) I'm going to pay more attention to the Stockopedia momentum ranking – as that picks up broker upgrades, which are the early indications that things are going better than expected.
5) Lots of investors I chat to don't buy stocks which have risen a lot, because they feel they've "missed the boat". I'm very much guilty of this myself too. This needs more thought – shares that have risen a lot, have usually done so for a good reason (excluding silly speculative rubbish). So a strongly rising share price is a call to investigate further, and see what we're missing, rather than something to necessarily fight against or ignore.
6) I've noticed how growth companies in the UK can look expensive for a while, but the rating then goes into the stratosphere once strong overseas growth begins to happen. This certainly drove the really big gains in £ASC shares, and a similar thing happened at Boohoo.Com (LON:BOO) more recently. It's also helped drive Fevertree Drinks (LON:FEVR) up considerably. Once investors see strong international growth starting to kick in, they will often massively re-rate an already highly rated share. I think this is in the process of happening at Gear4Music (G4M) as well – it achieved +169% sales growth in mainland Europe in H1, and I don't think the market has fully priced that in yet.
7) In a bear market, most of the above goes out of the window. So I think it's important to remember that growth stocks usually only attract racy ratings in bull markets. They can collapse in price in a bear market, especially if sales amp; earnings begin to disappoint. A PER of 50 could turn into a PER of 15 in a bear market, which combined with lower earnings forecasts could easily mean investors losing most of their money. So knowing when to sell is crucial with growth stocks.
The above is just me thinking out loud, by the way, as I'm guilty of making a lot of mistakes, same as everyone else.
---
Redcentric (LON:RCN) – in yesterday's report, I tried to unravel what on earth has been going on with the misstated accounts at Redcentric. I should emphasise that we've not been told the full details yet of what's gone wrong at the company. So I'm awaiting more full information, and my gut feel suggests that more dirt could come out of the woodwork.
That said, the share price sell-off does look overdone, based on what we've been told so far.
There's been no further news from the company yet, apart from a couple of quite interesting TR1 forms out today. However, I want to flag up an interesting post by Mark Bentley on the ShareSoc blog. Mark highlights the issue of significant gains made by the CEO recently from cashing in share options, on the back of what we now know to be false accounts.
Clearly that's completely unacceptable, and any gains made by Directors from false accounts should be forfeited, in my view. Disgruntled shareholders may want to congregate around ShareSoc, so that a united voice can be put together.
---
Keywords Studios
(LON:KWS)
Share price: 475p (up 3.3% today)
No. shares: 54.4m
Market cap: £258.4m
Trading update – from yesterday, this announcement has been mentioned by readers, so thought I'd better take a look at it.
The company describes itself like this;
Keywords Studios, the international technical services provider to the global video games industry
It's AIM listed, and seems to be based in Dublin.
A positive update yesterday;
…pleased to announce that it now anticipates that revenues and adjusted PBT* for the full year to 31 December 2016 will be significantly ahead of current market expectations…

As a consequence, the Board expects adjusted PBT for the current year to be not less than €14m.

Note that it reports in Euros. It's good to see the company quantify profit expectations.
FinnCap says that this compares with consensus of E12.5m, so a useful beat.
Out-performance has mainly come from one recently acquired business;
This outperformance has been driven primarily by recently acquired localisation and audio business, Synthesis, sustaining higher levels of activity during the second half of the financial year than previously anticipated after a particularly strong second quarter which benefitted from a number of large projects alongside its normal flow of activity.
My opinion – it looks expensive, and growth seems to be coming in large part from acquisitions. On the plus side, it's great to hear that the group is trading well ahead of forecasts.
I wouldn't know where to start in analysing this sector, so I'll pass on this share. A potentially interesting company to research though, if you understand its activities amp; sector.
---
Accrol Group
(LON:ACRL)
Share price: 126p
No. shares: 93.0m
Market cap: £117.2m
Trading update – this is a toilet roll, kitchen roll, and similar manufacturer, based in Blackburn. It was floated on AIM in Jun 2016 by Zeus Capital, at 100p. They got the IPO away just in the nick of time, as just a fortnight after the company floated, the UK voted for Brexit.
Consider this risk factor in Accrol's admission document;
Brexit

If Britain were to leave the European Union, it could have a direct impact on the Group due to unfavourable movements in exchange rates, particularly the British Pound which could weaken significantly against overseas currencies, including the US Dollar and Euro.

The Group purchases the majority of Parent Reels in foreign currencies, with significant purchases in US Dollars and Euros. Should exchange rates move in an unfavourable manner as a result of Britain leaving the European Union, the Group's raw material costs will increase and this could have a material adverse impact on the Group's business, financial condition and results of operation.

The Directors and Proposed Directors have identified a number of mitigating actions that could reduce this exposure including switching suppliers, making payment in British Pounds or other currencies, acquiring more Parent Reels from UK suppliers, re-balancing operations or passing price increases on to customers.

The Directors and Proposed Directors also believe that adverse movement in exchange rates may be offset by a beneficial movement in paper prices. Should Britain leave the European Union, there may be other, unforeseen, effects both impacting the Group directly and the market in which it operates and the mitigating actions identified may not always be effective. [see page 38 of admission document]
Well, a big adverse movement in exchange rates is exactly what has happened. So I wonder how this has actually impacted Accrol?
There are a number of other risk factors which concern me. Especially the disclosure of heavy concentration with major customers. The biggest single customer is responsible for 25% of Accrol's turnover. There are several other customers around the 10% level each. That's a big risk – I reckon if the top customer pulled out, it would possibly wipe out most, or maybe all, this company's profits at a stroke.
Also, note that the company believes that "parent rolls" (which are used to make toilet rolls) are advantageously priced. This may not continue;
Parent Reel price volatility

The Group considers that, due to an oversupply of Parent Reels and pulp at present, Parent Reel prices are currently comparatively low.

However, if Parent Reel prices were to rise above the Group's expectations and the Group was unable to offset such increases through cost savings or price increases, that could have a material adverse effect on the Group's business, financial condition and results of operations.
This is important, because when reading an admission document, I'm looking for the reasons as why the vendors (who know the company amp; sector much better than I do, after all) want to cash in most of their chips? I'm inherently very suspicious of all new issues. A lot go wrong within 2 years also.
The IPO at 100p was a disposal of 20.15m shares by the founding family, and a PE company which supported its growth in 2014. Plus a further 43.3m new shares – however these proceeds were used to pay off existing shareholder loans. So this float was more-or-less entirely existing shareholders cashing in their chips. They do however still retain 15% (the founding Hussain family), and NorthEdge Capital retained 15%.
Work in progress. I'm too tired to write any more right now. Will update more later tonight.
This evening I intend reporting on:
Accrol Group (LON:ACRL) – trad update yesterday
Punch Taverns (LON:PUB) – prelims
Craneware (LON:CRW) – AGM statement
Telit Communications (LON:TCM) – trad update
Source:
http://www.stockopedia.com/content/small-cap-value-report-8-nov-2016-fevr-rcn-kws-acrl-157297/
We encourage you to Share our Reports, Analyses, Breaking News and Videos. Simply Click your Favorite Social Media Button and Share.