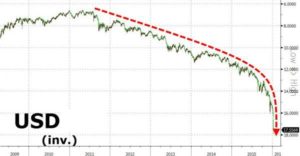 BarroMetrics Views: Trump and the Markets
The way some stock markets, and some USD crosses, are behaving, you'd think a Trump win is a near certainty – reminds me of the situation surrounding Brexit – where the markets were saying that 'Britain Remaining In Europe' was a foregone conclusion.
Let's have a look at the facts:
The hoopla surrounding the Clinton Foundation and her server has led to a Trump resurgence.
Early voting shows that the Democrat black vote is down from Obama's election. Unless the Latino and female votes recover the slack, she is in trouble.
That said: Trump must win Florida, Ohio, Arizona, Texas and North Carolina,
If he loses North Carolina (Clinton appears to be leading in the polls), he needs to win one of the swing or blue states. Nevada (swing) and Pennsylvania (blue).
Pennsylvania seems out of reach, so he'll need something like Colorado (swing), Nevada (swing), New Hampshire (swing) and Minnesota (Blue).
Failing to achieve the above means he won't get the 270 electoral votes to win.
Trump definitely has more to do, while Clinton's momentum is waning: that's why I rate the contest too close to call.
However, the way the markets (especially the USDJPY, Clinton is "overs" i.e. she is good value. Think of it this way; my logic says her chances of winning are 50-50, but the USDJPY is rating her chance 30-70. So, my Clinton win bet has a 20% overlay.
If Clinton wins, we'll see a strong stock and USD rally.
A bet anyone? Well, let's see what the markets and odds look like on November 7 (EST). I may have a bet.
For those unfamiliar with the Electoral College see: "Electoral College"
I have attached from the WSJ, 'A Field Guide to Red and Bue America'.
11-03-a-field-guide-to-red-and-blue-america-wsj
The post Trump and the Markets appeared first on Ray Barros' Blog for Trading Success.
Source:
http://www.tradingsuccess.com/blog/trump-and-the-markets-4369.html
We encourage you to Share our Reports, Analyses, Breaking News and Videos. Simply Click your Favorite Social Media Button and Share.