Good morning!
To get you started, here is yesterday's late report – where due to reader demand, I looked at interims from data company D4T4 – I think it looks worthy of a closer look. Also solid results amp; an upbeat outlook statement from equipment hire group VP (LON:VP.)
Turning to today – well I've had better starts to the day. Two companies in my portfolio have crapped out today – another profit warning from Interquest (LON:ITQ) (which I'll cover in more detail below), and a fundraising at a 50% discount from Mobile Streams (LON:MOS) – very much a speculative punt – through Primary Bid. This is very interesting, so I'll do a little section on it now.
Primary Bid
Some of you may have heard of this already. It's a new initiative to raise money directly from private investors for listed companies. So rather than being frozen out of the fundraising process, we can now participate.
Looking at the quality of the companies which have used this platform, we're talking about the real dregs here. However, if there's an appetite from private investors to put fresh money into highly speculative (i.e. mostly complete rubbish) companies, then arguably a platform which levels the playing field between PIs and the City, is a positive thing.
I'd much rather have the option of putting my own money into a discounted placing through Primary Bid, rather than be diluted by city insiders getting the cheap shares, and me only finding out after it's a fait accompli.
I think there's also a gap in the market for very small fundraisings, where the fees would be too small to interest any of the main brokers.
Mobile Streams (LON:MOS) – this is a tiny company (in which I hold a long position) which has previously been decently profitable (doing games on mobile phones, ad funded). However, it fell foul of the collapsing currency in Argentina, where its main operations were (still are, I think). For me, this has always been a total punt, not part of my proper portfolio as such. The main attractions were that the company had been entirely self-funding for years, and had not raised money from the market.
Sod's Law then kicked in, and the company has decided that it does want to raise cash after all, and is doing it via Primary Bid today. Anyone can just register, apply for shares at the placing price of 4p, and then pay by debit card. That's fine if you keep plenty of spare cash in your bank account, but personally I don't, so it's no good for me. I've asked my broker to apply instead though.
Setting aside the merits of MOS as an investment, which most people will (probably correctly) dismiss, what really interests me here is whether the Primary Bid platform will gain traction. If it does, and deals get bigger, and hopefully move up the value chain to more sensible companies, then I can imagine this being a very useful service for private investors. I've long thought it was unfair that PIs get blocked out of placings, and instead an elite group comprising fund managers amp; wealthy individuals, and mates of the broker, got discounted shares that they could flip for an instant profit.
So I like the idea of Primary Bid, and hope it works. NB. For the avoidance of doubt, I have no connection whatsoever with Primary Bid.
---
Character
(LON:CCT)
Share price: 461p (up 6.1% today)
No. shares: 21.1m
Market cap: £97.3m
Results for year ended 31 Aug 2016 – a sluggish reporting cycle – 3 months to produce the preliminary figures is not good at all, that's at least a month longer than it should take. They're not even audited yet.
The figures look really good though;
Revenues up 22.1% to £121.0m
Underlying PBT up 22.5% to £12.5m
Underlying diluted EPS up 23.5% to 45.16p (PER of just over 10)
Net cash of £6.9m
Divis up 36.4% to 15.0p (yield of 3.3%)
Outlook – comments are a bit scattered about throughout the narrative, but sound positive. I like the comments about continued international sales expansion too.
"Strong organic growth underpins Character's continued position as the UK's leading independent toy company. Underlying pre-tax profit for the year is £12.5m up 22.5% on the previous year and current trading is commensurate with the Company achieving the Board's profit expectations for the current financial year."
Balance sheet – looks fine to me overall.
It seems a bit strange to have cash of £28.6m, whilst simultaneously running bank debt of £21.6m, so that would be a key question to ask the CFO. Surely this is inefficient re interest costs?
My opinion – shares in this toys company have generally been cheap in the past, so it's best to not get too excited about the lowish PER.
Issues have arisen from products going out of fashion. Although I'm reassured to hear that Peppa Pig (it's top seller) is still going well. Also, it's gratifying to hear that Scooby Doo is still popular – 40 years ago I rated that as top quality entertainment – especially the prosthetic face removal as the climax of nearly every episode.
It's difficult not to like this share, at the current very reasonable valuation, and with an increasingly impressive track record building up.
---
Interquest
(LON:ITQ)
Share price: 29.5p (down 14% today)
No. shares: 37.5m
Market cap: £11.1m
(at the time of writing, I hold a long position in this share)
Trading update (profit warning) – this is an interesting one. It was blindingly obvious that the company wasn't going to meet current forecasts, because the forward PER had fallen to just 3.5. That's the market telling you that the forecasts are pie-in-the-sky.
Also, the 14% drop today is telling us that the market had already factored in further downside in forecasts. Moreover, I've been struggling to buy – so there don't seem to be any sellers in size in the market.
Why on earth would I want to buy, straight after another profit warning, and after a dismal share price fall this year? Well, because I think the valuation is now quite compellingly cheap. Also, despite poor short term performance, ITQ looks to be well-positioned, supplying labour for fast-growth markets like IT.
Specific problems – seem to be in its ECOM division. Although it has already been restructured, and is now showing some improvement in performance.
Also some contract delays;
In addition to the underperformance by ECOM, there have been lower levels of demand in the public sector compared to 2015 and a small number of large value placements have been delayed into 2017.

As a consequence the Company now expects that net fee income and EBITDA for the current financial year will be below market expectations.
Revised forecasts – the latest numbers coming through this morning suggest that adjusted profit will be £3.6m this year (down from £4.2m), and EPS 6.9p instead of 8.5p.
The market cap of just £11.1m looks ridiculous for a company that should make £3.6m, in a bad year.
Balance sheet – has a huge debtor book, partly funded by debt. The latest broker note suggests that cash generation is good at the moment – debt tends to unwind at companies like this, as business contracts. So they're saying £7.0m net debt at year end. Overall the last balance sheet looked OK to me.
My opinion – fishing for bargains at bombed out companies which have warned on profits, can often be a depressing, and unprofitable activity.
However, at this level, I think ITQ is probably at or near the lows. It's finances look alright, and the PER is now dirt cheap. Plus it's paying a divi, and even if that is reduced, is still a nice bonus.
Recruitment in the IT sector seems an activity that's not going away. Personally I think this could be a nice little recovery trade from the current price, with a target of maybe 50p – which would still only be a PER of about 7-8 times the revised forecasts put out today. Yet that would be a 67% gain from today's price. I think that's quite a good punt.
---
Motor dealers
This is a very bombed out sector, partly because of sterling weakness – the price of imported cars is rising as a result.
However, I note that sterling has had a quite strong partial recovery in recent days. This must be taking some of the pressure off manufacturers to raise their UK prices.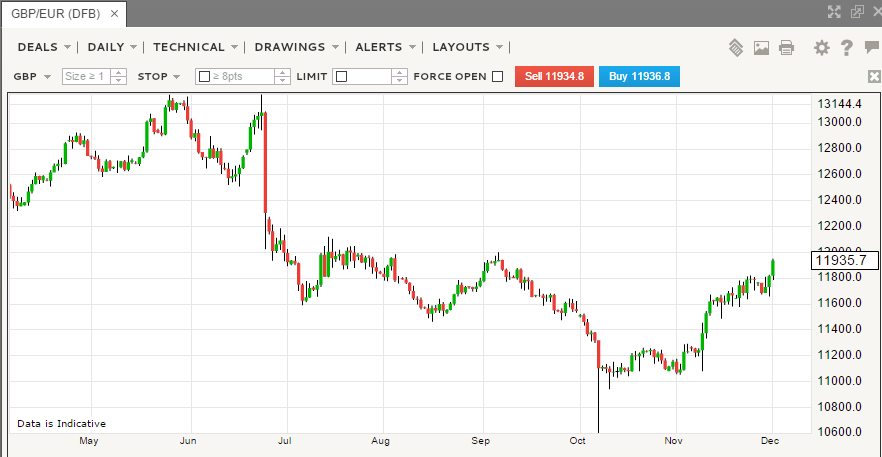 (chart courtesy of IG)
Bear in mind also that it's secondhand cars sales, and after-sales (servicing, warranty work, etc) where dealers make most of their profits.
So I'm thinking about adding to some of my positions in this sector. It looks far too cheap, even allowing for the fact that new car sales are slowing somewhat. Dealers make very little margin on new cars sales anyway.
This might also help airlines amp; holiday companies – those European summer holidays for 2017 aren't looking quite so expensive now.
Source:
http://www.stockopedia.com/content/small-cap-value-report-1-dec-2016-mos-cct-itq-160619/
We encourage you to Share our Reports, Analyses, Breaking News and Videos. Simply Click your Favorite Social Media Button and Share.