Good morning!
There was nothing of interest today, so I'll recap on a few interesting updates that I've missed in previous days.
Share price: 146p (up 7.7% today)
No. shares: 37.4m
Market cap: £54.6m
Half year results, 6 months to 30 Sep 2016 – background: this company caught my eye in Feb 2016, with a very upbeat trading update, which I reported on here. Since then, the company put out excellent results here (for year ended 31 Mar 2016). Adjusted EPS rose 113% to 8.24p, and the divi was up 257% to 2p. Impressive stuff!
Note that Peter Simmonds is the Non-Exec Chairman here – he's got a considerable investor following, as his track record at dotDigital (LON:DOTD) was very impressive. Plus more recently, he's been important in helping management at Cloudcall (LON:CALL) (in which I have a long position) refocus their strategy. So it's good to see him buy 70,000 D4T4 shares at 142p yesterday.
The interims look good to me, here are a few key numbers;
Adjusted EPS is up from 3.78p last H1, to 5.44p this time. Although note this is flattered a little by a reduced tax charge.
Adjusted profit before tax up 25% to £2.12m
Revenues of £10.0m in H1, so note the strong profit margin
Outlook comments sound good;
D4t4 Solutions trading remains strong and, since the start of the second half of the financial year, we are pleased to report that we have secured a number of additional contracts including one with a leading US retailer and one with a UK based insurance company.

In summary, on the back of a strong first half performance coupled with continuing demand from our existing customers and a growing new business pipeline, the Board remain confident of being able to deliver further strong growth.

Therefore, notwithstanding any unforeseen economic impact of Brexit and the recent US elections, the Company expects to deliver trading results for the year ending 31 March 2017 in line with current market expectations.
I particularly like the comment about "further strong growth". Plus of course an "in line with market expectations" comment is always good.
Valuation – the forward PER looks to be just under 15 (I'm not sure if the graphic below has updated for the 7.7% share price rise today), which looks fairly sensible to me.
Note also the high quality scores – indeed, in the StockRank system, the quality score is 99. Therefore this share seems to be a good QARP (quality at reasonable price) situation.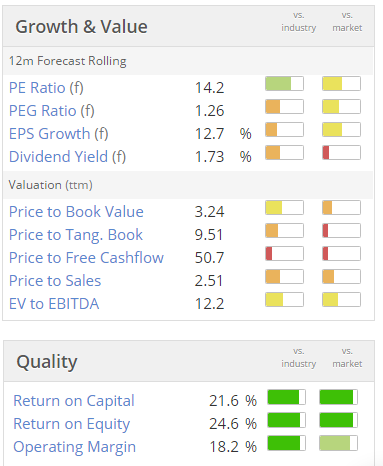 Balance sheet – overall it's OK, with £15.7m NAV. As you would expect for a software company, it has a lot of intangibles, totalling £10.3m, bringing the NTAV down to £5.4m – that's perfectly adequate for a company of this size.
One item which does stand out, is debtors. This has shot up from £2.7m last half year, to £7.0m at 30 Sep 2016. That looks unusual, but I can't find any explanation for it in the commentary. So I think management need to be asked by debtors is so high? Turnover in the half year was £10.0m, so to see £7.0m in debtors looks anomalous.
Capitalising development spend – this is a common way to boost reported profits at software companies. In practice, management have a great deal of leeway on how aggressive they want to be on this – hence why it's important for investors to check the numbers.
I can't see any development spend being capitalised here. That's good. Perhaps it's because the company is doing a lot of project-based work, so they expense costs as they go along.
My opinion – the problem for me, is that I don't understand what the company does. Its website talks in general terms about data, the cloud, etc. However I can't see any case studies to explain in practice what they actually do.
Sustainability of profits is another point that worries me. The company's work seems to mainly be project-based, with some recurring revenues on top. So what happens if the current good run of contract wins fizzles out ? Could costs be scaled down quickly, or not?
Investors really need to drill into the business model, and properly understand what the company does, how that compares with competitors, etc. That's beyond my remit here.
All I can say is that, based on the numbers amp; forecasts, the shares look quite attractive, providing growth amp; good profit margins can be sustained. Well worth a closer look, in my view.
---
VP
(LON:VP.)
Share price: 745p
No. shares: 40.2m
Market cap: £299.5m
Interim results, 6 months ended 30 Sep 2016 – this is a group of niche equipment hire businesses. Niche is good, I like niche. It usually means higher margins than mainstream. Also bear in mind that the recent bid interest in Lavendon (LON:LVD) shows that there could be takeover interest in this sector, for overlooked, undervalued companies.
Although bear in mind the sector risk - equipment hire companies tend to over-invest in the good times, then end up facing problems from over-supply amp; collapsing profits in recessions.
A few key figures;
H1 revenues up 16% to £121.7m – driven by 2 acquisitions, and expansion of the hire fleet from capex
Profit before tax amp; amortisation up 8.7% to £18.7m. Note that profit is up a lower percentage than revenues, so some margin slippage. However, still a strong overall margin of 15.4%
Net debt up 24.9% to £107.5m – which compares with fixed assets (mainly the hire fleet) of £188.4m
Depreciation charges – I wonder if these may be inadequate, as the cashflow statement shows that asset disposals are being made below book value both in these interim accounts, and last year in full.
Balance sheet – overall it looks OK to me, for this type of business. Debt is fairly reasonable. NTAV is £78.7m. Note that the P/NTAV of 3.8 is quite high for a tool hire business. There may be a good reason for that, because VP makes high margins, but it's worth noting anyway.
This compares with Lavendon (LON:LVD) which, even with a takeover bid going on there, is still only on a P/NTAV of 2.0.
So the danger is, for VP, that its high margins might draw in competition, and squeeze those margins down somewhat.
Pension fund – there is a fund here, but it looks to be fully funded, as there were no contributions made in H1, and only £369k paid last year. So even if there is a problem here, it looks small.
Outlook comments – excellent stuff here, so more forecast upgrades are due;
In conclusion we remain very positive about the opportunities for the Group in the second half of the year and beyond, and believe that we will be able to report results ahead of market expectations for the financial year as a whole.
Forecasts – seem to have been raised from c.62p to c.65p EPS for this year.
That is a PER of 11.5. That looks about right to me, for this type of business.
My opinion – I've always liked this company. Whether the shares can make much progress from here, in the short term, I'm not sure. The share price has been fairly flat now for the last 3 years, and the dividends aren't enough (2.8% yield) to make it a nice long term one.
Lavendon was an obvious valuation anomaly, but this isn't, in my opinion. Nice company though, and it seems to be well managed. I wouldn't want to see them taking on any more debt though, as that would open up risk of the wheels coming off when the next recession hits.
Source:
http://www.stockopedia.com/content/small-cap-value-report-30-nov-2016-d4t4-vp-160595/
We encourage you to Share our Reports, Analyses, Breaking News and Videos. Simply Click your Favorite Social Media Button and Share.