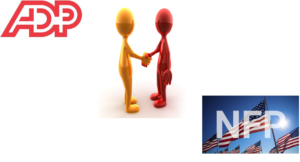 BarroMetrics Views: ADP Meet Nonfarm Payrolls
Yesterday, in the EURUSD, I was looking for a below average true range day. The scenario was looking spot on until the ADP came out below expectations. The EURUSD promptly put on more than a 100 pips following the news. That was quite a response.
Presumably, the EUR buyers came in because they believed that the Nonfarm number tonight would reflect the ADP. The question is how accurate is the assumption.
The only work I could find is a study done by Forex4you, "Can ADP Be Used to Gauge Non-Farm Payrolls?"
The author drew two conclusions:
There is no statistical correlation between ADP strength or weakness and the NFP. A strong ADP may or may not result in a strong NFP.
There is a statistical correlation between two consecutive months. For example, if we have two consecutive months of rising ADP, we'll probably see two two consecutive months of rising NFP. Note that the correlation relates to direction, not magnitude. So, last night we saw a week ADP following a strong prior month. The prior NFP was a so-so number, so we should be seeing a weaker NFP. Last month's NFP was 178K, so this month, based on this idea, we should have a number weaker than 178k.
Or should we?
The study merely states there is a correlation of statistical significance i.e. the correlation is greater than chance. But, as a trader, I'd like to know how great a chance.
In the study we saw 47 from a sample of 77 that showed correlation i.e. a 61% probability. That sounds impressive until you consider that a normal return (what I consider a 50-50 bet), is 67% to 33%. Viewed in this light, the chances of a weak number based on this study is still no more than 50-50 bet.
Is there a better way to assess what the NFP will be?
Long-term readers know that guess at the number by asking: "what would suit the FED – a better, consensus or below consensus?".
Given that the FED has just raised rates, I doubt if it would like to see below consensus number. It would probably like to see a number near the higher end of consensus range. The range for tonight is 151k to 210k with consensus at 175k.
My guess, the number will come in above 175k, nearer 210k.
How to trade NFP?
I certainly would not have taken positions this week ahead of NFP. Instead, I'll wait for the number and sell (or buy) any retracement on stronger (or weaker) than consensus range.
The post ADP Meet Nonfarm Payrolls appeared first on Ray Barros' Blog for Trading Success.
Source:
http://www.tradingsuccess.com/blog/adp-meet-nonfarm-payrolls-4492.html
We encourage you to Share our Reports, Analyses, Breaking News and Videos. Simply Click your Favorite Social Media Button and Share.