This post Grab a 17% Gain from This Simple Market Pattern appeared first on Daily Reckoning.
You're a creature of habit.
You wake up, turn on the coffee maker, let the dog out… you know the drill.
But what you might not realize is that some stocks have routines, too. (They're fueled by human emotion, after all.)
You've probably heard of at least some of these so-called patterns. The January effect says small stocks go up in at the start of each year. Sell in May and go away. The "Santa Claus Rally" pushes stocks higher in the final week of the calendar year.
Every year, armchair traders try to profit from these market quirks. But they're making a big mistake…
"Most of those are old wives' tales," says my colleague and resident stat geek Jonas Elmerraji. "For instance, the 'Santa Claus Rally' says that stocks go higher in the week between Christmas Day and New Year's Day. That's a fun story. Who doesn't like a little something extra in their stocking from Mr. Market?
"Problem is, it's a steaming pile of reindeer crap."
It's true.
Over the last two decades, the "Santa Claus Rally" has only worked about 45% of the time, Jonas explains. It would have lost you money in three out of the last four years.
In fact, most of the widely known market seasonality "trends" don't pass statistical rigor.
But that doesn't mean you should ignore seasonal patterns in the stock market. It just means you've got to look past the overly-simple patterns with goofy names to find the ones that can make you money.
Jonas has been running the numbers on these stealth seasonality plays—and he's agreed to share one of those with you today.
Check out Laboratory Corporation of America (NYSE:LH). LabCorp is one of the biggest medical testing companies in the world. But all traders need to know is that it's also one of the most profitable seasonal stocks in January.
"Over the last 20 years, LabCorp has handed investors an average return of 17% between January 11 and May 3," Jonas explains. "LabCorp's profit pattern has ended higher like clockwork in 17 out of the last 20 years. That's a statistically significant result – there's only a 0.2% chance of that kind of market-beating performance happening by random chance."
Are more patients going to get medical tests over this five-month period? Frankly, we don't care. All we need to know is LabCorp is statistically more likely to make money during the next 78 trading days than the average stock on the market.
It just so happens that LabCorp is entering its seasonal profit window today. Looking at LabCorp's chart right now, it's clear that the price action is turning back in favor of the bulls: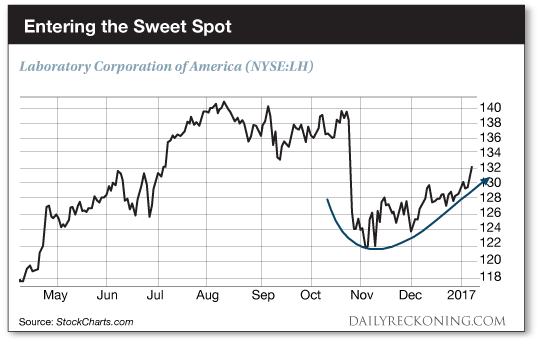 The fact that LabCorp's price action is trending higher, paired with a statistical profit pattern that kicks off today means that this stock is overwhelmingly likely to outperform.
Does that mean you should buy today and hold until May 3?
Maybe. But Jonas has a better idea…
"A smarter strategy would be to pair a simple risk-management tool with this seasonal trading pattern to profit from it. Over our 20-year stretch, LabCorp's average drawdown has been 7% — so, consider parking a trailing stop 7% below your entry price if you decide to buy it," Jonas says. "That stop will help lock in your gains if LabCorp's price trend ends before its typical May 3 end date."
Sincerely,
Greg Guenthner
for The Daily Reckoning
The post Grab a 17% Gain from This Simple Market Pattern appeared first on Daily Reckoning.
This story originally appeared in the Daily Reckoning . The Daily Reckoning, offers a uniquely refreshing, perspective on the global economy, investing, gold, stocks and today's markets. Its been called "the most entertaining read of the day.
Source:
https://dailyreckoning.com/grab-a-17-gain-from-this-simple-market-pattern/
We encourage you to Share our Reports, Analyses, Breaking News and Videos. Simply Click your Favorite Social Media Button and Share.