This is getting tedious, isn't it?
Now the MSM cheerleaders have taken to saying "if only this" and "if only that" to lament how close the Dow came to making that magical 20,000 mark – as if it means anything other than the markets are officially, ridiculously overbought.
Once again on Friday, down volume exceeded up volume by a wide margin on the NYSE and the number of shares that declined outpaced the number of shares that advanced – which was pretty much the story for the weak as the Nasdaq and the S&P both made all-time highs against a backdrop of this very weak action.
There's not likely to be much help today as 3 potential future Fed Chairmen speaking at this weekends American Economic Association meeting suggested that monetary policy would be tighter if they were in charge. Yellen, who still has a year left in her term, whill speak at 7pm on Thursday in a week with 6 other Fed speeches while the US looks to auction off another $100Bn worth of TBills in a fairly unfriendly environment.
More importantly, it's earnings season and earnings trump data – especially when expectations are for 15% earnings growth in 2017 to justify the insane valuations that are already being given to stocks.
Banking is the sector that is expected to carry most of the weight in earnings growth, followed by Energy and expectations for both seem overblown to me but we'll get a good clue as to the state of the Banking sector as Bank of America (BAC), JP Morgan (JPM), Wells Farg (WFC), PNC (PNC), First Republic (FRC), First Horizon (FHN) and Black Rock (BLK) all report on Friday morning (the morning after Yellen speaks with Harker speaking before the bell Thursday and Friday).
Sounds a bit like the Fed is anxious to put some spin on those earnings, doesn't it?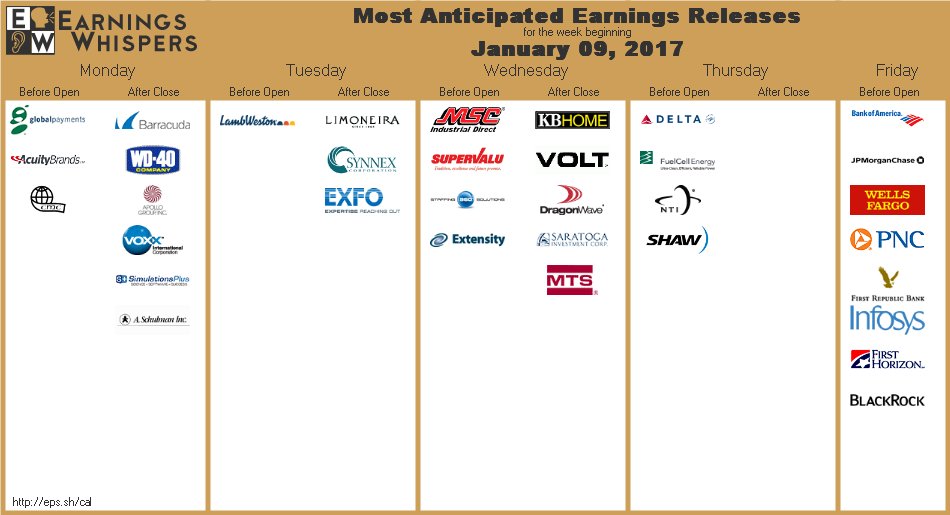 It's a fairly sure thing that WFC will be impacted by their recent scandal but it's doubful BAC will put up great numbers and JPM is expected to have a…
Provided courtesy of Phil's Stock World.
Source:
http://www.philstockworld.com/2017/01/09/monday-market-miss-dow-fails-20000-yet-again/?utm_source=beforeitsnews&utm_medium=feed&utm_campaign=psw-feeds&utm_content=article-link
We encourage you to Share our Reports, Analyses, Breaking News and Videos. Simply Click your Favorite Social Media Button and Share.