Ed Croft's 2017 NAPS feature reminded me of the adage that diversification is the only free lunch in investing.
The NAPS portfolio is made up of 20 stocks, with two taken from each of the ten top level economic sectors. With a few exceptions, the stocks selected are simply the stocks with the highest StockRanks in each sector.
The NAPS portfolio is more strictly rules-based than my SIF Portfolio, but there are some similarities. One of the biggest lessons I've taken away from the NAPS portfolio's outstanding progress is the benefit of diversification.
I hope Ed won't mind if I borrow the graph he used in the 2017 NAPS article. This shows how the equally diversified NAPS portfolio has beaten an undiversified portfolio of the 20 top-ranked stocks by about 15% in the two years since the portfolio was created: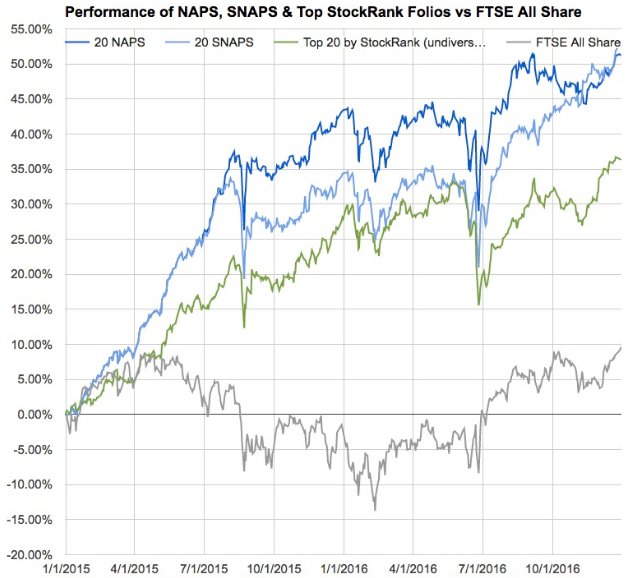 The blue lines represent diversified NAPS/SNAPS portfolios, while the green line represents the top 20 stocks by StockRank, without any diversification.
One of my biggest concerns about the SIF portfolio has been its ongoing failure to reach my target of a broadly equal mix of cyclical and defensive stocks. The reasons for this are simple enough. For the last couple of years, we've been in a market where good quality defensive stocks have been highly valued, relative to their earnings growth. This has prevented them qualifying for my screen.
However, I have turned down a number of opportunities to add apparently successful defensive stocks to my portfolio. Most of these have been UK-listed Russian companies, which I've excluded on the grounds that I don't understand the rules in Russia.
In short, I've put my anti-Russia (investment) bias ahead of my diversification requirements. I'm not sure if this was wise, so for 2017 I'm going to flip this rule on its head. If Russian stocks qualify for my screen and can help improve the diversification of the SIF Portfolio, then they'll be in.
This may have some consequences, the biggest of which is that it will strip out much of the subjective judgement I apply to portfolio stocks. Like most UK investors, I really don't know much about these companies, or the wider market context in which they operate.
For example, how similar to the UK are the regulatory environments for utilities and banks in Russia? How similar is the competitive environment for different sectors? Not knowing means that I'll be placing an extra layer of trust in Stockopedia's excellent data and algorithms. I'm excited to see how this will turn out.
Introducing RusHydro Group
Federal Hydro-Generating Company RusHydro PAO, to give you its full name, is a £5.2bn Russian utility company, whose main activity is generating and distributing hydroelectric power.
The utility sector is both highly defensive and absent from my portfolio, so I should get an immediate 'hit' of diversification if I decide to add RusHydro.
According to the RusHydro website, the group has 38.9GW of installed generating capacity and operates more than 90 renewable energy facilities across Russia. It also has a controlling stake in the utility which provides power in the far east of Russia. Most of this is fossil fuel-fired, as far as I can tell.
One final point is that like state-controlled oil giant Rosneft, RusHydro is majority owned by the Russian government, which has a 66.8% stake in the group.
This stock has qualified for my Stock in Focus screen for some weeks, and has a StockRank of 97. The shares have risen by 75% over the last year, but the outlook is positive and the valuation appears undemanding. Let's take a closer look.
Good value?
Dual-listed Russian stocks tend to trade at a discount to UK peers, to reflect the perceived risk of investing in Russia. RusHydro's valuation is consistent with this trend. I've placed it alongside the ValueRank components for UK power utility SSE for comparison. I think SSE is probably the closest match among UK utilities, as it has renewable, fossil fuel and distribution assets.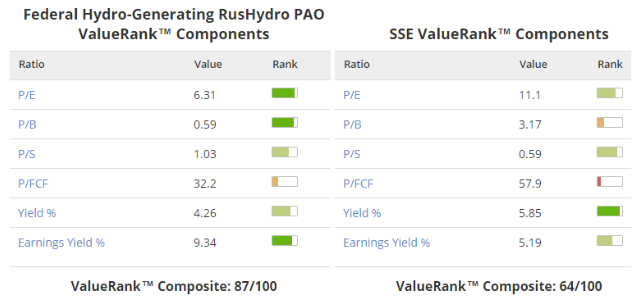 There's nothing really to dislike in the RusHydro figures. The trailing P/E of 6.3 implies that growth expectations are low. Although the dividend yield of 4.3% is significantly less than SSE's payout, RusHydro is expected to announce a big dividend hike this year. This difference could soon shrink.
On the face of it, RusHydro looks good value. I was also going to point out here that RusHydro has much lower levels of gearing than SSE — net gearing is 23%, versus 146% for the UK firm. However, a quick look at the figures suggests that RusHydro's debt carries an interest rate of about 10%, versus 4% for SSE. So the advantage of lower debt is minimal to non-existent.
Improving quality
A QualityRank of 75 is RusHydro's lowest score. The firm's average long-term net margin and return on capital appear to have been dragged down by a loss-making year in 2012. Once again, however, RusHydro scores higher than SSE.The UK firm has a QualityRank of just 46: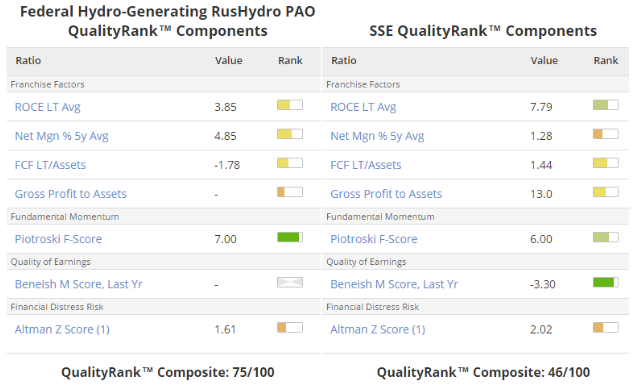 I suspect that the main reasons for RusHydro's higher ranking are its Piotroski F-Score of 7 and its much higher average net margin. The difference in F-Score results is down to SSE's current ratio, which has fallen below one this year. RusHydro's is higher, but this theoretical advantage is offset by the group's much higher level of working capital.
Overall, I suspect the quality difference between these two stocks is not as great as the QualityRank differential suggests. But these figures certainly don't seem to flag up any obvious concerns about RusHydro.
Strong momentum
Momentum is not usually something you'd associate with large cap utility stocks. But it turns out that strong momentum is one of the reasons for RusHydro's high StockRank. The firm's MomentumRank is 89, thanks to strong price momentum and an improving outlook for earnings. This compares very well indeed to the equivalent figures for SSE: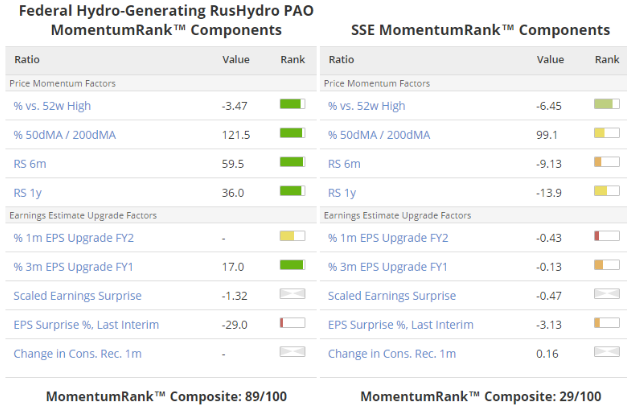 Recent earnings upgrades have left RusHydro trading on a forecast P/E of 6.5 with a well-covered prospective yield of 6.8% for 2017.
In contrast, SSE trades on a forecast P/E of 12 and offers a poorly-covered yield of 6.1%.
If these were both UK companies, you probably wouldn't hesitate to pick the left-hand stock as being more likely to outperform over the next six months.
My decision
What the figures above don't show is that RusHydro reports in rubles, and trades in dollars and rubles. This represents a significant currency risk for UK investors. Although SSE has some exposure to the US dollar, it's nowhere near as significant, nor as likely to affect reported earnings and cash flow.
Despite this risk, RusHydro appears to be performing well financially, and from what I can tell, operationally. On that basis I'm going to add the stock to the portfolio for the defensive diversification it should provide. Let's just hope that currency shifts don't throw a spanner in the works!
Disclosure: Roland owns shares of SSE.
Source:
http://www.stockopedia.com/content/sif-portfolio-a-new-twist-on-diversification-166125/
We encourage you to Share our Reports, Analyses, Breaking News and Videos. Simply Click your Favorite Social Media Button and Share.