Good morning!
Graham is travelling today, so it's just me reporting.
There's tons to cover, so I'll do my best to wade through as many RNSs as time permits. The list so far that I hope to report on today is:
BooHoo – another excellent trading update
Somero Enterprises – good trading update amp; increased divis
CloudCall – good trading update
Topps Tiles – Q1 trading update
Majestic Wine – Xmas trading update
Games Workshop – Interims
Focurite – update
Others that I probably won't get time to report on (but you never know), include TCM, PGH, KBT, CARR, and Hamp;T. I might do quick comments on those at the end if there's time.
Market getting toppy?
It's all feeling a bit frenzied at the moment, isn't it? I'm starting to get worried about a correction in the markets. That said, I can justify the valuations of everything in my portfolio quite easily, and I keep away from speculative stuff on daft valuations. So everything should be OK in the long run, even if there is a market correction.
These days, my portfolio is generally newsflow-driven. So I tend to buy after positive trading updates amp; results. That tends to make my portfolio quite resilient when market corrections occur. This could be because people are loath to sell shares in companies which are performing well, even in a market downturn. You can see this from the chart of Beam Me Up Scotty, my fantasy portfolio, which wasn't affected at all by the sharp market correction in Jan 2016, and didn't suffer too much on the Brexit vote either.
Talking of market corrections, I spotted a fascinating chart, posted by Urban Carmel on Twitter, see below. This chart shows very clearly how intra-year sell-offs are usually very good buying opportunities. The Samp;P usually finishes the year strongly up from its intra-year low.
So, unless there are serious macro-economic problems (like the credit crunch in 2007-8), then buying market corrections seems to be a very good strategy. Whereas of course our natural, emotional response to a market sell-off, is to panic sell. Usually that urge needs to be suppressed, as it can be very costly. I can't be the only person who has, quite frequently, capitulated and sold a poorly performing share absolutely bang on the 5 year low. Only to see it rocket upwards immediately after I've hit the sell button! Then bought back in, 20% higher.
So perhaps we should be taking some profits now, whilst the market is so buoyant? I'm pondering that point at the moment, wondering if I should gently top-slice some of my profitable positions? (i.e. bank a small portion of the profits). Also, it's a lot easier to sell into a rising market, than it is a falling one, especially if you have a big position in a small company.
Here's that chart referred to above:
(chart caused formatting problems, so I had to delete it. Will insert later, or provide a link to it)
Right, on to today's results amp; trading updates.
---
Boohoo.Com
(LON:BOO)
Trading update – (I hold a small residual position in this share, via my local share club).
Just a quick mention, as the market cap of over £1.6bn is now way above my usual phasing-out upper range of £300-400m.
It's another barn-storming update, in terms of top line growth. Full year revenue expectations have been raised again. Growth in USA is the most exciting bit, and I think this goes a long way to explaining why the shares are expensive now. The market is salivating at the potential now that BOO is making clear progress in America – constant currency sales up 188% to £19.6m in the 4 months to 31 Dec 2016. If the company wins the auction for Nasty Gal too, expect USA growth to shoot up considerably.
I'm seriously thinking about buying back into this share actually, as the future looks so bright, and forecasts keep increasing.
Now I'm sure some people will worry about the lower gross margins – down 260bps to 54.4% on the retail side (i.e. excluding wholesale). A couple of points on that – firstly, it's a planned move. BOO has a specific strategy of being extremely aggressive on price, in order to gain market share amp; grow as fast as possible. I spoke to the company a few months ago, about how BOO would handle higher import prices – i.e. would they be raising selling prices? Absolutely not, was the reply. They want to shake up the market even more, and take more business from the High Street. So they're planning a lower gross margin, but recouping the shortfall from reduced marketing spend (as a percentage of sales, but still rising in absolute terms). This is a brilliant strategy, and it's working. So overall, the net profit margin is maintained, or even increased. People who look at the declining gross margin in isolation are therefore missing the bigger picture.
Secondly, the gross margin has reduced from outstanding (c.60%), to still very good indeed (nearly 55%). That would be a decent gross margin on the High Street, so for an online retailer (with none of the costs of a chain of stores), it's a wonderful margin.
As has been proven to date, worries about BooHoo's margins have been misplaced, and have simply resulted in people losing out by not owning a share they could have 5-bagged on from the lows. That's a pity. Also, to be blunt, if people who know the sector well aren't worried about BOO's margins, why should other people be worried? It usually pays to listen to sector experts, such as Nick Bubb, Mark Brumby, and Peel Hunt, who together are the best 3 retail sector analysts in my opinion. They have all been very bullish on BOO for over a year.
---
Somero Enterprises Inc
(LON:SOM)
Share price: 235p (up 8.0% today)
No. shares: 56.2m
Market cap: £132.1m
(at the time of writing, I hold a long position in this share)
Trading update – a smashing update today, from this US-based maker of laser-guided concrete screeding machines.
I interviewed management a year ago, here's the link for the audio, and here for the transcript. I'll see if we can arrange an update telephone interview in the next few weeks. It's such a nice company, and management were a pleasure to interview. Everything they said last time has happened, so they're people to trust, in my view. Oh, and the share price is up 72% in the last year, which isn't too shabby!
Performance has been strong;
In the six months since 30 June 2016, the Company continued to deliver profitable growth and cash generation.

Due to a strong finish to 2016 combined with continued margin improvement, the Board is pleased to announce the Company expects to report revenue slightly ahead of current market expectations and to report EBITDA comfortably ahead of current market expectations for the full year.

In addition, given the strong cash generation of the business, the Company expects to report net cash as of 31 December 2016 that is significantly ahead of market expectations.
I do wish companies wouldn't report EBITDA as if it's the main profit measure, because it really isn't! I think this sends the wrong signal – it says to me that profit may not have risen by much (if at all), so they're focusing on EBITDA instead. Actually, I don't think that's the case here, but that's only because I know the company. So the RNS writer (probably the UK PR company) needs to re-think what they actually put in the RNSs. I know the team at Redleaf PR, so will bend their ears about this next time I see them!
The normal way of doing things is to report on how adjusted profit compares with market expectations. That is far preferable to just disclosing how EBITDA has moved.
Also, I don't like all this "slightly ahead", "comfortably ahead", and "significantly ahead", all 3 of which are used in the first paragraph of the RNS. That might mean different figures to different people. Just give us the figures! Even if it's approximate, or a range.
I would much rather read that profits will be about 10% ahead of market expectations (footnote: we believe market expectations for adjusted profit to be £x). That's a much better way to do it. Note that the trading update from Majestic Wine (LON:WINE) is a good example of an announcement which gives a footnote clarifying what figure the company believes market expectations to be. Everyone should do this! It's so simple, and obvious, and necessary.
Maybe companies don't like to be too specific because of audit adjustments which might be necessary. Fine. In that case, say that adjusted profits are expected to be between 5-10% ahead of expectations. An approximate range, before figures are finalised, is fine.
So although I don't like the imprecise wording of the RNS, the news it conveys is undoubtedly positive.
Outlook - comments sound positive too;
Following record results in 2016, the Board is confident in the Company's ability to deliver another year of profitable growth in 2017 based on healthy market conditions in our core markets and encouraging growth opportunities in our other territories.

The Board's confidence is further supported by encouraging pro-growth corporate tax reform and fiscal policy proposals in the United States.
Dividends – the dividend policy is being increased, from distributing 30% of PAT, to 40%.
The company also says today that it intends paying out surplus cash to shareholders later in 2017, as it has more than $10m in net cash (being its targeted level). So we can look forward to a special divi also – how wonderful!
My opinion – as you've probably gathered, I really like this company!
I should mention the downside risks though. If you look back to 2008, the company ran into serious problems, as demand fell off a cliff. It supplies big ticket capital equipment, so in a recession, demand will undoubtedly drop heavily.
Therefore this share is unlikely to command a high PER, because investors will want to factor in the big cyclicality into the valuation.
The PER is only about 10, which for a cash rich company that is trading so well, seems fundamentally under-priced. It wouldn't surprise me at all if this was the next company in my portfolio to receive a takeover bid? It looks just the type of company (similar to Avesco in some ways) – management who are getting on a bit, plenty of cash, a lowly valuation, and operating in a specialist niche. All of which makes the company very attractive to potential bidders, I reckon.
With Trump apparently about to embark on an infrastructure boom, this stock looks well placed to benefit (most profits are made in USA). At this valuation, what's not to like? I think 300p+ could be on the cards by this time next year, providing nothing goes wrong macro-economically.
Also, I forgot to mention that of course Somero earns amp; reports in US dollars, so its profits translate into much higher sterling amounts, due to dollar strength vs sterling. Clearly that has been a powerful tailwind, helping this share along. Expect more broker forecast increases, I imagine. In fact, let me have a rummage through my email to see if any revised figures are out today.
Broker comments – the house broker has upped its 2016 EPS forecast by 7.5% today, to US c24.4 for 2016. That translates to sterling of 20.1p, giving a historic PER of 11.7.
The latest forecast for 2017 from FinnCap is US c26.1, or 21.5p in sterling, giving a current year PER of 10.9 (based on current price of 235 per share).
When you factor in the surplus cash, the PER would drop lower still. So it definitely looks cheap to me, if you're happy with the cyclicality issue.
I'm using the fully diluted (for share options), adjusted EPS figures from a FinnCap note issued this morning, for the avoidance of doubt.
---
Cloudcall
(LON:CALL)
Share price: 77.5p (up 20.1% today)
No. shares: 20.1m
Market cap: £15.6m
(at the time of writing, I hold a long position in this share)
Trading update – the update today reads very well, hence the 20% rise in share price today. Although it's important to remember that this is still a loss-making, cash-burning company, and has a track record of disappointing against forecasts, and repeated fundraisings (not always executed well).
Key points (this related to the year ended 31 Dec 2016);
Revenues up c.50% vs prior year
Recurring revenue up 63%
Loss will be in line with expectations (no figure given!) – I think this is likely to be something like £3.5m, but don't have any forecasts to hand.
Bullhorn amp; other CRM relationships are now key to sales effort, and it seems to be working.
Customer churn has reduced amp; customer service levels improved.
Good visibility for 2017.
Cash of £3.2m (but doesn't mention the £0.9m loan, so I make that net cash of £2.3m)
My opinion – if this was a newly floated company, without a history of disappointment, then I think (in current market conditions) there would be considerable appetite for these shares. So there is the potential here for a dramatic improvement in market sentiment, once the stale bulls have been cleared out, and providing the figures keep moving strongly in the right direction.
Cash burn is clearly still a problem though. So it's maybe too early to get wildly excited about this share. The revised strategy of concentrating on a few key CRM partners is a great improvement, and that's reflected in high margins, strong top line growth, and low churn.
If sufficient scale is reached, then this business would transform into something highly profitable. However, there's a long way to go, in terms of growth, to get to that point.
My approach is to ignore the past, and assess it fresh, as of today. On that basis, I feel risk:reward is improving. Good growth, and adequate (for now) cash, means that this time next year it should be not far from breakeven. As long as the strong top line growth continues, then I'm happy to hold. If top line growth dropped to say 20%, then I'd exit stage left.
Investors love high margin software companies with high recurring revenues amp; low churn. That's the perfect combination. CloudCall has exactly those characteristics, but the key missing link is that there just aren't enough customers (yet)!
On balance, I'm happy to run with it. None of the above alters the indisputable fact that this has been a very disappointing share to date. However, based on a strong update today, if you look at it freshly, I think there's a fairly good chance that the upside could be pretty good.
---
Topps Tiles
(LON:TPT)
Share price: 84p (down 2.3% today)
No. shares: 192.1m
Market cap: £161.4m
Q1 trading update – this tiling retailer had a 1 Oct 2016 year end, so today's update covers the 13 weeks to 31 Dec 2016, i.e. Q1.
It's lacklustre. LFL sales growth was only 0.3%, and a footnote points out that an extra day's trading (due to phasing of public holidays differing from the prior year) flattered this by 0.6%. So the true LFL performace was negative, at -0.3%. With costs rising, that's not good enough.
Topps reckons that it has out-performed the tile sector, which suggests they think the sector shrank. Various other details are given about strategic initiatives to improve performance.
Valuation – the latest forecasts suggest it should do 8-9p EPS this year – I like it when brokers give a range of outcomes, which makes much more sense than a specific figure. That 8-9p EPS range is based on LFL sales being between 0% and minus 4%, so fairly conservative assumptions.
If we assume flat LFL sales, and the 9p outcome, then the PER is 9.3. That does seem good value, although there is a bit of debt to factor into the valuation – not at problem levels though.
As you can see from the graphics below, it does look fairly attractive at this valuation – good quality, at a reasonable (or even bargain) price;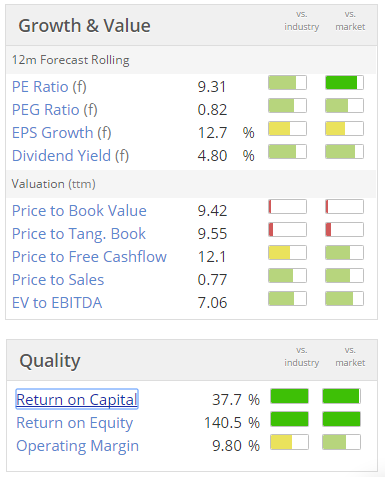 My opinion – I like it. The trouble is, right now the market is factoring in a consumer slowdown in 2017, as higher prices (from weak sterling) feed in, and trim disposable income.
So where's the growth going to come from? The store opening programme is only modest now, as the chain seems to be mature now, and is said to have 30% market share.
Topps seems a well-run business, but with limited growth from here, and weaker consumer demand likely to persist for a while, I'm struggling to see enough upside to make me want to take the plunge.
As with a lot of retailers, I fear this might languish, as investors scramble to put money into disruptive online retailers.
If Topps hit a valuation of a PER of say 6, then I would just throw caution to the wind and buy.
Note also the attractive dividend yield of 4.8%. So it's worth considering as an income stock perhaps?
---
Majestic Wine
(LON:WINE)
Share price: 349.5p (up 7.9% today)
No. shares: 70.8m
Market cap: £247.4m
Christmas trading statement – this looks encouraging.
See below for the table of divisional performance over the 10 weeks to 2 Jan 2017 – being the key seasonal trading period (which constitutes about 30% of full year sales):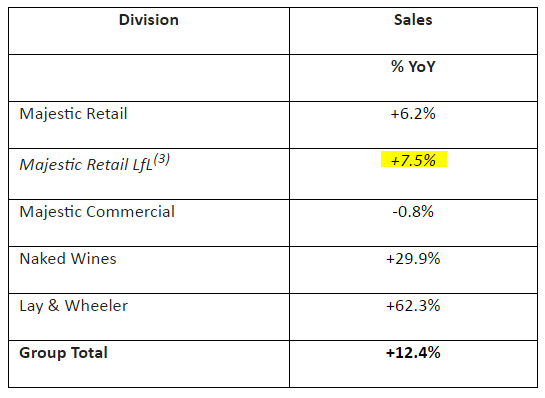 The retail division (by far the biggest part of the business) delivered an excellent +7.5% LFL sales performance. Although bear in mind that this was at lower gross margins (down 100 bps on last year) , due to competitive pressures.
However, the company's strategy was to spend more heavily on staff amp; training, in order to improve customer service. Therefore it needed to achieve significantly higher sales in order to cover the additional costs.
So the overall outcome is in line with expectations, rather than above:
Our maintained focus on cost control means that profits are expected to be in line with market expectations. (2)

…(2) As of 10 January we believe the consensus of revenue expectations for FY17 is £445.2m and consensus PBT expectations for FY17 is £11.3m

Absolutely brilliant stuff! This is so helpful – i.e. to indicate what market expectations actually are. All companies should do this, it's very very investor friendly. One small request though, it would be handy if the company could also give the EPS figure.
Valuation – the latest forecasts suggest 9.6p EPS for this year (ending 3/2017). Therefore at 350p per share, the market is rating this share very aggressively, on a PER of 36.5. That seems much too high to me.
The reason for this high rating, is that broker forecasts expect EPS to rise to 14.9p and 18.6p for FY18 and FY19 respectively. Even after 2 years of very strong earnings growth, the PER would still be 18.8 times FY19 forecasts!
My opinion – I think this share looks like an accident waiting to happen. It's already disappointed once, last autumn, and I'm struggling to see any convincing signs that earnings will indeed shoot up, as required to meet aggressive forecasts.
Growth at Lay amp; Wheeler is excellent, but it's only a tiny part of the group, and only very modestly profitable. Naked wines is the big unknown. It sounds great, all very trendy amp; fancy marketing, internet, etc, but again it's barely profitable. So what we're left with is a retail chain that's in a competitive sector, on a very high rating.
Overall, if Majestic can turn Naked Wine into a highly profitable growth business, then the high valuation for this share is justified. If not, then I could see this share halving, or more, from the current 350p level.
Personally I don't think risk:reward is attractive here. However, we're in a roaring bull market, and punters might decide that its internet operations (Naked Wines) are the next big thing. Who knows? Overall, there are too many ifs amp; buts here for me to get comfortable with a hefty valuation. I can find plenty of other much better growth at reasonable price shares than this.
---
Time is running out now, so I'll switch into quick fire mode.
Games Workshop (LON:GAW) - Interim results – I'm impressed, these figures look really good.
Looking back to my report on this company a year ago here, I noted that the company doesn't hedge forex. That hurt last year's interims somewhat, but has clearly produced a big boost to the revenue amp; profit figures announced today.
Pre-tax profit has more than doubled to £13.8m.
I like the strong balance sheet – it's debt-free, with £15.9m in net cash.
Dividends are high, and rising. The divi yield is c.5.5%.
Note that the company is implementing a new computer system, which it flags up as carrying risk. I've been in the middle of a bungled computer system implementation, and it can lead to catastrophic loss of control over the business. Therefore I'd be wary of investing until the new system is bedded in amp; teething problems ironed out.
Outlook – I can't find any outlook comments, so please leave a note in the comments section below if I've missed them – have skim read the announcement twice, but not found anything.
Conclusion – earnings forecasts have shot up here since Sept 2016 – up almost 50% – so there seems to be a remarkable improvement in trading underway. The share price has reflected this, but still looks good value, on the latest forecasts (PER of just under 14).
The StockRank is 98, so the Stockopedia computers clearly like its high quality, strong earnings amp; share price momentum, and high quality scores too.
Overall then, I like it. If the positive earnings momentum continues, then this share looks like it could continue rising.
---
Focusrite (LON:TUNE) – AGM statement (trading update) - good trading here has continued;
"In November 2016, at the time of our final results announcement, we updated the market that our positive trading momentum had continued since the year end. I am pleased to confirm that November and December also demonstrated good growth in revenue compared with the prior year, coupled with strong cash generation."
Sounds encouraging. I like this company, as it ticks a lot of my boxes, as a growth at reasonable price share.
The share price has gone up a fair bit recently, but that seems justified from several decent increases in earnings forecasts.
Worth a closer look, I'd say. I reviewed its last set of accounts about a month ago, here.
---
Telit Communications (LON:TCM) - a positive-sounding trading update today. However, bear in mind this company has distinctly iffy accounts. I ripped apart its interim figures here, and demonstrated that it didn't really make any profit at all, it was loss-making, on a conservative accounting basis. Also, cashflow was very poor.
Today's update sounds more positive though. It's also noteworthy that net debt has reduced a lot, suggesting that cashflow may have improved. Also it does pay divis.
There is a very large short position in this share out there. The improving trading update, plus a chart that looks ready to breakout, could conspire to create a short squeeze – where the share price suddenly shoots up, forcing short sellers to panic buy to close.
Therefore, it's quite tempting to put on a small long position, even though I really dislike the company's accounts, to benefit from any potential short squeeze. Could be an interesting short term trade? On fundamentals though, I wouldn't touch it.
WORK-IN-PROGRESS – pls update this page later.
Source:
http://www.stockopedia.com/content/small-cap-value-report-10-jan-2017-boo-som-call-tpt-wine-gaw-tune-tcm-165939/
We encourage you to Share our Reports, Analyses, Breaking News and Videos. Simply Click your Favorite Social Media Button and Share.