Good morning!
Many thanks to Graham for his excellent report yesterday. I was mainly in bed, with mild man flu (OK, a cold!). I'd recovered enough by the evening to append some brief comments to Graham's report, on IGR, IMO, and JSG. So here's the link for yesterday's slightly enlarged full report.
I'm covering today's news, so just one report here today. Graham might possibly append some comments of his own later, to this report.
First off though, a little rant on economists amp; how useless most of them are.
Economic forecasting
I see that the latest UK PMI data has been very positive, again confounding all the gloomy economic forecasts. There's an interesting article in today's Telegraph, with the respected Chief Economist for the Bank of England, Andy Haldane. He admits that economic forecasters have (so far) got it completely wrong. Also, almost all economists failed to foresee the GFC (great financial crisis of 2008).
Alastair Heath (an excellent financial journalist) has been saying similar things for a while now – i.e. that economics is a failing profession, unable to even vaguely forecast what is likely to happen in the real world.
Sir Mervyn King has an equally damning opinion of economists, urging them to stop pretending that they can forecast things with any degree of accuracy, or at all actually, in his excellent book, "The End of Alchemy" (highly recommended, if you haven't already read it).
This reminds me of my youth. I absolutely loved Economics at O and A levels, and had a fantastic teacher called Dave Lines. We thought he was the coolest dude ever, and he even managed to pull off carrying a handbag (or manbag, as he called it) for his keys amp; cigs – this was before the days of mobile phones of course, so nobody had to worry about carrying those, as they hadn't been invented.
I enjoyed Economics at school so much, that I was considering going on to do an Economics degree at LSE. Mr Lines persuaded me not to. He said that beyond A level, Economics descended into irrelevance. The academics had at some point got mathematics envy, and decided they had to super-complicate Economics with unfathomable mathematical equations. None of this was any use in the real world, said Mr Lines, so don't waste your life going down an academic cul-de-sac. Very wise words from him, and thank goodness I listened amp; acted accordingly.
In conclusion then, I think we should all accept that economic forecasting is largely irrelevant, because they nearly always get it wrong, often wildly wrong. The remedy is, in my view, is for economists to start again, from scratch, with a different approach. The approach needed is surely to accept that economics is really all about how human beings behave – e.g. becoming too excited amp; bullish in booms. Then when confidence collapses, for whatever reason, a recession ensues, and things then overshoot to the downside. We all know that's how it works, so why can't economists create reliable models which reflect amp; predict this?
Another key correction to economics, is to remove the assumption that people act rationally. We don't. Human beings are very often irrational. We very often do things on impulse, then massage the facts to create a justification for what was actually an emotional amp; completely irrational decision. For example, many people buy houses or cars in a boom, that they know full well they can't really afford. Yet they still do it anyway. Not everyone is like that, but many people are.
I know lots of people who live hand-to-mouth, and are constantly in debt, paying a crazy amount in bank charges. The solution is simple – stop buying stuff you don't need for a while, thereby repaying the debt, and boosting your disposable income as bank charges disappear from your life. Yet they never remedy the situation – being completely irrational, and/or lacking self control.
Unless amp; until economists can prove up models which actually work, in having some predictive power, then I'll continue to largely ignore them. Our own hunches on what the economic outlook is like, based on our life experience, and empirical evidence, are usually more useful than forecasts from supposed experts.
---
Crawshaw
(LON:CRAW)
Share price: 23.75p (down 6.9% today)
No. shares: 79.2m
Market cap: £18.8m
(at the time of writing, I hold a long position in this share)
Trading update – this covers the 5 weeks to 1 Jan 2017.
The key part is this;
With the improvement in performance continuing through the festive trading period, the Board remain confident in achieving full year market expectations.
However, before we get excited, remember that market expectations are for a loss this year, and were reduced in Oct 2016. So the business is not performing well, by any stretch of the imagination.
Also, "improvement in performance" is stretching things a bit. LFL sales were actually down 3.8% over the 5 weeks, and gross margin was also slightly lower, at 43.6%. The company uses the ridiculous phrase "margin investment", instead of just calling it price cuts. Don't the people who write these RNSs realise how much they annoy investors by using silly PR phrases in a feeble attempt to mask the truth? Most investors I know just want clarity amp; truth from announcements, not spin.
On the upside though, the trend in LFL sales is steadily improving, albeit still negative.
Forecasts – a broker note has just hit my inbox, which suggests the following figures for this year (ending 31 Jan 2017): Revenue £45.7m, EBITDA £0.3m, PBT loss of £1.0m.
A loss of £0.7m is forecast for 1/2018, and a profit of £0.2m for 1/2019.
Clearly those are pretty rubbish numbers, so I doubt anyone would buy this share if they only thought it was going to achieve those figures. Although note the cash generation isn't bad by the final year, at EBITDA of £2.3m.
The bull case is that the company may be able to beat these forecasts. The interest comes from the factory outlet sites. Note that the West Bromwich outlet site is performing very well, ahead of expectations. A new outlet site opened recently is trading in line with expectations.
So I think the upside here could come from investors starting to warm to the roll-out potential for these outlet stores. These also have the advantage of requiring lower capex than the dual purpose High Street stores.
My opinion – the share price here has already collapsed, from the giddy heights of 70-90p earlier this year. I didn't buy into that valuation, and thought this stock was overvalued at the time.
The price of 23.75p today reflects the fact that the store roll-out is now rather questionable. The bombshell announcement which triggered the share price collapse in Sept 2016 seemed to be saying that the focus would now be on meat-only factory outlet sites, rather than the previous High Street stores (which are a mix of butchers, and fast hot food).
Management also scored an own goal by forgetting that Crawshaws is a discounter, instead they foolishly tried to raise margins amp; thereby lost customers. Plus the supermarkets are fighting back, with keener priced meat.
So we know what went wrong, the only question now is whether Crawshaw can get it back on track? The improving trend in LFL sales suggests to me that might be possible. Also, the balance sheet is sound, with some net cash.
Overall, I think there's a reasonable chance that the share price could stage a partial recovery. For me this is more of a trade than an investment. I bought low, and am hoping to exit for a 50-100% gain in due course, if management manage to get things back on track. I wouldn't write off this company just yet.
Progress with the share price might be slow though, as there are still stale bulls in the stock – e.g. Hargreave Hale (who tend to unceremoniously dump poorly performing shares) last reported having dropped below 10%, back in Oct 2016. Although not having reported since, perhaps suggests that they've paused selling, although you never really know – the "holding in company" RNSs are often unfathomable, and don't always correlate to what has previously been reported.
Personally I'm happy to continue holding, after today's update. This is more of a special situation at the moment though. The original fast roll-out story has gone wrong, so we're in a limbo where nobody seems to know what the strategy is going forwards. I think management need to clarify things with the full year results, when they come out in Apr 2017.
For me though, I like the potential for investor sentiment to once again turn bullish here, based on the potential for the relatively new factory outlet sites, which are performing well. Therefore I see risk:reward looking reasonably attractive, if one is prepared to ignore current gloomy investor sentiment, and be patient.
The downside isn't too bad either – it has cash, and can continue trading at or above cashflow breakeven indefinitely I think, so limited risk probably.
---
Zytronic
(LON:ZYT)
Update re distributable reserves - I read with interest yesterday's section on Zytronic, in Graham's report, and the reader comments. As there seemed something odd about the situation, I emailed the company overnight to ask for clarification, so here it is;
Yes. £8.9m of the retained earnings are non-distributable reserves. As far as I am aware it makes that statement in the accounts. With that £8.9m being attributable to non trading profits generated at the time of demerger and subsequent listing back in 2000.

We felt it appropriate to look at the opportunity of converting these non-distributable into distributable by means of the proposed capital reduction. It was one of the confusing facts when people kept on talking about our cash as if it was readily available to distribute.
I then got another reply, clarifying further, as follows;
There is no statement to explain that this amount is non-distributable in the Parent Company section of the annual report this year. In previous years' accounts it was under note 11 of the Parent Company section, but now we are reporting the Parent Company accounts under FRS101 we are not required to have that particular note. In hindsight, it may however have been helpful to state somewhere that £8.9m of the total reserves of £14.3.m are non-distributable.

I hope that makes it clear but please do get in touch if you have further questions.
So that explains things fully, and well done to the reader (bestace) who spotted the point about this £8.9m undistributable reserves, in yesterday's comments section.
Also thanks to Zytronic, for coming back to me so quickly to clarify things. I've not come across a non-distributable element of retained profits before, so this was a new one for me too!
---
Gear 4 Music (LON:G4M)
Share price: 511p (up 2.2% today)
No. shares: 20.2m
Market cap: £103.2m
(at the time of writing, I hold a long position in this company)
Trading update – this is one of my two favourite shares for 2017 (the other being £RBG) so please forgive me if this section is too gushing. I'm very enthusiastic about the company, and good quality internet retailers generally. Although obviously they all look expensive on conventional metrics.
Here is the key sales information released today, covering the bulk of H2 (Sep-Dec inclusive, so 4 months). The year end is 28 Feb.

Remember this is all organic growth, so pretty spectacular in Europe (albeit coming from a low base), and still respectable in the UK. Overall +55% organic sales growth over the peak trading period is outstanding. You won't find many other businesses coming anywhere near to that, in organic growth.
Although note that sales growth is slowing. The H1 figures were even higher, at +44% UK growth, and +169% Europe/RoW growth. This is not a concern to me, as it mimics the same pattern that we've seen before at other internet retailers, e.g. Asos amp; BooHoo – it's inevitable that the growth rate moderates as the business grows over time, but still seems to eventually settle at something like 20-30%, which is still astonishing.
We're seeing a very dramatic, and probably permanent shift in shopping habits from going to physical stores, to buying online. In Gear4Music's niche, it is further helped by physical stores simply being unable to stock such a huge range of products. The musical instruments amp; equipment that G4M sells are mostly not affected by fashion issues. Therefore the slower-moving items do not need to be disposed of cheaply. They just sell through over time, albeit slowly.
Own-branded products – when I first looked at G4M, I dismissed it as a low margin box-shifter. I was wrong about that. Margins are always going to be relatively low, if you're selling generic products in a competitive market.
However, G4M is boosting its margins through developing more own-brand product. I recall at a meeting I attended, the CEO emphasised this is not easy to replicate – it's taken G4M over 8 years to build up its own-brand ranges. This has involved a lot of work, designing the products, and building up a reliable supply chain, mainly in China, I believe.
The benefits are now feeding though, with higher margins. Combine that with stellar top line growth, and it's a potentially very exciting mix for profitability.
Forecasts – one of the reasons I like G4M, and bought heavily last autumn, was that I could see the broker forecasts were too conservative. This is similar to what happened at Boohoo.Com (LON:BOO) and Fevertree Drinks (LON:FEVR) – most of us thought they looked expensive, but we were basing that view on forecasts which ended up being beaten by a country mile.
A similar situation is happening here, I think. Broker forecasts were raised 21% in Oct 2016, and have been raised again by 20% today. Panmures amp; Edison cover this stock, and both are forecasting 9.2p EPS this year (nearly ended), and 11.5p for the new year starting on 1 Mar 2017.
What's the betting the company will beat that 11.5p forecast? It looks a very modest forecast to me, so I wouldn't be at all surprised if the actual number is more like 15p+ EPS. If we go with 15p as my estimate for the new financial year, then at 511p the PER would be 34 times. That's a rich valuation for conventional companies, but successful online retailers are not conventional companies.
I prefer PEG ratios for this type of share, and as I tweeted recently, G4M is a stand-out bargain compared with other UK internet retailers. Its forward PEG is 1.25 on Stockopedia. That's not expensive at all. It should drop further once the latest increased forecasts come through. Whereas other internet retailers are typically 2-3 times that, some even more.
So I very much feel that people who obsess over PER at fast-growing companies like this are missing the point. It's all about PEG, not PER, providing the growth is sustainable. You have to factor in a slowing of the growth rate, as mentioned above.
Anchoring – people tend to psychologically anchor to the previous share price. This is often a mistake. If the fundamentals dramatically improve, as they have here, then forget what the price used to be – it's irrelevant!
So despite this share having more than 5-bagged in 6 months, personally I don't care about that. Is the stock expensive now? If you work on a PEG basis, as I am increasingly doing for growth companies, then no, it's not expensive.
That said, people will no doubt want to bank some profits, and Rome wasn't built in a day, so I've no idea what the share price will do from here. It might drop a bit, as people bank their gains, who knows? I've not sold any of mine, and don't intend to – selling too early was a terrible mistake with BOO, and I'm not going to repeat that mistake here with G4M.
Management – I rate the CEO here very highly. He's exactly what I look for – a single-minded entrepreneur, who has built the company up from scratch, and remains grounded. Also he's kept nearly all his shares, still holding 39%.
European growth – this is the really exciting bit. G4M has usurped the competition to become the UK's market leader. It's now powering into Europe – obviously a much bigger market. I reckon European growth should mean this stock remains on a high, or even higher PER for several years to come. I hope so anyway.
If you cast your mind back, it was when Asos started expanding strongly overseas, that the PER went ballistic, up to over 100 at one point, and remaining in the 50-100 range for years. That may not necessarily happen with G4M, as it's a smaller, more niche company, but it's interesting nonetheless.
The new Swedish distribution centre has opened, with Germany due to open shortly. This will enable next day delivery, further improving already good levels of customer service. So the company is gearing up for sales of c.£100m p.a., on improving margins, so why would anyone think the market cap of £103m is excessive? It seems perfectly reasonable to me, given the growth that's happening.
Profit above expectations – anyone can grow the top line. Just look at Koovs (LON:KOOV) – great % growth, but losing money hand over fist, it's absolute rubbish I think. Compare that with G4M, which is not only delivering terrific top line growth, but also improving margins too, and being sensible about its costs. The result? Profits ahead of expectations;
"We continued to deliver a strong sales performance during the last four months including the festive period, and with year to date growth of 63%, the Group remains on-track to deliver annual revenues in-line with the Board's expectations.

"We were particularly pleased with our Own-brand sales performance during the period, which was driven by improving conversion rates and investment in additional stock. As a result of this and a controlled overhead cost base, the Board is now confident that Gear4music is well placed to deliver profits for the full year that will be ahead of the increased expectations signalled at the half year stage.
Outstanding! As you've no doubt gathered, I really like this company! Although there could be a risk I've fallen in love with it, so please do treat my words with caution. When I'm this keen on a company, it's even more important than ever that you do your own research.
Also, I encourage bearish views in the comments section below. Good investors seek out and consider opposing views, and I'm trying to become a better investor all the time. So if you are bearish on this share, please feel free to say so, and why, below. I promise not to be rude in my reply.
Marketing spend – this is a key point about online retailers. During the rapid growth phase, they have to spend very heavily indeed on marketing, in order to generate the growth. This also kills off competitors with inadequate funding. Otherwise anyone could set up an etail business amp; make a mint.
Once the business has matured though, there is a bit profit opportunity from reducing the heavy marketing spend down to a maintenance level. I seem to recall that G4M is spending about 9% of turnover on marketing. That's a huge amount from a gross margin of only about 3 times that level.
However, look forward a few years, when the business is mature, and that marketing spend could maybe halve, which would roughly double the net profit margin.
This is one of the reasons why internet retail stocks look so expensive right now. It's because savvy investors are anticipating the bottom line impact when the "profit engine" is eventually switched on, for the larger etailers which end up dominating their particular niches.
So think in terms of a land-grab for now, then much bigger profits later. This could mean that, eventually, G4M might be a very decently profitable, and much larger business.
My opinion – I think it's terrific. Although one does have to wonder what the short term share price will do? I've no idea. Maybe it may take a breather, after the recent stellar rises? Some people may want to bank their profits. However, with the shares tightly held, and the market cap peeping above £100m, I reckon there will be Institutions queuing up to buy into this share, but unable to get hold of any.
As Mark Minervini says, buy the growth stocks that the Institutions will want to buy in the future. They often chase prices up to previously undreamed of levels. I think lots of small cap fund managers will want this share in their portfolios, but will struggle to get hold of any stock.
So this remains one of my key holdings, for the foreseeable future.
What do the Stockopedia computers think about it?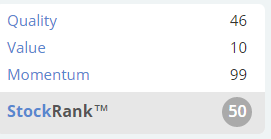 That nicely sums up the situation – fantastic momentum (remember this relates to not just the share price, but also broker forecasts), moderate quality, and a poor value score.
I like to anticipate likely movements in StockRanks, to get ahead of the curve. So we're not likely to see the value score budge much from this low level. However, I think the quality scores should rise over time, as the operating profit margin is increasing.
The other risk to consider, is that of a general market sell-off. So highly rated growth stocks can be pounded hard, if the market as a whole sells off. Also, G4M is particularly volatile, due to the low free float. So we see some wild price swings intra-day.
---
Think I'll leave it there for today, as am still not feeling 100% by any means.
Regards, Paul.
Source:
http://www.stockopedia.com/content/small-cap-value-report-6-jan-2017-craw-zyt-g4m-165336/
We encourage you to Share our Reports, Analyses, Breaking News and Videos. Simply Click your Favorite Social Media Button and Share.