Good morning!
Today I'll be covering the shares noted in the header. Graham intends adding a section on ANCR later this afternoon, once I've finished.
---
Boohoo.Com
(LON:BOO)
Update on Nasty Gal acquisition – as mentioned before, BooHoo is the "stalking horse" bidder for the IP and customer lists of bankrupt American fashion etailer Nasty Gal. There is now a wait until 2 Feb 2017 to see if any other bidders get involved.
It's too soon to count their chickens, but if BooHoo's $20m bid is successful, it could turbocharge its growth in the USA. I think this is one reason why BOO's rating has gone through the roof – international expansion is going very well already, and with Nasty Gal potentially on top, then who knows where this ambitious company might end up?
The Board believes the proposed transaction has the potential to accelerate the Group's international growth, particularly in the US, building on boohoo's existing customer reach and product range across the globe.
I so wish that I'd stuck with this one, and not sold out way too soon. I've still got a tiny residual holding, via my local share club in Hove. Well done to those of you who sat tight – it just shows, a toppy valuation can sometimes just be the sign of a great company that's going places.
---
Spaceandpeople
(LON:SAL)
Share price: 17.25p (down 21.6% today)
No. shares: 19.5m
Market cap: £3.4m
(at the time of writing, I hold a long position in this share)
Trading update (profit warning) – good grief, yet another profit warning from this very disappointing specialist marketing tiddler. From what I can gather, most people have either given up in despair, or are still holding but would rather not discuss it.
I wouldn't normally report on something with a market cap this small. My usual size cut-off point is about £10m market cap, as things get too illiquid below that. However, SAL is a stock I've covered here a lot before, so it makes sense to continue covering it, for now.
Christmas trading was weaker than expected in the UK retail part of the business, although other divisions traded alright.
Retail Merchandising Unit ("RMU") sales were significantly lower than had been anticipated with demand over the normally lucrative Christmas period being particularly weak.
The financial impact is given (partially);
Overall, revenue for the year was £700k lower than expected at £10.2 million and the impact of this on the profitability of the Group is a reduction of approximately £425k from market expectations.
Unhelpfully, the company has not stated what market expectations actually are. This is so annoying. I'm going to keep nagging until brokers amp; PR companies get the message that, with small caps, people don't necessarily know what market expectations are.
Therefore when mentioning market expectations, RNSs need to have an asterisk, with a footnote giving the actual figure. Otherwise confusion reigns, and lots of people have lots of their time wasted trying to find out what the figure is. Even then, we don't know if the figure we're using is the same one the company is referring to.
Stockopedia shows a forecast PBT of £0.75m for 2016, but another website has a figure of £0.41m. Sometimes there are differences because of adjustments the data providers make.
Actually, there is more clarification. The company goes on to say this;
Therefore, the Group expects the results for 2016 to be close to break even before non-recurring costs and discontinued operations and a loss of circa £650k after recognising all costs.
Clearly breakeven underlying trading is pretty disappointing, but that's been reflected in a massive drop in share price over the last year.
The £650k loss after exceptionals is clearly a poor result (and they are genuinely exceptional – the largest cost being a £400k write-off for the closure of Samp;P+, which we already knew about).
The company still has net cash though;
The net cash position at the year-end was £250k (2015: £723k).
I'm therefore fairly comfortable that this company is not likely to go bust any time soon. Although if performance were to significantly deteriorate from here, then I'd start to get nervous about future solvency.
New venues – some positive details of new sites coming through. Although this is tempered with comments about possible loss of existing sites. It's a bit of a revolving door here – they win some, and lose some sites every year.
Cost-cutting – another £750k has been slashed from overheads. One of the few positive things I can say about this company is that its overheads are mostly variable costs. So it can downsize in response to poor trading, thus keeping afloat even in tough conditions. That's exactly what has happened in recent times, as performance has deteriorated.
Outlook – after a gloomy statement, the last bit actually reads quite well;
The effect of the new contract wins, whilst taking account of potential contract losses and declining German retail revenues as well as the benefits arising from the closure of Samp;P+ and the restructuring programming undertaken provides the Board with sufficient confidence that the Group will not only return to profitability in 2017 but will also meet existing broker expectations for 2017.
I've got figures between £0.55m and £0.76m for 2017 profit forecasts. So it looks to be in that ballpark. The trouble is, I don't think the market is likely to give this reassurance much, if any credence, given the recent track record of repeatedly missing forecasts.
My opinion – obviously as a shareholder, I'm deeply disappointed with the poor performance here. Those who ditched their shares at the first sign of trouble, a while back, clearly made the right decision.
However, we can't change the past, the only issue I'm interested in is whether the shares in my portfolio are a sell, hold, or buy right now, at today's valuation. If the market cap was say £10m, then I would sell, based on the information we have today. However, at just £3.4m mkt cap, I'm more a buyer than a seller.
I don't see this company going bust, as it still has a little cash in the bank, and after cost-cutting should now be modestly profitable in 2017. Therefore as things stand now, I'm holding. I'm a buyer at 14p or below, and put an order in to the market this morning, but there was no size available at that price. It's since partially recovered to 19p to buy, which I'm not prepared to pay. So it's gone back to a hold for me.
My rationale is that, on any decent news, the shares could recover quite easily to 2-3 times the current level. At that price, I'd be happy to exit stage left. So overall, a lousy situation, and a very disappointing share, but in my opinion this is not the right time or price to sell. Others may disagree though, and I respect more bearish views on this share, because they've been right so far, and I've been wrong! Not that that matters at all, in terms of what the correct decision to make now is.
---
Premier Technical Services
(LON:PTSG)
Share price: 85p (unchanged today)
No. shares: 88.4m
Market cap: £75.1m
(at the time of writing I hold a long position in this share)
Trading update – this company floated in 2015, however not many investors know about it. This is because the way floats are done in London is all wrong. When companies float, the broker just places big blocks of shares with institutions, in order to earn a fat commission fee as quickly as possible amp; with the least amount of work.
The upshot of this, is that when the company's shares start trading, there's very little volume. You need private investor interest in a small cap share to generate the trading liquidity. So often, after companies float, they realise that they need to start connecting with PIs by doing the rounds of investor evenings, shows, commissioned research, getting PR to put positive articles into the papers amp; investment magazines, doing soft interviews with paid-for rampers, etc. It's all a bit hopeless.
However, this can create opportunities for us – because if we rummage around, we can sometimes find an overlooked amp; under-priced share that floated in say the last 2 years. These can be rich pickings.
In fact, my top 2 companies for this year (G4M and RBG) were both in exactly this situation last year. Very few people seemed to know about the shares, which resulted in very significant under-valuations (in my opinion), which I took full advantage of last year, backing up the truck in both cases. The prices have since gone up nicely, so this is a really good area to look at generally, I think.
Back to PTSG. Its update today is good;
PTSG, the niche specialist services provider, is pleased to announce that its results for the year ended 31 December 2016 are anticipated to be in line with the board's expectations.
Let's look at valuation.
Valuation – here are the usual Stockopedia graphics;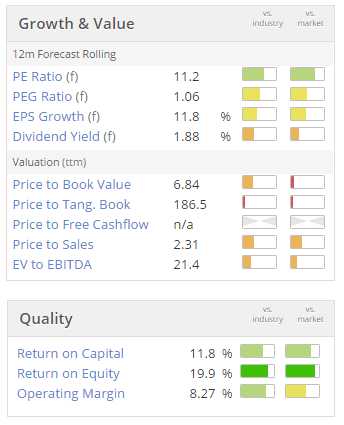 Several points jump out at me;
Not much in the way of balance sheet strength (PTBV of 186.5) – but at least it's not negative (denoted by n/a – always worth checking for that).
There's quite a difference between PTBV of 186.5 and PBV of 6.84 – that's telling us the balance sheet has a fair bit of intangibles on it – not surprising, as this is a buy amp; build – an acquisitive group.
Foward PER amp; PEG looks reasonably good value.
Divi yield isn't much to get excited about, but you don't expect much in the way of divis at acquisitive groups.
Cashflow needs checking, as a n/a in price to free cashflow.
Quality scores are very good – this company does make an attractively high operating profit margin, which is one of the things I like about it.
So tons info in those graphics, once you know what to look for!
My opinion – I have only an entry level long position in this one. I can't quite get comfortable enough to increase it yet. Will be interesting to see how things are progressing when the next set of figures come out.
Management seem to have a strong emphasis on operational efficiency, which gives them an edge. I like that. So overall, it's one where I might increase my small long position in future, subject to getting a bit more comfortable with future financial results statements.
---
Punch Taverns
(LON:PUB)
Share price: 192p (down 0.4% today)
No. shares: 222.0m
Market cap: £426.2m
(at the time of writing, I hold a long position in this share)
Recommended Cash Acquisition of Punch Taverns - this is just an update announcement. It says;
In line with the announcement of the Transaction on 15 December 2017 (the "Announcement"), the Scheme Document setting out the full details of the Transaction will be published on or before 20 January 2017.

It is still expected that the Shareholder and Court Meetings will be held in the first quarter of 2017, and that the Scheme will become Effective in the first half of 2017 subject to the satisfaction or waiver of the Conditions and certain further terms set out in the Announcement.
I'm glad to see it's not just me that gets confused about what year it is! (note the typo in the first line). In an organisation that size, surely they have someone to check RNS for mistakes before they're published? Sloppy.
Looking at the announcement on 15 Dec 2016, it indicated a cash offer of 180p.
However, the share price is 12p above that, which suggests that the market is anticipating a possible higher competing offer? We saw this recently with Lavendon of course.
Mind you, in this case, with Punch, it has 52.3% irrevocable undertakings to accept the 180p offer. But as we know, irrevocable undertakings usually fall away if a higher competing offer comes along.
So I'm in a quandary here. It's a nice problem to have, but do I bank the profits now, at 192p per share, or hold out for a higher offer? Rightly or wrongly, I've decided to sell a third of my position, to bank some gains. That's may be a mistake, but who can tell?
It was a terrible mistake selling Lavendon at 190-195, as I did. The price since soared to 266p currently, as two suitors battle over the company, leapfrogging each other with higher bids, repeatedly. Although that type of situation is quite rare. Most bids go through uncontested.
What do readers think? Risk:reward seems to be a 12p loss from here if the 180p bid goes through, or an unknown profit if a bidding war erupts. The chance of there being no bid at all (and hence a fall back to maybe 130-140p) seems fairly remote to me – the 180p bid seems credible amp; well advanced.
(work in progress – more to follow)
Source:
http://www.stockopedia.com/content/small-cap-value-report-9-jan-2017-boo-sal-ptsg-pub-ztf-safe-reds-165795/
We encourage you to Share our Reports, Analyses, Breaking News and Videos. Simply Click your Favorite Social Media Button and Share.