This post You'll Need Guts to Buy This "Dumpster Fire" Stock appeared first on Daily Reckoning.
"Dumpster fire" is officially 2016's Word of the Year.
"One word simply wasn't enough for the American Dialect Society, a group of linguists, lexicographers, and grammarians that voted on the award," Business Insider explains. "Loosely defined as a poorly-handled or out-of-control situation, 'dumpster fire' could apply to any number of consequential events that took place in 2016 — from a bitterly contested election that upended US politics as we know it, and a cataclysmic Brexit vote that sent shockwaves through Europe, to a series of tragic shootings and terrorist attacks and a seemingly endless list of high-profile celebrity deaths."
Clearly those who picked "dumpster fire" aren't investors. Sure, 2016 started out bad for stocks. But the averages pulled off an incredible comeback despite all the bad news the world threw their way.
What's not to love? Who cares if the candidate you don't like won the presidency or a bunch of celebrities you've never met croaked. Get over it. The year that began with the worst start for stocks in history managed to finish December in the green.
[Editor's note: What will 2017 bring? And how can you make serious money from it? I'm attending a live video event hosted by 40-year trend forecasting expert Gerald Celente outlining exactly how to do just that—and you should, too. Gerald's my go-to source for emerging trends, so you won't want to miss what he's revealing on Thurs., Jan. 12 at 7:00pm EST. Click here to sign up for this FREE live video event right now.]
While the major averages banked double-digits gains in 2016 here in the U.S., international stocks weren't as fortunate. Chinese shares also had to dig out of a nasty bear market. Even though the Shanghai Composite slowly crept higher off its February lows, it still ended 2016 down double-digits.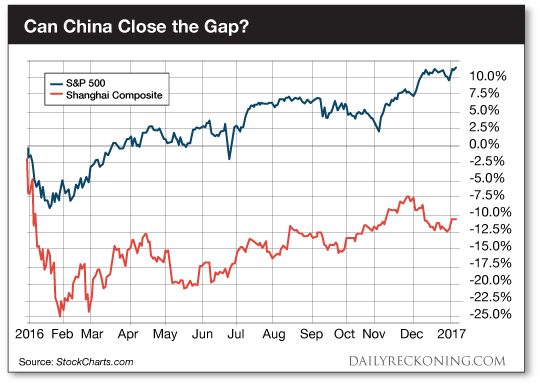 Thanks to concerns of a hard landing for its embattled economy, China couldn't shake off its winter slump as quickly as U.S. markets. The dumpster fire that began in early 2016 continues to smolder as the Shanghai remains well below its 2015 highs.
But with a new year come new opportunities. Chinese stocks are catching a bid now that the calendar has turned over. And some of the most constructive setups we're seeing are in Chinese ADRs.
Just check out Alibaba (NYSE:BABA)—China's king of online retail.
You probably remember how Alibaba was ridiculously overhyped when it debuted on the New York Stock Exchange back in 2014. After ripping higher in its debut, it completely fell apart. Typical IPO hype—followed by a fantasy-crushing crash.
But after more than a year in the gutter, Alibaba is coming back to life. The stock has done more than gain some positive momentum. In fact, Alibaba and other Chinese ADRs are blasting off left and right.
And it also doesn't hurt that Alibaba CEO Jack Ma is cozying up to Trump this week. CNBC reported that MA met with Trump Monday regarding Alibaba's plans to expand its US operations and create one million jobs over the next five years.
The trading action so far this year has been more than enough to get BABA shares over the hump. By the looks of this chart, the short-term correction in Alibaba stock that began in early October is finished. The stock has retraced back toward $85 and filled the August gap. Now it's time for an extended run higher.
Sincerely,
Greg Guenthner
for The Daily Reckoning
The post You'll Need Guts to Buy This "Dumpster Fire" Stock appeared first on Daily Reckoning.
This story originally appeared in the Daily Reckoning . The Daily Reckoning, offers a uniquely refreshing, perspective on the global economy, investing, gold, stocks and today's markets. Its been called "the most entertaining read of the day.
Source:
https://dailyreckoning.com/youll-need-guts-to-buy-this-dumpster-fire-stock/
We encourage you to Share our Reports, Analyses, Breaking News and Videos. Simply Click your Favorite Social Media Button and Share.