This post Your Broker is Going Ballistic appeared first on Daily Reckoning.
After shedding more than 150 points Thursday morning, the Dow fought to a small loss before the afternoon bell. Yesterday's close keeps the big board within spitting distance of the magical 20,000 level—and well contained in the narrow range that has trapped the major averages so far this month…
But I'm sure some traders with itchy trigger fingers sold into yesterday morning's drop. Everyone's waiting for big move higher or lower. The financial media can't decide whether to cheer louder for Dow 20K or the end of the Trump Bump.
Meanwhile, your broker is minting a fortune.
The big online brokers don't care if you ever make a buck. But they do love it when you're buying and selling stocks at a furious pace. Every time a spooked investor hits the panic button and sells all his stock, a broker gets his wings.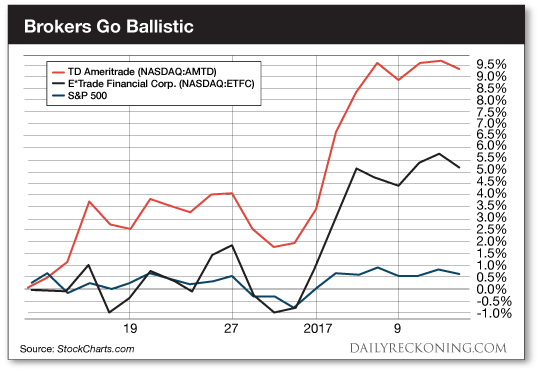 The big online brokers have absolutely crushed the market over the past month. While the S&P 500 has consolidated, stocks like TD Ameritrade (NASDAQ:AMTD) and E*Trade Financial Corp. (NASDAQ:ETFC) are leading the charge…
Time for a Big Squeeze?
If the market continues to rally, we could be in for a massive short squeeze in the coming weeks. Once again, Wall Street doesn't have a clue. If they end up on the wrong side of the boat this time, a short covering rally could be the fuel the stock market needs for a powerful rally.
To recap: anyone shorting a stock "borrows" that stock from a broker. And if the trade moves against them, they must buy the stock to close out their position. That's why it's called a short squeeze. They literally get squeezed out of the trade. The selling is even more ferocious if their losses mount quickly.
What happens when all these short-sellers are forced to buy the stock? That drives its price even higher. The exact opposite of what the short-sellers intended. As a result, every dismal stock big money was betting against spiked higher.
Right now, I see almost 150 companies trading on major exchanges that have 20% or more of their float sold short. If we do see this rally embark on another leg higher, we're going to get plenty of tradable squeezes in everything from biotech to solar…
The Yoga Pants War is Heating Up
Workout clothes aren't just for the gym anymore.
The numbers speak for themselves. The sports apparel and footwear market has grown 42% since 2009 to $270 billion, according to Morgan Stanley. Analysts are guessing it will grow another 30% before the decade is over.
It's also becoming apparent that workplace dress codes are getting more lenient every day. When was the last time you saw someone wear a tie to the office? Before you know it, we'll all be wearing form-fitting muscle shirts and sweatbands in our cubicles…
That brings us to the high-priced luxury athleisure brand that started it all: Lululemon Athletica (NASDAQ:LULU).
Lululemon is a company that's done everything wrong—yet gotten the trends so right that investors can't help but scoop up shares.
Every six months, the folks at Lululemon find themselves in some sort of public relations debacle. Remember the yoga pants scandal? The company's unlikable CEO said fat people shouldn't wear Lululemon tights when confronted with complaints that some customers found the fabric too transparent. And just last year, a Twitter jab at Beyoncé's new athleisure line turned into an all-out brawl with the singer's fans…
But maybe Lululemon's scandals are about to catch up to the company. Management better get its act together soon—because Amazon wants a piece of the yoga pants market.
"Amazon is jumping on the athleisure trend with its own in-house brand of athletic apparel," Business Insider reports. "The retail giant is hiring for brand managers to help launch a line of activewear, looking for candidates who 'will collaborate with leadership to build authentic activewear private label brands that have compelling and unique DNA.'"
Lululemon has been one of those companies that has avoided the Amazon curse carving out a unique retail niche. They're going to have to fight to keep it now that Amazon is invading their turf…
Sincerely,
Greg Guenthner
for The Daily Reckoning
The post Your Broker is Going Ballistic appeared first on Daily Reckoning.
This story originally appeared in the Daily Reckoning . The Daily Reckoning, offers a uniquely refreshing, perspective on the global economy, investing, gold, stocks and today's markets. Its been called "the most entertaining read of the day.
Source:
https://dailyreckoning.com/your-broker-is-going-ballistic/
We encourage you to Share our Reports, Analyses, Breaking News and Videos. Simply Click your Favorite Social Media Button and Share.