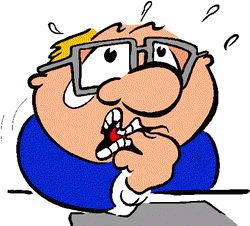 BarroMetrics Views: A Nervous S&P Trader
Long and uncomfortable – two words that best describe me at the moment.
Why? The three attached charts tell the story.
Figure 1 is a weekly chart with 13-week swings (quarterly trend). Notice that the weekly ranges before the Trump breakout increased the average true range and volume. This led me to the conclusion that what we were seeing was a distribution pattern.
The Trump victory on 11/11/2016 saw an upside breakout. At the time, the question raised was whether we were seeing an unexpected (in which case a new uptrend had started) or a surprise event (in which case we'd see a rejection of the new highs and the start of bear).
The price action following 11/11/2016 (Figure 2) persuaded me that we had seen an unexpected event and that a new uptrend was in place. More, given that Trump's policies were unlikely to deliver on his grandiose promises, the current uptrend could be classified as a bubble in the making.
What was it about the price action that led to this conclusion?
Well, two things:
The shallowness of any sell-off, and
The directional persistence following each pause. (Figure 2).
The reasons why I am 'a nervous' long is also shown in Figures 1 & 2. Notice that the Trump breakout is unaccompanied by a healthy increase in volume and range.
Figure 1 shows that we have seen this pattern before, the QE effect, especially the period 2012-11-16 to 2014-09-19. That was a two-year uptrend when the S&P ground up on below normal range and volume, increasing some 50.69% in the process.
My plan is to reduce position size and tighten my stops to manage my long trade. The last thing I want to be is lackadaisical and have Black Monday (1987-10-19) surprise me.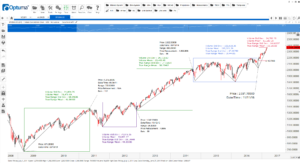 FIGURE 1 S&P Weekly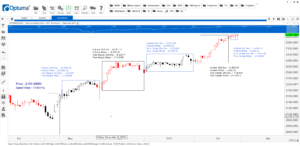 Figure 2 S&P Daily
The post A Nervous S&P Trader appeared first on Ray Barros' Blog for Trading Success.
Source:
http://www.tradingsuccess.com/blog/nervous-sp-trader-4640.html
We encourage you to Share our Reports, Analyses, Breaking News and Videos. Simply Click your Favorite Social Media Button and Share.