I decided last week to follow Jim Slater's example and relax my valuation criteria slightly. This left me with a choice of five stocks to consider adding to the SIF Portfolio this week.
If you missed last week's article, I'm experimenting with reducing the minimum earnings yield of my SIF screen from 8% to 6% and increasing the maximum rolling PEG ratio to 1.3. No new stocks have qualified for my screen for four weeks, and the portfolio's cash balance is becoming excessive.
You can see the results of the relaxed screen here.
Too much overlap
One of the companies which qualifies for the relaxed version of the screen is steelworks group Severfield. Last week's comments suggested that this is a popular pick with Stockopedia users. The shares have nearly doubled since July and boast a StockRank of 95. The outlook is still improving, but the SIF portfolio already has five industrial stocks.
Of these, John Laing operates in the same Construction amp; Engineering industry sector as Severfield, while Flowtech Fluidpower is also exposed to the construction market cycle. I've had to rule out Severfield to avoid excessive duplication. Engineering services group Renew Holdings was also dismissed, for similar reasons.
Of the remaining three options, wealth management group Brewin Dolphin Holdings was easily ruled out for its overlap with portfolio stock Miton.
Two strong contenders
AIM-listed business park and shared workspace operator Sirius Real Estate was harder to dismiss.
Although classed as a financial stock, it's a real estate business that operates in Germany. So it provides attractive exposure to a major EU economy other than the UK.
The overlap with my three current financial stocks, (Hamp;T, Miton and TCS Holding) should be limited, barring a major meltdown.
Sirius also has a StockRank of 93, making it the second-highest eligible stock in this week's expanded screen results. It's tempting, especially as I don't currently have any property stocks in the portfolio.
Equally tempting is FTSE 100 mining group Rio Tinto, which pipped Sirius to the post with a StockRank of 95.
Rio's 2016 results last week were very strong. Reduced costs and rising commodity prices mean that cash generation was ahead of expectations last year. Net debt is down and the dividend was higher than expected.
Although the portfolio already contains copper group Central Asia Metals, it doesn't have any other mining exposure. Rio's portfolio of low-cost iron ore, coal and copper mines could be a useful addition.
I've decided to take a closer look at Sirius Real Estate this week. I'll then consider adding Rio Tinto next week, assuming it's still the top qualifying choice in my screen.
A brief introduction
Sirius Real Estate was formed in 2006 with the goal of building a network of branded and centrally-managed business parks across Germany. The group now has a market cap of £421m and a portfolio of 45 properties. These were valued at €610.2m at the end of 2016, during which they generated an annualised rent roll of €53.0m.
The group's properties are divided into conventional mixed-use commercial units, and shared workspaces of the kind favoured by startups and other smaller companies.
Chief executive Andrew Coombs has been with the firm since 2010. Prior to that he was UK sales director for serviced office specialists Regus Group, so he knows this business well, albeit from a UK perspective. Mr Coombs also owns 4.4m Sirius shares, giving him a 0.52% stake that's worth €2.5m at the time of writing.
A near-term catalyst?
My research into Sirius Real Estate has flagged up a potential catalyst for the group's stock. The group is is currently planning to shift its AIM listing to a LSE main market listing.
You might wonder why this firm isn't listed in Germany. I don't know the full history, but one possible explanation is that most of the group's senior management appear to be British. It may simply be that the UK was a more familiar option.
Quality = mixed?
Sirius Real Estate's QualityRank of 68 is the lowest of the three QVM scores which make up its StockRank of 93.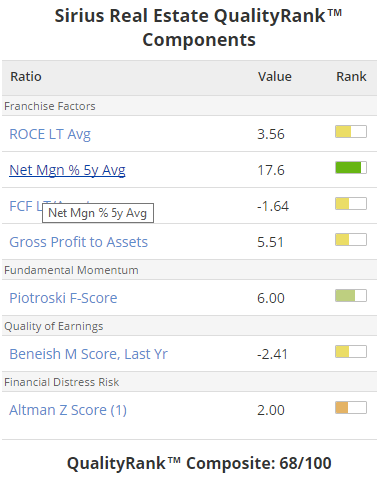 The main attraction here is a Piotroski F-Score of six out of a possible nine. I've become increasingly keen on the F-Score over the last couple of years as it provides such a useful snapshot of a firm's financial health and direction of travel.
The other quality factor which interests me in the context of property investment is return on capital. Sirius Real Estate has a six-year average ROCE of 3.6%, which is decidedly uninspiring. Recent years have been better. ROCE has averaged 10% since 2014, so I'm prepared to give the group the benefit of the doubt.
Perhaps my biggest quality concern is that Sirius might suffer from what bond investors would call duration mismatch. That is, the company's purchase of property is done on a long-term basis. But many of its tenants are only committed to short leases. In a recession, this could leave Sirius with a lot of empty space.
The group says that it aims to mitigate this risk by targeting a mix of high-margin short-term tenants, and lower-margin long-term tenants. I wasn't able to find any indicator of the average remaining lease duration for the portfolio in last year's report, so can't judge how serious this risk is.
Good value?
Sirius Real Estate's rolling forecast yield of 5.1% is undeniably attractive. This year's payout is expected to be covered 1.5 times by earnings, which seems adequate.
The group's loan to value ratio is about 44%. This isn't exactly conservative, but Sirius is growing quite fast at the moment thanks to a mix of acquisitions and organic growth. Average debt maturity has increased from 4.4 years to 6.2 years since the end of 2015, which is helpful.
To my mind, the main valuation risk is that Sirius stock trades at a premium of about 5% to its net asset value of €0.5562 per share. This suggests to me that the market is pricing in the expectation that German property prices will remain firm and Sirius will continue to generate attractive returns.
Momentum is strong
The group's adjusted earnings per share rose by 60% to €2.01 during the first half of the current year. Full-year earnings are expected to be 80% higher than last year.
Momentum is strong and the stock's MomentumRank of 79 has risen by 17 points over the last 30 days: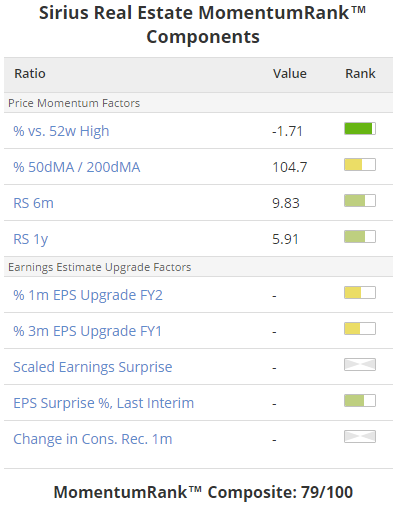 The main reason for this increase seems to be price action: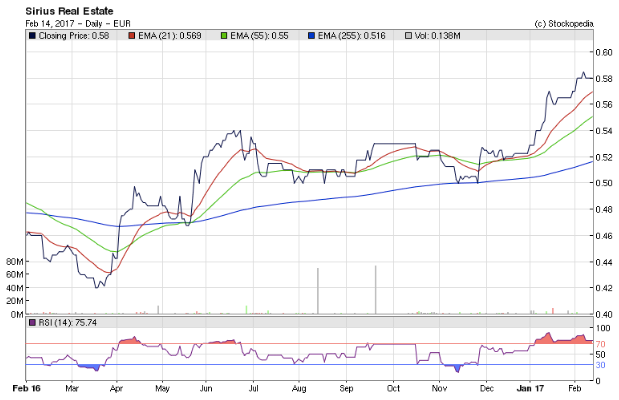 I suspect one reason for this is the firm's plan to move to the LSE Main Market, which could increase institutional ownership.
Sirius isn't without risk, in my view. But the group seems to be executing well and offers an attractive and apparently sustainable yield. Further NAV growth is possible and the board is targeting a reduction in gearing this year. I'm going to add Sirius Real Estate to the SIF Portfolio this week.
Roland owns shares of Rio Tinto.
Source:
http://www.stockopedia.com/content/sif-portfolio-im-tempted-by-rio-tinto-amp-sirius-real-estate-171505/
We encourage you to Share our Reports, Analyses, Breaking News and Videos. Simply Click your Favorite Social Media Button and Share.