After a long dry spell, the Stock in Focus screen is back in action this week. There are two new qualifying stocks to consider adding to the portfolio. As this will be the last SIF column published in February, I'll also be reviewing two stocks that have reached the end of their six-month minimum holding period.
February's monthly review
My screen didn't serve up many new stocks last August, thanks to the Brexit slump. So we only have two stocks to review today (each company name is linked to my original article on the stock):
John Laing
This is the kind of stock I quite like to own in my income portfolio. Dull, long-term and capable of producing a reliable stream of dividends.
John Laing's post-close update in December confirmed that the firm's 2016 results are expected to be in line with forecasts. It also highlighted the pleasing diversity to this business, which owns stakes in assets such as European motorways, an Australian hospital and wind farms.
The stock has risen by 7% since joining the portfolio, but still boasts a StockRank of 92. However, 2017 forecasts suggest that earnings per share are likely to fall by 17% this year. It's this uncertain outlook for growth that has caused John Laing to drop out of my screen. It still qualifies on all other counts. But as growth is a key part of the profile I'm looking for, John Laing will leave the portfolio this month.
Verdict: Sell
Total return: +7.9%
Hogg Robinson
Hogg Robinson's share price performed well during its time in the portfolio. Ironically, this is the main reason for its departure. The corporate travel group's 1-year relative strength is negative. This indicates that it's underperformed the FTSE Small Cap index to which it belongs over the last year.
This may be because of Hogg's monster pension deficit, which rose from £258m to £413m during the six months to 30 September. Overpayments seem limited at the moment, but clearly there's the potential for these to become onerous if the deficit doesn't start to fall.
That aside, the firm's interim results in November showed decent progress. Full-year results should meet expectations and brokers covering the firm have lifted their consensus forecasts since November: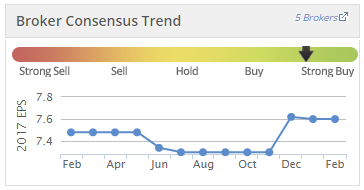 Obviously this is a stock which could be hit hard by a global recession. But that hasn't happened yet.
In the meantime, I reckon Hogg Robinson looks attractive, if you choose to ignore the pension risk. I'm not sure whether I should, so perhaps it's just as well I'm not making the decision!
The rules mean that Hogg Robinson will leave the SIF portfolio this week.
Verdict: Sell
Total return: -1.0%
This week's new stock
My screen has come back to life this week, so my Jim Slater-inspired 'relaxed' screen will go onto the back burner until it's next needed.
The two new companies are construction and engineering firm Morgan Sindall and mining group South32. Morgan Sindall is ranked more highly, with a StockRank of 98 versus a StockRank of 90 for South32.
As I use StockRank to sort eligible stocks, this means that Morgan Sindall will get the virtual cash and join the portfolio. This construction group should loosely fill the space vacated by John Laing.
Diversification check
Morgan Sindall doesn't meet the portfolio's ever-present need for defensive stocks. But the group's mix of construction, engineering and support services doesn't appear to overlap with any of the portfolio's other stocks.
The firm is involved in areas including infrastructure, social housing and urban regeneration. This £400m business is run by eponymous chief executive John Morgan, who has a 10% stake in it.
Morgan Sindall's StockRank of 98 suggest that the business is firing on all cylinders at the moment, so let's take a closer look.
Real cheap or cyclical cheap?
Cyclical stocks tend to trade on low P/E ratings when their profits are close to a cyclical peak. The reason for this is that earnings are likely to start falling at some point. Predicting the timing of this is devilishly difficult, of course. I've been expecting housebuilders' profits to peak for about two years now, but most of them are still rising!
I'm not going to try and second guess the timing of the next construction market downturn. For me, it's enough to see that Morgan Sindall shares have a ValueRank of 89, built on some attractive numbers: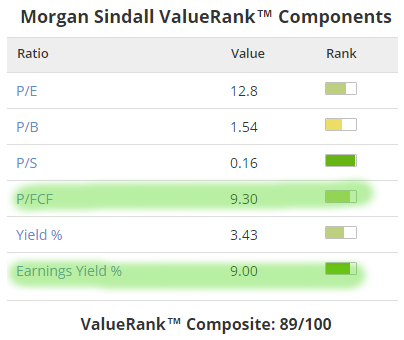 I've highlighted Morgan Sindall's earnings yield of 9% and its trailing price/free cash flow ratio of 9.3. These show me that the business is attractively valued relative to its profitability, and is generating plenty of cash.
Another attraction not shown above is that the group expects to report average daily net cash of £5m for the current year. This compares very favourable to larger peers such as Carillion, which run significant levels of net debt.
Quality at the right price
I mentioned Morgan Sindall's earnings yield of 9% above. That's calculated as operating profit (or EBIT) divided by enterprise value. The beauty of this measure, in my view, is that it combines profitability and valuation into one measure.
That's especially relevant here, as Morgan Sindall has very low profit margins. The group's trailing operating margin is just 1.35% according to Stockopedia. Past years' margins have been mixed, with losses as recently as 2015: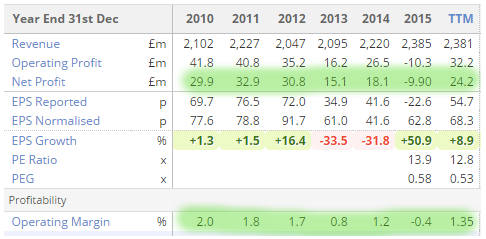 These low margins suggest to me that Morgan Sindall doesn't have any particular competitive advantage. Clearly the group faces tough competition to win contracts. Either that, or costs are too high relative to peers.
Businesses of this kind are also vulnerable to big losses when contracts go wrong. For example, the group's reported loss in 2015 was the result of a £46.9m write-off of bad debts on old construction contracts.
However, I think that chief executive John Morgan's 10.1% stake in the firm could be significant here. I'd imagine that this is likely to prevent him taking the kinds of risks with debt and underbidding that can cause shareholder value to be destroyed.
I'm also comforted by Morgan Sindall's high Piotroski F-Score of 8. The company only loses one point due to a marginal reduction in its current ratio over the last year: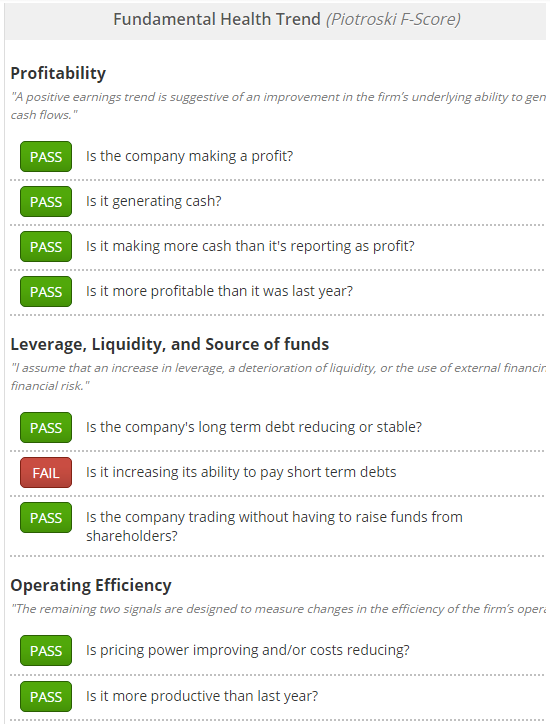 I think Morgan Sindall can deliver quality at the right price. That seems to be the case at the moment.
Momentum magic
By far the highest of the company's three factor ranks is its MomentumRank of 91.This reflects a positive outlook for earnings and strong share price momentum in recent months: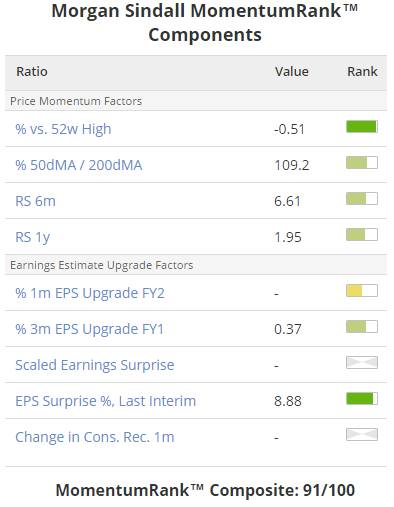 There don't seem to be any real weaknesses here. Earnings forecasts have inched higher in recent months. According to Stockopedia, the firm's last interim results also came in ahead of expectations.
I'll be adding Morgan Sindall to the SIF Portfolio this week. As always, please let me know what you think in the comments below.
Source:
http://www.stockopedia.com/content/sif-portfolio-john-laing-hogg-robinson-amp-morgan-sindall-172435/
We encourage you to Share our Reports, Analyses, Breaking News and Videos. Simply Click your Favorite Social Media Button and Share.