Good morning!
A very quiet news day today, but I'm sure we'll find something interesting to discuss. Also, Graham has emailed me a section on Jarvis Securities (LON:JIM) results from yesterday, which I have added to this report. Thanks Graham, I know that is a stock that several readers asked us to report on.
---
Driver
(LON:DRV)
Share price: 42.9p (down 8.7% today)
No. shares: 32.1m
Market cap: £13.8m
Results y/e 30 Sep 2016 – it's taken 4 months and 17 days to produce these accounts, and they're not even audited yet. That's a really bad start. Good companies don't deliver accounts this late.
Mind you, after just reading the first few paragraphs, it's clear that things have been in a mess at this company – with changed management, and problem levels of debt.
I last reviewed this company in May 2016, and came to the conclusion then that the bank borrowings looked worrying. Also I disliked the large receivables balance, and noted a bad debt write-off, and change in CEO.
The highlights make it sound as if the operating loss was modest, at £0.2m, but just look at all the adjusting items below. Horrible!

Balance sheet – this looks pretty dreadful too. Net assets are down sharply to £7.6m, of which £4.1m is goodwill amp; other intangibles. So NTAV of only £3.5m.
Given the enormous debtor book, which has risen to £20.3m, that leaves a gap on the balance sheet which has been filled by bank borrowings – net debt is £9.9m. Although it looks as if the bank has had enough, and forced the company to repair its balance sheet (see details of equity fundraising below).
Turnaround? – today's results highlight that H2 was improved against H1, costs have been cut, and the business reorganised. On current trading, the company says that H1 to date is better than last year;
First 4 months of new financial year comfortably ahead (by £1.1m at an underlying* profit before tax level) of prior year and ahead of internal forecasts
Sounds good, until you check to last year's interims, and discover that it made a £1.5m underlying loss. So this implies that the business is still marginally loss-making now. That doesn't strike me as much of a turnaround, yet.
Outlook – further comments promise improved performance once the refinancing is done.
Refinancing – N+1 Singer is doing an accelerated book build – see this RNS at 07:01 this morning. Usually the results of this type of fundraising are announced very quickly.
One unusual aspect of this fundraising, which possibly suggests there's not huge investor appetite for it, is that a minimum pricing level is given, at quite a deep discount;
Driver Group plc (AIM: DRV) announces a proposed fundraising of up to £8 million by way of the conditional placing ("Placing") of up to 22,857,143 Placing Shares at a minimum price of 35 pence per share with existing and new institutional investors.
There's an Open Offer too, but it's a "fig leaf" one – i.e. so small as to only really be for cosmetic purposes, at £0.5m. Directors are taking just over 1m shares in the placing, which I regard as positive.
We'll have to wait amp; see what price this fundraising is actually done at, but the 25.5% discount of the minimum price of 35p demonstrates that the company is not raising money from a position of strength. Bailing out the bank is one of the worst reasons to support a placing, in my view. Although it's better than the alternative (the company going bust).
Anyway, that's a problem for the existing shareholders, not me. This is a big problem for institutions that invest in small caps. Once they're in, they're more-or-less obliged to support fundraisings, even if they don't really want to. Hence they can end up pouring more amp; more money into their worst investments.
Private investors have a massive advantage, in that we can just ditch our poorly performing investments, and move on. Mind you, how many of us are actually disciplined enough to do that?! This is certainly an area where I've been trying to improve my performance – not putting more money into losing investments. It's tough to do though, as most of us are natural optimists, and want to believe that a turnaround plan will work.
My opinion – I can't understand why anyone would see this share as attractive. It looks a can of worms to me. Existing holders are being diluted because the balance sheet was so weak. Also, that enormous debtor book could contain all sorts of problems.
I don't like the business model one bit. It's a people business, that struggles to collect in the cash that is billed to clients. Therefore it's capital intensive, with a lot of cash just tied up in that huge debtor book. In this type of business there's also likely to be a higher than usual level of bad debts.
Divis have stopped, although might restart once the fundraising has been done – so shareholders might get a bit of their own money back, less tax.
I can't see anything attractive at all about this company, but I wish them well with the turnaround.
StockRank – note that the Stockopedia computers picked up on the low quality of the business, and negative momentum in broker forecasts, awarding it a low StockRank;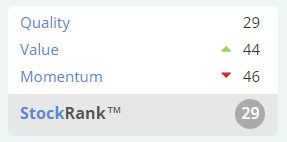 ---
Tracsis
(LON:TRCS)
Just to let you know that I've fixed up my next CEO interview with John McArthur of Tracsis, which is scheduled for the morning of Mon 27 March.
Results should be out on 23 March, so that gives you time to digest the numbers, and send me your questions.
I'll put up an online form, for submitting questions, nearer the time.
The share price has really tanked, on a potentially wobbly-sounding update 2 days ago – which Graham reported on here.
I think this is a timely reminder that, in a richly valued market, there is no scope for any disappointment – or in this case, even potential disappointment. The market is giving lots of stocks racy ratings, but it slamming them down very hard if they disappoint in any way.
That's actually quite an unpleasant market – high risk, but low reward – how much higher can things go, once they're already on a toppy rating?
I've also taken a spanking this week on LoopUp (LON:LOOP) shares – where a rich rating rapidly dropped once new competition emerged. So for growth companies, on rich ratings, we really do have to be absolutely certain that the growth is going to continue. If anything goes wrong, it's a long way down.
That said, I do like Tracsis, and it has plenty of cash too, so am wondering if this might be a buying opportunity? It depends on the H2 numbers of course, which look a bit of a tall order.
---
Brave Bison
(LON:BBSN)
Share price: 1.5p (down 20.0% today)
No. shares: 571.6m
Market cap: £8.6m
Trading update (profit warning) – there was me, worrying about not having enough material to write about today. This company has obliged, with a profit warning issued at 10:00am – very bad form – they should always be issued at 7:00am, to give investors time to digest the news, and a level playing field to trade the shares.
This company, formerly called Rightster, has been a disaster from day 1. After the original, massive cash burning model failed, it raised more cash, cut costs, and replaced management.
However, the news today makes it look as if that's not working either. Growth in H2 slowed significantly;
Brave Bison Group plc (AIM: BBSN), the independent digital media amp; social video broadcaster, announces its trading update for the full-year 2016.

After strong revenue growth of 38% in the first half of 2016 versus the first half of 2015, the second half of the year was challenging, with growth slowing to 7% versus the second half of 2015.

The Group continued its cost restructuring efforts in the second half to reduce the cost base, whilst simultaneously continuing to invest in the ownership of intellectual property via owner operated channels and content.
Helpfully, the company then gives some figures for 2016;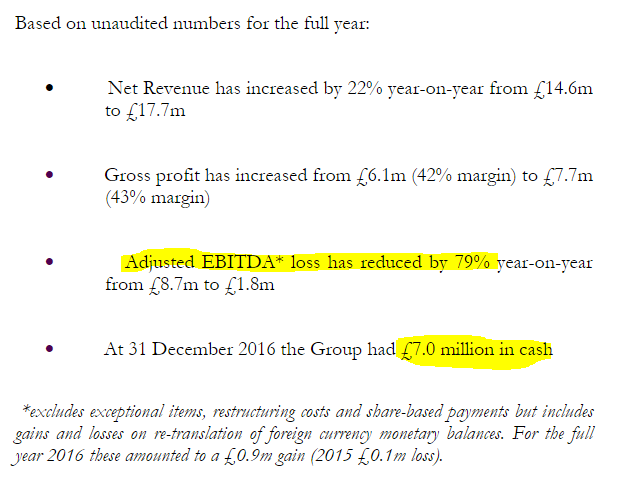 So greatly reduced EBITDA losses, and a reasonable amount of cash in the bank. I was starting to think this might not be too bad. However, there's another bombshell to come;
Revenues in 2017 will follow the difficult trend established in the latter part of 2016 and are expected to be substantially lower than those achieved in 2016 due to two material contract losses at the end of 2016 and the potential discontinuance of certain low margin business.

The Group has continued its cost-rationalisation programme and in the fourth quarter of 2016 delivered a further £2.6m of annualised cost savings from reduction of headcount and property costs.

The Group is now largely focussed on higher margin products in line with the stated strategy of moving up the value chain.

The overall impact of the above is that it is expected to take a little longer than originally anticipated to achieve profitability.
My opinion – I've never liked this share, because it has to date failed to demonstrate anything approaching a viable business model.
It now seems to be in a race to the bottom, to reduce costs more quickly than the cash is depleting. It's very rare for companies to recover meaningfully from that sort of position, in my experience.
So I think this one looks more-or-less finished. If I held the shares, I'd be on the phone to the Chairman, urging him to protect the remaining cash balance, and sell off the operating business (minus the cash) to management, or anyone else who will take it. Then either return what cash is left to shareholders, or reverse something decent into the cash shell.
Overall, I don't think blue sky stuff like this should float on the stock market at all. This is the type of thing that is better suited to VC or PE, not for a public listing. We've had so many failed companies like this on AIM, that the whole market is now tainted, which is a great pity.
I'd like to see brokers stop floating blue sky stuff, which nearly always fails. Instead they should focus on bringing quality, profitable companies to AIM. Mind you, there are some signs that this is beginning to happen, with some higher quality floats in the last year.
---
Graham has just emailed me this next section;
Jarvis Securities (LON:JIM)
Share Price 401.5p (-3.5%)
Shares outstanding: 11 million
Market cap: £44 million
(this section written by Graham Neary)
Jarvis Securities (LON:JIM) produced a solid set of results yesterday, something which had been priced in by a strong share price increased over the past couple of months.
Highlights: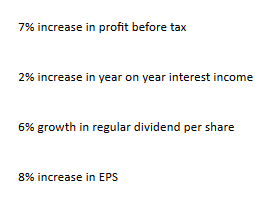 Dividend policy: The company has historically paid out 2/3 of profits in divis, believing that it only needed to reinvest about 1/3 to sustain its competitive positioning.
It is now considering paying out at least 2/3 as dividends, since the cash has been building up (i.e. the capex demands have been lower than expected). This is obviously a good thing!
Interest rates: One of the reasons I like the potential here is that earnings are in fact sorely depressed at the moment, and for what one might call artificial reasons – extremely low interest rates prevent Jarvis from earning a return on the cash balances which have been left under its administration. That's one of the hidden ways that stockbrokers can earn a fine living.
Cash under administration at Jarvis is reported to be at record levels, and we're reminded:
"Even modest increases in interest rates which now seem as though they may materialise in the shorter term will significantly increase profitability."
Operational Leverage? Revenues increase 9.3%, while expenses are up 11%. The result is that PBT increases by a more modest 7%. Cost control has tended to be excellent here, so I would be curious to know why the costs rose by that amount. Staff costs only increased by 9%.
Quality: A few quick sums inform me that ROA was 20.7% while ROE was 61% (using the year-end figure – it's much higher using the opening figure, which is arguably a better way of looking at it!). These are fantastic numbers but Jarvis has always done very well on this score.
My opinion: It's hard to find fault at this company, in my opinion. The core business is running smoothly and well, while additional sources of revenue are being pursued in outsourcing/custodianship contracts.
Highly deserving of its current 15x PE ratio in my book, and probably a worth a bit more than that.
Source:
http://www.stockopedia.com/content/small-cap-value-report-fri-17-feb-2017-drv-trcs-bbsn-avap-171880/
We encourage you to Share our Reports, Analyses, Breaking News and Videos. Simply Click your Favorite Social Media Button and Share.