Good morning!
Today I intend reporting on;
Hayward Tyler (LON:HAYT) – profit warning, but strong pipeline. Issue with bank funding?
Proactis Holdings (LON:PHD) – in line H1 update, and upbeat commentary (I hold this stock personally)
Graham has emailed me a section on:
Fishing Republic (LON:FISH) – in line 2016 update.
---
Hayward Tyler
(LON:HAYT)
Share price: 43p (down 11.3% at the time of writing, 08:30)
No. shares: 55.4m
Market cap: £23.8m
Update on trading amp; continued bank support – that's the exact title of the RNS, which would be enough to make me hit the sell button on the opening bell, and ask questions later.
This company manufactures heavy-duty electric motors, pumps, etc.
Reviewing the last few RNSs, it looks an interesting situation where the company has been raising loan funding from investors, to take the pressure off its bank borrowings. I reported in Mar 2016 here, on a property sale amp; leaseback, noting that the finances looked stretched.
The share price had been around 80-90p until Nov 2016, when these funding issues emerged, and has since halved. Clearly the best course of action for small shareholders would have been to exit promptly, as soon as funding issues emerged in Dec 2016, as is so often the case.
Anyway, let's look at today's update. It's rather confusingly worded, as the first paragraph seems to be saying that things are going well, with a strong order book;
The Board indicated in its interim results statement that the current financial year would be very much second half weighted.

This is, as expected, proving to be the case with aggregate order intake1 of £24.3 million secured in the four months to 31 January 2017, giving order intake for the 10 months to that date of £49.7 million and a significant increase in the order book2 to £52.2 million.
However, the next paragraph seems to be saying that the increase in H2 order intake isn't enough, with a considerable (£30m) amount of delayed orders;
The Board's revenue3 expectations for 2H2017 relied on a number of additional contracts being secured across both Hayward Tyler and Peter Brotherhood in 4Q2017, however, to date there has been a delay in securing a number of these contracts to later in the quarter or FY2018, amounting to over £30 million in aggregate.

As a result, the Board now anticipates reporting lower revenue for the financial year ending 31 March 2017.

This revised revenue is expected to be £60-65 million, generating Trading4 EBITDA of £4-5 million in 2H2017 and around breakeven Trading4 EBITDA for the full year.
I think it's fantastic that the company has given the market specific guidance as to what level of EBITDA to expect for the full year. I reckon this is probably why the share price has only fallen a relatively modest amount today. When companies report clearly like this, giving investors specific numbers, then we can make informed decisions.
FinnCap says this morning that breakeven EBITDA translates into about a £4m adjusted pre-tax loss for the year, so it's far from a good result. Although as the broker points out, the bad news seems to have been anticipated by the market, hence the modest fall in share price today. Either that, or big shareholders happen to be sitting tight. With an illiquid share like this, it only takes one big shareholder to start dumping indiscriminately, and the share price can collapse.
Note that, yet again, the old chestnut of an H2-weighted year being expected, has turned out to be a deferred profit warning.
Pipeline/order book – the company makes very positive noises about future prospects;
Looking ahead to the next financial year, the Group's pipeline of new business opportunities is very strong, presently amounting to over £500 million through to FY2019 with short-term prospects of over £40 million.

Subject to securing further orders that are currently being tendered, the Board anticipates entering FY2018 with a record high order book.
Optimistic shareholders may therefore be looking through a poor 2016/17, and anticipating a recovery into profit in 2017/18.
Financing – I really don't like this bit at all;
The Group is operating within its current borrowing facilities and it continues to have constructive discussions with its bank, Royal Bank of Scotland, with respect to the repayment of £2.4 million of short term banking facilities, currently extended to 28 February 2017, and to ensure a suitable long term financing structure is in place to support the longer term prospects of the business.
This sounds as if the company only has 8 days to come up with £2.4m in repayment of debt to the bank. Maybe the bank is willing to extend that again, or maybe the company might be able to tap its investors for more loan notes?
It all sounds way too precarious for my liking though. If other options fail, and the bank get more jittery, then a deeply discounted emergency placing could be the only remaining option. It's got to be a serious risk anyway.
On the plus side, one of the main advantages of being a listed company, is that banks tend to be much more supportive than they are of private companies. This is because banks dislike the negative publicity of withdrawing funding in the full glare of publicity of the stock market. Also, banks know that, in extremis, companies can tap their shareholders in a way which may not necessarily be possible for private companies.
My opinion – this is a good example of the type of company that I try my best to avoid. Here's a list of things I don't like about this share;
Capital-intensive business model
Lumpy, unpredictable orders
Financial performance is therefore erratic
Worst of all, it's got a wobbly balance sheet.
Broker forecasts are falling
Quite a bad profit warning today
The company is paying dividends that it can't afford
Equity fundraising to shore up balance sheet looks long overdue.
On the upside, if the company can resolve its funding issues without diluting shareholders, and if the pipeline does turn into lucrative orders, then this share could perhaps recover. Although in my opinion, if you have to use the word "if" to justify any investment, then it's probably not going to be a good investment!
Overall then, it has no appeal to me whatsoever. I can't see the point in taking unnecessary risks.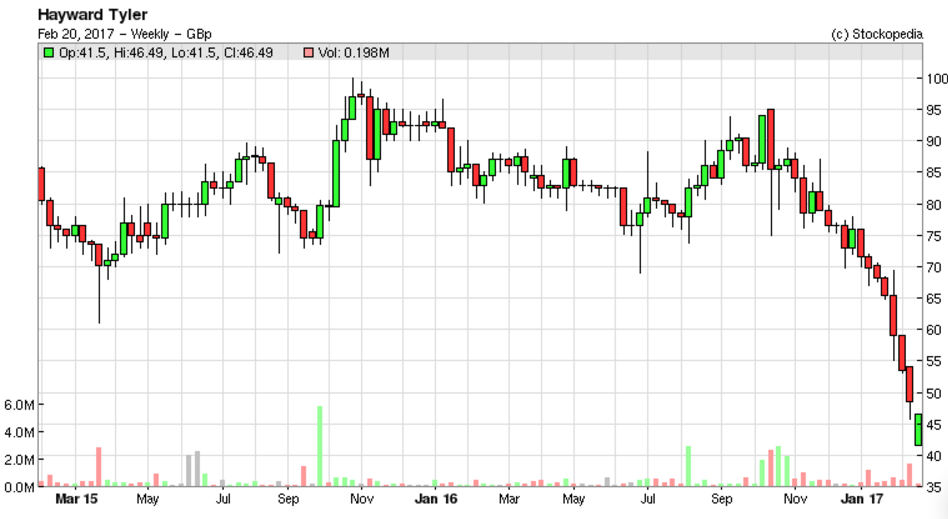 ---
Proactis Holdings
(LON:PHD)
Share price: 168p (up 0.3% today)
No. shares: 50.2m
Market cap: £84.3m
(at the time of writing, I hold a long position in this share)
Trading update – this generally reads quite well I think. Although clearly not enough to have triggered any significant buying interest today. I'm quite surprised at that actually, because the organic growth is pretty good;
The Group confirms that results are expected to be in line with expectations, with revenues for the six months ended 31 January 2017 up 36.3% to approximately £11.8m (2016: £8.66m). This includes strong organic growth (excluding the part period impact of the Group's acquisitions) of 13.4%.

The Group signed 27 new names (2016: 23) and the initial contract value, order book and pipeline remain encouraging.
Proactis has made a series of acquisitions, building up a group of companies with complementary software amp; services offerings. I was pleased to see that, for the most recent acquisition, the company did a £12.5m placing. An unusual (and positive) feature of that fundraising is that it was done at a 9.3% premium to the previous day's share price. That shows strong demand from institutions, so could also be a pointer to follow-on buying in the open market.
The most interesting aspect of Proactis shares, is its supplier networking software. If this really takes off, then we could have a multibagger on our hands. It's a bit like Tungsten's idea of automating supplier relationships, and offering early payment discounts. Although Proactis is doing things at the opposite end of the scale – with the fee being only £50 per supplier – low enough to (hopefully) sign up many thousands of its clients' suppliers.
What I like about this share, is that you can justify the valuation on existing business. So there's no leap of faith in having to believe crazy forecasts, as was the case with Tungsten's bungled attempt to crack the higher end market in this space.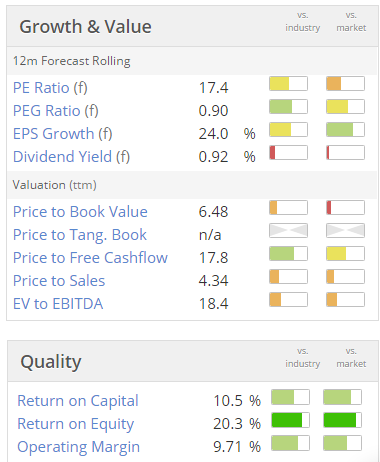 As you can see above, the forward PER is fairly reasonable for a growth company, in an expensive market at least. There's even a modest divi too. Quality scores look quite good, and the overall StockRank is acceptable, at 67 – which is mostly based on high quality amp; momentum scores:
Thinking about momentum score (which incorporates share price movement amp; broker forecast movements), I think we need to be a bit careful with acquisitive groups. If a company keeps bolting on acquisitions, then the broker forecasts will of course keep rising. Care needs to be taken to ensure that an acquisition spree is not obscuring weakening underlying performance.
That doesn't seem to be the case here though, as the organic growth of +13.4% looks like a healthy underlying business exists.
My opinion – I've held this share for quite a while now, and whilst I do like the company amp; management, have not had sufficient confidence to buy in any real size. So it's one of the smaller positions in my portfolio.
Today's update gives me more confidence, so I'll give some thought to possibly increasing my position size here – but will probably wait to go through the numbers in more detail. They are due out on 26 April 2017, so I'll cover in more detail then.
The Directorspeak today sounds encouraging. I like the management here – have met them a couple of times, and they seem grounded, sensible people, as far as I can tell.
"The Group continues to develop its supplier networking solution. The realisation of this concept is on-going and the progress made has been substantial.

We believe there is great value in the solution and I look forward to providing an update on further progress in due course.

This, on the foundation of the Group's organic growth and strategic Mamp;A, positions the Group well for the period ahead and we look forward to continuing to deliver growth and shareholder value."
---
I have to jump on a train now, so will hand over to Graham, who I believe is going to add 1 or 2 more sections, on Fishing Republic (LON:FISH) .
I may chip in with my own thoughts on FISH later once I'm back online.
Regards, Paul.
---
This next section was written by Graham Neary;
Fishing Republic (LON:FISH)
Share price: 39.75p (+2%)
No. shares: 37.8m
Market cap: £15m
It's a short, calming RNS this morning, as Fishing Republic confirms that performance for the year to 31 December 2016 was in line with expectations.
Key points:
Revenues up 40% (new stores, like-for-like store growth, and web sales)
Total online sales down but gross margin improved due to greater mix (40%) of own website sales.
Three new stores opened in H1 are in line with management forecasts. Five other stores opened or about to open (before the end of Q1).
This share has attracted some controversy/debate over its large inventories figure (£3.3 million at the H1 results, versus £1.25 million in cost of goods sold).
Maybe it's a bit more reasonable than it appears at first glance. After all, the gross margin here is 50%. If a company makes good margins on sales, it can potentially afford to turn its assets/inventories a bit slower, since the end result is that overall returns on investment will be the same.
That does require a good operating margin, however, and Fishing Republic hasn't achieved that yet – not in 2015 and not in H1 2016. And its stock turn is particularly slow.
But from 10 stores at the end of H1 2016, to 15 at the end of Q1 2017, and with more planned after that, perhaps some operating leverage and some other economies of scale can kick in, and this could still work out well for investors?
Another consideration with the inventories number is that it might be to do with having a very large number of SKUs relative to total sales – that's not a good thing, of course, but it might be a reasonable explanation for holding such a large amount of stock around the year. Opening new stores might also require a lot of up-front stock purchases. It would be good to hear from the company, unless I've missed their explanation for this.
Source:
http://www.stockopedia.com/content/small-cap-value-report-mon-20-feb-2017-hayt-phd-fish-172174/
We encourage you to Share our Reports, Analyses, Breaking News and Videos. Simply Click your Favorite Social Media Button and Share.