Good morning!
Some interesting results amp; trading updates today, so here goes.
Quartix Holdings (LON:QTX)
Share price: 336.5p (up 3.5% today)
No. shares: 47.3m
Market cap: £159.2m
Final results – for the year ended 31 Dec 2016.
FinnCap says the results today are in line with expectations.
The share price is up 3.5% at the time of writing (9:00am), but on hardly any trades. This is a surprisingly illiquid share, and the quoted spread is often very wide. Mind you, the published prices on lots of small caps are not actually the real prices – there are often hidden buy amp; sell orders inside the published spread, that our brokers can see, but we can't. This is clearly an extremely unsatisfactory situation. Mind you there is a solution to this – either ask your broker what the real prices are, or put in a dummy trade (i.e get a quote to buy or sell, but then press cancel) on an online dealing platform to ascertain the real price.
Going back to Quartix 2016 results, here are a few key points;
Revenue up 19% to £23.3m (note the high price to sales ratio (PSR) of 6.8 – although this looks justified by a very high profit margin, and good growth).
Operating profit up, but by a lower percentage – only +8% to £6.5m.
Operating profit margin fell from 31% to 28% – although that's still very good.
Lower tax charge – despite higher profit, the corporation tax charge fell from £975k in 2015, to £453k in 2016. This is due to a benefit from the "patent box" scheme.
The lower tax charge flatters EPS (which is always stated after tax), rising 21% to 12.7p.
The (now historic) PER of 26.5 looks high. Although we are in a bull market, where growth companies are generally on high ratings.
Dividends – total of 11.2p for the year includes a special divi of 4.7p.
Balance sheet – strong, and includes net cash of £6.2m (up from £3.0m a year earlier)
Forex – a £255k Pamp;L charge in 2016, worse than £49k charge in 2015.
Development spend – it doesn't seem to capitalise anything, which is the most prudent treatment.
Outlook comments are positive – good start to 2017, and management are confident, given recurring revenues + growth prospects.
US market is the big growth area, but other markets also doing well (e.g. France)
Valuation – as you can see from the usual Stockopedia graphics, it's a high quality, but rather expensive share;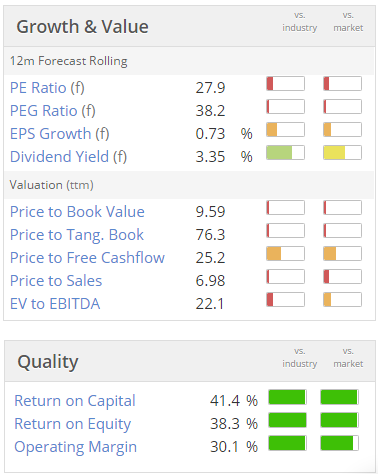 It's unusual to see a fairly good dividend yield with a stock on a high PER. That reinforces the cash generative, and capital-light nature of the business. So it generates lots of free cashflow, that can nearly all be paid out to shareholders, whilst still expanding into new markets. That's a very attractive combination in my eyes.
The StockRank of 32 is surprisingly low. Although it's the momentum score that's pulling it down, and the value ranking is also very low. It's important to bear in mind that the company's strategy is to expand into the US, which will cost money in the short term. It should however deliver longer term profit growth. Therefore, in that type of situation, there is an argument for manually adjusting the StockRank, or looking through a low StockRank score when there's a specific reason to do so (Ed will probably be horrified at me suggesting that!).
My opinion – I really like it. I should probably hold some in my personal portfolio, but am baulking at the price somewhat. It's the sort of growth share that could soar, if it begins to make serious progress in the US. So I can see some justification for the high price.
Telematics is quite a crowded space, but Quartix clearly must have a good product, or it wouldn't make so much money. I also like that revenues are strongly recurring, in the fleet division. Those recurring revenues are sticky too – with a 10% p.a. attrition rate, which the company says is better than the industry average.
I'm not so keen on the insurance side of the business, as nobody wants a spy in the vehicle, detracting from one's driving pleasure. Although I'm sure they do improve road safety overall.
So it gets a thumbs up from me, and is going on my watchlist, for a possible future purchase, both personally, and in BMUS.
---
Trinity Mirror
(LON:TNI)
Share price: 113.5p (down 4.8% today)
No. shares: 280.1m
Market cap: £317.9m
Annual Results – for the 53 weeks to 1 Jan 2017. Note that there's an extra week in these 2016 results, so that will flatter profit slightly.
This is a fascinating business – in structural (probably terminal) long-term decline, yet generating prodigious profit amp; cashflow. The cashflow is being used to fund its enormous pension fund deficit, but also to make acquisitions amp; pay divis.
Key points;
Profits in line, per one broker which has put out an update this morning.
Revenues up 20.3% due to the acquisition of Local World, from £592.7m in 2015, to £713.0m in 2016 – so this is a substantial business.
Adjusted profit up 23.9% from £107.5m in 2015 to £133.2m in 2016.
Ongoing cost cutting is offsetting the impact of lower circulation amp; advertising revenues.
Adjusted EPS up from 33.9p in 2015 to 38.1p in 2016 – so a staggeringly low PER of just 3.0.
Digital revenue – up 12.8% on LFL basis, to £78.5m – becoming fairly significant.
Net debt – down from £62.4m a year ago, to £30.5m
Dividends – total 5.45% (yield of 4.8%), and policy is to grow by at least 5% p.a.
So there are clearly some attractive numbers above. However, the reality is that newspapers are just gradually dying. The advertising revenue is steadily moving online, and circulation is falling. This can only be masked by cost-cutting and acquisitions for a while.
The revenue trends are still relentlessly downwards;
On a like for like basis, revenue fell by 8.0% with publishing digital revenue growing by 12.8% and publishing print revenue falling by 10.7%.
Whilst the digital revenue growth is encouraging, it's still nowhere near enough to offset the decline in print revenues.
Also, advertising is relentlessly declining;
The challenges in print advertising markets resulted in a decline in display advertising across a number of sectors, in particular retail. Most classified advertising categories also came under pressure, in particular recruitment.
It's not surprising really, as these things are just moving online gradually, and it's difficult to imagine that trend changing. The trouble is, newspapers are losing revenues that are very unlikely to ever return.
Circulation revenues declined 5.2% with volume declines partially mitigated by cover price increases.
A decline of 5.2% in circulation revenues doesn't sound too bad, but of course that's flattered by the price going up. So the volume declines must be greater than 5.2%.
Strong growth in digital display and transactional revenue of 24.7% was partly offset by digital classified revenue declines of 11.3%, primarily due to falls in recruitment advertising. The growth in digital display and transactional revenue was driven by the growth in digital audience with average monthly page views on a like for like basis growing by 15.4% to 636.1 million.
I don't really know what to make of this.
Pension deficit – this is the elephant in the room, of course.
The highlights section says this today;
The IAS19 pension deficit increased by £160.8 million to £466.0 million (£385.1 million net of deferred tax) driven by a fall in long term interest rates and higher inflation expectations. The Group paid £40.7 million into the defined benefit pension schemes during 2016.
I suspect this might be responsible for the share price fall today. I'm no expert on actuarial matters, but my hope was that pension deficits would decline, as bond yields have risen recently. Any benefit from that seems to have been overwhelmed by increased inflation expectations (due to Brexit-related fall in sterling).
The interesting question is whether this is a one-off surge in inflation, as occurred after a similar fall in sterling back in 2008-9? Or whether this is the start of a sustained period of inflation? Clearly that's a vital question for pension fund deficits.
Nobody knows for sure the answer to that question about future inflation. Therefore the pension deficit at TNI is a gigantic, volatile, and imprecise future liability. So a bearish view is that the pension liabilities could ultimately engulf the group, after a few years of remaining bumper profits. A bullish view might say that the pension deficit is a manageable problem that could just melt away if there's a favourable movement in bond yields, and inflation falls back again after the current surge.
I really haven't any idea which one is more likely, therefore I find this share impossible to value.
The pension fund is sucking in large amounts of cash – a total of £40.7m was paid into it by TNI in 2016. That's fine whilst it's making over £100m profit, but what happens when profits are in steep decline, in a few years' time? My worry is that the company may only be in a position to make dividend payments for perhaps another 3-5 years, then they could well stop forever.
Other complicating factors include the phone-hacking liabilities, although this has turned out to be far less costly than some people imagined. The pension fund also restricts increased dividend payments.
Outlook – it sounds as if revenue trends for print are still in steep decline, partially offset by rising digital revenues. So more of the same really;
Revenue in the first two months of 2017 is expected to fall by 9% on a like for like basis. The like for like trends for 2017 exclude from the 2016 comparative: the extra week of trading in 2016, the Independent print and distribution contract which ceased in April 2016, Rippleffect which was sold in August 2016 and the four Metros handed back to DMGT and other portfolio changes.

Print markets, in particular advertising revenue trends, are expected to remain challenging and volatile during 2017 while digital audience and revenue is expected to continue to grow.
My opinion – it looks cheap on conventional measures, but I'm very wary of getting involved in this again. We're in a market that loves growth companies. This is the opposite – a whole sector that's in (probably terminal) decline. A gigantic pension deficit may resolve itself, or it may not, who knows?
The only thing that might tempt me back into this share, is if they come up with something decisive to alter the outlook for newspapers – e.g. going to an all-free model, like the Evening Standard, and being able to make that work financially. And/or if there's some kind of decisive upside from digital. Or, the wild card, if they manage to somehow divest the pension fund, with some clever scheme?
Overall though, my main worry is that this share could be a value trap – i.e. apparently cheap in the short term, but in terminal long-term decline.
---
Dialight
(LON:DIA)
Share price: 976p (up 1.9% today)
No. shares: 32.5m
Market cap: £317.2m
Preliminary results – for year ended 31 Dec 2016.
I flagged up to readers here on 3 Aug 2016 that this company seemed to be turning itself around after previous problems. Although as with a lot of turnaround situations, the price looked a bit toppy at the time, and again here on 4 Nov 2016 it looked to be improving, but expensive.
As with a lot of things lately, being expensive hasn't stopped the share price getting considerably more expensive! It's doubled in the last year, despite the fact that consensus earnings forecasts have barely changed overall from a year ago – with a dip over the summer in earnings expectations, then rising more recently.
Results today look excellent;
Revenues up 12.9% to £182.2m
Underlying operating profit up 114.8% to £13.1m
Underlying basic EPS up 102.2% to 26.9p (for a PER of 36.3)
Net cash of £8.0m (versus net debt of £3.8m a year earlier)
That all sounds great, but this company has made extensive use of accounting adjustments. Just look at the scale of the adjustments to get from statutory, to underlying profit, in both years;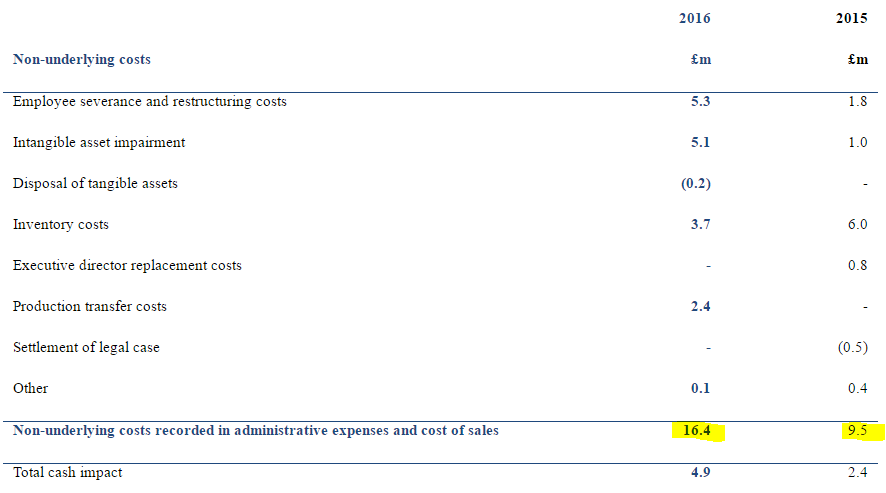 On a statutory basis (i.e. with no adjustments to arrive at "underlying" profit), the company was loss-making, in both 2016 (£3.3m) and 2015 (£3.4m).
So I think investors should at least think about these huge adjustments to profit, rather than just accepting them uncritically.
Although as you can see from the table above, the main adjustments are described as "non-cash". This terminology is interesting, because of course there is still a historic cash impact. It's just that there isn't a present-day cash impact from writing down goodwill, inventories, etc.
Outlook comments sound upbeat, and talk about growth initiatives;
2016 was a year of change for Dialight. We are making good progress with our three-year plan to return to sustainable profit growth.

Phase one of the plan, to rebuild our operating model, is largely complete. The sustainability benefits of reduced energy usage, lower carbon emissions, reduced maintenance and improved safety offer real value to our customers. This progress underpinned our encouraging financial performance in challenging market conditions.

Phase two of the plan – growth initiatives to capture the long-term opportunity in LED lighting – is underway, and on track to deliver against our strategic plan.

We remain confident of the Group's prospects for 2017 and over the medium to long-term, based on current FX rates.
Interesting that forex rates are mentioned as a proviso. The narrative goes on to say that the group does 70% of its business in US dollars, so has benefited from the translation of that into weaker sterling. There's more benefit to come too, if rates stay at current levels, with an average rate of £1 = $1.36 used in the 2016 results.
My opinion – the high rating now that the market is rewarding the share with, is clearly anticipating further, considerable profit growth.
It's not of interest to me at this level, as there's too much future expectation already baked into the price for my liking.
---
A few quickies to finish off with, as time has almost run out;
McColl's Retail (LON:MCLS) - results for 52 weeks to 27 Nov 2016 – some key points;
Turnover up to £950.4m
LFL sales down 1.9%
Gross margin up 70bps to 25.1% (still low though)
Adjusted EBITDA resilient at £36.7m (prior year £37.7m)
Structural cost pressures
Adjusted EPS 16.0 (prior year 15.9p)
Dividends – total 10.2p (flat)
Net debt £37.0m (1x EBITDA)
Current trading – down 1.3% LFL in 13 wks to 26/2/2017
Acquisition of 298 Co-Op stores – trading in line amp; integration progressing well
Pension scheme surplus of £6.1m in accounting terms, but must be an actuarial deficit, as it requires £1.5m p.a. funding
Weak balance sheet – NAV of £140.5m becomes NTAV of -£13.9m
My opinion – I don't see anything attractive here at all. It looks a very marginal business overall, that could easily go bust in a recession, if sales fell sharply.
It's got no pricing power, sells generic products against considerably competition, and has the same cost pressures that everyone else in retail is facing (e.g. higher imported product prices, living wage, pension contributions, business rates, etc).
It's the type of share that could be a value trap – attracting people in with a lowish PER, and nice dividends, but then something goes wrong and the share price could crash.
I'm amazed that it's got a StockRank of 98, so maybe the Stockopedia computers have spotted something good about it that I've missed?
---
Volex (LON:VLX) – trading update – this is a really well-written update, as it gives specific numbers along with the commentary. That's precisely what investors need, not a load of woolly narrative which requires intricate checking for nuances.
The conclusion is this;
The Board expect to announce full year operating profits (before exceptional costs and share-based payments) in the range of $8.5 million to $9.0 million (prior year $7.2million) for the year ending 2 April 2017.
Crystal clear, perfect!
Also, this paragraph gives additional crystal clear guidance;
We expect that group revenue will be at the lower-end of guidance given at the time of the half-year results in November 2016 (guidance was in the range of $320 to $330million).

However, operating profit (and operating margins) before non-recurring items are expected to be ahead of the prior year and in-line with market expectations.
It sounds like working capital has been well managed;
In addition, we have generated better than expected operating efficiencies from our restructuring actions, and expect to end the year in a net cash position.
My opinion – this is just not the type of company I invest in any more – low margin, low quality business, up against tons of competition.
However, today's update looks the most positive for a considerable time. The company seems to be straightening itself out, and if you like investing in this type of company, then it might be worth a closer look.
It doesn't interest me at all though. Although a massive gold star is awarded to whoever wrote this RNS – it's wonderful, giving clear facts amp; figures. All trading updates should follow this approach.
---
Smashing, all done for today.

See you tomorrow!
Regards, Paul.
(my new disclaimer from last week, applies)
Source:
http://www.stockopedia.com/content/small-cap-value-report-mon-27-feb-2017-qtx-tni-dia-mcls-vlx-173168/
We encourage you to Share our Reports, Analyses, Breaking News and Videos. Simply Click your Favorite Social Media Button and Share.