Good morning!
It's Paul here. I arrived back in the UK at about 4:30 this morning, after a very pleasant overnight flight on an A380, from Hong Kong. I've been looking forward to my first flight on an A380, and really enjoyed it. It was very quiet on the upper deck, with little engine noise, so I managed to sleep for some of the journey. Hence me being sufficiently with-it to be able to do some writing about small caps this morning. Also I limited myself to only 4 glasses of champagne on boarding the plane, which means a fairly clear head today!
Thanks to Graham for holding the fort whilst I was away. It was my first ever trip to the Far East, but definitely won't be my last. I absolutely loved Hong Kong – clean, modern, marvellous service, and full of pleasant, courteous people – what more could you wish for? I'm sure many (probably most) readers here have been there too.
Right, on to today's small cap news.
---
Zytronic
(LON:ZYT)
Share price: 385p (pre market opening)
No. shares: 15.9m
Market cap: £61.2m
(at the time of writing, I hold a long position in this share)
AGM Trading update – a brief update today, saying;
Further to the outlook statement given in December 2016, revenue and trading year to date has continued to be ahead of the equivalent period and remains in line with management's expectations.
That's fine by me – a solid update. Note that broker consensus earnings forecast has been increasing over the last year, which is clearly a positive thing;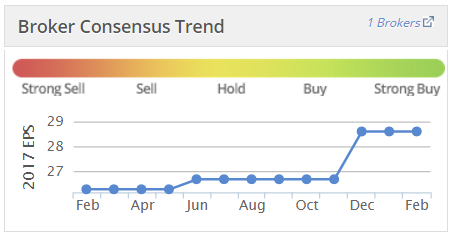 Exports/forex – note that Zytronic is a UK manufacturer of bespoke touch screens, which exports 95% of its production. Therefore the devaluation of sterling has been excellent news – in making Zytronic more competitive against overseas competitors.
The benefit has to date been blunted by forex hedging, but we should see gains begin to come through in the current year (ending 30 Sep 2017). This is a very nice tailwind for the share, and should mean a double benefit of increased sales amp; margins.
Valuation – Zytronic always seems to look cheap. Perhaps that's because there's not really much growth going on? The figures below also don't allow for the fact that ZYT has a terrific balance sheet, with net cash of £11.6m when last reported as at 30 Sep 2016.
That's almost 19% of the market cap, so the surplus cash is very significant here. Adjust out the cash, and the rating really does look great value. The cash pile also underpins the generous divis – note that divis were not cut when profit wobbled a few years ago. Note that the company may also pay a special divi at some point, with its surplus cash.
EDIT – my thanks go to reader Jakedog2, who has very helpfully pointed out in the comments section below, that ZYT shares went ex-divi today for the 10.96p final divi. So the shares should have dropped by that amount today, all other things being equal. Therefore, with the share price now actually up on the day, it's really a bigger move once you include the divi, which is now in the bag too.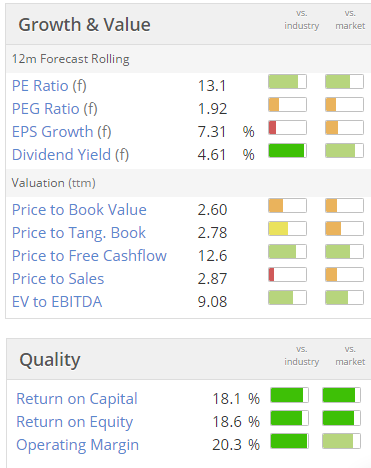 My opinion – this share is a very rare, and positive combination of positive factors;
Low PER
Good dividend yield
Strong balance sheet – especially net cash, of almost 19% of the market cap
High quality scores, including very strong operating profit margin
Forex tailwinds likely to boost profits in future
So I'm scratching my head a little, to understand why this share remains cheap?
I think the answer is probably that there's not really much growth to speak of. The company had a glitch a few years back, when a gap appeared in its order book, causing a profit warning. That was a smashing buying opportunity as it turned out.
Overall, I'd like to see a more aggressive growth strategy adopted. Or possibly have Zytronic bundled up with several other similar companies, into a bigger listed entity, pushing harder for growth.
---
Trifast
(LON:TRI)
Share price: 224p (up 0.4% today)
No. shares: 119.2m
Market cap: £267.0m
Trading update – for the year ending 31 Mar 2017, so the company should have good visibility by now for the full year.
It looks good to me;
The current financial year remains a positive one for the Trifast business and, given Group trading in Q3 and the further FX tailwinds, the Board now expects the Group's performance for the full year to be slightly ahead of its previous expectations.
This is the latest in a series of positive updates.
Valuation – this is really looking stretched now, for a fairly mundane business, where at least some of the earnings growth is coming from forex tailwinds, and acquisitions.
Stockopedia has the forward PER at 19 times. It's true that the group hasn't put a foot wrong in the last couple of years, but is it really worth 19 times forward earnings??
My opinion -The share price has more than doubled in the last year, mainly from the PE rating having considerably extended well above historical norms for this company. So my main worry would be that of mean reversion for the rating – i.e. if something goes wrong (e.g. forex tailwinds switch round to headwinds at some point), then the PER could drop back down to a more appropriate level of say 13-14. If that happened, then you'd see a large chunk taken out of the current share price – maybe downside of a third?
How much more upside is there from here? Could the PER go above 20? I don't see that as at all likely, given that this is a manufacturer/distributor of parts which can be made by any number of competitors.
Well done to people who have caught the substantial re-rating here. I'm not convinced that risk:reward is necessarily still in your favour, with the share price now looking toppy. But that's for you to judge, I'm just giving a view – which has been wrong in the past, so feel free to ignore me!
---
Laura Ashley Holdings
(LON:ALY)
Share price: 17.1p (down 8.7% today)
No. shares: 727.8m
Market cap: £124.5m
Interim results – for the 26 weeks to 31 Dec 2016.
The share price has been weak for this fashion amp; homewares retailer for some time. The market has correctly anticipated lacklustre trading, hence why the share price is only down 8.7% today, despite poor interim results + a full year profit warning.
Remember that ALY is not just a UK business. It also has profitable overseas operations, operated by franchisees – with 251 overseas stores in 29 countries.
I won't go through all the detail, but a few key points;
LFL sales down 3.5% in the 6 months – clearly a poor result when costs are rising.
eCommerce sales only up 2.1%, which is pretty hopeless – this should be rising substantially, but isn't.
Cost pressures – similar for most retailers, with forex headwinds, and Living Wage being mentioned in particular. I wonder if there could be more forex hits to come, if hedging is used?
Profit before tax in H1 down from £11.0m last year, to £7.8m this year – this is better than you might expect, due to "non retail" (i.e. franchise/wholesale profits) remaining quite strong.
Dividend cut from 1.0p to 0.5p – looks sensible, given weak trading.
H1 EPS was 0.85p, so assuming similar performance in H2, then perhaps 1.7p full year might be feasible? That puts the PER at about 10.
Current trading – the trend has improved somewhat, with LFL down 0.6% in the 6 weeks to 11 Feb 2017.
Balance sheet looks OK to me, but it lop-sided with the Singapore office freehold, and associated debt. Also note the £16m pension deficit.
So all of that sounds rather depressing, which it is. I could see profits continuing to fall here, and if the UK gets a lot worse, it might even move into losses.
International – this is the bit that intrigues me. We already knew that a major push in the Far East is underway. The company has launched a China website. Also a franchisee for India has been signed up. Existing franchise operations are profitable for ALY, so the upside case for this share is that a struggling UK business could end up being overtaken by growth in Asia. Doing it via franchisees is also lower risk, and requires little capex.
My opinion – these figures aren't great, but they're not a disaster either.
This is still a powerful brand, and as noted in the narrative, British brands are popular in the Far East. If the company is successful in expanding into China, India amp; elsewhere, through franchisees, then that could be a catalyst for a decent re-rating, maybe?
On balance I'm not likely to revisit it just yet in my portfolio (I capitulated in Nov 2016, as you can see from my fantasy portfolio – which is similar to my real portfolio - here). However, it's going back on the watch list, as the international expansion looks potentially interesting.
There could be an overhang from income seekers selling, now that divis are being cut, maybe? Plus general gloom about struggling retailers, cost pressures, etc. So I don't see any particular rush to buy back in here. There's always the chance that it could be taken private though, by the eccentric major shareholder.
---
That's all I have the energy to do today, am fading fast from jet-lag. See you tomorrow.
Regards, Paul.
Source:
http://www.stockopedia.com/content/small-cap-value-report-thu-16-feb-2017-zyt-tri-aly-171679/
We encourage you to Share our Reports, Analyses, Breaking News and Videos. Simply Click your Favorite Social Media Button and Share.