Good morning!
I've just added my own comments on Fishing Republic (LON:FISH) to yesterday's SCVR. Also, there are some very interesting reader comments after yesterday's article, which are well worth a read. Do I think FISH is likely to be the next big multibagger? In a word, no. Although in this mad bull market right now, anything can happen.
Let's start the day with a profit warning.
---
Trakm8 Holdings
(LON:TRAK)
Share price: 71p (down 35.5% today)
No. shares: 32.5m
Market cap: £23.1m
Trading statement (profit warning) – it's no surprise to see another profit warning here. As I mentioned here on 7 Sep 2016, and again here on 28 Nov 2016, there were good reasons to sit this one out. Poor interims, and challenging full-year forecasts is usually a dangerous combination, giving a heightened risk of another profit warning. Which is exactly what has happened unfortunately. My commiserations to holders of the stock.
This is the key paragraph;
…revenues are now expected to be only modestly ahead of FY2016 with adjusted operating profit significantly below FY2016, with a consequent impact on cash flow and indebtedness
The main reason given is this;
new revenues being booked later in the current financial year than expected or delayed into FY2018
Or to put it in more simple terms, the company has missed its sales targets.
The other reasons given look spurious to me, as they were already known, indeed planned, factors, nothing new;
shift in revenue model (towards more SaaS and rental revenue) continues to result in short term revenues, cash generation and profitability being suppressed to the benefit of the longer term

continuing, deliberate reduction in contract manufacturing for third parties, to provide capacity for solutions demand, leading to a reduction of £2.5m in revenues this year
Cost-cutting has already been implemented;
the Board has taken steps to reduce annualised overheads by c.£1.5m and will ensure that any increases are held in line with revenues
Revised forecasts – published today make fairly shocking reading. This is a horrible profit warning. Adjusted PBT forecast for y/e 31 Mar 2017 is down from £3.8m to just £1.0m. Remember that adjusted numbers are companies putting the most favourable gloss they can on the results too!
Adjusted EPS is now forecast to be only 2.8p. That's terrible! It was only Aug 2016 when the forecast was 17p for this year. So I can see why the share price has collapsed from a high of nearly 400p in late 2015, to only 71p now. I think people need to be careful not to "anchor" to the previous share price levels, and assume that the share will recover. Those higher share prices were based on profit forecasts of 6-times the latest forecast.
Order book / pipeline – the company makes bullish noises about this, but how much can we rely on management assurances now? Very little, in my view, given what a mess they've made of things in the last year.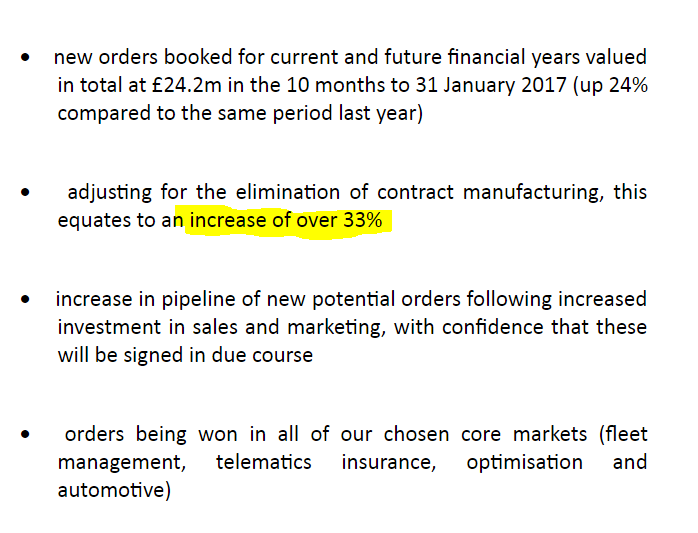 I'd like to see the future ageing of the order book – since the figures above are multi-year contracts.
New products – positive noises are made about new products in development. Although if deep cuts are being made to overheads (presumably including development spend), I wonder whether the company is in a good position to launch decent new products?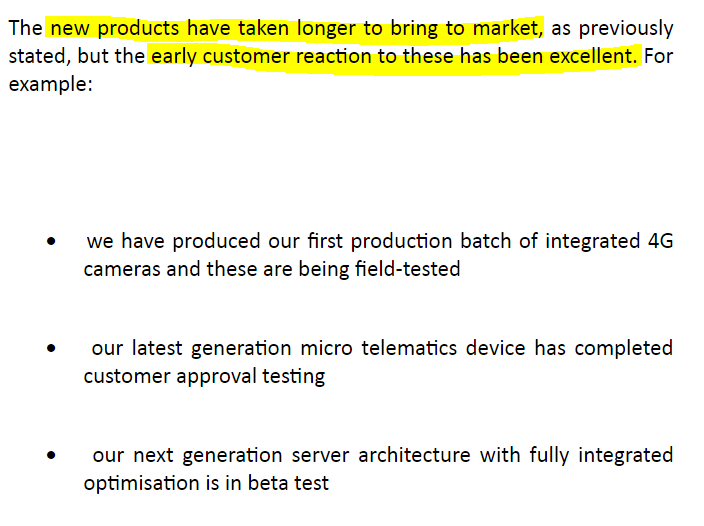 Directorspeak – the Executive Chairman is probably only still in his job because he owns c.18% of the company. Mind you that certainly means he's incentivised to put things right. His comments today suggest this is a one-off bad year;
"We continue to be frustrated by the timing of new order wins and it is very disappointing that we have to substantially reduce expectations for this financial year despite having a very strong pipeline.

"We are also on a journey of rapid expansion that has required significant additional investment at the same time as our business model has been evolving. We believe this investment is the correct strategy to follow given the expected significant growth of the fleet management, insurance and vehicle leasing telematics markets.

"Over the last four years we have grown our installed base of units reporting to Trakm8 servers from 20,000 to over 190,000 today. The future remains very positive and we believe that this year, whilst very disappointing, should prove to have been a hiatus in our continuing long term growth."
He's also today bought 65k shares at 76.86p, so £50k-worth. I can't get excited about that when he already owned 5.8m shares. It's up to you whether you see it as positive, or negative. I find showy Director buys after bad news actually put me off a bit, as it looks a bit manipulative to me.
Bank debt – this is forecast to be £5.1m at year end (31 Mar 2017), which is a lot worse than the previous forecast of £2.2m. Although for a business with recurring revenues, and which has already cut overheads, on balance I wouldn't get too alarmed about the bank situation.
It would become more of a worry if performance subsequently fails to improve.
I can't find anything about bank covenants in the last Annual Report, but the bank facilities total £10m, from HSBC, and are cheap, at 1.95% over base rate.
My opinion – it's difficult to see much immediate upside – this share could languish for a while.
The difficult thing after a series of profit warnings, is that we don't know how low the share price will go. In smaller, less liquid shares like this, It depends entirely on the whims of larger shareholders.
I think there are signs today of people trying to support the share price – it's a knee-jerk reaction, especially from less experienced investors, to anchor to the old share price and therefore think it's advantageous to buy aggressively after a profit warning. I'm sure most of us have done that many times before, I know I have, and it very rarely works.
Personally I'm remaining on the sidelines. I think management credibility is shot to bits, so talk of a strong pipeline doesn't cut the mustard with me. There are thousands of shares to invest in, so if I'm not sure, I just sit on the sidelines and await the full year results, which should give a clearer picture than a trading update.
---
dotDigital
(LON:DOTD)
Share price: 59p (unchanged today)
No. shares: 294.9m
Market cap: £174.0m
Interim results – for the 6 months to 31 Dec 2016.
What a terrific set of facts amp; figures in the highlights;
Six month key highlights
· Revenue from operations up 17% to £15.0m from £12.9m;
· Profit before tax up 30% to £4.3m from £3.3m;
· Monthly recurring revenue from dotmailer's Software as a Service ("SaaS") based usage charges up 22% to £12.2m;
· Recurring revenues have increased from 78% to 81% of group revenues;
· Recurring revenue charges from market automation functionality has increased by 71%;
· Earnings per share has increased by 20% to 1.24 pence from 1.04 pence; and
· Strong net cash position of £18.9m as at 31 December 2016.
I've bolded the items I particularly like above.
Looking at it simplistically, if you double H1 EPS to get a (probably conservative) FY EPS of 2.5p, then the PER is 23.6. In the current market, that doesn't look outrageous at all to me, since you've got lower quality things like Trifast on a PER of 19.
Mind you, a concern I mentioned last time this company reported, is that all the growth seems to be coming from higher average spend from existing customers;
Average monthly recurring spend across all clients has grown by 24% from £525 to £650.
So surely revenues should have risen more than 17%? This seems to imply that there's quite high churn in customers dropping out, being replaced by new customers, maybe?
Outlook – sounds positive, and is in line;
"Based on dotdigital's strong performance at the half year to 31 December 2016, the continued demand for marketing automation, the newly released product features and connectors and our investment strategy for further expansion into international markets, the Board remains confident of continuing to deliver strong growth, underlying profitability and increasing shareholder value for the remainder of this financial year in line with market expectation."
Balance sheet – is getting a bit ridiculous – in terms of it being so strong!
The company is hoarding cash, now up to £18.9m. If they're not going to do anything with the cash pile, then it should be paid out to shareholders.
My opinion – these are very appealing figures. It looks a smashing business, and not outrageously expensive either, once you adjust out the cash pile.
My main worry is that most people are so fed up with being bombarded with huge quantities of emails, that I wonder what the long term future holds?
For now though, DOTD looks a smashing business. It's profitable overseas too, although the figures are still very small, as it's mainly a UK business.
---
Utilitywise
(LON:UTW)
Share price: 182.6p (down 1.8% today)
No. shares: 78.3m
Market cap: £143.0m
Trading update – this is an update on trading in the 6 months to 31 Jan 2017 (the company has a 31 Jul 2017 year end, so this is an H1 update).
It's an in line update, which is reassuring;
The Board is pleased to confirm that the Group has performed in line with management expectations during the period, with double-digit revenue growth compared to the same period last year.

Net debt at 31 January 2017 was £4.1m (31 January 2016: £10.2m, 31 July 2016: £0.2m).
More details are given, including comments that the Corporate Division is not performing very well. Its revenue is down, and the implication is that costs are also up, compared with last year H1. This doesn't sound a particular worry though, as this division was only 6% of adjusted profit before tax last year. If the group as a whole is trading in line (as confirmed in this statement), then personally I would see this as swings amp; roundabouts, so not really a concern.
Valuation – this share is usually cheap, because its accounting policies remain unappealing. Revenue recognition is aggressive, and the balance sheet is weird.
I covered the various issues in my review of the last full year results, here on 22 Oct 2016.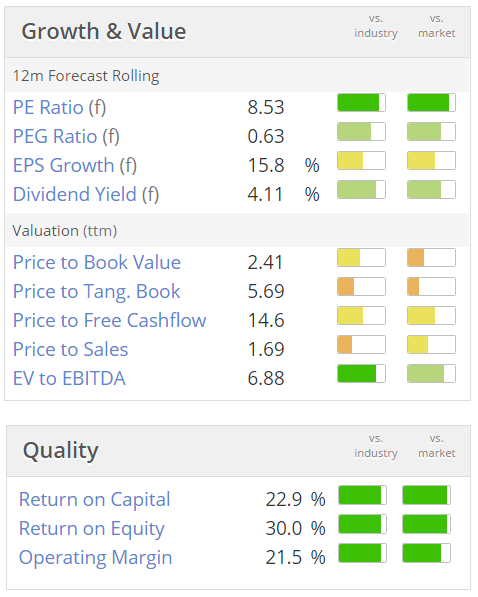 Certainly, on the basis of the above graphics, this share looks very attractive indeed. You have a low PER, a decent divi yield, a low PEG, and excellent quality scores.
So if you can reassure yourself that the accounting policies are OK, then I can see the attraction of this share.
Stockopedia's algorithms award this share a very high StockRank of 92 – meaning that it's statistically more likely to be a good share than a bad share, when included in a portfolio of stocks: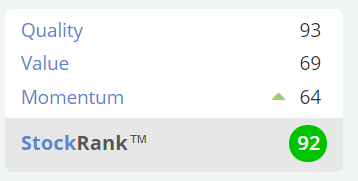 My opinion – personally, I'm not prepared to compromise on the issues here. For me, the accounting policies are too aggressive, and I just don't like this sector – it's too vulnerable to regulatory changes. In my experience, something nearly always goes wrong eventually with this type of business.
So not for me, but there's no denying that on paper this share looks very attractive.
Possibly also Synectics results amp; Netcall.
Also I'm hoping Graham might email me a section on Lighthouse.
So please do update this page later today. Thanks, Paul.
Source:
http://www.stockopedia.com/content/small-cap-value-report-tue-21-feb-2017-trak-dotd-utw-172273/
We encourage you to Share our Reports, Analyses, Breaking News and Videos. Simply Click your Favorite Social Media Button and Share.