Good morning!
Apologies, but I got distracted amp; was very tired yesterday afternoon (haven't been sleeping well lately), so I didn't get round to updating yesterday's article any further until early this morning. I've added new sections on dotDigital (LON:DOTD) and Utilitywise (LON:UTW) to yesterday's report, which is here.
It's quite difficult to clear the decks and write about companies here, because I've just got so much else going on during the day, constant distractions. Hence why it's sometimes easier to finish off articles in the evening, or early morning. Also, during market hours, It's terribly easy to drift into "ticker-watching" – where I end up just monitoring prices, and not actually doing anything constructive. Although having said that, ticker-watching can throw up opportunities, when you sometimes spot unusual price movements, and a jump in trade volumes – which can be turning points, or signs of someone stake-building, etc.
Right, on to the trading updates amp; results today which have caught my eye.
---
Hotel Chocolat
(LON:HOTC)
Share price: 266p (up 4.2% today)
No. shares: 112.8m
Market cap: £300.0m
Interim results – for the 26 weeks ended 25 Dec 2016.
Seasonality – a key point to note with this company is that its profits are pretty much all generated in H1. This is important because, when skimming through the results at 07:30 this morning, I looked at EPS for the half year (of 7.8p), doubled it to annualise it, then thought hang on that doesn't look right, as it implied a PER of only about 16. Either the company has massively out-performed forecasts, or I've overlooked a large seasonal variance between H1 and H2!
It was the latter of course – I then checked back to last year's adjusted profit of £8.2m for the full year, and it looks as if more than the whole lot (£8.8m) was generated in H1. So H2 looks to be slightly loss-making.
Aside from forgetting about seasonality between H1 amp; H2, the other clanger I'm sure we've all dropped before, is forgetting that you're looking at half year figures altogether, and wrongly doing your sums based on them being full year numbers!
These pitfalls reinforce the importance of at least one strong cup of coffee before work starts at 7am.
Anyway, back to the figures, and the highlights look really good to me;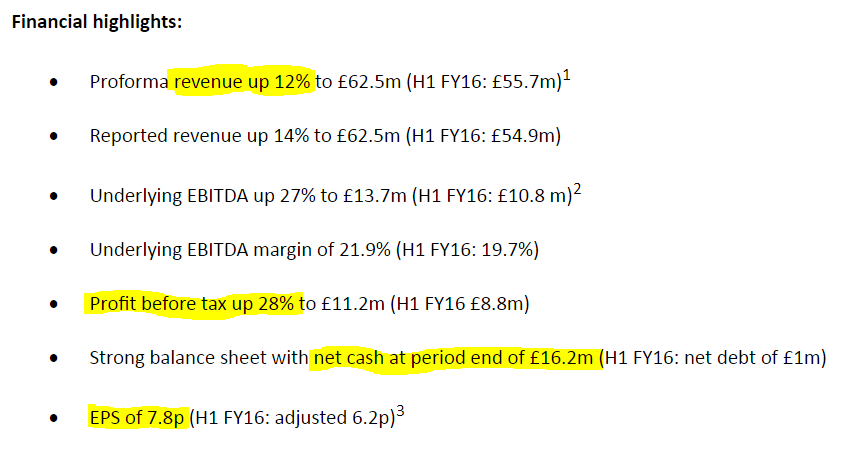 Revenue growth was helped by the opening of 10 new stores, which is quite a rapid rate of expansion in 6 months, giving a total of 93 stores at the period end. Mistakes happen if a retail roll out is done too quickly, so I hope they're keeping on top of the detail.
EBITDA margin – this needs to be treated with care, as the strong H1 seasonality will inflate this number considerably. It will be a lot lower for the full year.
Gross margin – is up 60bps, due to investment in the factory – important to note that HOTC makes its own product (I don't know whether they make all their own product, or just some – do any readers know?). The company even owns its own plantation in Saint Lucia, which I think adds nice credibility to this up-market chocolate brand.
Net cash – I nearly fell off my chair at the huge jump in net cash, but on closer inspection this is driven by a big increase in creditors. It's also a seasonal spike, after receipt of peak trading over Xmas. So expect cash to have dropped somewhat by the year end.
Balance sheet – overall the company looks financially robust to me, although there are a couple of unusual (but not worrying) items which I'll flag up.
There is debt of £6.6m in "Chocolate bonds", which looks to have been an innovative way to fund the business in the past. Although this debt is looking a bit expensive now. Mind you, if customers opt to receive payment in product, then I can see how it is a nice way of driving customer loyalty.
Chocolate bonds pay a return either in boxes of luxury chocolates or by way of a Hotel Chocolat gift card. For those bonds with a return in the form of chocolate, the coupon is fixed by number of boxes. For bonds where there is a return paid by way of a Hotel Chocolat gift card, there is a fixed rate of interest. The interest as stated on issue of the bonds ranged between 6.7% and 7.3%.
What a neat idea, I like it!
As regards creditors, this struck me as rather high at £25.8m, so have a look at note 6 giving the breakdown of this;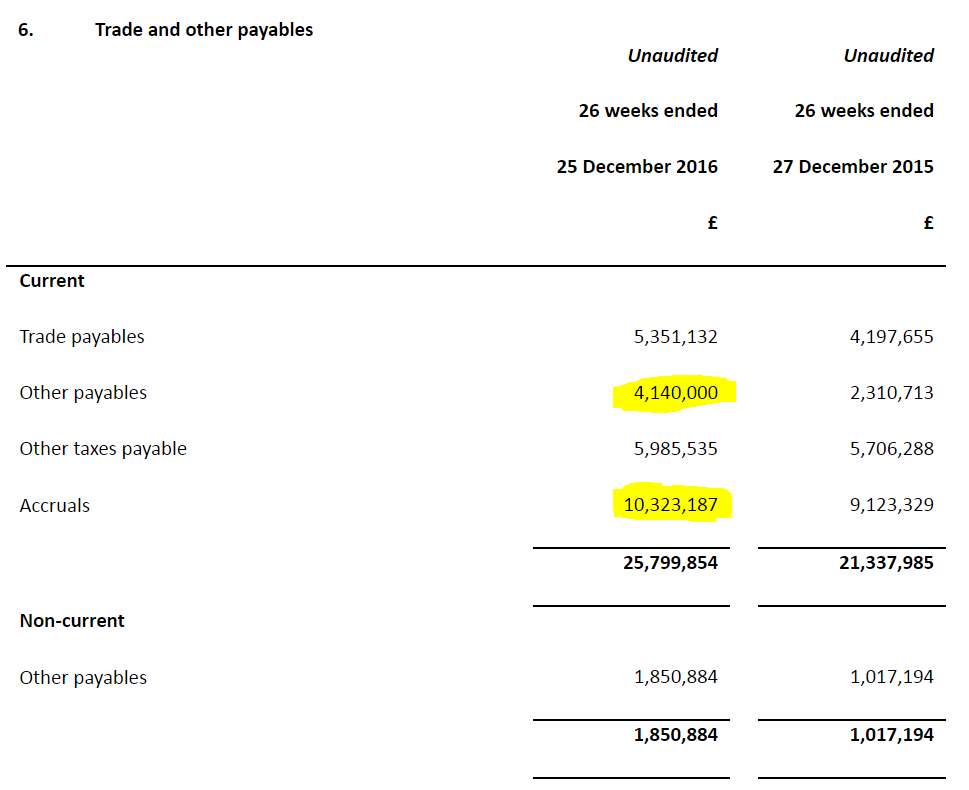 I've highlighted the unusual items above. Trade payables is usually the bulk of overall current liabilities. Yet here it is only about 20% of the total. Taxes payable – fair enough, that's probably the VAT due on Xmas sales. I'm not sure what the £4.1m "other payables", or the £10.3m "accruals" figures would be. Those numbers strike me as unusual.
Perhaps the accruals number is deferred income? For retailers this is landlord incentives for entering into leases (rent-free periods and reverse premiums), which appear on the balance sheet and are then gradually worked through the Pamp;L over the period to the next rent review usually.
I don't think these unusual creditors are anything to worry about, but do bear in mind that they indirectly flatter the cash position.
Dividends – there's no interim, but the company says it intends paying a final divi.
Outlook – self-explanatory (below). It's trading in line, but mentions cost pressures.
Since the end of the period, trading has continued in line with expectations. The plans for the key Mother's Day and Easter seasons build upon the successes of Christmas, including improved gifts and children's ranges. The pipeline for new stores is encouraging with the new formats providing increased flexibility to adapt to different locations. We are in the process of finalising our next set of capacity and capability investments for our production facility in order to ensure we can both meet our growth aspirations and improve efficiency in the years ahead. The transition to the new website happened on time and now provides us with exciting growth potential.

The headwinds facing all retailers in the UK are widely projected to drive input cost inflation, however the Group seeks to mitigate these headwinds through a combination of vertical integration, UK-based manufacturing, and currency hedging. A strong differentiated brand that offers great products and customer service, priced as an affordable luxury also provides further mitigation, giving the Board confidence in the Group's continued progress.
The tone sounds upbeat, and the figures are good, so this business seems to be humming along very nicely.
My opinion – the business gets a firm thumbs up from me. These are smashing figures, and it looks a decent retail roll out, with a very nice brand amp; differentiated product.
Valuation? Hmmm, not so great. I've subscribed to Research Tree, to make it easier to look up broker research. Liberum has issued an update today, increasing its forecast adjusted EPS from 7.4p to 7.6p. The new figure gives a PER of 35 times this year's earnings. That's a punchy rating.
Moreover, in FY18 and FY19 the EPS rises forecast are not that big – rising to 8.2p and 9.4p respectively.
To my mind, if I'm asked to pay a PER of 35, I want to see much stronger EPS growth than that.
Overall then, I really like this company, but it's going to have to seriously out-perform forecasts to justify such a high rating. Maybe it will, I don't know. As things stand, personally I wouldn't be interested in buying any above 200p, and even that would be a stretch. So at 266p, it's definitely not for me, but for valuation reason only. It's clearly a very nice business, and could be one of those stocks where in future we'll all be kicking ourselves for being too tight to pay up for it now!
---
Blue Prism
(LON:PRSM)
Share price: 485p (up 8.5% today)
No. shares: 62.2m
Market cap: £301.7m
Trading update – this share has certainly captured investors' imagination since it floated on AIM in Mar 2016 – see share price chart below.
It's basically a software company which automates back office functions, at big companies like banks. The point of difference being that it works like a human, i.e. logging into various other computer systems like a user, and then carrying out processes which were previously done by humans, according to pre-determined rules. It sounds clever, and there are some impressive clients already using it.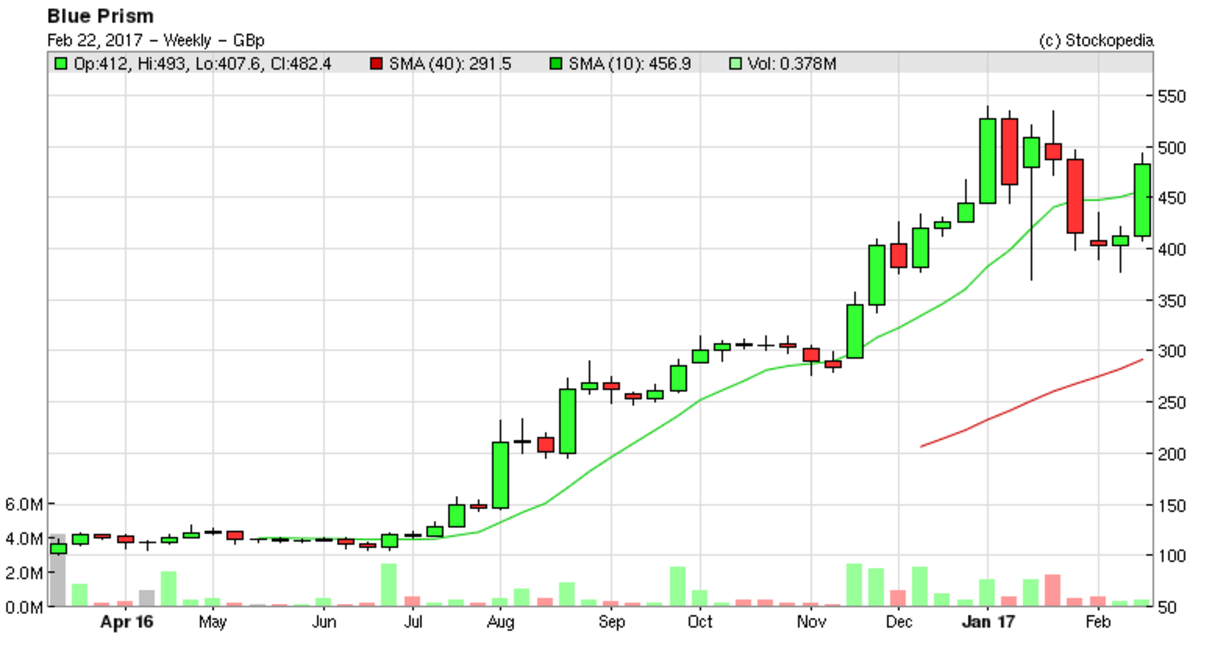 The company has a 31 Oct 2017 year end, so it reports today on Q1 performance, as follows;
The Board is pleased to report that the positive trading momentum detailed in the Group's full year results for the year ended 31 October 2016 continued into the Period.

Blue Prism secured 83 new software deals, of which 49 were new customers and 34 were upsells to existing customers. All new deals were secured indirectly via the Group's channel partners.

Taking into consideration the above trading performance in the first quarter of the current financial year the Board now anticipates revenue for the full year will be materially ahead of existing market expectations.
Materially ahead suggests to me at least 10% above.
Directorspeak – says the company has a strong pipeline, and is confident.
Valuation – is basically impossible, the way I look at it. The company is growing quickly, but incurring increasing losses. That's partly because there are up-front payments to channel partners for each sale, which run ahead of the (high margin) recurring revenues from the end customer.
Given that things are at an early stage, nobody really knows what the figures might look like in the future. Clearly at £301m market cap, and with the company forecast to be loss-making this year and next, there are very ambitious expectations baked into the price. So if anything goes wrong, and the company fails to grow as expected, then expect a huge drop in share price.
On the other hand, if you're bullish, and believe this company is uniquely placed to dominate back office automation, then the sky could be the limit. We're in a roaring bull market, so people are happy to make very bullish predictions. For now.
My opinion – this is way too jam tomorrow for me, especially at £301m market cap.
Good luck to holders. Just a reminder though, that hardly any high-flying AIM jam tomorrow, loss-making stocks actually end up delivering what people hoped they would during the big bull run.
Also, I question whether what this company is doing is unique? Surely other software companies must be developing similar products?
---
I'm running out of steam now, so just a few quick comments to finish off with;
McBride (LON:MCB) - interim results to 31 Dec 2016 are out today.
The headline figures look good – e.g. adjusted operating profit up 30.1% to £22.9m.
However, it seems that forex translation into sterling has been a major contributory factor, with the equivalent figure in constant currency being much smaller, at +9.6%
Turnaround strategy, of focusing on higher margin business is working well, with the operating margin up 120bps to 6.2%
Balance sheet is OK, but note this is a capital-intensive business, with large fixed assets, funded by bank debt.
Pension deficit has gone up to £41.8m, up from £31.1m six months earlier. Not a disaster, but worth noting amp; adjusting the valuation.
Bank covenants – the company specifically states what they are, which is very helpful (e.g. Net Debt: EBITDA must be below 3x ). All companies should be required to publish their bank covenants (where applicable)
Outlook comments are a bit wobbly, taking about cost price inflation, and a time lag between that being recovered from customers.
Full year expectations remain unchanged – so the fwd PER is 12 for this year, and a 2.7% dividend yield. That valuation looks about right to me.
---
Mission Marketing (LON:TMMG) - Growth Share Scheme – or a so-called "management retention and incentive scheme". Gone are the days when paying a decent salary to management, and a bonus in good years, and share options, was enough to incentivise management.
Apparently, to get these guys out of bed, they want to have a clear run at getting 5.7m free shares in the company too.
This is a terrible scheme – a complete con, in my view. The wheeze goes like this. Management (almost all Directors) have bought new A shares for 0.01p each (shelling out £570 in total, unless I've dropped a decimal place). If they can subsequently ramp the share price up to 75p for 15 days or more, then their almost worthless A shares transmogrify into new ordinary shares, free of charge. Thus diluting existing holders considerably.
Given that the share price is currently 41p, then some might say, what's the problem? If they do get the share price up by 83% to 75p, then don't they deserve to cash in with £4.3m of free shares?
You could look at it that way, but I've seen similar things like this before. What happens is that suddenly the Directors are dead keen to turn up at investor events, and will give presentations, and put out bullish RNSs until the share price is pushed up to the trigger point, and held at that level. The reward is then paid out, and the share price then crashes back down again. Meanwhile management have dumped their free shares, and can safely move on to another job, with bulging back pockets.
The structure of this scheme is therefore basically a company-organised pump amp; dump.
Who on earth thought this would be a good idea? It makes the Directors look like a bunch of spivs. I sold my shares in disgust when this scheme was first announced. Although putting my cynical hat on, I suppose now that we know management are incentivised to mercilessly ramp the share price up to 75p, then there's quite a strong argument for buying some at 42p, and seeing how they get on.
What a crummy, sleazy scheme though. Let's hope HMRC pull the rug from these schemes, and slap on a big tax charge.
I've never seen any convincing evidence that management incentive schemes work at all. In my view they tend to be counter-productive, attracting greedy, self-serving people to join a company in the first place. Then encouraging them to do reckless things, with no personal risk, to pump up the share price.
Look what happened at £PEB when poor quality management cooked up fancy management incentive schemes, only to then run the company into the ground.
So a massive thumbs down from me to TMMG management, for cooking up this grubby little scheme to effectively steal some of the company from its shareholders. I don't think schemes like this create value at all. All too often they destroy value, by encouraging Directors to take stupid risks.
---
Graham has just emailed me the following section, per reader requests;
Lighthouse (LON:LGT)
Share price: 14.25p (+16% yesterday)
No. shares: 127.7m
Market cap: £18.2m
Final Results year ended 31 December 2016
(commentary by Graham Neary)
Some great results for this financial advice group yesterday. The most important bullet points from my perspective:
PBT +119% to £1.9 million
Revenues down slightly but up 2% if you adjust for the loss of platform-based trail commission.
Revenue/adviser up 6% to £99k (from £93k)
Additionally: an asset management division was launched in October, and the final divi is raised by .02p to .18p.
Chairman comment:
The increase in average annualised revenue per adviser and change in revenue mix towards higher margin divisions largely offset the impact of the removal of platform-based trail income arising from the "sunset clause" introduced by the FCA to leave revenues and gross margin broadly unchanged. The above, together with an on-going focus on the Group's operational costs, resulted in a substantial increase in earnings.
The "trading highlights" box shows that operating costs were slashed from £13.2 million to £12.3, which more than fully accounts for the increase in operating profit.
As a general rule, it's more valuable to see earnings growth via sales growth than from cost cuts – since there is a limit to how much costs can be cut, but there is basically no upward limit on sales!
But there is a sunny side to Lighthouse's earnings growth, with the mix of recurring revenues continuing to increase (up to 50%, versus 48% last year), so the quality of earnings looks to be increasing.
There's a sweetener to the results with a £750k tax credit too – be careful in case this affects some automatically calculated PE ratios!
Net Cash: Rises slightly to £8.1 million, but note that there is about £4 million of regulatory capital.
Outlook Summary: "well placed, with a solid financial position and net cash, to take advantage of opportunities".
My opinion: It seems like a really solid set of results to me. The FCA's reduction of trail commission for platforms such as Lighthouse was out of their control and is just part of the regulatory hazard of the financial industry.
The balance sheet doesn't worry me at all. Cash flow is affected by growing provisions which is normal for new business strain.
Valuation looks pretty attractive to me too, at less than 10x PBT with a decent outlook. So I'd be fairly optimistic on the outlook for shareholders here.
---
We're on fire today! Graham's also just emailed me a section on an interesting (as in disastrous) financial stock;
NCC (LON:NCC)
Share price: 99p (-44% since yday)
No. shares: 276.5m
Market cap: £274m
(this section written by Graham Neary)
Some dramatic news here as a planned Capital Markets Day was cancelled yesterday.
NCC operates two divisions: Assurance (much larger in terms of sales) and Escrow.
The Assurance side – which includes Security Consulting, Software Testing and Web Performance – has seen reduced sales and profitability in the UK, Europe amp; North America. All services are affected, so it sounds like something systematic has gone wrong it.
Helpfully, there is an estimate of the damage: full-year EBITDA might turn out around 20% below the prior range, which was £45.5 million – £47.5 million.
Some fairly ominous pieces of text explain the counter-strategy:
In light of the deterioration in trading in the Assurance Division through the current financial year, the Board is initiating a comprehensive review of NCC Group's operating strategy. This will include a review of all of the Assurance businesses, how they operate and how they sell.

In addition, given that the significant and planned rise in central and divisional operating costs this financial year has not produced the anticipated improvement in sales, there will also be a review of how the assets and resources of the Group can be more efficiently deployed and utilised.
Consultants are being appointed to support the review – often the precursor for difficult or unpopular decisions.
My opinion: One might argue that a 20% reduction in EBITDA doesn't warrant a 44% slide in the share price, but for things to take such a sudden turn for the worse in Q3, across multiple services and geographies, should rightly spook shareholders.
Also, NCC has been pursuing an acquisitive strategy, with a lot of amortisation/exceptionals in the accounts recently, so EBITDA of £37 million might not translate into very much profitability, depending on what sort of restructuring costs might be in store.
Last year, there was £19 million in exceptional costs as well as £8 million in amortisation and share based payments. Those exceptional costs included goodwill impairment, restructuring, write downs of development intangibles, and acquisition costs.
It strikes me as quite a lot of exceptionals and makes me wonder a bit about the quality of real earnings here.
Net debt at November 2016 was £49 million out of total facilities of £112.5 million, so at least there is good headroom.
But with so many moving parts, I would have marked down the shares by about 50% after this RNS.
Source:
http://www.stockopedia.com/content/small-cap-value-report-wed-22-feb-2017-hotc-prsm-mcb-tmmg-lgt-ncc-172456/
We encourage you to Share our Reports, Analyses, Breaking News and Videos. Simply Click your Favorite Social Media Button and Share.