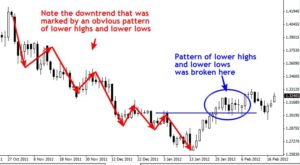 BarroMetrics Views: Trade The Price Structure
A friend of mine trades the markets on fundamental and is a very profitable trader.
Whenever we get together, the conversation invariably leads to the discussion: "all things being equal, which is the better approach"? Of course, the key words are: "all things being equal…". Clearly, the best approach would be the one that best suits the trader's personality. But, putting that question aside?
The short answer is I don't know. What I do know is I'd probably be out or losing my shirt if I were using fundamentals.
There were three pieces of news out yesterday:
Positive for the stock market at least in the short-term, repeal of Dodd-Frank.
Negative:
The report that the Trump team had been in contact with Russia during the elections. Bearing in mind that Russia did attempt to influence the elections in Trump's favour, this has the potential of becoming a very serious problem for Trump.
The fact that Chinese courts are now beginning to support Trump's trademarks. This is important because Chinese courts are recognised as being an arm of Chinese policy (i.e. they are not independent). If that is the case, then it could be said that Trump is receiving a benefit from a foreign government – something expressly prohibited by the Consitution.
A case has been brought by some ethics experts and legal scholars, but it is thought the case will not succeed. (See The new lawsuit accusing Donald Trump of violating the Constitution, explained)
So, what did the stock market do? Rallied strongly. If ever we were looking for evidence of a bubble, last night's price action was it. Repeal of Dodd-Franks opens the door to the sub-prime abuses especially since the repeal includes the Volker Rule (see If Trump repeals Dodd-Frank it would be a monumental mistake).
So for the moment, for US stocks, I'll be adopting the strategy outlined in yesterday's blog.
The post Trade The Price Structure appeared first on Ray Barros' Blog for Trading Success.
Source:
http://www.tradingsuccess.com/blog/trade-price-structure-4599.html
We encourage you to Share our Reports, Analyses, Breaking News and Videos. Simply Click your Favorite Social Media Button and Share.