This post Use This Gold Chart to Bank 20% Gains appeared first on Daily Reckoning.
During the first six weeks of 2016, gold soared 17%.
These gains approached an incredible 27% by July, capping an epic comeback in the forgotten precious metals sector.
Right now, we're seeing this exact pattern shaping up to begin 2017.
If this relationship holds true, double-digit gold gains are headed your way over the next several weeks
Here's how it all unfolds:
Late last year, we told you precious metals had a chance at carving out support and offering us a tradable bounce once the market absorbed the December rate hike.
After the calendar flipped to 2017, the bounce materialized.
It was our first shot at quick, double-digit gains in 2017. After briefly visiting 11-month lows, gold quietly bottomed out. Gold and gold miner stocks firmed as the furious dollar rally lost steam.
That's brings us to today's opportunity. We've noticed a curious development in gold so far this year. Gold's advance for the first six weeks of 2017 has perfectly mirrored the action we witnessed during the first six weeks of 2016.
Gold has posted gains of 6% through the first week of February for the second year in a row. In both cases, gold bounced off a late December bottom. And in both cases, the gold rally dipped in late January—only to rocket to new highs at the start of February.
That's where the real action begins…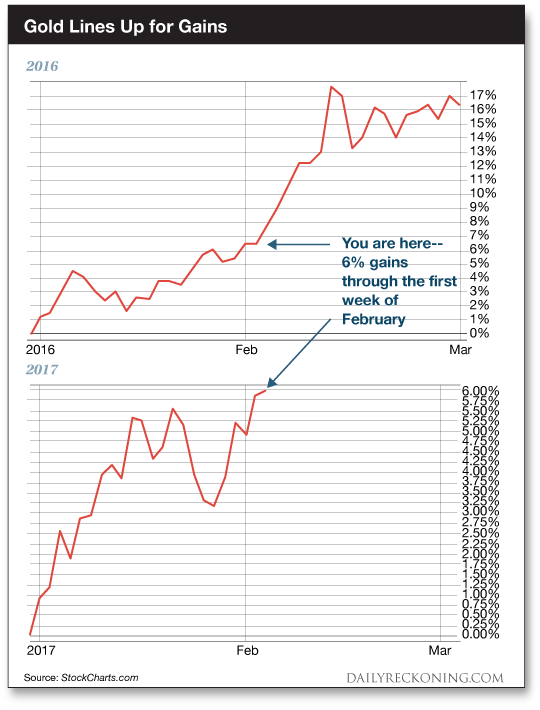 If gold continues to mirror its 2016 advance this year, we're in for a strong month that could deliver double-digit gains before spring arrives. That's great news for our gold plays.
When the market first told us to jump on a quick gold trade in early January, we grabbed our favorite gold plays with zero expectations. After all, gold was the Jekyll and Hyde trade of 2016. A buy-and-hold strategy last year would have caused you to leave a lot of money on the table.
You could have netted double-digit gains (or more) during the first six months of 2016 as precious metals and miners vaulted to two-year highs. A nasty stock market meltdown, the Fed flip-flopping on its rate hike promise and the surprise Brexit vote fueled gold's fire, sending the metal higher by more than 25% by the end of the second quarter.
But gold's trajectory changed dramatically during the second half of 2016. While the major averages chopped along, gold couldn't catch a bid. The precious metals rally completely lost its mojo. Gold's drop slaughtered traders who opted to ignore the bearish market action and count their winnings at the finish of the second quarter. By the end of the year, the Midas metal landed almost right back where it started.
Will this year's gold rally fizzle at the beginning of the third quarter just like we saw in 2016?
We have no way of knowing. All we can do is ride the trend. The precious metal plays we're tracking right now have endured some serious pain over the past six months. The 2016-2017 relationship might hold firm—or it could fall apart. Only time will tell.
Sincerely,
The post Use This Gold Chart to Bank 20% Gains appeared first on Daily Reckoning.
This story originally appeared in the Daily Reckoning . The Daily Reckoning, offers a uniquely refreshing, perspective on the global economy, investing, gold, stocks and today's markets. Its been called "the most entertaining read of the day.
Source:
https://dailyreckoning.com/use-this-gold-chart-to-bank-20-gains/
We encourage you to Share our Reports, Analyses, Breaking News and Videos. Simply Click your Favorite Social Media Button and Share.