The rise of the FTSE 100 has captured the financial headlines in 2017. But while many blue-chips have done well, that performance has been more than matched right through to the smallest end of the market. In fact there have been some stunning small-cap returns over the past year – especially on the Alternative Investment Market.
For onlookers, this surging pace could at first seem a bit disconcerting. After all, it's human nature to look for a bargain. And with London's junior stock index, the AIM All Share, rising by around 33% over the past year, there's a sense that small company shares have very quickly got a lot more expensive.
So with markets in such a bullish mood in the run-up to ISA season, the conditions call for a strategy that doesn't fear apparently high prices – as long they come with the best quality and momentum on offer.

On the hunt for high flyers
High quality companies with strong price momentum in their shares can be seen as the market's High Flyers. You can find them in all indices and sectors. Often they're the biggest and best known names in investing: think JD Sports, Domino's Pizza, Hargreaves Lansdowne, Boohoo.Com and Fever-Tree. They tend to have really solid performance histories, making them the stocks that everyone would dearly like to own. Except they almost always seem expensive, which puts many of us off.
The academic and professional support for a high quality, high momentum approach to stocks is wide ranging. In many ways it forms the backbone of strategies used by influential investors like Richard Driehaus, William O'Neil and Mark Minervini.
In all cases, valuation is relegated from the stock selection process. As Driehaus explained: "One market paradigm that I take exception to is: Buy low and sell high. I believe that far more money is made buying high and selling at even higher prices."
Minervini echoed that sentiment in his book, Trade Like a Stock Market Wizard, where he wrote: "Expose your portfolio to the best stocks the market has to offer and cut your losses quickly when you're wrong."
What do quality and momentum really look like?
To find companies with strong quality and momentum, there are some straightforward places to start. Generally a quality company is one that's highly profitable with high industry leading margins, stable, growing and ideally accelerating sales and earnings. It will have a strong and improving financial track record and no signs of accountancy or bankruptcy risk.
In turn, strong momentum will show up in stocks trading at, or above, their 52 week highest prices and performing strongly against the rest of the market. They'll often be beating broker estimates and seeing estimate upgrades and recommendation changes.
At Stockopedia we simplify all this by scoring and ranking every company in the market with a Quality Rank and a Momentum Rank – taking the above measures into account. To be a true High Flyer, these stocks would also have to rank fairly low against our third ranking factor, the Value Rank.
Interestingly, what we've seen over the past year is that small-cap shares (valued between £50m and £350m) with this kind of High Flyer profile have produced some impressive performances. The green line chart below shows the performance of the highest 20% Quality amp; Momentum stocks since we started tracking in April 2013. There has been a very strong acceleration over the past year. The lowest QM stocks have fared much worse.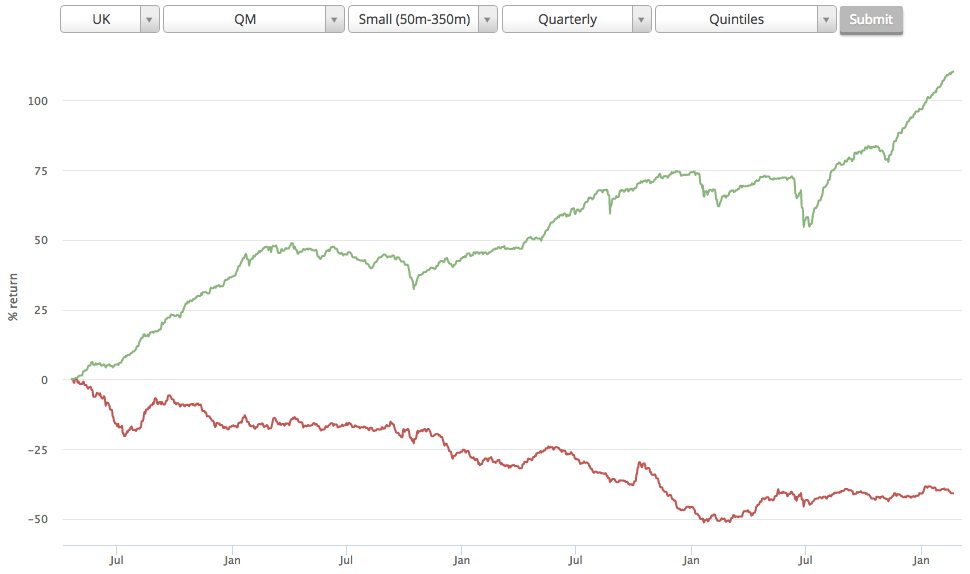 Our regular High Flyer screen with a minimum market cap of £500m can be found here. But a variation on that, with a focus on small-cap shares, can be found here. Here's a snapshot of that screen:
The companies on this list are not (or perhaps not yet) the sort of multi-year compounders that you see with much larger High Flyers. But it's worth saying that some of the highest ranked larger High Flyers like ASOS, Boohoo.Com, Fevertree and even Domino's (way back) were once much smaller AIM stocks that grew into big successes.
The big risk with High Flyers is that their momentum begins to breakdown. At that point they can become expensive-looking Falling Stars. And that's arguably more of a risk with smaller shares, so this strategy does need care. Even so, in any market conditions (particularly bullish), it does offer a different way of thinking about expensive looking shares. They might seem pricey, but they're often marked-up for good reasons. When those stocks have strong blends of quality and momentum they could have much further to go.
If you want to read more about High Flyers and other styles of investing, this is a good place to start.
Source:
http://www.stockopedia.com/content/why-high-flying-small-company-stocks-could-be-worth-a-look-this-isa-season-172459/
We encourage you to Share our Reports, Analyses, Breaking News and Videos. Simply Click your Favorite Social Media Button and Share.