Fast growing small-cap stocks have been in great demand since last summer. Some share prices have been electrified in the upbeat conditions – rewarding those who invested in what were hidden gems.
Growth stocks often fly when confidence is high. In the run up to ISA season this year it's likely that these blistering gains will be catching the attention of investors looking to deploy funds. So in the search for these companies, what exactly should a growth stock strategy be looking for?
Several of the growth screens tracked by Stockopedia have notched up returns of well over 20%, and ever 30% over the past twelve months. They're modelled on some of the most successful and closely-followed investors around. But for sheer pace and consistency in recent years, it's hard to beat with the performance of a screen based on "rules" used by Robbie Burns, the Naked Trader (up by 36% pre-costs).
When I say "rules", Robbie claims to me that he doesn't really have any hard and fast rules. But what he definitely does have is a distinct style of investing that appeals to a lot of people. Look under the bonnet and you find a classic growth-at-a-reasonable price (GARP) approach that targets rapid growth but resists overpaying for it.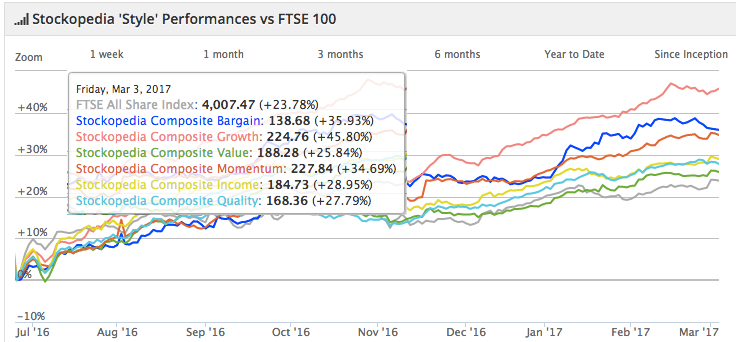 Growth investing strategies have been flying since the EU referendum
Rapid and reliable earnings growth
Like all growth investors, Robbie looks for a track record of historic profitability and the expectation that earnings will keep growing. Likewise, he uses sales growth and even dividend growth as a pointer to firms that are not only growing, but are confident that they can keep up the pace.
Modest debt is also a key feature here. Low or no gearing is highly desirable because debt is one of the biggest killers of small firms that are potentially vulnerable to deteriorating conditions. As a rule of thumb, Robbie Burns looks for net debt that's less than three-times operating profit.
Growth at a reasonable price
Growth and value are occasionally seen as being at two ends of the investing spectrum, but GARP investors see thing differently. Typically this means thinking about how the market is pricing a stock's earnings and profitability outlook. Racy multiples can point to frothy prices, which not only limits the upside potential but can also be a risk if things go wrong.
So for a growth investor like Robbie, a guide would be to use a price-to-earnings ratio of 20 as a yardstick. Anything more than that needs closer investigation. Likewise, he's previously used a price-to-pre tax profits ratio limit of 15. Again, the idea is to get a feel for when valuations might be stretched.
Positive price trend
A third component of GARP strategies like Robbie's is price momentum. Growth investors are almost always focused on stocks that have already caught the imagination of the market – they're not interested in falling prices.
There are various ways of slicing and dicing momentum. But for Robbie, it's essential to see a positive price change over the past year. In addition, the price of a stock needs to be at least five percent higher than its 52-week low. That give scope for finding stocks that may just be turning a corner. Combined with the other factors in the GARP strategy, they could be poised to re-rate quickly.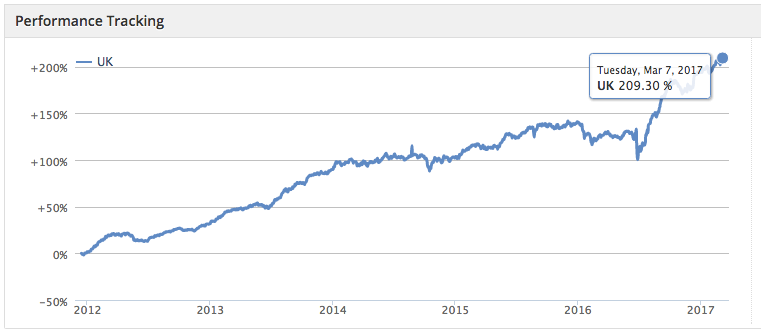 The Robbie Burns-inspired strategy has surged since taking a brief dip after the EU referendum
This combination of rules has produced a portfolio return (pre costs and quarterly refreshed) of 42.9% over the past two years, and 18.2% over the past six months. Unlike some growth strategies, it also tends to find a reasonably wide selection of stocks. Here are the top five currently passing the screen rules right now:
For purists, Robbie's approach does include factors that you can't easily include in a set of screening rules (at least at the moment). For a start, he's an advocate for using stop losses on trades – a minimum of 10%, with further tweaks depending on the volatility of the share and previous trading ranges. He also uses charts to find evidence of positive long term price trends and breakouts, as well as areas of support and resistance to see the range in which a share has traded in the past. You can check out our new charts here – and read more about Robbie's approach here.
Strong growth – but watch the risks
The current market conditions have shown just how impressively some growth stocks can perform when optimism is high. Some of these shares can see dramatic re-ratings. It's worth remembering though that growth strategies don't do so well when uncertainty takes over – so care is needed. The type of GARP approach used by Robbie Burns has shown good consistency in recent years – and it's not the only one. These strategies can be a useful barometer of investor sentiment as well as a source of ideas about shares with the sort of profile and potential to take off.
You can check out all the growth strategies here.
Source:
http://www.stockopedia.com/content/a-stripped-down-strategy-for-finding-growth-shares-this-isa-season-174626/
We encourage you to Share our Reports, Analyses, Breaking News and Videos. Simply Click your Favorite Social Media Button and Share.