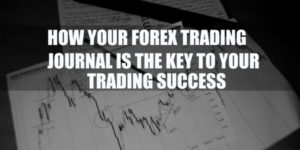 BarroMetrics Views: A Tool for Success
At least 90% of retail traders lose money in the long run. You don't believe me, just Gooogle "90% of traders lose money". For example, here's a reported study from Tradeciety "Scientist Discovered Why Most Traders Lose Money – 24 Surprising Statistics".
So if I were to say to you: "Use this tool, it will guarantee improvement!", Would you use it? You'd think so, right? Especially since the tool could be free or at most cost only a minuscule amount when compared to your trading capital.
Yet, this has been my greatest challenge – to help motivate at least most of our students consistently use the tool. And the tool? Keep a trading journal. Yes, I know, you've probably heard it a million times! But, do you keep one?
You do?
If the stats are right, you'd be one of the few.
So why is journal keeping important? Think of it as a performance metric – akin to the data a professional athlete keeps about his performance – and for the same purpose: it's the info we need to improve.
In this piece, I'll be looking at the most common reasons why 'I don't keep a journal'.
I don't have the time! I am too busy trading!
For scalpers and active day traders, this may be a legitimate reason. Still, it takes only a minute or two to write a few bullet points that can be filled in later.
It's important to write down the key points as soon as possible – if only because the longer the time-lapse between entry and journalling, the greater the possibility we'll miss a key point.
I appreciate that the shorter the trader's timeframe, the greater the temptation not to journal because journaling distracts from trading. Still, no matter how active, there will be a spare minute or two for bullet points.
For the swing trader and longer time-frame traders, "too busy" is an excuse. You have more than enough time for your journal entry. You need to ask yourself: "what's stopping me?"
Usually, the answer is found in our avoidance of pain strategy. If we refuse to accept the pain losses bring, we tend to run from losing trades. So, we find 'we don't have to journal this losing trade'. If we have a couple of consecutive losses, we soon find that we are way behind in our journaling. Now we have another excuse – "I don't have the time to journal because I am too far behind!"
The solution is to:
Make an entry as soon as possible after the event: pre-entry, entry, during and review.
Breaking a trade down into its parts makes it much easier to journal.
Also, you have 'sunk costs' working for you even if a trade turns out to be a loser. You've done most of the entry, only the review needs attention.
Accept the losing trades bring pain. I've been trading over 30 years, and I still hate to lose money. But, by
accepting that losses must happen,
seeing losses as a learning experience, and
anchoring the feeling to making a journal entry
I've been able to make sure that every trade is journaled.
Tomorrow, I'll look at what to journal.
The post A Tool for Success appeared first on Ray Barros' Blog for Trading Success.
Source:
http://www.tradingsuccess.com/blog/a-tool-for-success-4708.html
We encourage you to Share our Reports, Analyses, Breaking News and Videos. Simply Click your Favorite Social Media Button and Share.