In my personal portfolio, I hold shares in three of the big miners — Rio Tinto, BHP Billiton and Anglo American. I didn't catch the bottom when I bought originally, but I averaged down where possible. The dramatic recovery these firms delivered last year produced some respectable profits for my portfolio.
However, these big gains left me wondering whether I should trim my holdings as we headed into 2017.
In the end, I decided that the mining stocks I owned still looked fairly cheap based on historic measures of profit, such as the PE10. Each stock's forecast P/E ratio was also quite reasonable, and broker forecasts were continuing to rise. So I decided it should be reasonably safe to ignore the price action seen in 2016 and continue to hold.
This is relevant today, because BHP Billiton spin-off South32 is up for consideration for the SIF Portfolio this week. This mid-cap miner lagged Anglo American last year, but outperformed both BHP and Rio by a considerable margin, as you can see from this chart: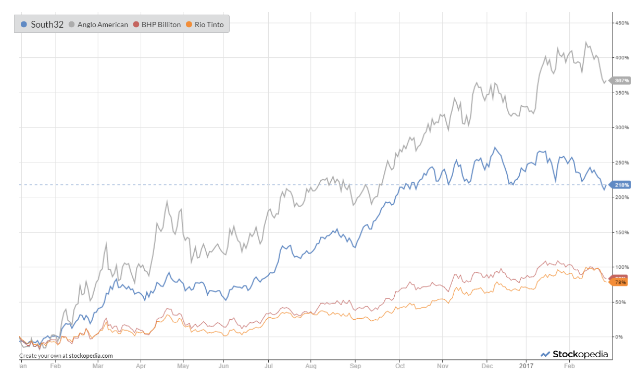 New charts! I'd like to take a moment here to plug Stockopedia's new charting system, which was released on Tuesday. It's excellent and is a huge improvement on the old system. I'm not a technical investor, but I do find charts useful for gauging price trends and momentum.
If you haven't seen the new charts yet, then take a look. They're fast, detailed and highly customisable. You'll find them on the charts tab on the StockReport pages, or by following Tools -gt; Stock Charts on the black navigation bar.
Is the mining party still going?
South32 was one of the first canaries in the coal mine this reporting season. The group reported its interim results on 16 February, ahead of BHP and Anglo.
Several years of cost cutting plus a sharp rebound in coal and iron ore prices delivered a comforting set of results, which I'll look at in a moment. Stockopedia's computers were also impressed. South32's StockRank has risen from 66 to 86 over the last month.
The impact of these interim results has made South32 the top-ranked eligible stock in my SIF screen. So I need to decide whether to add this stock to the SIF portfolio this week.
Reassuring value
For a value investor who is fond of free cash flow, South32's interim results were a pleasure to read. Here are a few of the highlights versus H1 2015:
Underlying operating profit rose by 390% to $691m
Free cash flow rose by 145% to $601m
The group's measure of Return on Invested Capital (ROIC) rose from 1.4% to 9.2%
Net cash rose from $312m on 30 June 2016 to $859m on 31 December.
These aren't trivial figures for a company with a market value of £8bn. Stockopedia's metrics give South32 a price/free cash flow ratio of 10.8, which broadly matches my own calculations.
The stock's earnings yield (EBIT/EV) has risen to a respectable 10.9%, while its price/book value is a modest 1.01. These attractive ratios have helped to lift South32's ValueRank to 70: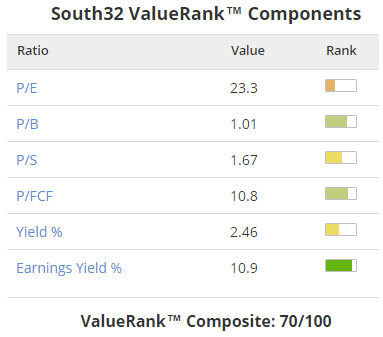 These ratios are based on TTM figures, so they currently represent the firm's performance during calendar 2016 (South32's financial year ends on 30 June). Broadly speaking, this means that these figures contain six good months and six bad months. I'd expect further improvement in 2017, assuming commodity prices and exchange rates remain fairly stable.
Will quality improve?
South32's QualityRank of 60 is not especially high, and is the stock's weakest factor. However, I think this figure needs to be seen in the context of a cyclical industry that's only one year into recovery after a multi-year downturn.
There's also the added complication of South32's short history as an independent company. Judging quality isn't as easy as it might be for other stocks. So what do we know?
One approach is to consider the three core aspects of quality used by Stockopedia's algorithms. These are franchise quality, fundamental health and risk factors.
Franchise quality: Mining firms' goods are heavily commoditised. The only way any company can enjoy a competitive advantage is through a combination of below-average costs and above-average product specification.
I'm not in a position to judge South32's assets in this level of detail, so I'm going to use the firm's underlying operating margin as a proxy:
H1 FY16: 5.2%
H1 FY17: 23.7%
South32 was profitable on an underlying basis during the first half of last year, when commodity prices were fairly low. Now that prices have risen, the group's assets appear to be highly profitable. As we've seen, the firm's free cash flow is also correspondingly strong.
I take this to indicate that the group's mining reserves are of a reasonable quality, and have competitive costs.
Fundamental health: The Piotroski F-Score is used by Stockopedia as a proxy for a firm's fundamental health. It is heavily weighted in the QualityRank calculation and I think it's a useful metric.
South32's F-score of six out of a possible nine may seem modest, but doesn't suggest any serious problems to me. The score would actually be seven, except that the group doesn't report gross profit. So I'm comfortable with this aspect of quality.
Risk factors: Are there any hidden problems lurking beneath the surface of South32's attractive figures? The Stockopedia metrics suggest not: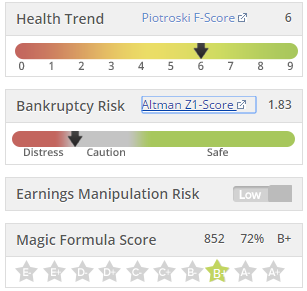 The Altman Z1-Score may seem low, but my impression is that this is being skewed by South32's short history and non-manufacturing business. I'd expect this score to improve over the next year.
This brief tour of South32's QualityRank hasn't uncovered any glaring problems. But the outlook for investors is still dependent on the firm maintaining and improving its recent performance. Does this seem likely?
Momentum
South32's top Stockopedia factor is its MomentumRank of 82. This is the result of a decent mix of price momentum and earnings upgrades: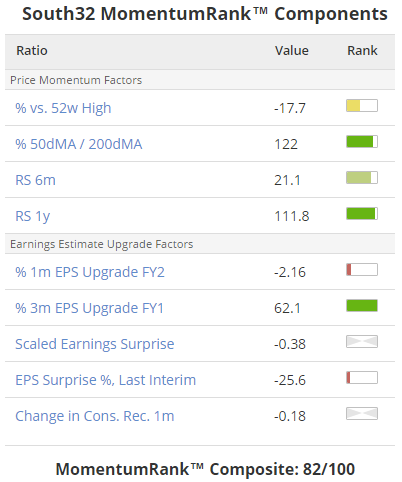 Alongside this, the shares trade on a 2017 forecast P/E of 8.1, with a prospective yield of 5.6%. The P/B of 1.0 suggests that the firm's underlying assets are not yet overvalued. I believe this combination of ratios could well be enough to attract more buyers and deliver a positive return.
The technical picture looks favourable to me too, as long as the 200-day moving average provides support: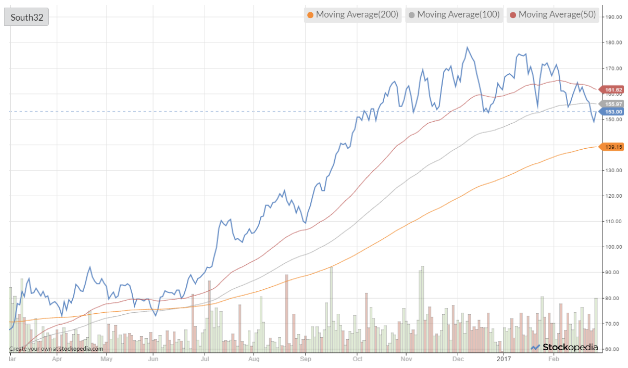 My only concern is that consensus forecasts for South32 and its peers show a significant drop-off in earnings in the 2018 financial year:

I'm not sure whether this is down to expected cost inflation or price deflation. Or whether it's just that analysts' forecasts are continuing to play catch up, as they have done for the last year: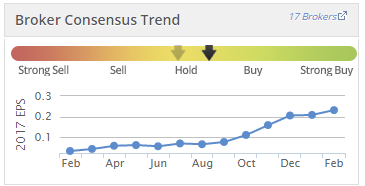 Whatever the explanation turns out to be, I've decided to add South32 to the SIF Portfolio this week. The numbers suggest to me that this mining recovery should have further to run.
Although I can't deny that I'm a little nervous.
Disclosure: Roland owns shares of Rio Tinto, Anglo American and BHP Billiton.
Source:
http://www.stockopedia.com/content/sif-portfolio-are-further-gains-likely-in-2017-from-mining-spin-off-south32-173618/
We encourage you to Share our Reports, Analyses, Breaking News and Videos. Simply Click your Favorite Social Media Button and Share.