The SIF portfolio has had very little exposure to the volatile fortunes of housebuilders over the last year. Persimmon had a six-month spell in the portfolio but was sold for a 15% loss in October last year, a casualty of the Brexit sell off.
The portfolio may now get a chance to make up some of these housebuilding losses.
FTSE 250 housebuilder Redrow has slammed into my screen results like a hit single this week, entering at number 3. It's the top eligible stock in the screen, so is up for consideration as the portfolio's next buy.
No evidence of a slowdown
Housebuilders crashed after the EU referendum. However, while the impact of Brexit remains uncertain, Redrow's results are not. The group's recent interim results showed that completions rose by 13% to 2,459 during the first half, while the average selling price rose by 12% to £344,000.
Admittedly, much of this price increase was due to Redrow shifting its focus towards the south of England. But there's no denying the strength of the firm's results: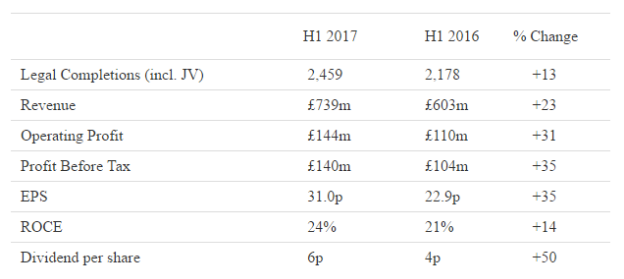 Redrow is relatively unusual among FTSE 250 stocks because it's controlled by chairman and founder Steve Morgan, who has a 29% stake in the firm. Mr Morgan originally retired in November 2000, but rebuilt his stake and took control again in 2009. If he decides to retire again I'd want to sell, but he has certainly presided over a strong turnaround.
Stockopedia's algorithms are also keen on this stock. Redrow currently has a near-perfect StockRank of 99: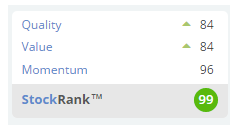 Redrow is currently the joint top housebuilder by StockRank, alongside Bellway. Let's take a closer look at the figures.
Is it really good value?
Valued on its P/E ratio, Redrow looks cheap, with a trailing P/E of 7.9 and an earnings yield of 15.6%. The problem is that this valuation has the potential to be misleading.
Although Redrow's profits are genuine enough, this business is heavily cyclical. Such stocks often look cheap when they're near the top of a cycle, because the market is discounting the inevitable downturn.
If we take a fuller look at the components which make up Redrow's ValueRank, we can see clues that suggest this stock may not be as cheap as it first seems: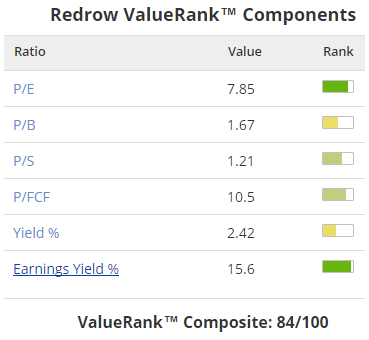 The main metric I focus on with property stocks is the price/book ratio, which is 1.67. At this level, the P/B ratio implies that the market expects Redrow to be able to generate a 67% return on the current book value of its land bank and work in progress.
Is this realistic? It might be. Redrow reported a return on capital employed (ROCE) of 24% for the first half, during which it generated free cash flow of £105m on £739m of sales. That's equivalent to a free cash flow yield of 14%, which is pretty high.
Housebuilders are benefiting from selling into a market with strong demand and limited supply. While interest rates remain low and the economy remains stable, companies like Redrow may be able to continue delivering bumper profits. But there's no way to know how long this will continue.
I'd argue that Redrow is fairly valued at current levels, but I wouldn't say the firm's assets are worth the full c.500p per share implied by the share price. After a five-year boom, strong market conditions are now priced into the stock. There's no way to know when this situation will be disrupted. That's the risk, in my view.
Quality stats show great timing
One way to offset the risk of investing in cyclical stocks is to focus on quality. Redrow scores reasonably well in this area, with a high Piotroski F-Score and decent long-term margins: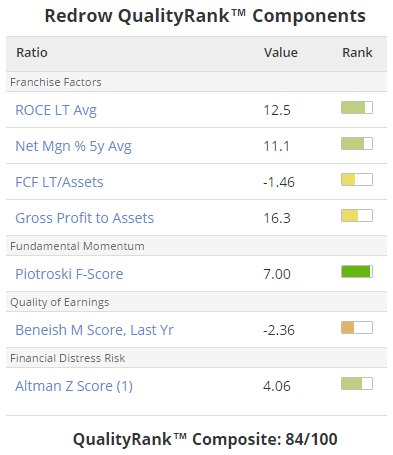 I've previously criticised Redrow for using increasing levels of debt between 2011 and 2014. The impact of this is evident from the negative long-term free cash flow in the graphic above. I've highlighted the changes in net debt below:

With the benefit of hindsight, I have to admit that Steve Morgan has timed his borrowing well. As the Stockopedia figures show, moderate gearing during the early stage of the housing market recovery has enabled the group to become strongly cash generative over the last couple of years. Debt is now falling fast and free cash flow has risen dramatically:

With record profit margins, rising free cash flow and falling net debt, Redrow should be able to cope well with any potential slowdown. If the market remains healthy, then shareholders should feel the benefits through rising dividends.
Sparkling momentum
If you've seen Redrow's share price chart recently, you won't be surprised to learn that the stock's MomentumRank is 96.
(If you haven't looked at a chart recently, then be sure to check out Stockopedia's fantastic new charting system.)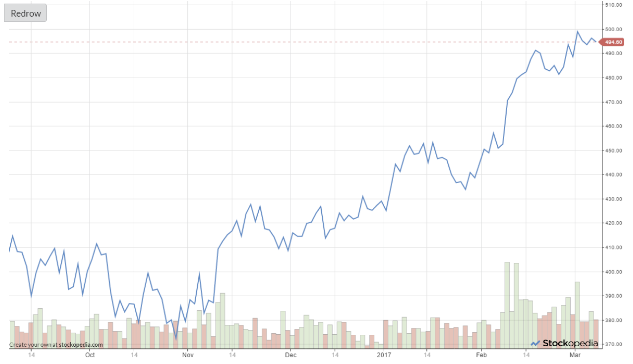 However, price action is only one half of a stock's MomentumRank. The other half is driven by earnings upgrades. As you'd expect, Redrow scores well here too: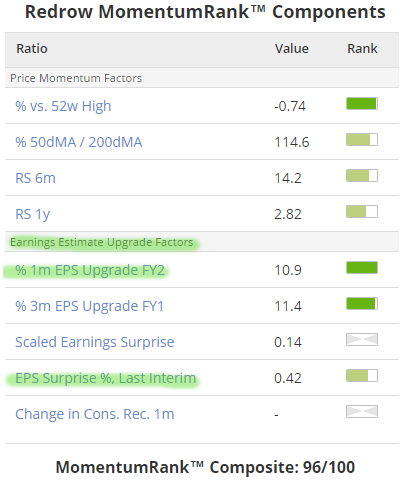 Earnings forecasts have been upgraded by 10.9% since the group's interim results were published last month. This has left the shares on a forecast P/E of just 7.9. This suggests to me that further price gains are likely if June's trading statement shows continued growth.
Keep dancing until the music stops
I've been expecting the housing market to reach a top for the last couple of years, but I've recently abandoned such forecasts.
Leaving aside the unlikely chance that the government will scrap the Help to Buy scheme, I now think the factors most likely to disrupt the market are a recession or a significant increase in interest rates. One or both of these will eventually happen, but who knows when?
Rather than taking profits, I think it makes sense to hold onto housebuilders for now. Many offer exceptionally high dividend yields. Redrow doesn't — the group's forecast yield is just 2.8%. But the firm's share price has risen by 21% over the last year, compared to a gain of 10% or less for most peers. So I don't think shareholders can complain too much.
I'm going to add Redrow to the SIF Portfolio this week. I'd very much welcome your views on this choice and the housing market in general, so please share your views in the comments below.
Source:
http://www.stockopedia.com/content/sif-portfolio-dare-i-build-a-cyclical-position-with-redrow-174596/
We encourage you to Share our Reports, Analyses, Breaking News and Videos. Simply Click your Favorite Social Media Button and Share.