Good evening,
I'm just catching up on one or two things from Friday.
NetDimensions Holdings (LON:NETD)
Share price: 97.5p (up 24.2% on 3 Feb 2017)
No. shares: 51.3m
Market cap: £50.0m
(at the time of writing, I hold a long position in this share)
Proposed recommended cash offer – this company has been in play since early Oct 2016, when it told the market that it had received an unsolicited takeover approach. So there has arguably been a bid premium in the share price since then.
I reported here on 23 Dec 2016 that another update from the company seemed to give a steer that the takeover approach was likely to succeed. The phrase "advanced discussions" suggested that a deal would probably happen. That seemed to me a pretty good point to go long, for the bid.
A recommended cash offer of 100p has been announced.
The bidder is Learning Technologies (LON:LTG) – so as usual I've been checking them out, to see how likely the deal is to go ahead. LTG already has 57.15% of NETD shareholders onside. Interestingly, those commitments drop away if a competing offer of 110p+ is received. It sounded as if more than one party was originally interested, so I wonder if this might be a case like Lavendon, where multiple competing offers are tabled?
On the downside, LTG needs to complete a Placing in order to raise the bulk of the funds for the takeover of NETD. So there's a chance something could go wrong there, if it's not able to raise the funds. However, I doubt it would have launched this takeover approach without being very confident of getting the Placing away. But you never know for sure, until the money's in the bank.
Timing – the deal is expected to complete in 2 months. So there's an opportunity cost of having money tied up here, which could be deployed buying something else.
My opinion – this looks a decent outcome for NETD shareholders. Personally this is only a small position for me, so I really can't decide what to do – whether to bank most of the profit now, or hold out for the full 100p per share? There's always the possibility of a higher competing offer. However there's also the downside risk that the 100p bid could fall through – although it looks a done deal to me. It's always difficult to know how to play things when takeover bids occur.
After 5 takeover bids in my portfolio last year (HOME, LVD, AVS, SEPU, and PUB), I'm pleased that it only took 1 month and 3 days to chalk up the first one of 2017! Although to be fair, this one was pre-announced by the company in the autumn, so wasn't exactly a big surprise. Although a 24% gain once the company has already announced it's in takeover talks is pretty good going.
---
Zamano (LON:ZMNO) – just a quick note to effectively close the file on this one. Its latest trading update is saying the company's finished as is. So the Directors are looking to wind it down, and then return the cash pile to shareholders. That sounds nice, but in my experience it's extremely rare for any cash to actually get back to shareholders. More usually what happens is that some other business is reversed into the cash shell.
That's not necessarily a bad thing – there have been some spectacular spikes up in price when something perceived as sexy is reversed into a cash shell – e.g. look at Audioboom's share price in 2014, which was very exciting at the time. A few months later however, the penny dropped that it didn't seem to have a workable business model.
My opinion - I don't know how much it will cost to wind down Zamano's operating businesses, so can't really value the shares at the moment. Having been embroiled in lots of these situations in 2001-3, I tend to avoid them altogether now. Things tend to be very messy, and take longer than expected to sort out. Occasionally you can get lucky though, if the right type of reverse takeover deal does happen.
---
Johnston Press
(LON:JPR)
Share price: 17.1p (up 8.7% on Friday)
No. shares: 105.9m
Market cap: £18.1m
(At the time of writing, I hold a long position in this share)
Trading update – covering the 52 weeks to 31 Dec 2016. There's a lot of information in this update, the key parts being these;
The Board of Johnston Press confirms that trading for the 52 weeks to 31 December 2016 (subject to audit) has been broadly in line with the Board's expectations. Total revenues1 (after the benefit of the i newspaper) were down 6%.

After a period of difficult trading in the summer prompted by Brexit-related uncertainty, trading improved in Q4 as a result of both strategic initiatives implemented during H1 2016 and signs of improving business confidence.

Q4 total revenues1 were up 1% compared to the equivalent quarter last year, driven by a strong performance from the i as well as other key titles such as The Yorkshire Post. This compares to a 5% decline in Q3, in the immediate aftermath of the Brexit vote.
Great care is needed when considering these figures, as the acquisition of the "i" newspaper is heavily flattering a much worse underlying trend. So the figures quoted above are NOT on a life-for-like basis. You have to go to the end of the statement to see the data excluding the acquisition of the "i" paper, which very clearly demonstrate that this is a business in rapid structural decline: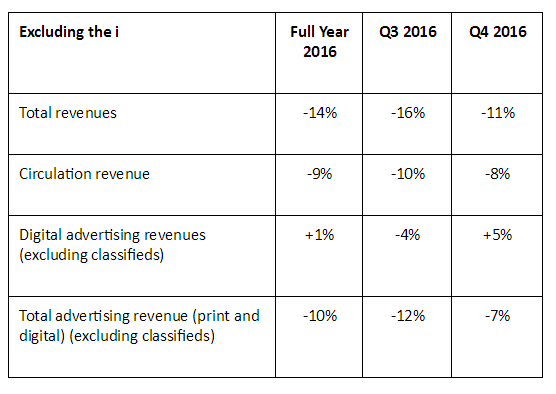 That said, the EBITDA margin of 22% is astonishingly high. It's difficult to think of another sector in terminal decline which is still so profitable! Which makes you wonder, is it actually in terminal decline? Maybe, in some revised form, there's still a future for some newspapers? I don't know the answer to that.
My opinion – this is just a small equity stub, which is worth very little compared with the debt pile. What's interesting is whether the debt (bonds) could be restructured in such a way to make the equity worth more?
Note that respected turnaround activists, Crystal Amber, has built up a 20% stake in the equity, so maybe there could be some mileage in this idea?
The debt restructuring angle is what drew me to this share as well. It's got to be seen as a high risk situation. Although the bank debt has been cleared, and there doesn't appear to be any immediate cashflow crisis – quite the opposite, the business is still churning out huge cashflows.
I wish we had a crystal ball to see how this ends. It looks fairly binary to me – without a debt restructuring the equity could end up being worth nothing. With a decent debt restructuring, we could have something very interesting on our hands.
---
Good, that's cleared the decks ready for Monday morning!
This is the plan – I'll have my work hat on for Mon-Weds inclusive, and Graham may chip in with the odd thing if he sees anything interesting.
Then I'm off on holiday for a week, so Graham is taking the reins on Thurs amp; probably Friday.
Best wishes, Paul.
(usual disclaimers apply)
Source:
http://www.stockopedia.com/content/small-cap-value-report-3-feb-2017-netd-zmno-jpr-170218/
We encourage you to Share our Reports, Analyses, Breaking News and Videos. Simply Click your Favorite Social Media Button and Share.