Good morning!
I note from the comments that one or two readers get confused about who is writing each report here, either me or Graham. I'm not sure how to say this without sounding sarcastic. The clue is that the relevant author's name, and a massive photo of their head, appears at the top of each article.
Today I intend writing about;
Focusrite (LON:TUNE) – positive trading update
Taptica International (LON:TAP) – strong results
Pebble Beach Systems (LON:PEB) – final settlement from disposal.
I've now done the above sections, but have to catch a train from London back to Hove. So I'll aim to complete the following bits later today (probably early evening):
Finsbury Food (LON:FIF) – interim results
Michelmersh Brick Holdings (LON:MBH) – 2016 results
Maintel Holdings (LON:MAI) – 2016 results
---
Focusrite
(LON:TUNE)
Share price: 215p (up 5.9% today)
No. shares: 58.1m
Market cap: £124.9m
Trading update – this company makes musical amp; audio equipment. It looks an excellent company, demonstrating consistent growth, and decent profit margins.
Its year end is 31 Aug 2017, so today's update covers H1, the 6 months to 28 Feb 2017.
The key section says;
…pleased to report that in the first half of the year good progress was made in both the Focusrite and Novation divisions and in all three reported regions, particularly in our important US market.

As a result, revenue is expected to be approximately £32.0 million for the six months ended 28 February 2017, up from £25.9 million in the same period last year. This represents an increase of around 12% on a constant currency basis.

Cash conversion was also strong during the period and as at 28 February 2017 net cash was £9.4 million, compared with £4.0 million on 29 February 2016.
The trouble is, no mention is made anywhere in the announcement about profitability. That's a glaring omisson, because the whole point of trading updates is to let the market know how a company is trading versus market expectations. In this case, we are left to assume that the "good progress" remark is, by implication, saying that progress must be at least in line with expectations.
Still, it's frustrating to have to interpret wording, when these things really should be announced in a clear, and simple way. The company should have included a line saying that it's trading in line with expectations, or above, or whatever. Why wasn't that included?
I don't think there's anything to worry about though, because the Directorspeak reinforces the positive tone;
"The business has continued to perform well in the first half of the current financial year with strong sales from our key Focusrite products globally. Additionally, sales of our Launchpad products from Novation have also shown significant growth against the comparable period. I look forward to updating investors in more detail at the time of our Interim Results announcement."
So it sounds as if everything is going well. That's been reflected in a 5.9% increase in share price today.
So we now have to look at what the brokers are doing to their forecasts, since they usually get a more accurate steer from the company than anyone else does. What a ridiculous system, but that's just the way it is.
Broker updates – we were discussing last week where I get broker reports from. My broker emails me stuff, as I'm classified as a professional investor. Also, PR companies send me them, to help with writing these reports. Plus, for speed, I also subscribe to Research Tree, which is a quick amp; easy way to look up which of the reporting brokers which make their reports available through the platform have published updates.
Edison (free to access through their own website) has put out a note today, saying that it's leaving forecasts unchanged at the moment, but that "risk to market forecasts is now to the upside" – which has always struck me as a peculiar phrase! When you see that phrase, it's often a really good time to buy a share, as it means that the company's almost certainly out-performing.
Panmure has also left its forecasts unchanged, by suggests there is "excellent scope" for the forecasts to be raised in early May, when interims are announced. It's interesting to note that their forecasts assume 15% top line growth. So the 23.6% revenue growth announced today is usefully ahead, and providing margins are strong, that should provide an operationally geared boost to profits. There is clearly a big forex boost too, as the 23.6% reported top line growth is a lot higher than the 12% constant currency figure reported.
As you can see from the Stockopedia graphic below (which is incredibly useful, and I think is worth the subscription fee alone), broker expectations have already risen a fair bit over the last 12 months, and look set to go higher again. I'm paying much more attention to broker forecast upgrades now, as it's proving a very good hunting ground for overlooked growth companies, in this bull market.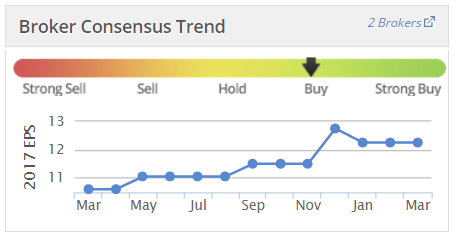 As an aside, personally I completely ignore broker recommendations amp; target prices, as they're fairly meaningless amp; unreliable. However, the narrative usually contains useful background about the company. Also, the forecasts (i.e. the numbers) are a useful starting point in predicting the future. I tend to look for situations where the broker is either being too pessimistic, or too optimistic, as that's where share price anomalies can appear. This situation looks to be one where the broker forecasts are probably now too pessimistic, so it could be a buying opportunity perhaps?
Valuation – reading between the lines, I reckon EPS this year might come out between say 13-15p. Based on the current share price of 215p, that gives a current year PER of between 14.3 and 16.5. That doesn't seem expensive to me, given the decent growth track record, and accelerating growth this year (assisted by favourable forex movements).
Given that the company also has a strong balance sheet, with decent net cash of £9.4m reported today (being 7.5% of the market cap). So there's scope for a special divi, or maybe a bolt-on acquisition, to enhance earnings.
My opinion – as you've probably gathered, I really like this company, and have written about it here before in a positive vein. My only worry is whether profits amp; growth are sustainable? The danger is that the company may not be able to keep innovating, with new products, enough to keep the competition at bay. I need to do some research on that, before buying in any size.
Although based on what I've read today, and my previous research on the numbers, I've decided to make a small initial purchase, then do some more work on it when time permits. Generally I like to scale into positions, over time, as my understanding of the company improves.
I'm keen to hear reader views on this, especially from anyone who is bearish. Considering the bear case is probably more important than hearing views that just reinforce my thinking.
---
Taptica International
(LON:TAP)
Share price: 295p (up 0.9% today)
No. shares: 60.4m
Market cap: £178.2m
Full year results – for the year ended 31 Dec 2016.
This is an Israeli company, listed on AIM. That's normally enough to make me close the tab, and move on to something else. However, it came up on one of my screens a few weeks ago, due to a series of enormous increases in broker forecasts.
The highlights can only be described as spectacularly good. I've highlighted a few things that caught my eye. Also, opinions may differ on this, but I quite like the little summary comment on the left of the numbers.
This share reminds me a lot of XLMedia (LON:XLM) – an astonishingly profitable amp; cash generative business, but that always leaves me wondering what's the catch? Other people seem to think along the same lines, as both XLM and TAP are priced sceptically by the market (i.e. a low PER, considering the growth).
TAP seems a more broadly-based mobile advertising business, whereas XLM is heavily reliant on income from promoting gambling websites (although it is also diversifying into other areas). I'm impressed with the big name clients which Taptica has on its website.
Doing a quick review of the numbers from TAP today, I can't see anything wrong with them. Everything looks fine, I'd say the profit is real, and the cashflow is also excellent. This view is reinforced by generous divis. Note that the company also paid out a special divi during 2016, a very good sign.
None of the telltale signs of aggressive, or false accounting are present, as far as I can see.
Basic EPS is up from 3.3 US cents in 2015, to 26.27 US cents in 2016, a staggering rise of 696%. Although note that Stockopedia shows expected EPS of 29 US cents this year, so the basic figure is below that. Although the difference could be the amortisation charge – brokers often reverse this out, to forecast adjusted EPS.
Outlook – this also sounds positive;
Taptica entered 2017 at a run rate significantly higher than at the equivalent period last year as it continues to benefit from the investment being made into mobile advertising by corporates and advertising agencies.

The strength of its offer lies in the Company's proprietary platform and ability to collect accurate data which enables the delivery of efficient and effective campaigns, which the Company will continue to do for all of its clients.

With consumers continuing to increase the use of apps and accessing the internet on their mobile most of the time, the Company anticipates existing clients growing their ad spend with Taptica as well as new advertisers entering this market.

The Company also expects to receive increasing demand from the Asia-Pacific region with demand from US and Europe set to continue.

As a result, the Board remains confident of delivering strong year-on-year revenue growth ahead in the year ahead.
It's worth noting that the company refers to revenue growth in the last sentence, and not profit growth. So I wonder if margins might be coming under pressure? They'e very high indeed at the moment, but is that sustainable?
Broker forecasts – I haven't got anything specific at the moment. Stockopedia shows a consensus of 32 US cents for 2017, so much slower growth is expected. A dollar is about 81p at the moment, so that converts to 25.9p. So at 295p currently, the 2017 forecast PER is 11.4 – which looks remarkably low for a company that's just demonstrated explosive profit growth.
Also, note from my favourite graph, that previous forecasts have proven wildly pessimistic. A year ago the company was forecast to deliver on 7.7 US cents profit, and has now just reported over 3 times that figure. Acquisitions may have helped, but the total number of shares in issue has not risen by much, so existing shareholders have reaped the benefit of acquisitions, instead of being heavily diluted;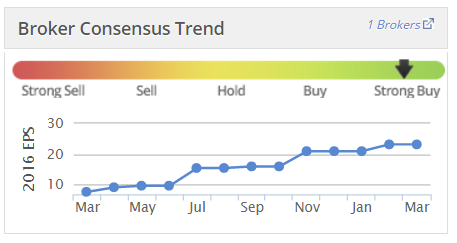 My opinion – every fibre of my being says to me don't touch this. However, the figures are just so good, that it's tempting to buy back in. As mentioned here in my report of 25 Jan 2017, I'd taken a position in it due to the remarkable rise in forecast profitability, However, I sold them late last week, as the price shot up unexpectedly. So banking a gain on a share that I was very uncomfortable holding (AIM + overseas, I usually avoid like the plague) was too tempting.
Actually, I didn't realise the company was reporting its 2016 figures today. Reading these numbers amp; positive outlook, it's very tempting to hold my nose, and buy back in.
---
Pebble Beach Systems
(LON:PEB)
Share price: 6.125p (up 2.1% today)
No. shares: 124.6m
Market cap: £7.6m
Final settlement of VCS consideration – this company (formerly Vislink) is below my usual cut-off point of £10m market cap. However, it's been an interesting situation, so is worth following up on.
It's been like pulling teeth, but it seems that agreement has finally been reached between the parties, and the deal has completed. XG seems to have used every trick in the book to wriggle out of paying in full, instead renegotiating the deal to reduce the cash payments it originally was supposed to make. This didn't come as a surprise to anyone who looked at xG's accounts, which are diabolical.
Bank situation – this deal was supposed to get rid of PEB's problem bank debt. Remember this involved selling off its entire legacy business – what was originally quite a good business, but has since gone to pot in recent years.
The trouble is, the bank situation is still looking precarious;
As a result of the receipt of $2.125 million referred to above, and the previous arrangements where part of the Deferred Consideration due from xG was settled by xG settling VCS creditors which remained with the Company, the Company has been able to reduce its net debt from £17 million to approximately £12 million.

The Board remains in regular dialogue with its bank, who remain supportive.
Generally, when people say the bank is supportive, it means that the level of debt is problematic. From my business experience (back in the 1990s), I discovered that banks can instantly become extremely unsupportive, if someone at regional office decides to over-rule the relationship manager. So good relationships with the bank are not worth tuppence.
So where are we with Pebble Beach? There was a positive-sounding RNS in Oct 2016, saying that the company had received significant new orders at a show in Sep 2016. Although looking back at the interim results, it mentions strong orders/pipeline, but lower than expected revenues in Q2. So this looks to me like it's possibly the last chance saloon for this company – it's got to produce decent full year numbers, or the bank could push for a trade sale of PEB as well.
The risk is that, if the company is forced to sell off the remaining business, that there could be nothing left for shareholders, if a sale can only be achieved at a low price.
My opinion – overall then, I think this share is way too risky to contemplate a purchase. It all hinges on what you think of Pebble Beach – is the business any good? I don't know. There's then the issue of the remaining £12m bank debt. Remember that the bank ranks ahead of shareholders, so they have to be paid off in full before shareholders get anything, in a disposal or insolvency.
The bank debt + market cap (i.e. enterprise value) is now £19.6m. So if you think Pebble Beach (a tiny software company) is worth more than that, then the share might be of interest. If you are not sure about that, then the share looks best avoided, in my view.
John Hawkins has left a trail of destruction behind him, as well as plundering this company for excessive personal remuneration during his tenture (since ended). Therefore I'm inclined to expect more bad news, rather than any upside surprises. Hence for me, this share holds no appeal at all, but considerable risk.
---
OK, I have to stop now (12:53), as I need to get back to Hove by train (from London), well before rush hour. I'll try to finish this report later today, once I'm back home.
Regards, Paul.
Source:
http://www.stockopedia.com/content/small-cap-value-report-mon-20-mar-2017-tune-tap-pebl-fif-mbh-mai-176435/
We encourage you to Share our Reports, Analyses, Breaking News and Videos. Simply Click your Favorite Social Media Button and Share.