Good morning!
It's just me writing today, as Graham's having a day off.
---
Revolution Bars
(LON:RBG)
(at the time of writing, I hold a long position in this share)
Meeting - I was lucky enough to attend a meeting yesterday with the CEO amp; CFO of Revolution Bars. Management ran us through a similar set of slides to the ones on their website here.
I was tremendously impressed with management – my impression was of serious, competent managers. Strategy is very clear, and they seem to be executing well.
Here are the points I jotted down;
Premium bars + casual dining – so quite differentiated from competition.
Roll-out is gaining real momentum.
Plan is to achieve double-digit sales amp; earnings growth each year.
High ROI of 38% on new sites, which is sustainable.
Relatively small number (66) of large sites – so they can manage sites very intensively.
At IPO the plan was to open 4 new sites p.a.. This has now increased to 6 new sites p.a..
Pipeline of new sites has grown to 26 sites – very confident can do 6 in FY2018 and FY2019. These are at various stages of planning – which can be a lengthy process. So growth in next 2 years is guaranteed, due to new sites pipeline.
H1 EBITDA grew by 13.6%, vs. revenue growth of 12.7%.
Higher depreciation charge, due to new sites opened.
Expecting profit growth in H2, due to new sites + LFL growth from existing sites.
Strong cash conversion.
Dividend increased 10%. Scope to be more aggressive with dividends in the future.
Revolution amp; Revolucion de Cuba brands have pricing power, due to premium products, high quality fit-outs, nice ambience, and entertainment (e.g. live music on busy nights).
Key area of procurement is wet sales. Have supply contracts to 2019, giving protection against cost price inflation from weak sterling.
We are a "lighthouse" operator – i.e. premium drinks brands want their products amp; brands on display behind the bar, which helps when negotiating cost prices.
Living wage – not seen as a significant problem, as many staff are under 25, and those above 25 tend to be in managerial roles, so are already earning above living wage.
Staffing costs steady at 22.9% of revenues.
New sites – are over-staffed to begin with, to ensure high customer service. Then efficiencies can be achieved once everyone is trained amp; experienced.
European Union staff – not stated what the proportion is, but key staff (managers) are nearly all British. They see Brexit as "no big issue" for the business.
Business rates – there will be an impact, of £0.6m p.a. extra cost from April 2017 onwards. Already budgeted for. Only have 5 units in London, hence why impact is not worse.
Rents on new units are very competitive, which is offsetting upward rent reviews for existing units.
Keeping older units updated, so always fresh, with maintenance capex.
All 4 new sites this year are doing really well. Not seen any cannibalisation of business from operating 2 brands in same town – e.g. Reading. Different demographic – de Cuba attracts 30′s mainly, whereas Revolution attracts 20′s.
Roll-out is being done very carefully, so not making any mistakes (which can be costly due to long leases).
Not had any site that hasn't worked in the last 5 years.
Rent is 7% of revenues, which is extremely low – industry average is about double that.
New sites typically come with about 1 year rent-free period, which is spread over the term of the lease through the Pamp;L.
New Rev de Cuba site in Reading was given as an example. Site was empty for 4 years, at asking rent of £180k. Deal eventually done to take it at just £90k rent (I am staggered at this, as it's a huge amp; busy bar, so it must be an absolute gold mine!)
Customer dwell time is very good – as people come in for drinks, then eat, then stay for more drinks amp; entertainment.
No other chain is doing this business model. Closest competitors are independents.
Sites are refreshed (.e. refurbished) every 4-5 years, to keep standards high.
Proud of being a good employer – in Sunday Times list of best employers for last 9 years.
Franchising – question asked had they considered this? Had been approached, and it's something they might do longer term, but internationally, not in UK.
Market size – easily 100 Revolution, and 50 Revolucion de Cuba – so scope for the business to more than double.
History – 3 or 4 years ago the brand was repositioned, and £10m spent on refurbishing the existing estate. Some non-optimum sites (e.g. wrong layout, not enough kitchen space, etc), were hived off, outside the group.
Profit concentration – I asked (prompted by a reader comment here, thanks for that by the way) whether there was still a high concentration of profits – something like 86% of EBITDA generated by the top 25-ish sites, was in the IPO document. They said that figure has since fallen, due to successful new site openings.
Planning consents – a key competitive advantage - this company applies for A4 usage (enabling them to operate as a full bar), which is a lengthy amp; difficult process. Hence why new site pipeline is so long. Rent is not paid until the new units are occupied. Many competitors don't go to this length, and instead have A3 use – restaurants – which restricts opening hours amp; size of the bar area, thus limiting their turnover.
Smaller sites in affluent areas have been tried, and work well. This gives scope to open in more locations.
Larger sites are better, as they achieve economies of scale.
Dedicated new site opening team – they've just opened 4 sites in 3 months, so working well.
Expansion creates a buzz amongst staff, and gives opportunities for internal career progression.
Feedback from customers is vital – over 900 feedback forms are received each week. Plus Trip Advisor is monitored closely, and social media.
Tough market but have maintained c.2% LFL sales growth, at steady profit margins.
Biggest selling product are cocktails.
New vodka supplier – Ketel – a premium USA brand, very popular there. Fixed price for 2 years, slightly cheaper than previous main brand used.
All products are premium , e.g. cocktails. No regular brand of beers are sold. So think Peroni instead (yum!). Key differentiator.
Significant pre-bookings for drinks. Each site has a dedicated sales manager. Customers are increasingly pre-booking for large groups, parties, etc.
Cocktails are difficult to make at home – and lots of staff training required. So less competition from off licence sales amp; people drinking at home, which is more of a threat to regular pubs amp; wine bars.
Revolution does everything well – e.g. each new site they spend £27k just on ice machines! Cost of fit-outs (c. £1m each) creates barriers to entry.
Typically £8-9 per drink (for cocktails), so when price increases are necessary, then adding say 5-10p is less noticeable to customers than when a pub puts 5-10p on the price of a pint.
Food – is profitable. Small plates are popular. All freshly made. Increasing number of specials.
There is scope to increase food sales – this will be a key area to drive future LFL sales growth.
An app is being developed, to enable customers to order amp; pay for drinks (fantastic idea!), which will be combined with a loyalty scheme. Will be tested this year, and launched later. Will be unique. (I think this is a wonderful idea, and should also drive LFL sales).
Digital marketing – incredibly important. Very high level of Facebook likes, a long way ahead of the competition. So can communicate much better with customers.
Possibility of acquiring groups of new sites, and gradually converting them. Although nothing actively being planned on this, but opportunities may arise.
More sites in London being sought – only have 5 at the moment: Leadenhall, Clapham, Battersea, Richmond (and 1 other that I missed). A suitable site in Putney is being sought.
Bank facility has been increased to £10m, it's a RCF. Very cheap interest rate.
FD (Chris Chambers) is leaving – this unsettled the market when announced recently. He was asked why he's leaving, at this meeting. He explained that when he had taken the job, he understood it would be a North-West based role. However, in reality it has involved a lot of travel around the country, and often very long hours. Having 2 young children, he was unhappy with work/life balance, so raised the issue with the CEO. They both felt it was best for him to step down now, rather than stringing it out. It was abundantly clear at the meeting that this is an entirely amicable parting of ways, with nothing untoward underlying it. I thought the FD (Chris Chambers) is excellent, and he clearly has an excellent grip on things, reeling off facts amp; figures in this meeting. So it's a great pity he's leaving. Let's hope his replacement is as good. The key takeaway for investors, is that there's nothing to be concerned about with regards to the FD leaving. He wouldn't have even been at this meeting, if there was. Also the dynamic between the CEO amp; FD was excellent – there's clearly mutual respect there, and they clearly work well together.
The StockRank is OK, but not spectacular;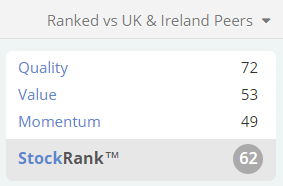 My opinion – I came out of this meeting absolutely thrilled to bits (which can be dangerous! Hopefully not so in this case). I think the CEO is excellent – clearly a very safe pair of hands – experienced, clear-thinking, and very much on top of his brief. The outgoing FD is excellent too – pity he's leaving – more on that below.
This business is quite obviously the wrong price, in my view. The forward PER is only just over 10, which is just the wrong price for a successful, self-funded, net debt free, roll out. I think a more appropriate PER would be at least 15, so there's a fairly easy 50% upside available on this share in my opinion.
I think the missing link is a lack of private investor interest. This often happens with new floats. The shares are placed with institutions, leaving a gaping hole where an active private investor shareholder base should be. That takes time to build up, and needs to be actively encouraged by the company amp; its advisers. I can't see any evidence that the company or its advisers are even aware of this issue, let alone doing anything about it.
So I strongly encourage the company to get out amp; about, and give some presentations to private investors, as well as to the city. This is a terrific business, and very modestly priced. Clearly under-priced actually. So generating some private investor interest is the vital next step to the shares re-rating.
I think the company is a sitting duck for a takeover bid too. I'd be gutted if someone came along and tried to buy it for say 260-270p, as I think the business would be worth much more than that in say 5 years' time – which is my intended holding period. By that time it should be a much bigger business, and probably on a higher rating too – so the opportunity here is ideal, as shareholders should hopefully benefit from the double benefit of higher earnings amp; a higher PER. Combine the two, and you get lovely upside.
It's very rare to find a decent growth company on such an astonishing cheap rating. Even more so when you consider that it also has a bulletproof balance sheet with nil net debt. The valuation just doesn't make sense at all to me. Perhaps I've missed something negative, of vital importance? But I can't for the life of me think what it might be. If you can think of anything, then please post a comment below. I always like to consider the bear view on stocks I hold. I'm probably going to buy even more of these shares (it's already my 2nd largest long position), but am having trouble deciding what to sell, to raise the money.
---
Sorry, I'm not getting any further with this at the moment. Will pop out for a while, then revisit it once I've recharged my brain with some fresh air. Further update this evening, I'll Tweet out when it's done.
Paul.
Source:
http://www.stockopedia.com/content/small-cap-value-report-thu-2-mar-2017-rbg-ind-173858/
We encourage you to Share our Reports, Analyses, Breaking News and Videos. Simply Click your Favorite Social Media Button and Share.