Good morning!
Today I intend reviewing the following;
Begbies Traynor (LON:BEG) – trading update
Redstoneconnect (LON:REDS) – trading update
Cambria Automobiles (LON:CAMB) – trading update
XLMedia (LON:XLM) – results
Lakehouse (LON:LAKE) – trading update amp; moving to AIM
The above is likely to take me most of the afternoon, so please refresh this page later for the full report.
Market amp; strategy update
The market's love affair with growth stocks continues unabated. Value investing hasn't worked very well at all for me, in the last 3 or 4 years. So I adapted my approach in 2015, and further again in 2016, to focus more on growth companies. Not speculative or blue sky rubbish, but proper growth companies – i.e. things that are already profitable (or close to it), and expanding fast, organically.
Specifically, I'm now focused quite tightly on these particular niches;
High quality roll-outs at reasonable prices (e.g. Revolution Bars (LON:RBG) , Fulham Shore (LON:FUL) and Patisserie Holdings (LON:CAKE) – which I think are the best ones on the UK market currently, all 3 of which I hold personally)
Internet-based businesses which are genuine disrupters of existing sectors, and have exponential organic growth potential (examples include Purplebricks (LON:PURP) , Gear4Music (G4M), MySale (LON:MYSL) , possibly Proactis Holdings (LON:PHD) might partially fall into this category, even little BOTB too – all of which I hold).
Anything else which is demonstrating strong organic growth, and crucially is beating broker forecasts. I've set up a terrific Stockopedia screen to identify companies which are receiving broker forecast upgrades, and it's working very well. This is a really good way of identifying companies which are most likely to beat expectations at results time – i.e. ones which have already been guiding analysts upwards before results.
It's worked tremendously well, as you can see from my fantasy portfolio. which has risen over 137% since a recent low, in July 2016. Not bad in 8 months. I was discussing this the other day, with my stockbroker, and it's easy to get carried away in a roaring bull market like this. You can end up getting over-confident, and thinking that you're a genius, when actually practically everything is rising, and you just happen to be getting carried along in a big bull market.
Also, I'm haunted by what happened to me in 2007-9 – when a combination of hubris, plus gearing up on illiquid stocks, meant that my portfolio at the time completely collapsed. It's the gearing amp; illiquidity combined which is the killer when markets do turn bearish. Hence why I've decided to take my foot of the gas a bit, and reduce my gearing now, when the good times are still rolling. I won't be making those same mistakes again, that's for sure. Learning the hard way is sometimes a good thing, long term.
The trouble with hunting for low PER, high divi yield stocks (traditional value investing), is that all too often you end up buying rubbish, declining companies, which then disappoint against expectations, and cut their divis.
---
Begbies Traynor
(LON:BEG)
Share price: 49.9p (up 0.8% today)
No. shares: 127.3m
Market cap: £63.5m
(at the time of writing, I hold a long position in this share)
Q3 trading update – this covers Nov, Dec, and Jan (since the company has an end-April year end). After a series of acquisitions, Begbies is now a combination of an insolvency practitioner business, and also property services companies. I had a fascinating discussion with Executive Chairman, Ric Traynor here, in Oct 2016.
Expectations are unchanged, so this is an in line update:
Our expectations for the year as a whole remain unchanged. We have seen an improvement in activity levels in our insolvency business in the third quarter, as anticipated at the time of our half year results which we reported in December 2016.

This leaves us well placed for a strong last quarter albeit our work in progress in both the insolvency and property services businesses includes a number of engagements with fees contingent upon completion prior to the year end.
The last sentence is a little worrying. Trouble is, no indication is given for how significant these contingent fees may be, and whether they are included within expectations or not. I hope this isn't preparing the ground for a possible future profit warning?
My opinion – trading has been fairly stable here for a while now, and the company has a good track record of paying decent divis.
I like the counter-cyclical nature of this business, so it should hopefully provide some portfolio protection against a downturn in the economy. Smaller retailers in particular are having a very rough time, and estate agencies is another problematic sector, where I can foresee a lot of companies failing. So it seems to me that there should be plenty of work to keep Begbies busy.
---
Redstoneconnect
(LON:REDS)
Share price: 1.62p (up 10.2% today)
No. shares: 1,645.1m
Market cap: £26.7m
(at the time of writing, I hold a long position in this share)
Trading statement – for the year ended 31 Jan 2017.
This looks to be a positive update;
The Board is delighted with the performance of the Group in the year with trading being materially ahead of market expectations…
It would have been more helpful if the company has put a footnote in, precisely stating what they believe market expectations to be – as this is not always clear with smaller caps, and many private investors can't get hold of broker notes easily.
It does however give figures for actual performance for y/e 31 Jan 2017, which is very helpful, as follows;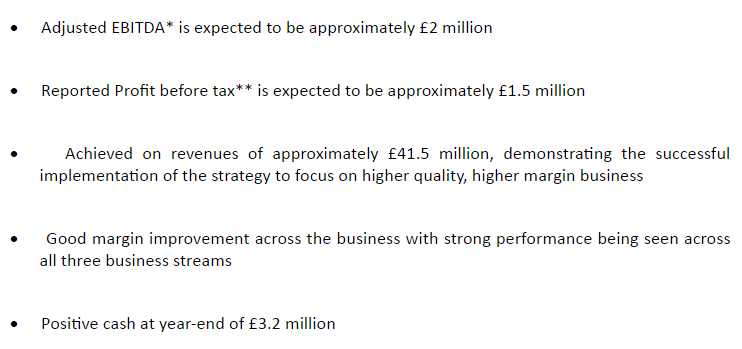 Checking back through my previous reports here, to refresh my memory, the company issued a positive update here on 9 Jan 2017. It seems to be the case that, very often companies which start reporting positive news, carry on doing so.
Outlook comments today also sound positive;
Strong order book underpinning medium term growth expectations… Our sales pipeline appears strong and, combined with our solid recurring revenue stream, provides support and confidence in the outlook for the Company.
I'll wait to see what the full figures look like. They're due to be published on 25 April 2017.
My opinion – I took a modest opening size position in this company a little while ago, following a positive meeting with its relatively new CEO, and its FD.
I like the established relationships it has with big name clients. Innovative products amp; services sound intriguing. Overall, it's a company I look forward to getting to know better over time. I'm not yet confident enough to increase my existing position in the company, but might do if I like the results due to be announced on 25 April.
Work-in-progress. Please update this page later this afternoon, as I'm still working on this report.
Source:
http://www.stockopedia.com/content/small-cap-value-report-tue-7-mar-2017-beg-reds-camb-xlm-lake-174398/
We encourage you to Share our Reports, Analyses, Breaking News and Videos. Simply Click your Favorite Social Media Button and Share.