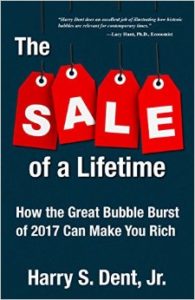 BarroMetrics Views: The Sale – S&P in Bubble?
I received a couple of emails challenging my assertion that the S&P is in a bubble. Rather than write a couple of blogs about my reasons, let me refer you to Dent's excellent book pictured above.
In The Sale, Dent not only provides seven guiding principles for identifying bubbles, but he also sets the four cycles he uses for making his predictions (Figure 1).
This is a must read book for any trader-investor.
Dent's view is we'll see a major bust late 2015, early 2016 that will accelerate throughout the rest of 2016 into early 2018.
With that idea, I now disagree. I say 'now' because it wasn't too long that I'd have agreed.
But, I have taken the view that Trump has changed market sentiment enough to upset the cycles. Postpone, for how long? I'm not sure, but it would have to be long enough to produce the disappointment necessary to reverse the bullish sentiment. So, it's have to be a postponement for at least a year, perhaps two.
Just how bullish this sentiment is can be seen from today's HK FT headlines where the 300-odd point rise in the DJIA was attributed to the belief that the FED will raise rates(!!??). It wasn't long ago that the pundits were attributing every pull-back to a rate rise.
I wonder what they'll say if we do see a rate rise in March (still unlikely in my book) and stocks dip? For me, clues of a bubble are when all news is seen through the lens of a rising market. We are seeing that at the moment.
My strategy remains, 'long or out'. If long, reduce position size, use trailing stops and allow large slippage stop fills.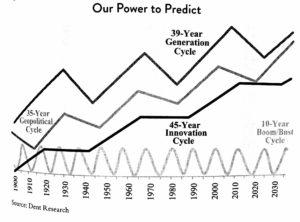 FIGURE 1 Dent Cycles
The post The Sale – S&P in Bubble? appeared first on Ray Barros' Blog for Trading Success.
Source:
http://www.tradingsuccess.com/blog/sale-sp-bubble-4660.html
We encourage you to Share our Reports, Analyses, Breaking News and Videos. Simply Click your Favorite Social Media Button and Share.