This week I'm going to take a look at news from SIF portfolio stock Redrow, as well as the wider housing sector. After a week of insider selling, is the tide about to change?
But before I delve into the murky world of UK housing, I'd like to flag up a ShareSoc investor seminar in Leeds next week, at 5.30pm on 19 September.
This event is free for anyone to attend and the venue is only five minutes' walk from Leeds station. The following companies will be presenting, after which there will be a buffet and drinks, with a chance to chat to directors:
I've been to several ShareSoc seminars in Leeds and would recommend them. The presentations are interesting and it's rare for small investors to get a chance to chat freely with company directors.
The event will be hosted by ShareSoc director and respected private investor David Stredder, so you'll also get a chance to chat with him. These events aren't viable without a certain level of attendance, so they're worth supporting. For more details and to register, go to: https://www.sharesoc.org/events/sharesoc-growth-company-seminar-leeds-19-september-2017/
Straws in the wind?
Let's get back to business. Stockopedia currently ranks most of the big UK housebuilders as Super Stocks. They've certainly been excellent investments in recent years. But I'm becoming increasingly concerned that this situation may soon start to change. My concerns haven't been helped by a wave of insider selling.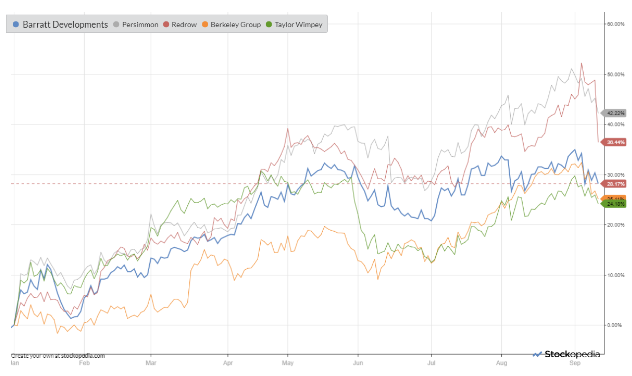 Housebuilders have performed well this year, but is progress faltering?
The latest firm to hit the headlines is Redrow, which is a SIF portfolio stock. Last week saw the shares bounce higher after a record set of full-year results. Pre-tax profit rose by 26%, and the order book ended the year up by 14% at £1.1bn, a new record.
However, these gains were reversed when the stock closed down by 9% on Tuesday. The trigger for this sharp drop was the news that two entities associated with company founder Steve Morgan had sold about 7% of his holding in the firm, collecting around £153m.
Mr Morgan remains the largest shareholder, with a stake of about 33%. According to the placing announcement, the proceeds will be used to diversify his investment portfolio.
That's fair enough. After selling out of the firm in 2000, Mr Morgan took back control of the business in 2009. He's successfully turned it around and is now planning to step back to a non-executive director role this year. So taking some money off the table makes sense.
But the timing of this stock sale is interesting. The founders of Irish housebuilder Cairn Homes also sold €26m of shares on Tuesday. Just last week, Berkeley Group Holdings founder and chairman Tony Pidgley sold shares worth £26m. At the same time, a person associated with Berkeley's chief executive, Robert Perrins, sold shares worth £18m.
Pidgeley and Morgan are both self-made men who have built large companies from scratch over several decades. They have a reputation for good market timing. So are we approaching the market peak for housing stocks?
One classic signal that a stock's valuation may have peaked comes when excellent results are met with a falling share price. That's happened to Berkeley and Barratt Developments over the last week.
I'm not suggesting that the market is about to collapse. But I do believe that it might be worth taking a closer look at these stocks. Are warning signals emerging from the financial data?
Nothing obvious
All four of the companies which qualify for 10 or more GuruScreens are housebuilders. Persimmon, Redrow, Taylor Wimpey and Berkeley also boast StockRanks of 97 or higher. All four have a StockRank Style of Super Stock.
So if problems are showing up in the data, they must still be quite subtle.
One approach I find useful sometimes is to focus on the change in a company's StockRank over a period of time, rather than the rank itself. Housebuilding stocks were on a tear until May this year, since when performance has been more mixed.
So have the StockRanks changed since April? Not really. Although the individual QVM ranks have shifted slightly, I can't see any obvious pattern of change. However, I have identified one potentially worrying trend.
A peak valuation signal?
What are housebuilders worth? They buy land, build houses, and then sell them. Profits come from the mark-up on the cost of building the house, and from maximising the value you add to the land by building on it.
A simple proxy for the market's view on a housebuilder's build-out value is its price/book ratio: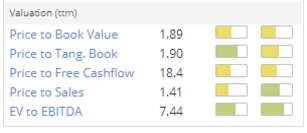 During the financial crisis, you could buy housebuilders at a discount to their book value. It was a good trade, because today they trade at a big premium to book value.
In some cases, this premium has risen sharply over the last year, especially since April:
| | | | |
| --- | --- | --- | --- |
| Company | P/B @ 4 Sept 2016 | P/B @ 1 April 2017 | P/B @ 12 Sept 2017 |
| Persimmon | 2.45 | 2.58 | 2.91 |
| Redrow | 1.56 | 1.72 | 1.89 |
| Taylor Wimpey | 2.07 | 2.18 | 2.31 |
| Berkeley | 2.08 | 2.25 | 2.29 |
| Barratt Developments | 1.34 | 1.38 | 1.42 |
(The difference between each company's figures is mostly a reflection of the varying levels of return on capital employed they generate. What matters, in my view, is the rate of change of each company's own P/B ratio.)
All of these stocks are valued at a bigger premium to book value than they were one year ago. This may partly be as a result of the rebound which followed the Brexit vote. But by April this year, I think everyone knew that housing sales had remained buoyant following the referendum. So the increase in P/B since April suggests the market has priced in additional house price growth over the next few years.
Is this realistic? I've no idea. But in my opinion, a high price/book ratio for a housebuilder is the equivalent of a high price/sales ratio for a loss-making internet stock like Purplebricks. As the ratio goes higher, the risks of investing increase.
Putting this in perspective
I'm not suggesting that housebuilders are the speculative equivalent of Purplebricks. Building houses is a government-subsidised business that's hugely profitable and pays generous dividends. I'd much rather own housebuilding stocks than Purplebricks.
However, the stock market is usually a leading indicator of the real economy. Factors such as the future of Help to Buy and falling secondhand house sales could become significant. I expect housebuilders' share prices to turn south before new home sales start to slow. In my view, rising price/book ratios are a sign that valuations may be getting a little warm.
How does this affect the SIF portfolio? The Redrow holding isn't due to be reviewed or sold until December. So the portfolio will stay exposed to the housing market for a little while longer yet.
Disclosure: Roland owns shares of Redrow.
Source:
http://www.stockopedia.com/content/stock-in-focus-can-housebuilders-keep-super-stock-status-as-insiders-sell-218213/
We encourage you to Share our Reports, Analyses, Breaking News and Videos. Simply Click your Favorite Social Media Button and Share.