Hi, it's Paul here.
I'm not convinced that the recent US market volatility is over yet. So personally I'm braced for potentially another lurch down at some point.
To get you started today, I've added a new section on the profit warning issued by Gattaca (LON:GATC) to yesterday's article, here.
Fresh forecasts for GATC have just come through this morning, from commissioned research company, Equity Development. The beauty of commissioned research is that it's freely available online to investors – very important now that MiFID has bug***ed up my access to other research notes. As with all broker notes, I ignore the recommendation and price targets. However, it's very helpful to get the best guess from a capable analyst. I've updated yesterday's report to include the revised forecasts. Given its poor track record of repeatedly missing forecasts, I think it's wise to factor in an additional level of caution with the latest forecasts.
On to today's news;
OnTheBeach – just a quick mention in passing, as it's now too big to cover here (market cap of c.£654m). There's an in line with expectations update today from the company, which reads very well. This online travel company (mainly UK) is remarkably profitable, and growing nicely. International expansion is underway, albeit at an early stage. I'm kicking myself for selling this one far too early, and think it might even be worth revisiting at the current, higher price. The valuation is far from aggressive, considering it's turning out to be very successful. They're clearly doing something right. I should own this one, but don't.
---
Revolution Bars
(LON:RBG)
Share price: 162.5p (unchanged today)
No. shares: 50.0m
Market cap: £81.3m
(I hold a long position in this share)
A new CEO has been appointed, Rob Pitcher – a very appropriate name for a bars operator. The RNS today gives a few details of his track record, which is 25 years in the hospitality sector. I'm very pleased the company has appointed someone with lots of industry expertise, and not a financial engineer. I just hope they don't offer him a ridiculously generous "incentives" package. Such arrangements seem totally discredited in my eyes, particularly after the obscene payouts for Persimmon (LON:PSN) management, who just happened to be in the right place at the right time.
I see that Mr Pitcher's most recent job was Divisional Director Restaurants at Mitchells amp; Butlers (LON:MAB) – this is interesting, because I feel that there's a relatively easy win to be had at RBG, by revamping its lamentable food offering. Even the old CEO mentioned at a meeting that there is potentially good profit growth to be had from improving the food offering.
I do on-site research regularly with this company, and am impressed every time with the friendly amp; well-trained, knowledgeable staff, at various branches I visit. The cocktail menu has been slimmed down, and is now much better in my view – excessive number of options is too confusing. So less is more I feel. Food needs to be sorted out next.
Overall, I remain strongly bullish on this stock. Why is it priced at 162p when a competitor tried to buy it last year at 203p cash, but was rebuffed? The valuation just looks wrong to me, and I think an exit at c.240p is the most likely outcome. Recent trading has been good, and the bars sector is enjoying strong consumer demand, much to many people's surprise.
---
Escher LON:ESCH
Share price: 185p (up 21.4% today)
No. shares: 18.8m
Market cap: £34.8m
Recommended cash offer at 185p
Matthew Peacock's Hanover investment vehicle has agreed with management to take the company private at 185p cash per share. That's not a great premium – only 21% above yesterday's close.
Irrevocable acceptances (including Hanover's stake) are only 45.38% at the moment – suggesting that this is not necessarily a done deal. Bidders usually have to get 75%+ in order for force through a deal.
In my view this is a good opportunity for shareholders to grab a clean exit. This company is too small, its performance too erratic, and liquidity in its share too poor, to justify it being listed on a stock market. For these reasons, I would accept the offer if I held this share.
The danger is that Hanover could get nasty if they end up with some acceptances, but not enough. Look at what happened at Interquest (LON:ITQ) – when unscrupulous Directors were rebuffed in a low-ball bid, they've since tried to find a way to undermine minority shareholders and take it private by the backdoor. I see a similar risk here.
---
Seeing Machines
(LON:SEE)
Share price: 5.6p (down 0.9% today)
No. shares: 2,240.4m
Market cap: £125.5m
(I no longer hold a long position in this share)
Seeing Machines Limited (AIM: SEE) ("Seeing Machines" or the "Company"), an industry leader in computer vision technologies which enable machines to see, understand and assist people, is today publishing a Fleet, Rail and Off-Road Update for the period ending 31 December 2017.
The company has a 30 June 2018 year end, so is today reporting on H1.
Seeing Machines' Group trading for the current financial year remains in line with expectations.
That might sound OK at first glance, but the trouble is that forecasts are for the company to lose money heavily this year: A$25.5m net loss, on A$39.9m revenues. Note that both these numbers are very much worse than forecasts a year ago.
Revenue is forecast to more than double to A$80.7m next year. Based on past performance, I imagine that forecast might be revised down heavily at some point.
Fleet total contract value ("TCV") signed with customers, but not yet delivered nor recognised as revenue, has increased from A$21.5 million at 30 June 2017 to A$36.4 million at 31 December 2017 …

The Company expects to report Group revenue for the six months to 31 December 2017 in excess of A$14 million (unaudited).
So if H1 delivers at least A$14m revenues, that means H2 needs to achieve A$26m revenues – a big increase. It's not clear over what period that order book will be delivered.
Funding – a big equity raise has been completed recently;
The Company successfully raised £35m through a placing with institutional investors announced in December 2017 and a further £2.4 million through an offer to existing shareholders.

These proceeds will enable further investment in the ongoing development of the FOVIO driver monitoring platform technology and continued product improvement across all industry verticals to scale the Company's global footprint and meet increased customer demand.
That's a decent lump of cash, which means that losses can be funded for the time being.
My opinion – as regulars here will know, I've always liked the potential for this company's technology. However, a couple of recent quite bearish comments from the excellent tech analyst at Cantors, Kevin Ashton, have been a bit of a wake-up call for me. He pointed out that, in the one sector where SEE has achieved decent sales (big trucks for the mining sector), it probably didn't produce an economic profit, once we take into account years of expenditure on product development.
Bulls in this stock like to believe that there could be massive upside from adoption by mass-market applications, e.g. trucks, coaches, and cars. That could happen, but the question is over what timescales?
Overall, I've decided that the market cap is probably too high for something that, for years, has been jam tomorrow. It's well-funded for now, but I think the probabilities might be leaning towards a profit warning at some point later this year. The forecasts look too aggressive, and that could mean disappointment to come. Or it might not, they might land huge orders. The key point is that I have no idea what is going to happen, hence it's impossible to accurately value this share.
---
I was too tired to write any more on Thursday, so am now writing the rest of this report on Friday morning.
Dillistone (LON:DSG)
Share price: 76p (up strongly on 8 Feb 2018)
No.shares: 19.7m
Market cap: £15.0m
(at the time of writing, I hold a long position in this share)
The Board of Dillistone Group Plc, the AIM quoted supplier of software for the international recruitment industry through its Dillistone Systems, Voyager Software and GatedTalent divisions, is pleased to provide an update on trading.
This relates to the financial year ended 31 Dec 2017.
Key points from today's update;
H2 better than H1
Dillistone Systems amp; Voyager divisions both profitable – however the start-up venture of Gated Talent was pre-revenue, so will have (not disclosed) losses in 2017
Gated Talent – strong orders, ahead of expectations, but revenues not quantified
This bit drove a sharp upward share price movement yesterday;
… operating profits for 2017 will be considerably better than current market expectations of 200,000 of operating profit, prior to acquisition related items and any adjustment related to the previously announced contract termination.
Hooray, great to see a company commenting on market expectations, together with quantifying it. Investors need this information in all trading updates, post MiFID II.
The house broker has increased its operating profit forecast from £200k to £300k. It has left 2018 forecasts unchanged at £200k, and £0.54m for2019.
Gated Talent – this sounds an interesting new product, but I am rather wary that the company has now twice said that it is "too early to say" what response rates are like. That suggests to me that response rates (from candidates) have possibly been low!
My opinion – I'll take a look at the figures, when they're published in late April 2018 – which seems very late for 2017 results.
I picked up a small position in Dec 2017, but am reluctant to buy more until there is more clarity on how material Gated Talent is likely to be. The existing business is only marginally profitable, so I think the current price already factors in some upside from GT.
Also please note that this share can be very illiquid. The previously generous dividends have stopped, I seem to remember – due to the loss of a large amp; profitable client.
Overall, I'm happy to keep a toe in the water here, but will wait to see what the figures look like before deciding whether to buy more, or to ditch them.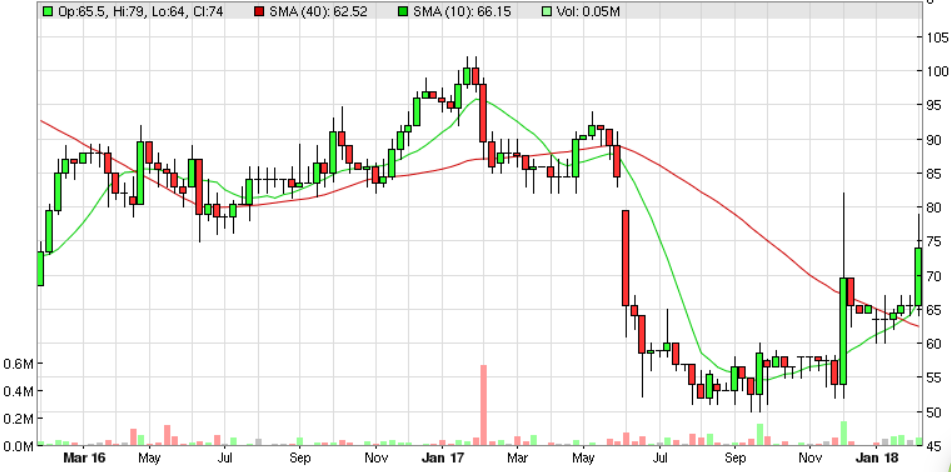 ---
DFS Furniture
(LON:DFS)
Share price: 196.8m
No. shares: 211.66m
Market cap: £416,5m
Half year trading update – covering the 6 months to 31 Jan 2018. This is a furniture retailer.
I like the summary at the start of the announcement, which says;
On-plan trading performance despite continued challenging market conditions

Strategic development continues with strong online channel performance and five new DFS showrooms opened

Expectations for full-year financial performance remain unchanged
The only thing missing is a footnote to explain what expectations are for the full year.
Sales look rather soft. Once the acquisition of Sofology is excluded, gross sales fell by 3.5% in H1, versus H1 prior year. However that includes online growth, and I think also includes the 5 new showrooms, so it's not a LFL figure. This implies that store LFLs are probably well below -3.5%, hence why the company is coy about disclosing the figure directly.
H2 outlook – seems to be improving;
With the like-for-like trading momentum for the Group strengthening during the first half of the financial year, we continue to expect the second half of the financial year to demonstrate a stronger year-on-year gross sales trend than the first half.
We don't usually like H2-weighted trading comments here at SCVR, so this is a risk factor.
Acquisitions – note that the company bought Sofology, and MultiYork (when it went bust last year).
Outlook – a bit more detail here;
We recognise that the living room furniture retail market is likely to remain challenging in 2018, given current consumer confidence levels.

However, with the benefits of strategic investments feeding through, our expectations for the full year are unchanged.

We continue to expect modest growth in EBITDA in the 2018 financial year (excluding the impact of acquisitions), driven by the annualisation of product margin and operating cost efficiencies over the second half of the financial year.
Forex might be starting to help now, with sterling having recovered somewhat against the dollar, possibly?
Balance sheet – this is the elephant in the room – DFS has a dreadful balance sheet. Here are some stats;
NAV £245.1m – sounds fine, until you realise that includes £491.8m intangibles. Remove that, and you arrive at negative NTAV of -£246.7m.
Working capital is poor, with a current ratio of only 0.69
Long term creditors are large, at £274.8m, which includes £198.8m in interest-bearing debt.
Overall then, this company fails my balance sheet testing by a considerable margin. It's totally reliant on bank support, which is fine in the good times, but may not be quite so fine in a recession, or a future credit crunch. So it looks precarious to me.
Dividends – given this weak financial structure, I'm astonished at how generous the company's dividends have been, even including special divis funded from debt effectively. This is not prudent at all, and I think the high dividend yield here should be regarded as unreliable – the divis would certainly have to be cancelled in a downturn.
My opinion – the debt laden balance sheet makes the PER look low, but once you properly adjust for debt, the PER is not low. Divis look unsafe. It looks a good company, but with a terrible financial structure, which makes it uninvestable for me.
This share would probably make a good short, if credit conditions tighten up at some point in the future. Not only would it suffer reduced profits, but also its bank debt could well prove problematic. In the good times though, these things arguably don't really matter.
---
Creightons
(LON:CRL)
Share price: 25p
No. shares: 60.6m
Market cap: £15.2m
Trading update (profit warning)
Creightons plc is engaged in the development, marketing and manufacture of toiletries and fragrances.
Bad luck to shareholders here, as the company has run into some operational problems;
The board of Creightons plc has undertaken a review of this year's performance to date and concluded that sales growth for the year is expected to remain positive at approximately 12%, driven by an increased demand in all divisions of the business; owned brands, contract manufacturing and private label.
That sounds quite good actually, as sales were up 7% at the interim stage. There's no problem with customer demand.
Much of this growth in sales has arisen from significant and unexpectedly higher order intake in the last few months. This has resulted in demand out-pacing capacities in our factories ahead of planned expansion in manufacturing capacities. Therefore, to ensure consistent and uninterrupted supply to our customers the group has outsourced supply of some branded products lines. This has impacted upon the profit margins of these lines.
Whilst disappointing, this is actually quite a good quality problem to have. In time, production capacity can be increased, so this looks to me like a temporary, fixable problem – which is the best type of profit warning to have, if you must have one.
Therefore, the board has concluded that the full year profit before tax is likely to be marginally lower than last year. Profit after tax will also be impacted by the first full year of full corporation tax charges on profits.
The Corporation Tax was already known, so no issue there.
Last year the company made £1,489k PBT, so a similar figure looks likely for this year – hardly a disaster.
Forecasts – I can't find any broker research on this. Perhaps the company should consider producing commissioned research, to keep its investors informed?
Last year saw 1.88p diluted EPS, on what looks like a fairly normal Pamp;L tax charge. So maybe this year might be heading for, say 1.75p? At 25p per share, that's a current year PER of about 14.3. That's probably about right for now.
My opinion – I like the balance sheet here, which looks solid. Today's warning isn't a disaster by any means, and should be temporary, fixable problems. For that reason, I'm feeling quite positive about this share. Providing no more problems emerge, then I could see this share recovering somewhat from the heavy recent falls. So if you like the company already, then this setback could possibly be a buying opportunity?
The best thing is that there appears to be decent customer demand. Quite an interesting company, and possibly a buying opportunity, if production problems are fixed. Although it doesn't strike me as amazingly cheap.
There's more detail in the RNS, which I haven't covered above. Outlook comments sound quite upbeat.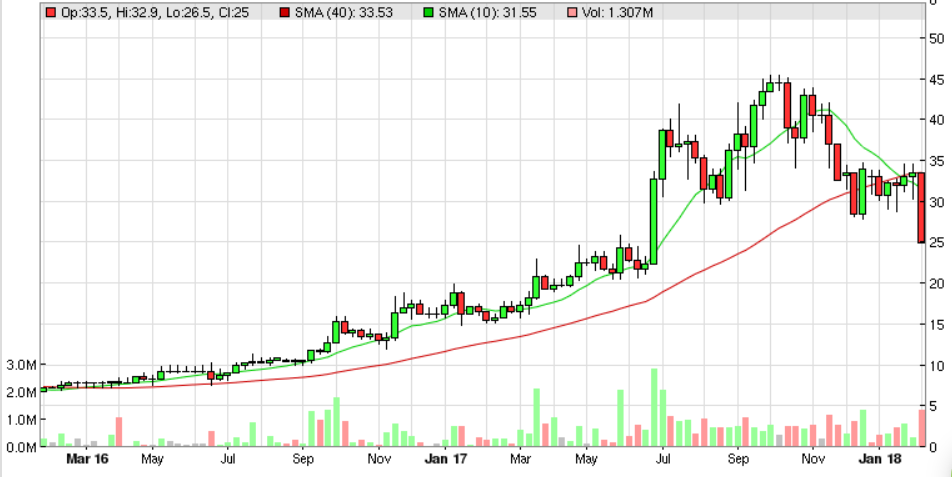 ---
I didn't get round to looking at Elektron Technology (LON:EKT) in the end, sorry about that.
Have a lovely weekend!
Regards, Paul.
Source:
https://www.stockopedia.com/content/small-cap-value-report-thu-8-feb-2018-otb-rbg-esch-see-dsg-dfs-crl-312173/
We encourage you to Share our Reports, Analyses, Breaking News and Videos. Simply Click your Favorite Social Media Button and Share.