Hi, it's Paul here!
I've got a lot of preparation to do for this Saturday's UK Investor Show. So please forgive me if this week's SCVRs are a little shorter than usual.
I'll get started with a couple of reader suggestions;
Flowtech Fluidpower (LON:FLO)
Filta Group (LON:FLTA)
---
Flowtech Fluidpower
(LON:FLO)
Share price: 174.25p (up 0.6% today)
No. shares: 56.4m
Market cap: £98.3m
AIM listed specialist technical fluid power products supplier Flowtech Fluidpower plc (LSE: symbol FLO), is pleased to announce the following unaudited update on its performance for the three months ended 31 March 2018 and to the period up to this announcement:
Strong revenue growth, but mainly from acquisitions.
Q1 revenues £26.5m (up 51.4% on prior year, which is slightly different to the 49.7% increase mentioned below, I'm not sure what the discrepancy is)
Six deals seems an awful lot to do in one year;
Group revenue during the first three months of the current year increased by 49.7%, of which 6.3% was organic, with the balance representing acquisitive growth from the six deals completed in the past twelve months.
Selling prices increased from 1 April 2018 – should boost Q2.
Order book for project-based work is ahead of last year.
Gross margin in line with market expectations.
Net debt – has risen considerably, from £5.5m a year ago, to £18.4m at 31 Mar 2018.
Placing – note that £5.2m additional cash was received shortly after the end of Q1, so we can adjust net debt to £13.2m.
Most recent acquisition is going well.
Results for y/e 31 Dec 2017- unusually, FLO has issued its Q1 update in a separate RNS to its 2017 results.
At first sight, these figures don't look madly exciting. EPS fell, from 10.17p in 2016, to 9.69p in 2017. The company doesn't seem to disclose an underlying EPS figure though. Looking at a broker note, the adjusted EPS for 2017 is given as 14.9p. Why didn't the company mention this figure in its results statement? That seems a glaring omission.
Underlying profit rose 21.9% to £9.08m, which the company says is in line with market expectations.
Dividends totalling 5.78p are in line with the forecast shown on the StockReport. This gives a yield of 3.3% – and growing by about 5% p.a..
Balance sheet – my general concern with acquisition-driven growth, is that it usually causes the balance sheet to become top-heavy with intangibles. It's very important that acquisitive groups don't let their balance sheets become too stretched. Conviviality was a recent example of the folly of aggressive acquisitions, made with an inadequate capital base.
In this case though, the balance sheet looks alright to me.
NAV: £74.9m. This includes a hefty £65.4m in goodwill amp; other intangibles. Remove those to arrive at the more conservative measure of NTAV;
NTAV: £9.5m
Current ratio: 1.32 – this is adequate, but not strong. Although note that most of the bank debt is within current liabilities, which skews the current ratio downwards. Once bank facilities are renewed, then this should drop down into long-term liabilities, thus improving the current ratio.
Searching the narrative, it looks like the bank facilities have indeed since been renewed;
On 1 March 2018, the Group entered into a restated facilities agreement with Barclays Bank plc to replace our existing facilities with a £16 million committed revolving credit facility and £4 million loan with a single "bullet" repayment at the end of a three year term. Attached rates and terms were broadly consistent with those previously enjoyed.
Debt – is probably at the top end of what I'm comfortable with. The key figure is the most recent £13.2m adjusted net debt figure mentioned above.
The nature of the business is that revenues should be reliably repeating in nature – i.e. selling lots of smallish parts to many customers. Therefore this type of business probably suits a degree of bank debt, without excessive risk. Although in a recession, I imagine a lot of customers' machinery would be idle, hence there's likely to be some cyclicality in this business.
Forecasts – there are 2 new broker notes out today (available on Research Tree). Looking at the house broker, it forecasts adjusted EPS of 16.0p for 2018. That equates to a PER of 10.9.
I can't reconcile the narrative of the broker note with its figures, but let's assume that the 16.0p adjusted EPS figure is correct.
My opinion – I like it. This seems a decent collection of businesses, which generate a respectable operating profit margin.
The downside is that you have acquisition risk – acquisition-fuelled growth often goes wrong, especially when too much debt is incurred. Management here seem to be avoiding the pitfall of excessive debt. Although integrating 6 companies in one year seems a very heavy workload, and might have left some loose ends, maybe? Also it's worth checking the terms of any deferred consideration relating to acquisitions – earn-outs can change, and incur additional liabilities sometimes.
Overall though, I think the PER of only 10.9 seems excellent value. It seems a genuinely profitable amp; cash generative group of niche businesses. So it gets a thumbs up from me.
Stockopedia likes it too, with the computers assigning it a "Super Stock" style, and a high StockRank. It gives me more confidence to invest in a share I rate highly, if the StockRank is also good;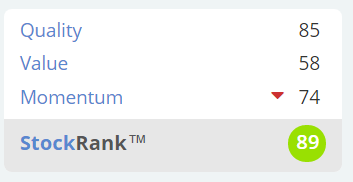 ---
Filta Group
(LON:FLTA)
Share price: 196p (up 1.6% today, at 12:10)
No. shares: 27.1m
Market cap: £53.1m
Full year audited results – for the year ended 31 Dec 2017.
Filta operates principally in North America, the UK, and now Germany, providing a range of commercial kitchen related services through franchise networks and Company-owned operations.
This company floated on AIM in Nov 2016. I'm not familiar with it, but have heard one or two good investors speak favourably about the company. Graham wrote about FLTA here 3 times last year, so I'm going to read his reports now to bring me up to speed.
Revenue from continuing operations up by 36% to £11.5m
Adjusted EBITDA up 77% to £2.1m on continuing operations.
Tax – as the bulk of operations are in the USA, it should benefit from reduced corporate tax.
Outlook – more growth in the pipeline;
We saw growth in all our core businesses in 2017 and this has continued into 2018. We have secured 4 new franchisees, allocated 6 further territories and added 10 MFU's in the year to date, all of which will contribute to additional revenues from Fryer Management Services through the year.

Our FiltaSeal activity in the first quarter was 8% up on the same period last year and the newly formed FiltaGMG is continuing to gain new clients, thus increasing the repeat revenue base.

With the additional business that we expect to derive from our new European operations and the encouraging progress in Canada, your Board is therefore confident of achieving further growth through the remainder of the year.
Balance sheet – looks fairly decent. Although note that the £4.0m cash has mostly come from advance payments – see the opposite deferred income creditors of £533k and £2,405k.
My opinion – sorry, but I just can't motivate myself to plough through the rest of the numbers amp; narrative. It looks a potentially interesting growth company, but the market cap of £53.1m strikes me as being up with (or ahead of?) events.
The shares have had a great run since listing in late 2016, but I'm not interested in getting involved at this valuation;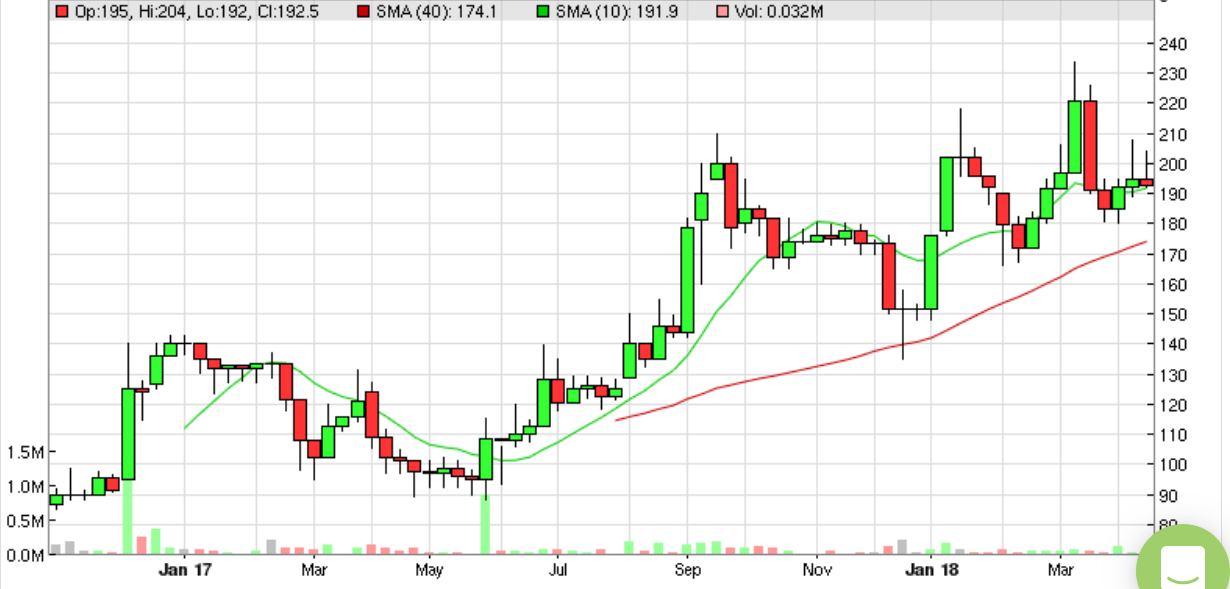 ---
Porvair
(LON:PRV)
Share price: 482p (down 1.5% today, at 13:00)
No. shares: 45.64m
Market cap: £220.0m
Porvair plc ("Porvair" or "the Group"), the specialist filtration and environmental technology group, will make the following trading update today at its Annual General Meeting:
The company has a 30 November year end date, so reports today on the 4 months to 31 March 2018;
Porvair has made a good start to 2018 achieving revenue growth of 9% in the four months ended 31 March 2018.
Profits for the period are in line with management's expectations.
Order books are healthy.
That sounds good.
Brief updates on previous acquisitions are given.
My opinion – nice business, but the shares are too expensive.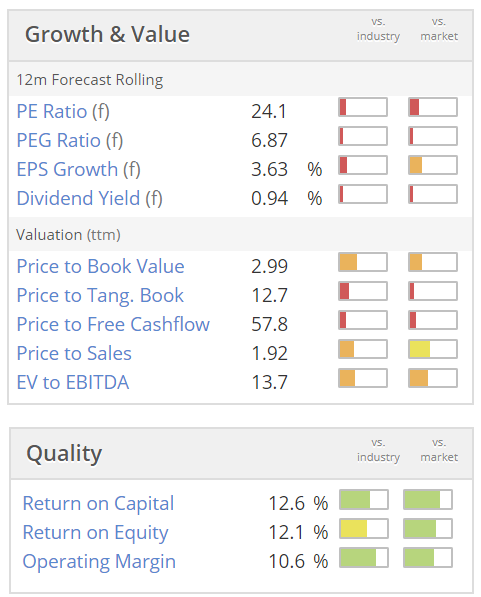 (work-in-progress)
Source:
https://www.stockopedia.com/content/small-cap-value-report-tue-17-apr-2018-flo-flta-prv-353863/
We encourage you to Share our Reports, Analyses, Breaking News and Videos. Simply Click your Favorite Social Media Button and Share.