Good morning, it's Paul here.
To get you started today, I added some more sections to Tuesday's report in the evening – the full report is here. It covers updates from: Cenkos, Sprue Aegis, Gear4Music, Zytronic, Patisserie Valerie, Accrol, and Lookers.
---
Timing of these reports
I'd like to respond to a critical reader comment yesterday, which I think was a bit of a misunderstanding.
So this is just to clarify, re timing of these reports. We asked readers a while back whether they wanted a report out every day at a certain time (e.g. 1pm), or whether they were happy for me amp; Graham to take our time, and go into more detail. Much to my surprise, the reaction from readers was overwhelmingly that you are happy with us taking our time, and that people would rather see more detail amp; thought going into the articles, than us rushing to meet a deadline. So that's what we do.
People also need to bear in mind that (by far) my main living is from my own investment portfolio – capital gains, and dividends. So to a certain extent, these reports are a sideline, or a by-product of what I spend most of my time doing – researching individual companies, reading broker notes, etc.
There's a lot of background reading, fact checking amp; thought that goes into each report, each day. That takes time, and sometimes after a very intense 6 hours work from 7am, I'm mentally drained by lunchtime. So I tend to down tools, and have a long lunch, then resume working later in the afternoon, and often going right through into the evening. I finished yesterday's report after 10pm, for example.
As a reader pointed out in yesterday's comments, these reports are free to everyone, and are not part of the Stockopedia subscription. Therefore, whatever arrangements that Stockopedia amp; I have re remuneration, are nobody else's business really.
---
Sosandar
(LON:SOS)
Share price: 16.5p (up 7.5% today, at 08:35)
No. shares: 106.8m
Market cap: £17.6m
(at the time of writing, I hold a long position in this share)
Sosandar is an online women's fashion brand – targeted at the under-served 35-55 year old demographic, who still want fashionable clothing. It's an early stage (hence loss-making) company, having only started trading in autumn 2016.
The company's previous updates have justifiably been criticised for too much waffle, but not enough facts amp; figures. Today's update seems much better;
Revenue for y/e 31 March 2018: no less than £1.34m
Like-for-like revenues for the 6 months to 31 March 2018: up 268% – impressive, but this is based on the prior year's start-up numbers
Record monthly revenues achieved in March 2018 – this is good going, because seasonality would normally mean that March is a much softer month than December
Substantial momentum has continued into the new year (April amp; May-to-date 2018)
Successful marketing campaigns – perhaps surprisingly, direct mail has performed best. Maybe this is because of the older demographic?
Significant improvement in gross margin – up from 37.8% last year to 49.3% this year, due to stock being ordered in larger quantities, and more sales being achieved at full price. I'm impressed that such a small business is capable of generating a decent gross margin. This should rise in time, to perhaps 55-60%, I reckon.
Returns rate is said to be at industry average, but strikes me as too high, at 44.8%. It would be good to see initiatives to reduce the returns rate.
Repeat orders are good – this is a very important point, and is encouraging. The ideal scenario is to build a loyal customer base, not chase after one-off sales.
Average order size of £94.18 is much higher than the fast fashion youth market, e.g. Boohoo.Com (LON:BOO)
Customer database of 54,196 is only scratching the surface of the potential UK market. Being online, of course the market size is potentially global.
Record sales achieved in March 2018, and then beaten by a further 32% growth in April 2018.
No comment is made about full year market expectations, which is a pity.
My opinion – this is one of the highest risk shares in my portfolio, hence it won't appeal to many readers. Are the shares good value? No – they're very expensive, considering how early stage the company is, and loss-making. However, for me it's all about backing management (who I think are superb).
Management came across very well at the UK Investor Show, both in a presentation which I attended, and on their stand, which attracted a lot of interest from investors. Mind you, there wasn't a lot else to see on the company stands – c.90% of which were complete dross in my view! (junior resources sector junk, basically). Still, the rubbish companies pay for the event, and do fund some excellent main stage speakers.
In my view this is likely to be a much bigger business in several years' time. I cannot predict what the share price will do, so decided to just take a fairly big stake (relative to my portfolio) and then do nothing. Providing the growth remains strong, then I'm happy to hold indefinitely.
If the growth stalls, then I'll lose most of my money. If things go well, then this could easily be a 10-bagger, or more, looking forward several years. So it's high risk, high potential reward.
The cash position is not mentioned today, which I think is another omission. Investors do notice these things, so it's not clever to avoid mentioning stuff that investors want to know. There should be enough cash in the bank to get the company through to maybe mid-2020, by my rough calculations. So cash burn isn't an issue for the time being. They planned heavy cash burn in 2018 amp; 2019, to grow the business.
I think Sosandar has clearly demonstrated already that it has an excellent market position – serving an overlooked niche. The fashion magazine background of its founders gives it remarkable marketing amp; PR reach, with many celebrity endorsements, TV and magazine coverage. This is key. Thinking back to BooHoo's development, it was their clever marketing (using bloggers amp; vloggers, as influencers of their target market) which catapaulted them into the big league. Sosandar is doing something similar, but with an older demographic.
I really like the fact that Sosandar is not chasing the overcrowded youth, fast fashion market, but is instead going for a much more affluent customer, with little direct competition.
So far so good. I think the share price is expensive for now, but I'm optimistic that the company should grow into the valuation over the medium to long term.
The Stockopedia computers remind us that it's high risk, with a "Sucker Stock" classification, and a terrible StockRank! (se below). I should point out though, that the company has not yet published any meaningful full year figures since listing, so the Stockopedia computers haven't actually got any sensible data to work on yet. The system is very negative on early stage companies in general – which makes sense, as the disappointment/failure rate is so high.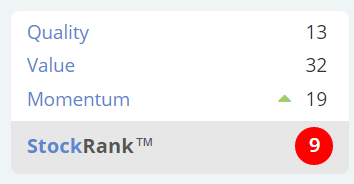 ---
BOTB (LON:BOTB)
Share price: 218p (unchanged today, at 09:44)
No. shares: 10.07m
Market cap: £22.0m
(at the time of writing, I hold a long position in this share)
Best of the Best PLC, (LSE: BOTB) the organiser of weekly competitions to win dream cars and other luxury prizes…
We all know it from the airports. However the business has since transitioned mainly online;
The Board is also pleased to report that revenue attributable to online sales continues to grow in accordance with the Company's stated strategy to move away from physical sites at airports and retail locations…
Trading seems to be going OK;
… trading for the 12 months ended 30 April 2018 has been encouraging, with profit before tax comfortably in line with management's expectations.
What does "comfortably in line" mean?! I assume it must mean slightly ahead.
The product offering has been enhanced recently, which I noticed from the company's regular emails to me. I imagine that its email list is likely to be hurt by GDPR. Although if non-players are deleted from its database, does that really matter?
To complement the well-established weekly Dream Car competition and to appeal to a wider audience, the Company has enhanced its weekly Lifestyle competition to include an extended range of watches, motorbikes and other items such as exclusive bicycles, water craft, consumer technology items and luxury holidays.
My opinion – I really like the long-term track record of this company, and hence that it's a trusted brand. That could potentially have a value much greater than the current market cap. Hence I'm hopeful that, at some stage, shareholders might have a bumper payday on an agreed takeover bid (it would have to be agreed, as management have such large personal shareholdings).
Management are very approachable, and are trustworthy, having treated minority shareholders well – e.g. Director remuneration is not excessive, and the company has been very generous with dividends, including several bumper special divis in recent years.
Growth has been rather lacklustre in recent years, hence why the share de-rated from a growth company, to a more pedestrian rating for an online business.
If management can find a way to turbocharge the growth, then the shares could have big upside. As things stand though, the forward PER of about 20 looks about right. I think GDPR could force many companies to think of novel ways of connecting with customers amp; potential customers.
The shares are very thinly traded, and the wide bid-offer spread discourages transactions. So this is very much a lobster pot share. I'm happy to hold for the foreseeable future. I've had spread bets running on this share for nearly 3 years. The special divis have been excellent, which I'm fairly sure would have funded my cost of carry over that timeframe. Although my average buy price was 223p, so am a little underwater on the Pamp;L. Never mind. As Lord Lee says, investing is about 2 things – common sense, and patience. I'm perfectly happy to be very patient with this one, as it's not the sort of share you can nip in amp; out of. So let's hope I'm right about the common sense bit too!
(insert chart here)
Right, I'll move on to some more liquid shares now. Obviously each working day, I look first at companies in which I have a personal holding, as I'm sure everyone else does too.
---
LoopUp
(LON:LOOP)
Share price: 458p (up 5.3% today, at 10:10)
No. shares: 42.23m
Market cap: £193.4m
Proposed acquisition amp; placing
LoopUp provides cloud-based conference calling software, which has numerous advantages over conventional offerings. The product is superb, I've tried it.
This is a noteworthy acquisition because it is classified as a reverse takeover – the acquiree being larger than the acquirer. As Jim Slater mentions in his excellent book, "Return To Go", which I mentioned earlier this week here, when your shares reach a very rich rating in a bull market, it makes sense to take advantage of that by issuing new shares for cash, and buying decent/cheap assets with that cash.
LoopUp is buying MeetingZone Group, another conferencing services provider, for £61.4m.
Placing – at 400p, to raise £50.0m
Bank loan – a new £17m term loan from Bank of Ireland (which will not initially be drawn)
Product transitioning – this bit really worries me. The plan seems to be to migrate MeetingZone's customers over to the LoopUp platform, if I have understood the RNS correctly. Surely that is fraught with risk? Customers often don't like being transitioned. Remember when Morningstar bought Hemscott? They moved subscribers over to their new platform, which was absolute rubbish, and a massive step backwards from the excellent Hemscott platform. So I cancelled my subscription.
So my worry with LoopUp is that a certain percentage of MeetingZone's customers might not want to be transitioned. That could undermine the whole point of the acquisition, and possibly negate anticipated cost synergies.
My opinion – for me, this share is one that "got away". I was keen on it soon after it floated, but then panic sold at about 150p when Amazon launched a competing service. As it turns out, the Amazon service doesn't seem to have made any inroads whatsoever into LoopUp's offering.
I'm not interested in revisiting it at the now sky-high valuation.
It is worth pointing out that, in this bull market, institutions are going crazy for recurring revenue SaaS type software/communications companies. The market seems to be happy to look through short term losses, and instead value these businesses on very racy valuations. There is also private equity activity in this area. Note that Cloudcall (LON:CALL) shares (in which I have a long position) have benefited from this trend, and could have further to go, I reckon. It's nice to see that one finally coming good.
Indeed, I've looked at the group accounts for Warwick Holdco Ltd ("WHL"), which is the top group company of MeetingZone, and it appears to be PE backed – since it has massive balance sheet debt, in order to leverage the investment and avoid corporation tax.
I was concerned that WHL might be capitalising a lot of development spending, hence the EBITDA figure mentioned in today's RNS could be inflated. Although WHL's accounts show it as loss-making, this is caused by a large goodwill amortisation charge of £4.1m p.a. Once you add that back, it does seem to be genuinely profitable. Also, it only capitalised £243k in development costs in 03/2017 (the most recent published accounts at Companies House), with most development spending of £604k being expensed in the year.
Also note that the huge interest charges in WHL's historic accounts will disappear, because the PE debt will have been eliminated – the company is being acquired on a cash/debt-free basis.
All in all, LoopUp looks an interesting situation, but it's way too expensive for me to want to revisit it.
Source:
https://www.stockopedia.com/content/small-cap-value-report-wed-16-may-2018-sos-botb-loop-mosb-sdy-364139/
We encourage you to Share our Reports, Analyses, Breaking News and Videos. Simply Click your Favorite Social Media Button and Share.