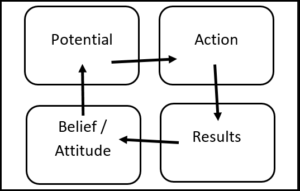 Through the courtesy of www.sourcesofinsight.com/potential-starts-beliefs
I was watching a video from Marisa Murgatroyd. She coined an interesting phrase 'your possibility bar': what you believe you can achieve in any field of endeavour marks the level to which you'll rise.
But, I think the picture above covers the ground more adequately. Belief is important, but even more so are the actions you take and the course correction you make based on those results.
How about 'talent' (potential)?
I see that as the least important provided, you are suffering from physical handicaps, e.g. being 5 foot would be a difficult barrier to overcome in the NBA.
Anders Ericson and others have shown that Deliberative Practice overcomes lesser potential. And, perhaps in trading more than any other field, if you are willing to put in the right practice, you'll join the winning 10%. The key question is whether you are willing to put in the right kind of time, effort, and yes, money.
So my questions to you:
Are you among the losing 90%?
If you are, are you willing to do what it takes to join the winning 10%? In short are you willing to take the steps in the diagram above?
If you are, success is within your grasp; if you aren't, you are better off giving up trading.
Do you agree or disagree?
The post Belief and Success appeared first on Ray Barros' Blog for Trading Success.
Source:
http://www.tradingsuccess.com/blog/belief-and-success-6042.html
We encourage you to Share our Reports, Analyses, Breaking News and Videos. Simply Click your Favorite Social Media Button and Share.