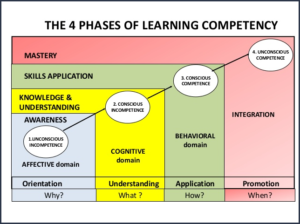 How to become a consciously competent trader?
One answer is to apply Ericson's Deliberative Process:
Identify a goal.
Break the goal down into a series of steps
Execute each step, one step at a time.
After execution, observe the results
Change what is not working, i.e. take a different step but maintain the same goal
Loop 4 & 5 until the results lead to the main goal
Take the next step
Repeat the process until the goal is achieved.
The process is a mouthful but relatively simple. Why then aren't more traders competent?
The answer lies in the way non-improvers frame 'losses'.
No one likes losing money. But, improvers frame them differently to non-improvers. The latter see losses as 'failures' – as if somehow the losses pass judgement on our worth as human beings. Perhaps 'failure' raised the self-limiting beliefs ingrained at childhood.
Improvers see losses as perhaps painful but also as the means to improving. Losses are part of the game. As traders, we accept the truth of the statement. Our job is to eliminate the large losses. To paraphrase Ned Davis
"We are in the business of (losing money)'. The only difference between the winners and the losers is the winners make small (losses), while the losers make big (losses)".
So my questions to you:
Do you keep an equity and psych journal? (The source for our learning)
Do you religiously schedule a review of your trades – both the losing and the winning?
Do you change what you are doing to find ways to reduce the average$loss and increase the average$win?
The answers to those questions will tell you whether:
you are committed to succeeding as a trader – you are willing to do whatever it takes – OR
merely wishing to succeed – doing only what is within your comfort zone.
Source:
http://www.tradingsuccess.com/blog/stepping-stones-to-conscious-trading-competence-6151.html
We encourage you to Share our Reports, Analyses, Breaking News and Videos. Simply Click your Favorite Social Media Button and Share.