Russian S-300 & S-400

missile batteries will halt Turkish

airstrikes. Syria vows to 'down Turkish planes,' activates superior air defenses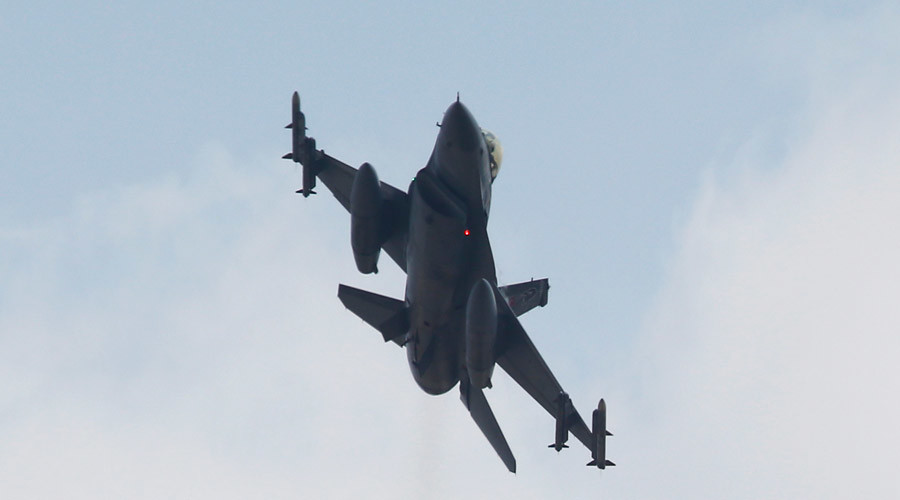 A Turkish F-16 fighter jet © Murad Sezer / Reuters
Turkish jets have reportedly not taken part in the Euphrates Shield operation in neighboring Syria for a week now over the fears of being shot down by local air defenses after Damascus promised to prevent any aerial incursions.
Ankara halted air support for its ground incursion into Syria on October 22, after Damascus vowed to shoot down Turkish Air Force planes over Syrian skies, a Turkish told the Hürriyet Daily News on condition of anonymity. The official added that the coalition forces have also decreased the number of flights in northern Syria.
Syria's air defense capabilities have been widely boosted after Russia deployed its mobile S-400 and S-300 missile batteries earlier this year to protect its personnel on the ground. Russian hardware has the ability to shoot down planes and cruise missiles over at least 250 miles (402km) in all directions from western Syria.
Two days before Turkey halted its military flights over Syria, Damascus, which called the Turkish invasion a violation of national sovereignty, warned that it would shoot down any Turkish warplanes.
"Any attempt to once again breach Syrian airspace by Turkish warplanes will be dealt with and they will be brought down by all means available," warned Damascus on October 20. The presence of Turkish troops in Syria is a "dangerous escalation and flagrant breach of Syria's sovereignty"
Editor note: The blatent war crimes purportrated by the Cabal with the USA as it's main military force, will soon be put to the test. Very soon the wars against inferior and oftentimes defenseless coutries will be over as real oposition has arrived.
Good Bye American exceptionalism- your days are indeed numbered.
How is it that you do not discern the Sign of The Times.
If any man loves this present dark world run by Satan, including the things in it, the love of Christ is not with that individual.
We are to set our affections or desires on Heavenly Blessings (1 John 2:15; Col 3:2).
The present Spiritual condition of the earth is dismal at best.
Far too many people walk in darkness while pretending to be in the light.
They do not care to know the true state of affairs and basically see what they want to see.
When the majority of your time, treasures and talents are invested in this present evil world, it is impossible to say that you live for Christ.
You can't claim to want to be delivered from evil, while participating in self delusion in order to protect and justify your own selfish desires, which is evil.
God is not partner to those who are apathetic towards iniquity.
Below we list just a snippet of the wickedness that so often is ignored as a result of a carnal mind which is enmity against God.
If you are too fearful to engage in individual thought, you do not discern the Sign of The Times.
Group-think is completely irrational albeit a popular alternative mindset that does provide the deluded person with a false sense of security and community. However it leads to dysfunctional life decisions, as opposing viewpoints are suppressed at all costs. This mental dysfunction is carried out in order to try and justify a desired set of beliefs, no matter how ungrounded they may be.
Wars are controlled by a handful of demonic elites for their own personal gain, at the expense of the rest of this planet, and yet people support the military even though millions are murdered and tortured in the name of freedom, democracy and truth.
If you tolerate a terrorist regime, (think the USA war machine and its Cabal controlled puppets) in order to maintain a materialistic life style at the expense of others, you do not discern the Sign of The Times.
Our so-called civilization is largely populated by unwitting slaves. They have been programmed and brainwashed through television, governments, central bankers, and most learning institutions. These are all controlled by this same demonic elite class. Incredibly their lies are accepted as the truth, and wrong is perceived as right in a world gone mad.
Our food and water supplies are poisoned with deadly additives, pesticides, radiation, chemical contamination and neurotoxins. When you are oblivious to the intentional destruction of this planet, you do not discern the Sign of The Times.
Our currency is fictitious without any real store of value and is diluted to the point that it will soon completely collapse, and become worth less. When you believe your stocks, bonds and bank account balances represent real wealth, you do not discern the Sign of The Times.
When you ignorantly accept a medical system that robs you while it is killing you, you do not discern the Sign of The Times.
Our medical system kills thousands and maims countless more with deadly drugs. The pharmaceutical whores even tell the users of the life threatening possible side effects including death, and yet their products still are taken by countless thousands.
Multitudes are diagnosed with depression anxiety and the like and are heavily sedated walking around in a zombie like stupor.
Millions take or are forced to take vaccines, most of which are either unnecessary, unproven to be effective, or totally unsafe. Far too often they contain mercury or aluminum adjuvants that are known to be neurotoxins and related to autism and other serious mental disorders.
We have taxation without representation, and massive corruption at every level of government. And because of the 501c3 hoax the church is quiet, not wanting to jeopardize their tax write offs.
You do not discern the Sign of The Times – It Is High time To Wake Up
A textbook example of the blindness and corresponding manipulation of the masses is the 9-11 tragedy. This horrific and obvious murder of innocent citizens was approved by and subsequently covered up by their appointed wicked and unaccountable leaders.
This obvious inside job had clearly defined goals including a much needed excuse to usher in a police state. The pretense in which to fight terror was actually an unlawfully sanctioned rape, pillage and plunder of the resources of many countries.
The true terrorists are now able to murder at home and abroad, all done in the name of freedom and democracy.
You can't make this stuff up. When you accept and even applaud pure evil, you do not discern the Sign of The Times.
Simply unbelievable is the madness in this so called civilized world.
The above worldly conditions are presented to exhibit an interesting correlation.
Those who typically accept the pre-tribulation rapture or pre-salvation theory as fact, usually are also oblivious to most of the wickedness and deception that surrounds them.
If you cannot comprehend the obvious that you can see, how then can you discern spiritual things? You do not discern the Sign of The Times, only because the spirit of Christ is not within you.
Do you love this world with all of its wickedness?
How can you accept as being good or partake in a system that murders, steals and practices lies at home and abroad with impunity?
You believe in and practice lies if you follow cunning fables that make you feel good, trust in riches, or are blind to suffering and evil. When you do not have the word of truth, you do not discern the Sign of The Times.
This is iniquity, and the practice and participation in it has deadly consequences.
1 Pet 2:9 But ye are a chosen generation, a royal priesthood, an holy nation, a peculiar people; that ye should shew forth the praises of him who hath called you out of darkness into his marvellous light:
We are not to partake in this darkness, but rather expose it for what it is. Our duty is to shine the light of Jesus so that others may come to this light.
Does the world see you as peculiar or set apart, or do you blend in well like a chameleon changing with every situation.
Mark 13:22 For a false Christ and a false prophet shall rise, and shall shew signs and wonders, to seduce, if it were possible, even (the chosen or) the elect.
The satanic deception during this period will be so great and with such lying wonders that if it were possible even God's own would be deceived. If Christians are taken away before the tribulation, then is it even remotely possible that the deceived ungodly masses could be referred to as the elect?
We encourage you to Share our Reports, Analyses, Breaking News and Videos. Simply Click your Favorite Social Media Button and Share.