Ships off Singapore
An intricate game of cat and mouse may be occurring in the waters of Asia, one which has led to the recent collisions between United States Navy guided-missile destroyers and foreign vessels.
On 16 June 2017, the USS Fitzgerald guided-missile destroyer collided with the container ship ACX Crystal just south of Japan. Seven sailors lost their lives in the incident.
https://www.youtube.com/watch/XfZlbSZqxqk
https://www.youtube.com/watch/1BS4fYGct5A
On 21 August 2017, the USS McCain guided-missile destroyer collided with the Liberian-flagged oil tanker Alnic MC near the entrance to the Strait of Malacca, one of the world's busiest shipping lanes. The collision killed 10 sailors and injured five others.
A recent report in the Times UK chronicled how foreign vessels are turning off their AIS trackers (going dark) while in terror zones, raising questions about the actual cargo each vessel might be carrying. The article specifically focused on the Singapore shipping lanes, and suggested the usual list of illegal items like drugs, weapons, humans and black market fuel. It should be noted that the action of turning off a ship's AIS tracker is illegal, but who is there to stop this global issue?
What if this same game of 'going dark' is being played out in the waters of Asia, and then you add in the possibility of a more deadly cargo like nuclear material for making a dirty bomb. With so much material housed at the Fukushima clean-up site plus other known sources around the world, finding and buying the components to create a nuclear dirty bomb has become easier than ever for enemies of the United States.
That would be a definite reason for the United States Navy to be sending single ships out into the busy shipping lanes, looking for radiation traces on any of the passing vessels. While new technologies are being tested, the older methods would require the Navy ship to maneuver very close to the vessel in question.
https://www.youtube.com/watch/6LtV3i0QAco
Using the cover of their recent maneuvers in the waters of Asia, the Navy ships could be working a specific search pattern, watching and scanning to locate vessels giving off radiation traces.
https://www.youtube.com/embed/MiNUUrSJZF8
Then, in recent days, images of the U.S. Navy attack submarine USS Jimmy Carter's triumphant return from a special mission began making the Internet rounds. What might they have been doing in the waters of Asia? Were they totally focused on North Korea or after a different target?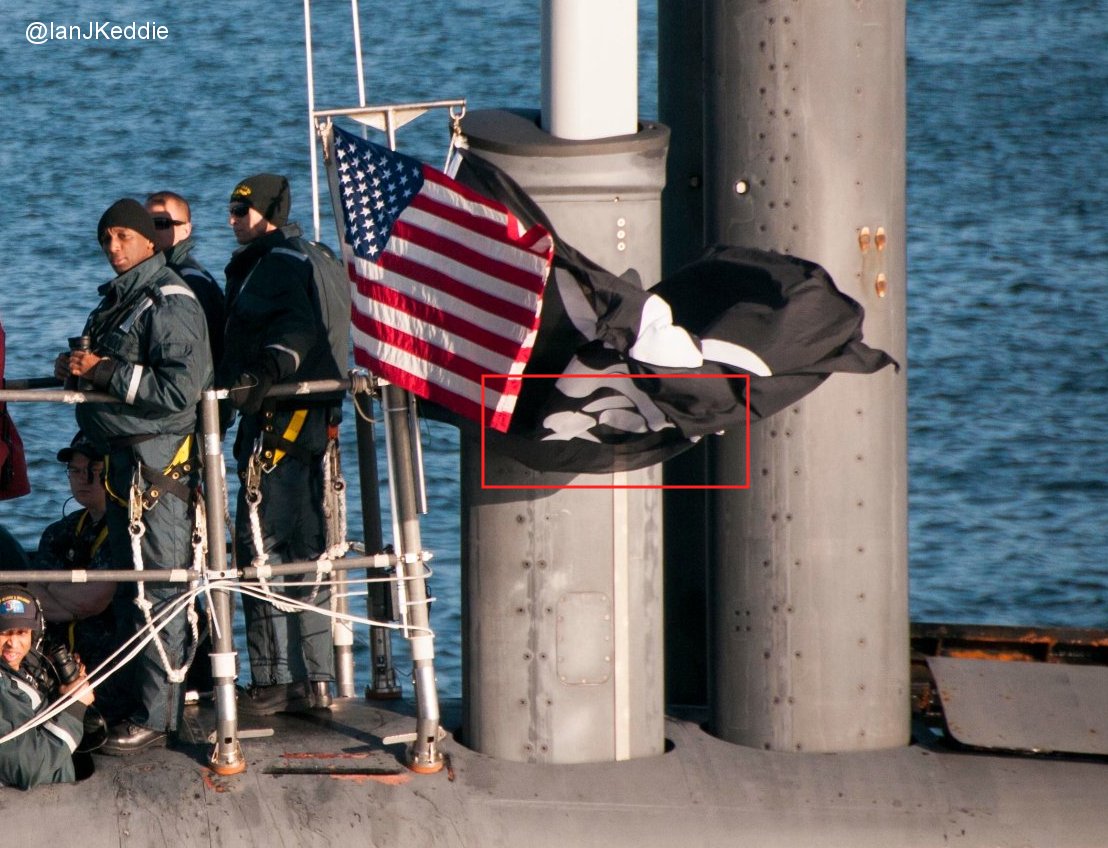 Image from — Ian Keddie - @IanJKeddie Scottish freelance defence journo in Canada
https://twitter.com/IanJKeddie
---
NOTE: There were a number of reports from early this year which mentioned a massive amount of melted radioactive fuel was not accounted for in the ongoing Fukushima clean-up. Then a July 2017 report stated a robot searching the floor of a damaged reactor had possibly located some of the 'missing' 600 metric tons of melted radioactive fuel at Fukushima, with Tepco presenting images and a video of what the robot saw.
https://www.theguardian.com/environment/2017/jul/23/fukushima-images-show-massive-deposits-thought-to-be-melted-nuclear-fuel)
https://www.bloomberg.com/news/articles/2017-07-24/melted-fuel-hunt-marks-advance-in-japan-s-40-year-atomic-cleanup
There is no evidence any of the 'missing' melted radioactive fuel at Fukushima actual has been physically removed from the site.
---
A special salute to D.T. for the heads-up.
References:
http://www.dailymail.co.uk/news/article-4300170/Terror-fears-hundreds-ghost-ships-turning-GPS.html
https://www.thetimes.co.uk/article/security-fears-over-cargo-shipsgoing-dark-near-terror-zones-gr2zjdgj9
We encourage you to Share our Reports, Analyses, Breaking News and Videos. Simply Click your Favorite Social Media Button and Share.