President Trump orders the US Embassy to be moved and proclaims Jerusalem as the capital of Israel
"And it shall come to pass, that whosoever shall call on the name of the LORD shall be delivered: for in mount Zion and in Jerusalem shall be deliverance, as the LORD hath said, and in the remnant whom the LORD shall call." Joel 2:32 (KJV)
President Trump made good on his promises to Israel. With one fell swoop, US President Donald J. Trump declared that Jerusalem is the eternal capital of the Jewish state of Israel, and that he is putting in place beginning immediately the move of the US Embassy from Tel Aviv to Jerusalem.
Watch President Trump's Speech:
"With today's action I reaffirm my administration's commitment to peace in the region", Trump said. "Today we call for calm, moderation and for the voices of tolerance to prevail over the voice of hate".
PM Netanyahu's Remarks on US President Trump's Statement:
What the president did not say was whether or not all of Jerusalem would be considered as Israel's capital, which could be a huge sticking point in the near future. The mythical Palestinians claim the Old City area with the Temple Mount as their capital. Still, Trump today did something that no other president in our lifetime can claim, reaffirming dramatically the unbreakable bond between the United States and Israel.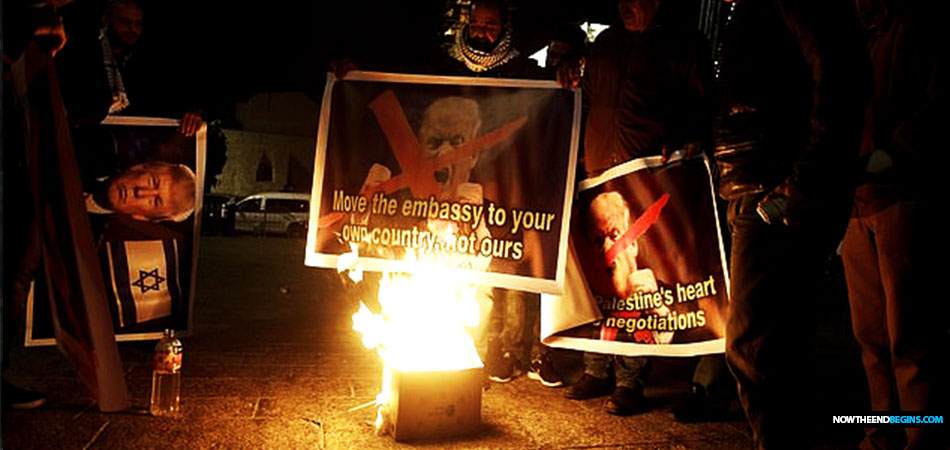 Palestinians burned a poster of Trump during a protest in Bethlehem, West Bank, on Tuesday in anticipation of the announcement
Appearing in the White House's Diplomatic Reception Room against an elaborate backdrop of Christmas decorations, He also said the United States embassy in Israel would, over time, be moved there from Tel Aviv.
Israel is the only country where the United States has an embassy in a city that the host nation does not consider its capital.
'I have determined that it is time to officially recognize Jerusalem as the capital of Israel,' Trump said. 'While previous presidents have made this a major campaign promise, they failed to deliver. Today I am delivering.'
---
The post 'I Do Hereby Declare That The United States Recognizes Jerusalem As The Capital Of Israel' Proclaims President Trump appeared first on Now The End Begins.
Source:
http://www.nowtheendbegins.com/hereby-declare-united-states-recognizes-jerusalem-capital-israel-proclaims-president-trump/
We encourage you to Share our Reports, Analyses, Breaking News and Videos. Simply Click your Favorite Social Media Button and Share.